Please, meet Wymann Bun Betts, probably the oldest active rider in North America.
Wymann Bun Betts will leadthe motorcycle parade again in the Border town Biker Bash, a motorcycle rally in Amherst Nova Scotia held in July. It will be just a month before Wymann Betts turns 100.Wymann is the oldest motorcycle rider in Canada and probably the oldest in North America.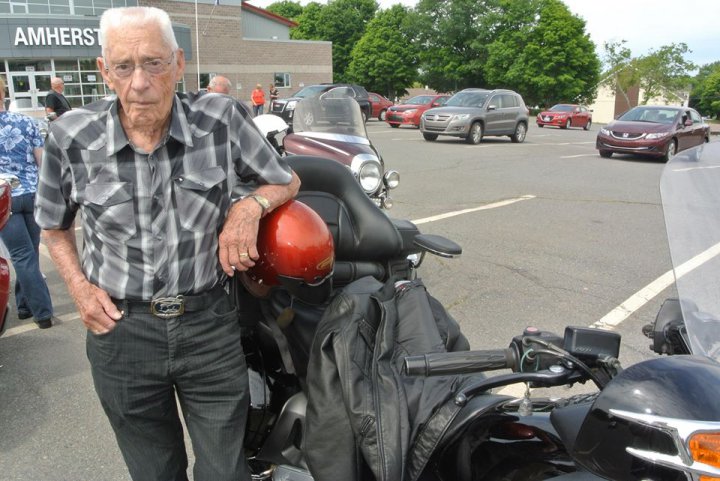 'I've just never grown up,' says Wyman 'Bun' Betts, who has been riding motorcycles for 50 years. Firstly he bought a scooter to help him get back and forth from a nearby sawmill.
"It didn't work good, but anyway, I kept it around," he said.
A 100-year-old man says age doesn't keep him from pursuing his passion — so long as he can keep the bike upright.
Since his early days aboard a motorcycle, Betts has traded up to a larger model — a 2003 black and chrome Honda Goldwing, which he said he got after a salesman persuaded him to trade in an older bike.
"When it's moving about 15 km/h … everything goes fine, but it's heavy," Wyman "Bun" Betts told CBC's Information Morning during his previous interview a couple of years ago.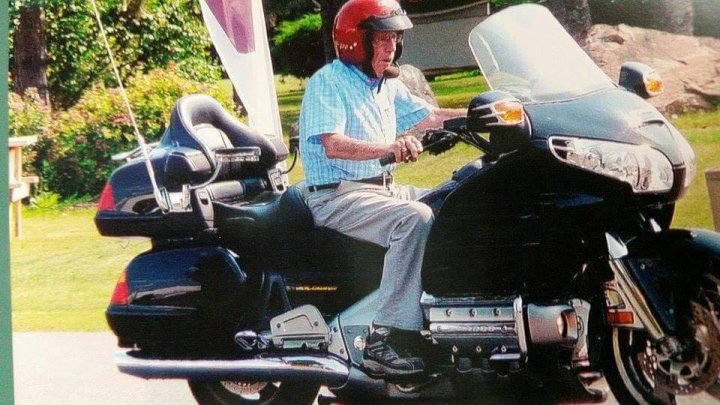 Betts said he never went very far on the bike, but it's helped him make at least one significant move.His partner, Jean Wood, said the bike helped to meet each other 27 years ago.
"I always thought a lot of him and his bike, and after I was a widow in 1988 and he was a widower, why — he started taking me places," she said.
"Bun Betts has always been very high in my standing."
"He never drank, he never smoked, and he doesn't worry," Jean says in the same interview.
Before riding motorcycles, Mr. Betts had another passion – flying. In the early 1970s he bought his first plane - a Cessna 172 and sold it when he was 80.