The Poland-based Game Over Cycleshas worked since 2012 and produces original custom projects, including the world's first tattooed motorcycle Cheyenne Recidivistand the Behemoth Bike. The guys have a talent for extraordinary motorcycles. The team added another unique creation to its lineup. On May 9, the GOCpresented the"New York – Rzeszów Motorcycle," a custom Harley-Davidson Street Bob inspired by New York City and the Polish city of Rzeszów.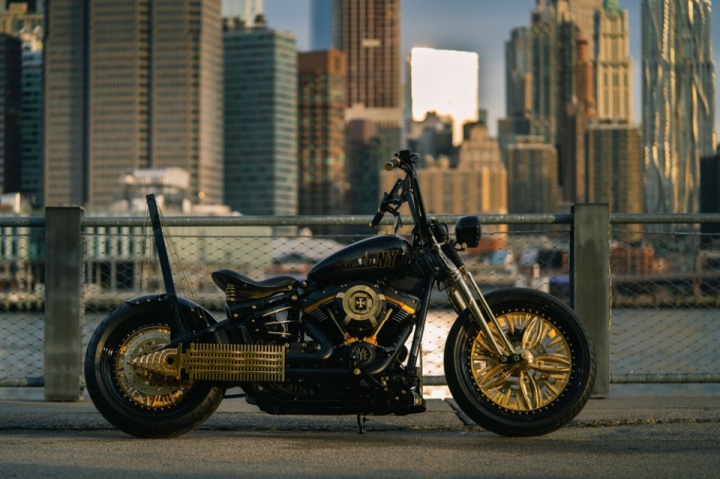 The bike was unveiled May 9 at Harley-Davidson of New York Cityafter being delivered on a Boeing 787 Dreamliner from Rzeszów.
New-York:
wheels with Manhattan buildings engraved in metal, including such buildings as the Empire State Building, 1 World Trade Center, Flatiron, Chrysler Building, old WTC towers
exhaust pipe looking like the Chrysler Building, covered with 24-carat gold
ignition coil cover looking like The Oculus
front plow in the shape of old WTC ruins with the "9/11 Never Forget" inscription
fuel tank cap made from brass and imitating a $ 1 coin with Rzeszów-New York inscription
tank painting containing the Brooklyn Bridge and the Manhattan skyline
Rzeszów:
Revolutionary Act Monument: the most famous monument of the city placed in the middle of wheel among Manhattan buildings (covered with 24-carat gold)
air filter cover in the shape of city's most known footbridge with Rzeszów's coat of arms in the center (covered with 24-carat gold)
rear brake light and position light in the shape of the Rzeszów coat of arms
tank painting containing Rzeszów skyline
There are a lot of elements, created with brass, steel, and aluminum.The wheels, exhaust pipe, clutch cover, timing cover, and the front brake holder are gold-plated.
Can you imagine an even more custom motorcycle?