Besides the Super Cub, Honda Monkey can be named as one of the most popular small displacement vehicles from the No. 1 Japanese motorcycle manufacturer. Not impressive performance or top-notch specifications, but this bike always catches attention. As a 'play car' line, Monkey and its various variants such as Ape, Gorilla ... are also often customized by the owners to affirm their own personality and increase the usability and safety.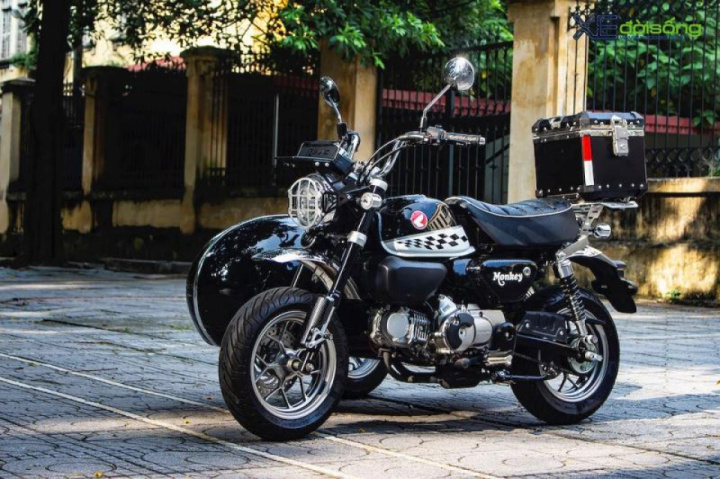 It can be also said about the latest generation of the Honda Monkey 125.Although it was first launched in 2018, it has been quickly revised in all different styles, from light décor touches to completely transform into the Harley-Davidson Ultra Glide miniature. However, Mr. Khoa - an enthusiast of Monkey bikes in Hanoi doesn't use such styles. Instead, he made the bike completely based on his needs.
In addition to the Monkey 125, Khoa now has two 50cc Honda Gorilla - they not only satisfy his passion, but also serve as toys for two boys at home. However, because both of Mr. Khoa's children are not old enough to ride the bike on the road, father and sons could not walk together on the streets on beautiful days. By adding a sidecar to his Monkey 125, Khoa was able to bring his little boys to explore Hanoi's streets whenever he had spare time.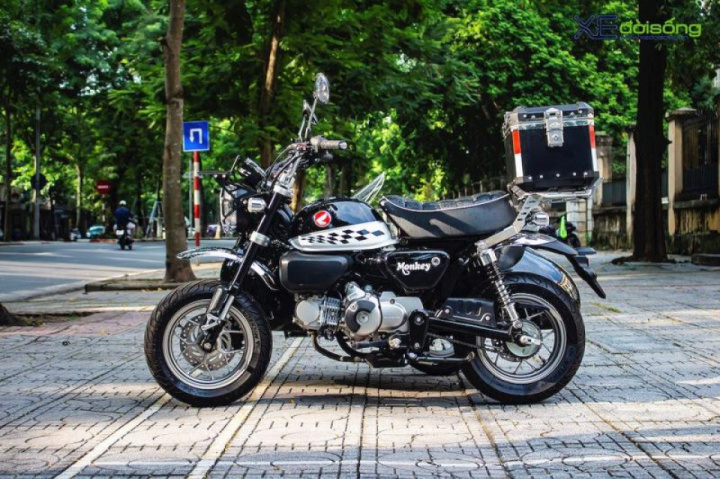 Khoa is the owner of the Minibike Trung Khanh (MTK) workshop, where most Monkeys and sidecars for them were made. For this tiny motorcycle, MTK chose a round sidecar shape made of composite plastic to reduce weight. Painted black, the sidecar was also decorated by MTK chrome splint and polished aluminum discs from the Suzuki Sapphire 125 scooter.
Because Khoa's house is located in a small alley, the sidecar part can also be removed easily from the bike's body, making it easier to access the house.The sidecar box on this level is also quite spacious: even an adult who is 5.6 foot tall and weighs more than 154lbs can sit comfortably inside. Therefore, it has space enough for two boys. Plus to make passengers sitting here feel more comfortable, MTK has also installed a single shock for a sidecar.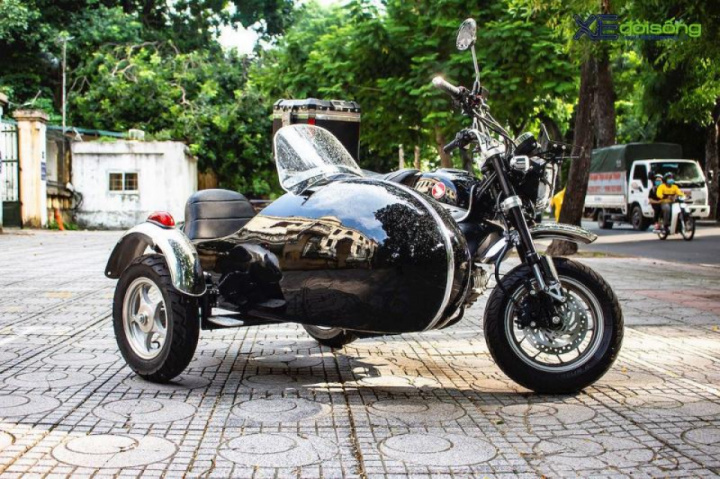 Khoa has also added some specs for his Monkey 125 sidecar. Instead of the original tire, he has fitted Michelin City Grip tire sets 120/70/12 for both wheels for better grip.Monkey's USD forks are now protected from dirt by the lightweight carbon fiber cladding. At the top, Monkey's LED headlights have been fitted with CNC aluminum protective grids from G-Craft.
To make the car even more convenient, Khoa installed the H2C bag on the headlight. There are also clutches / folding brakes and engine case, to help prevent the vehicle from being damaged in case of collapse when removing the sidecar. Although not powerful, but the 125cc engine, SOHC, electronic fuel injection combined with 4-speed manual gearbox 9.65 horsepower Monkey 125 can still pull the motorcycle with Khoa and 2 small children, so the vehicle's power dynamics were completely preserved.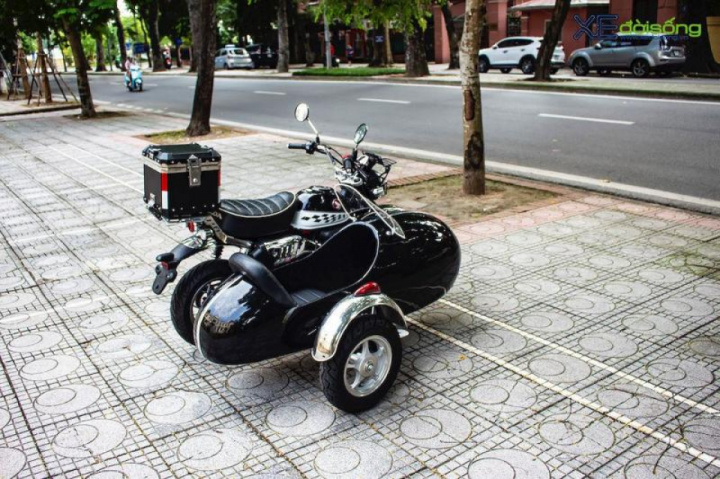 A unique feature is the set of bags located behind the bike. In particular, the aluminum baga at the bottom of the box was designed by Mr. Khoa, and he bought 3 sets of key from the UK. After getting this set of keys, he handed it to HG Luggage workshop to create a separate model, inspired by the types of trunks for adventure bikes like the BMW R 1200 GS Adventure.
With the sidecar and a rear trunk, Khoa's Monkey 125 has an 'unmatched' storage space, bigger than any small displacement model on the market.And it is also the only Monkey 125 sidecar in Hanoi today. However, if considering the whole Monkey line, Mr. Khoa's version is only the second one, as another biker also built the sidecar for the old Monkey Z50A. But they have much in common: they both are fathers and the main goal of building the motorcycles with sidecars was to ride with their children.
Sourse:xedoisong