Words by Andrew Jett
This bike build was performed in house by me – Andrew Jett of Jett Design. I studied art/design in college and have always been intrigued by fast cars and motorcycles. I have combined the two passions of design and motorcycles into what is Jett Design. I like to strip things down, getting them as light as possible. Designing the body of the motorcycle allows me to merge my creativity with real functionality.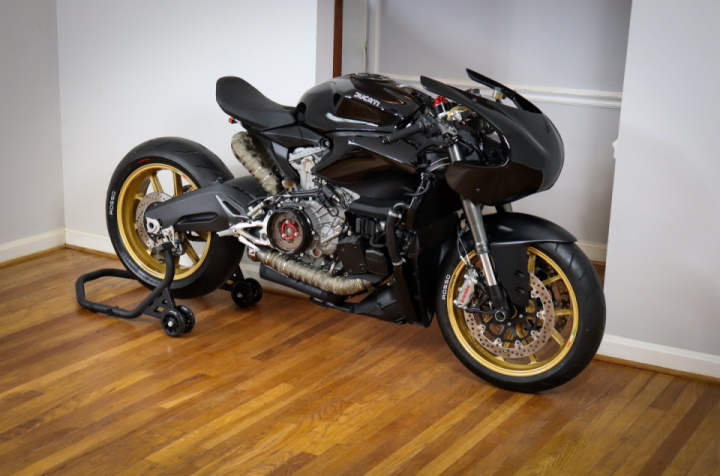 I am a one man design and build team, which enables me to oversee every facet as I envisioned it. I personally try to create original and lightweight designs based on Ducati motorcycles.
This bike was bought brand new off the showroom floor in early 2017. It was the first Ducati I had ever purchased, and I bought it as my personal bike. Since then, I knew I'd love to build a full custom out of it. This bike has always been my personal favorite. It's raw, it's visceral, it's fast and it provides such an intense riding experience.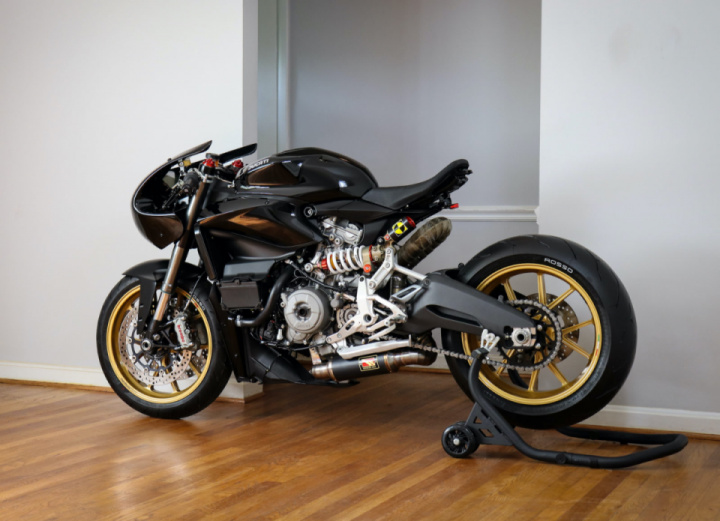 Call me crazy for chopping up a brand new Ducati Panigale. After a season of riding, it sat in my workshop for almost 2 years while I envisioned the design and how to make it all work. During that time other bikes were built, but the Panigale sat, always in my line of vision and in the back of my mind. It was by far the most difficult bike to redesign and build because it is such a beautiful bike from the factory.
I knew whatever design I came up with, it had to be sleek and fit the nature of the bike. The design personality of this bike reflects that of industrialism and showcases all of the engineering and mechanicals. I specifically wanted to show everything that the factory bodywork deliberately covered up.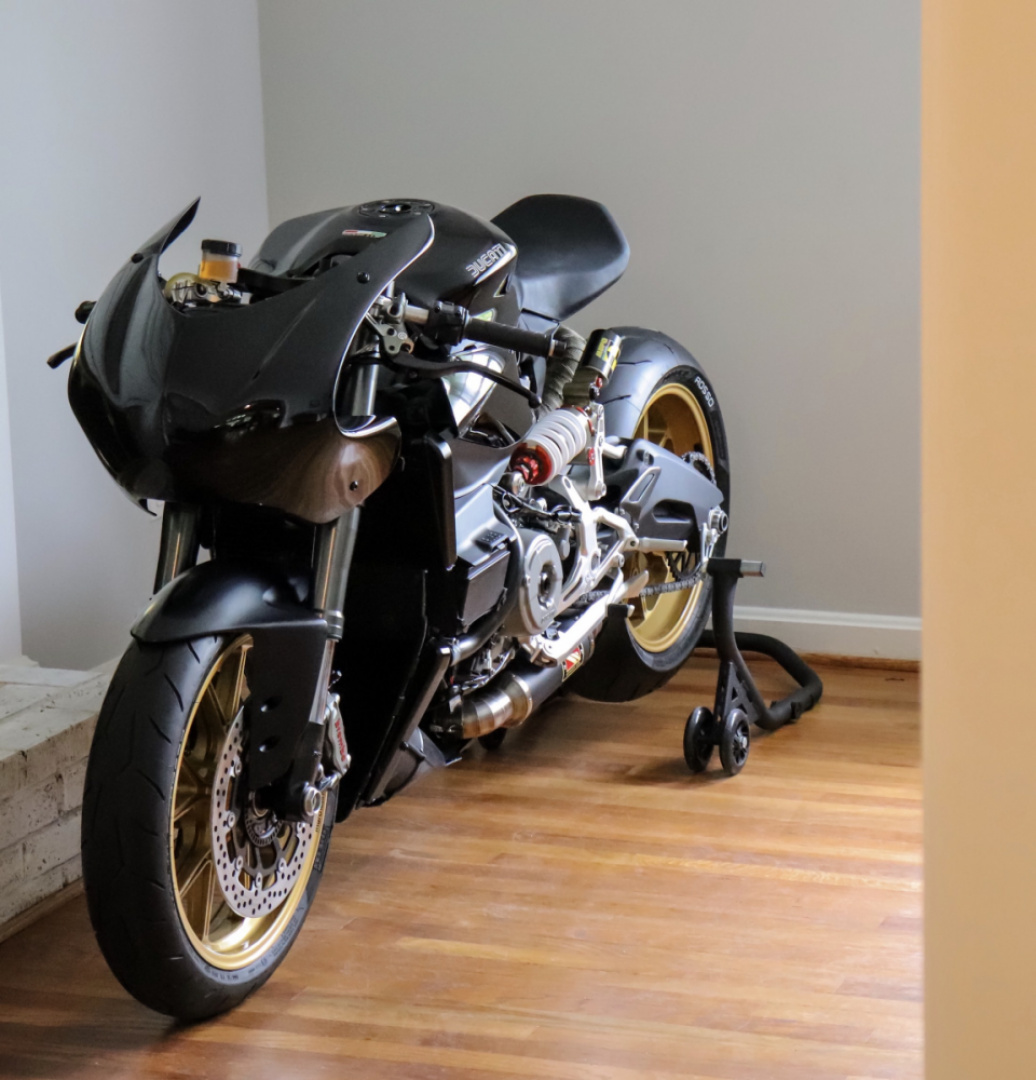 This design translation was my personal vision of what a super-naked (naked superbike) should be. I wanted the end result to be a stripped down-lightweight, with a naked bike riding experience.
I fabricated a one off-bespoke front half-fairing. This fairing was built to cover the electronic gauge cluster and front wiring. Under the front fairing resides a 180 gram (less than half a pound) 1200 lumens LED race light, for night riding.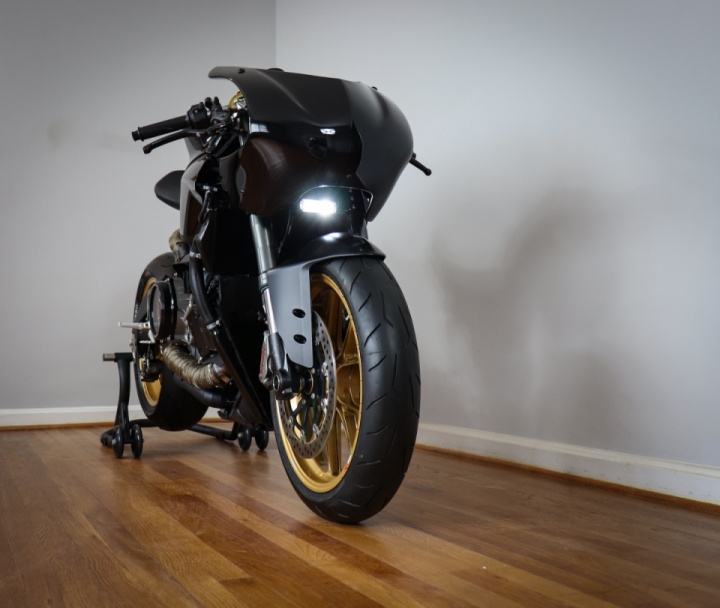 Custom side wings were then built to further cover up the ECU and electronics on either side of the bike. An aluminum and carbon fibre front fairing stay was built to secure the front fairing. Paint work was done by Kevin Petitt of Petittbilt Custom Paint Work – the man is an artist.
Aluminum and carbon were chosen for their lightweight qualities, further reducing the bike's overall weight. The tail section uses a one-off Jett Design lightweight rear subframe. The radiator support was also redesigned by Jett Design to be lighter and less intrusive in its appearance.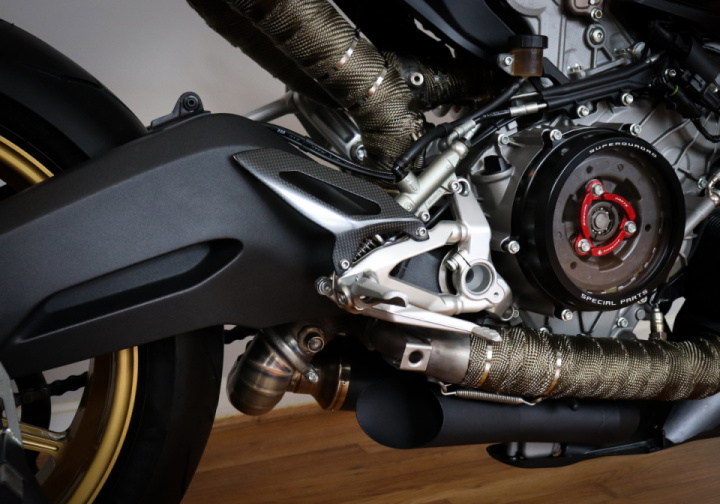 The exhaust is a modified Werkes USA muffler section connected to stock headers (stock headers were kept because they better fit the smaller displacement of this 955cc Superquadro motor, rather than the larger 1299 Panigale that benefits from larger aftermarket header primaries).
The final list of major parts used on this build:
Marchesini Racing forged magnesium limited edition wheels
Jett Design bespoke front fairing
Jett Design bespoke side wings (either side)
Jett Design radiator support
Jett Design lightweight rear subframe
Jett Design front headlight bracket
Jett Design modified seat
Werkes USA exhaust – modified muffler section (just 6 lbs in total versus 17lbs for factory muffler)
Full Mupo suspension (front and rear)
Jett Design billet aluminum spools
Jett Design aluminum and carbon fiber front fairing stay
Brembo RCS 19 brake master cylinder
Accossato racing start/kill switches
Superlite Sprocket kit/ 520 chain
Bitubo fully adjustable steering damper
LED front and rear lighting
F.C.C. slipper clutch
Billet upper and lower triple trees
Factory quick shifter
Ducati special parts fuel filler cap
CRG bar ends
Lithium race battery
K&N race air filer
ECU Up-map tune by Duc Pond Motorsports
The overall wet weight comes in at just 354 lbs or 160 kg and engine power is 165 bhp better than a 1:1 power to weight ratio. This is a notable improvement over the original dry weight of 388 lbs (176 kg) and 157 bhp.
Jett Design on Facebook – Instagram