The Ducati Panigale was already one of the most powerful superbikes of its time and now, French company Efesto has come up with a really interesting hybrid kit called Efesto 200Novantanove. With this kit, the motorcycle pushes an insane combined power of 304PS at 10,500rpm and an equally incredible 295Nm of torque at 9000rpm!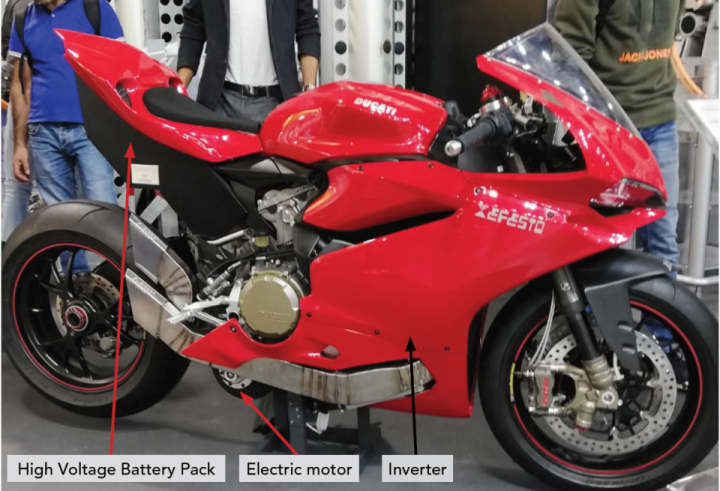 The kit essentially consists of an electric motor located below the engine, linked to the secondary gear shaft. The inverter is mounted between the engine and the radiator and the high voltage battery pack is mounted inside a gaudy looking case on the subframe. Efesto says the electric motor can be used to ride the motorcycle in pure electric mode, like an automatic scooter, for up to 30-40 minutes in urban traffic.
There are three modes for the hybrid kit in addition to the stock motorcycle's riding modes. The Pure Thermic mode allows the rider to use just the engine power alone whereas the Pure Electric mode is pretty much self-explanatory. There's another mode called Boost mode under which the electric motor acts as a torque gap filler for the petrol engine. Additionally, there's a custom mode for riders who'd like to fine-tune their preferences.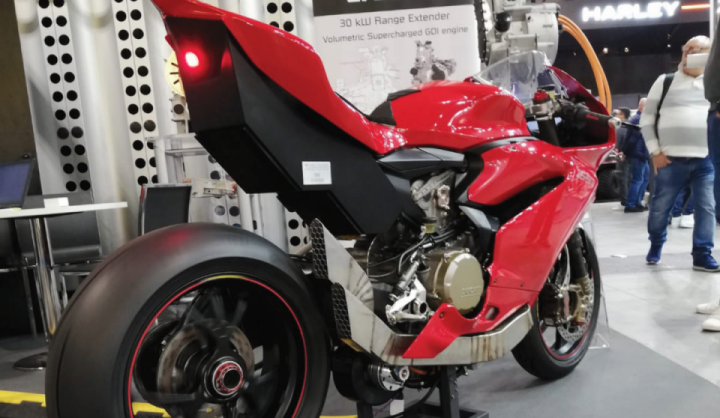 Efesto claims the electric motor generator alone is capable of putting out 108.7PS and 150Nm of torque. This 9.4kg motor is IP65 rated and even features regenerative braking. Since the kit takes up extra space, Efesto had to make a custom exhaust that's slimmer. To be honest, it sticks out like a sore thumb and could've been designed better.
The kit consists of a 96.3PS electric motor.
A battery pack mounted on the subframe enables pure electric mode too.
It even gets four riding modes for the hybrid system.
While the brand hasn't revealed the weight of the entire hybrid kit, we believe it could be substantial enough to alter the bike's dynamics. But when you have 300+ PS and almost 300Nm of torque at your disposal, you end up more than compensating for it. But what remains to be seen is how the battery pack on the subframe will affect the bike's handling as they are usually heavy and affect the bike's mass distribution.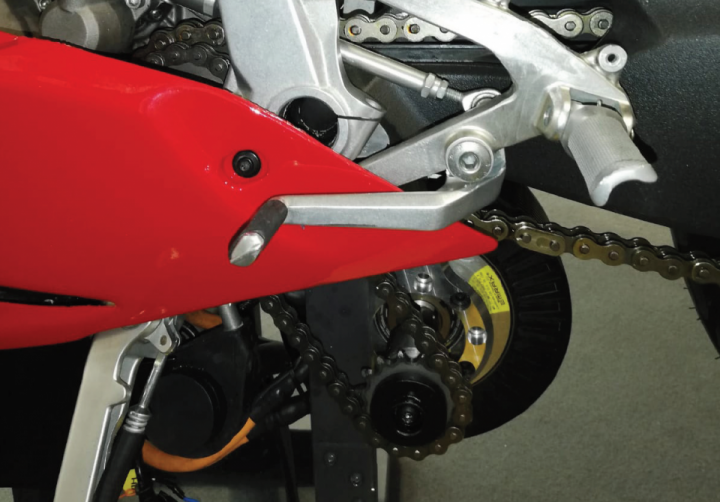 While the brand hasn't revealed the price of the kit, we reckon it will be pretty expensive considering its output figures. Efesto says the hybrid kit is available for the 959 Panigale, Panigale 1199 too. Interestingly, the company makes hybrid kits not only for motorcycles but also for cars, boats and even light aircraft!
Lead image credit: Moto.it
Text credit: Zigwheels.com