Matias Corea is not your average custom bike builder. Nor is there anything expected about the machines that come out of his Brooklyn-based shop, Myth Motor.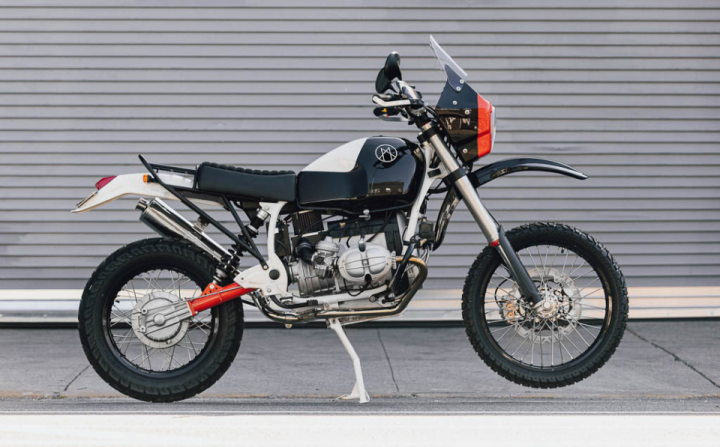 Firstly, the bikes, Myth 001, and the newly unveiled Myth 002, look more like pristine works of art than ready-to-rock adventure bikes. And yet they are. That's because the machines and the custom parts that make them so special are born from the hands of an overlander who spent 168 days and 20,000 miles on a trip from New York to Argentina thinking about exactly what it would take to make his BMW Airhead R80 the perfect adventure bike
Also, Matias is not your run-of-the-mill moto traveler. The Barcelona native was the co-founder and creative director of Behance, a social network and showcase tool for designers and artists that was bought by Adobe in 2012 for the kind of money that makes you want to ride your motorcycle around the world.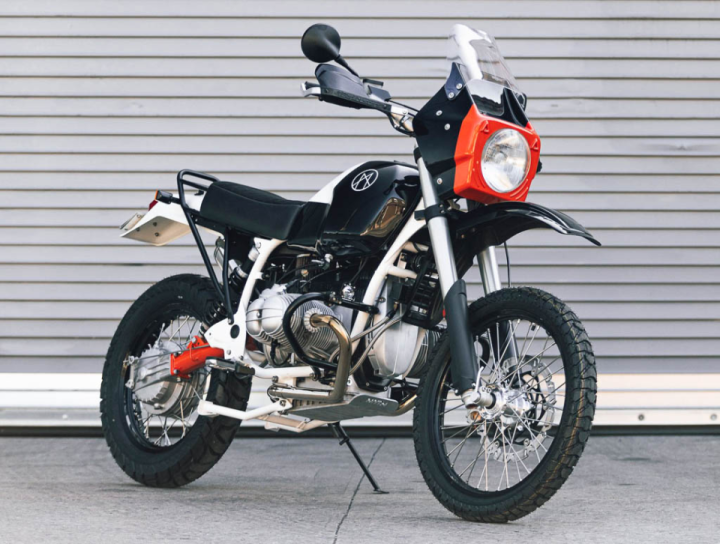 So, here we have an artist, designer, successful entrepreneur and self-described tech geek with a life-long passion for motorcycles and travel who earned his bike-building chops studying under Peter Boggia, master mechanic and owner of exclusive Motor Borgotaro in New York. This, it appears, is the perfect mix of talents and experiences needed to create fully-functional Faberge egg-like adventure bikes.
While Myth 001 "Adventure" is a shapeshifted 1983 R80ST, the new Myth 002 "Travel" was built for a client who already owned a stock 1985 R80 G/S, but wanted more power and better handling. And being tall (6'2") he was also hoping for room in the cockpit, and especially behind the boxer's cylinder heads, a much more compact space than we're used to on large-displacement, modern GS models. According to New Zealand's Bike EXIF, an 1984 R80ST was procured as a donor bike and the project began.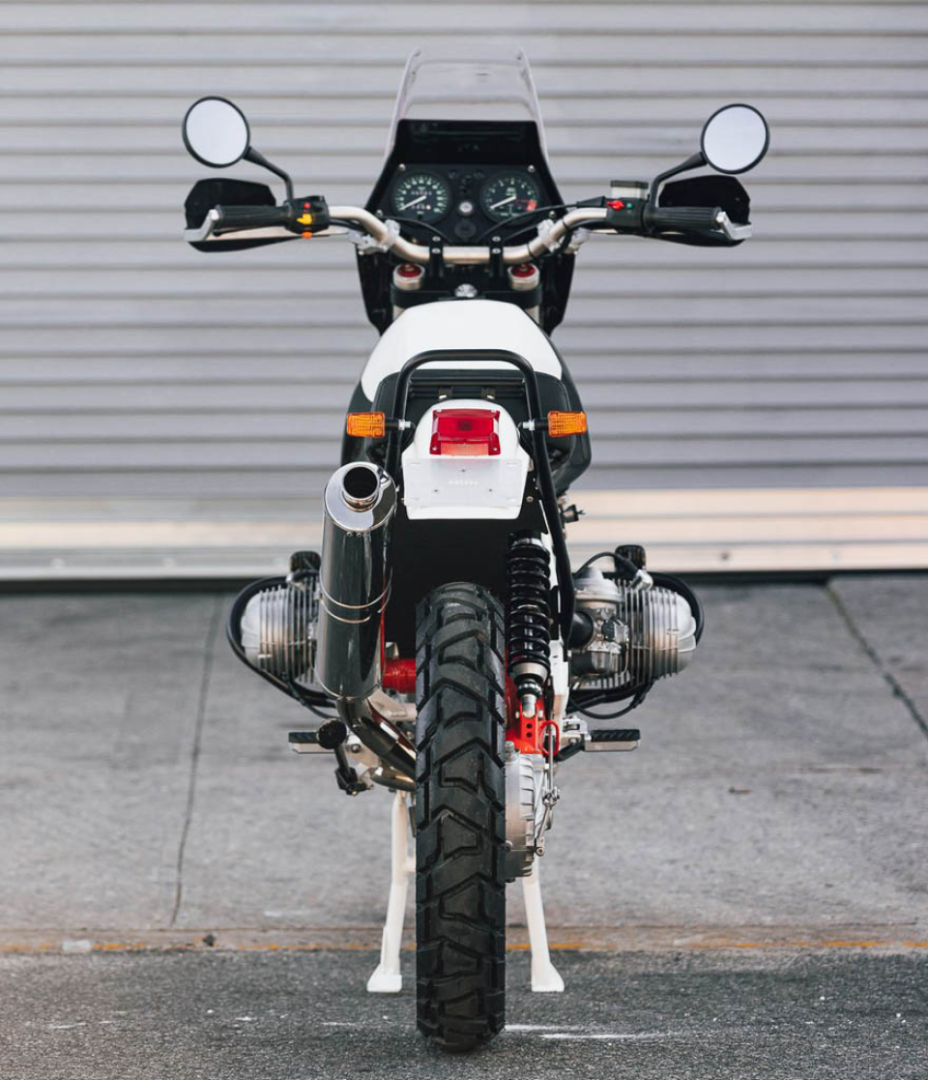 For more power, the engine was completely rebuilt using a 1070cc Siebenrock kit that employs shorter connection rods and 98mm short-skirt pistons. Stock carbs were upgraded from 32mm to 40mm Bings, while dual-plugged heads and an increase in intake valve size joined with a more open Siebenrock exhaust system to boost the bike's top- end performance.
All the engine and drivetrain components were balanced and seals, clips, bearings and gears with excessive wear were replaced. A longer 5th gear, gear selector rebuild and Aximech clutch arm upgrade with spring, boot and "old-style metal bearing replacement" combine for what Matias says feels even better than the modern ones.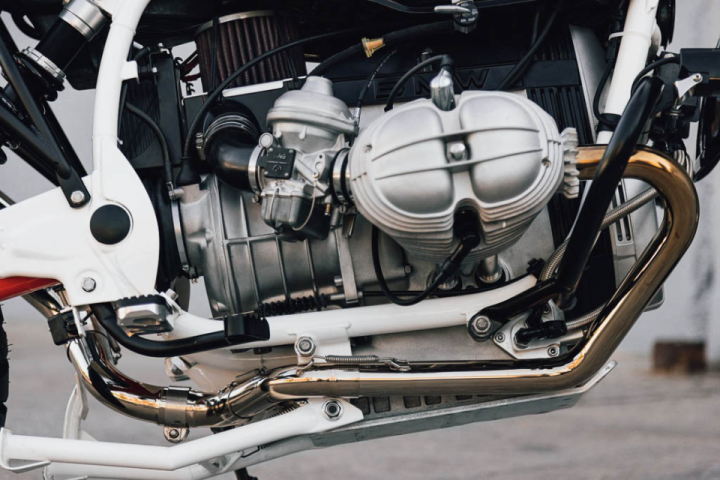 Of course, improved engine performance in an adventure bike doesn't count for much if the chassis and suspension isn't up for the game. Providing his client with the hat trick of extra room, improved suspension and better off-road handling, Matias started with adding WP's 48mm Xplor forks to provide a dialable 11.8-inches of travel. In order to adapt the new fork, Matias collaborated with a mechanical engineer to design a bespoke aluminum triple tree that not only mates new bar risers and the WP fork, but also offers additional receivers to mount the HPN faring, as well as a stock G/S headlight bucket Matias favors.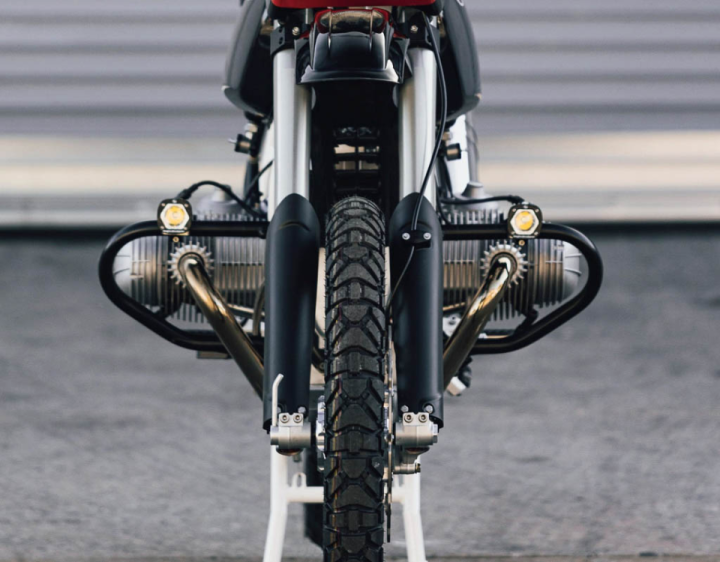 Out back, an elongated 15.7-inch swing arm expanded the BMW's wheelbase by 4 inches to a total of 71.6 inches, a move that increases stability.
The frame was stiffened with 12 plates, while the modified subframe was customized and tilted slightly to accommodate the increase in swing arm travel. Matias designed new risers that raise the bar 1.7 inches higher than stock so that "everything would fit together visually," while Magura X2 bars with a tall bend also work to raise the rider's hand position.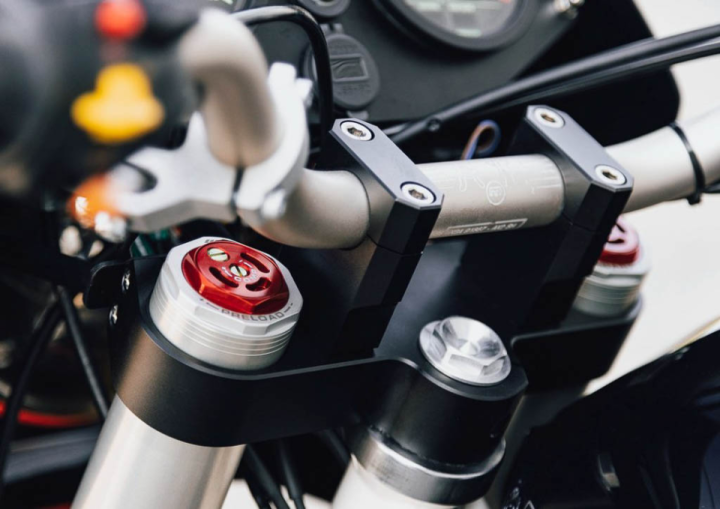 In order to create more space for the legs, the bike's footpegs were repositioned 1.5 inches lower, the left complemented by a custom, adjustable shift lever that folds on impact. To tie the new ergonomics together a taller seat was designed in collaboration with another Brooklyn bike builder, onEyedeer, atop a G/S solo seat pan, and finished by Ginger McCabe at New Church Moto upholstery, who used a natural anti-slip material, Alcantara, on the top and vinyl on the sides. Internally, the memory foam is wrapped in a membrane to make sure everything is waterproof.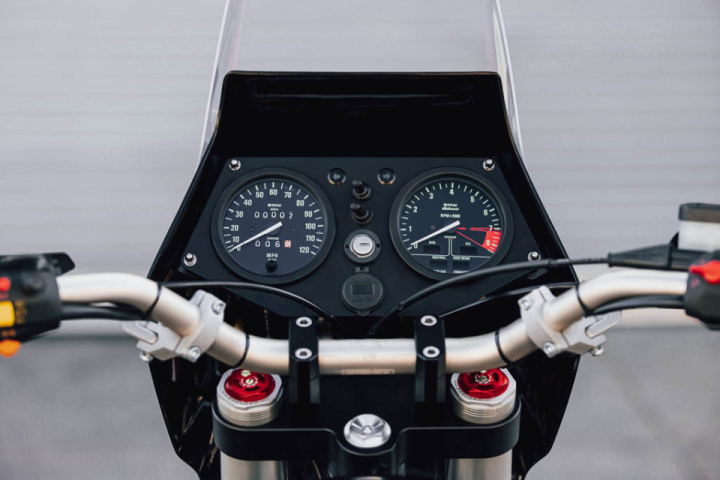 Adventure ready Takasago Excel rims, a 21-inch hoop up front followed by an 18-incher out back, use Talon aluminum hubs, heavy-duty stainless spokes and a mountain-bike style quick-release axle, while a modern 320mm rotor and 2-piston Brembo caliper up front works to slow the beaut, which Matias says weighs 372-pounds (dry). TheMyth "Travel" uses a bigger R100GS tank that holds 6.4 gallons of fuel : "Big enough for a long day's ride," Matias told Bike EXIF, though much smaller than the 11.4-gallon HPN tank used on the Myth "Adventure" model.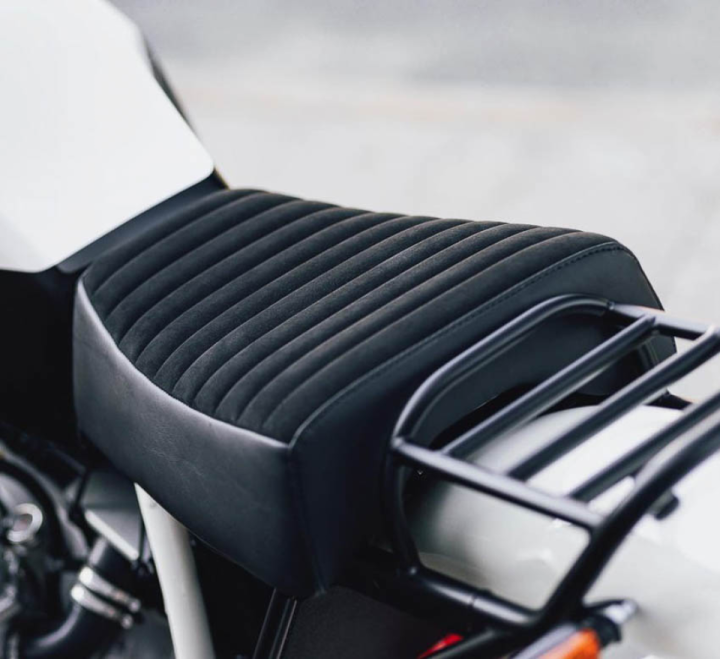 So, what does the future hold for this custom adventure bike shop borne from a 20,000 mile trip down the Americas? Matias seems devoted to building the world's most functional and gorgeous, albeit expensive, airhead adventure bikes, motorcycles he feels are perfect for long-distance global travel, thanks to their inherent simplicity and ease of repair.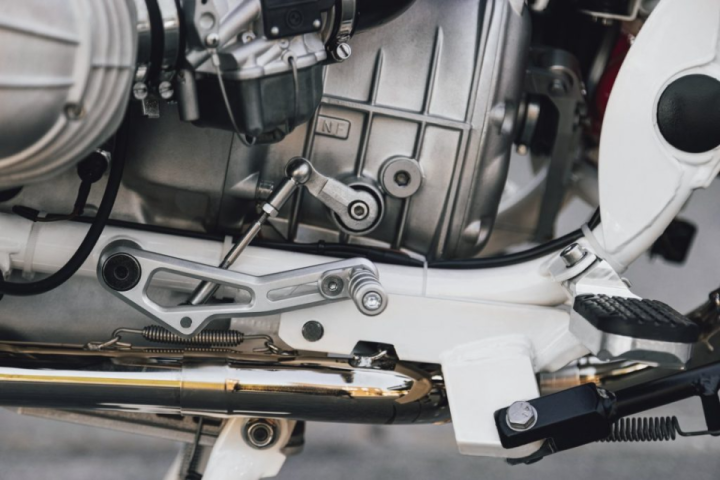 In the case you can't afford a complete custom R80 (few can), Matias says he is continuing to create as many proprietary parts for these machines as possible. Or, if you're like us and prefer to simply admire the exquisite work, grab some popcorn and watch the original Myth 001 "Adventure" in action in the REV'IT!
Follow Matias' creations on his Facebook channel and website.
Photos by Rick Bajornas
Credit: Advpulse