Since Triumph first started powering the Moto2 race series in 2019, it's fair to say that it's been a seriously successful partnership. With 68 new lap and outright records, 20 different winners, a top speed that broke the 300 km/h (186mph) mark and most importantly some of the closest racing we've seen in a long time, there's no denying that the partnership both continuing and evolving can only be a good thing.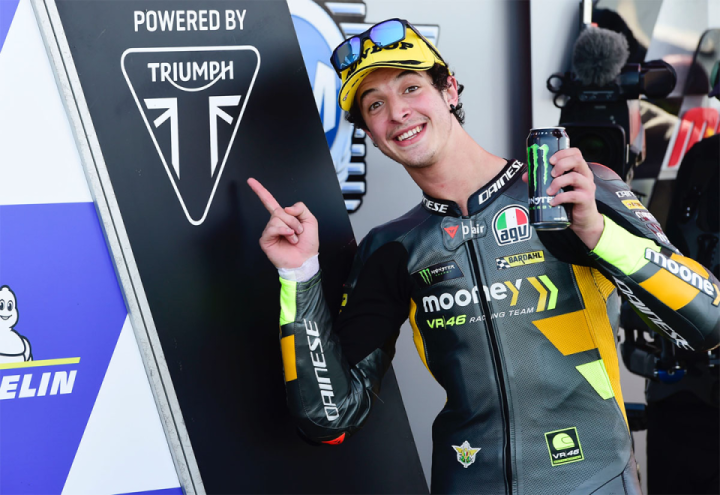 Triumph says that the improvements coming are to improve the top end of the 765cc triple motor, which in turn will make the bikes faster. They've done this by increasing the compression ratio with a new cylinder head, giving it longer valves which will increase lift alongside a new camshaft profile, which will all work alongside revised valve springs. They've also put some time into developing the pistons, conrods and the crankshaft to deal with the extra stress, as the piston pressure will rise from 90 BAR, from 85 BAR. Saying that though, it's fair to say that the Triumph engine has been reliable in its tenure as the Moto2 powerplant, especially considering how much abuse it takes from some of the very best riders in the world, riding them to their absolute limit.
Carlos Ezpeleta, the Managing Director at Dorna Sports said: "It's important that Moto2 is a spectacle in its own right and that it provides a relevant platform to develop the next generation of MotoGP riders and this new announcement of more engine power goes even further in achieving both of those objectives. We're very happy with the work of Triumph in powering Moto2 and to see the way that they are constantly evaluating and improving."
The rules for the Moto2 class mean that all riders must use the standard specification Triumph 765 engine, but are free to use their own chassis. Most of the grid use the dominant German made Kalex frame, although a few other manufacturers are present – including Boscoscuro and MV Agusta.
Sourse: carolenash