The legendary black bird becomes an extremely rare sight and it is even more difficult to find a custom alteration, but I want to present this custom project to your eyes from Radiobloke. This CBR 1100XX is assembled in the garage, but it looks like a professional custom workshop.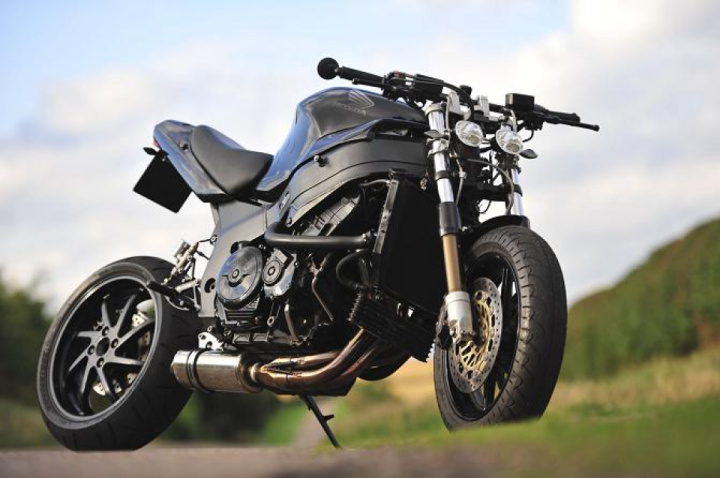 Here is all the information we managed to get about this project:
Mistral Tuned head and bored to 1200cc, JE Piston conversion
Blackbird frame
GSXR1000 radiator, home made bracket to mount Blackbird oil cooler below with X11 oil lines
Fireblade front end complete, Goodridge brake and clutch hoses
Angular twin spots with led position light to keep MOT man happy
Drag bars, Bird resevoirs with black levers
VFR750 swingarm with braided hose running through the arm. VFR 750 wheel
Aftermarket rearsets, billet res pot
Blackbird petrol tank with side panels from Gemo-fighters.de ( fukin expensive!)
TDM850 rear seat plastics.
Seat plastic made from half a TDM850 seat base and half a bird seat base, welded together with a soldering iron
Standard subframe cut and re welded to uit angle of the frame.
Billet fuel cap
K&N filter
Aftermarket exhaust system cut down and fitted with shortened oval endcan.
Battery repositioned behind barrels. other electrics mounted under subframe.
Undertray hand cut and bent using a set of ladders and my elbow.
Airbox intakes cut down and re routed to stop airflow problems.
As the owner said:
I'm sure theres other stuff...but getting bored of typing! LOW budget build....Dyno tested at 161bhp...and it made it to IOM TT and back without missing a beat, but spinning up the rear whenever I wanted!