One of the inductees in to the Just Auto Legends club in 2012, Mark Boxer from Hoon TV has recently finished this turbocharged "Hoonda" Fireblade with thanks to Ben at Extreme Creations.
A well-known name in the custom car and bike scene, Mark has worked on car and bike magazines around the globe and built some wild rides of his own, from the heavily chopped down 'Bladerod' Fireblade to his wild Ford XH drag ute project.
His latest custom bike, a 1998 Honda Fireblade dubbed the "Hoonda", is just as nuts as his past creations, and is one that what a bit of a passion project for the NSW-based enthusiast.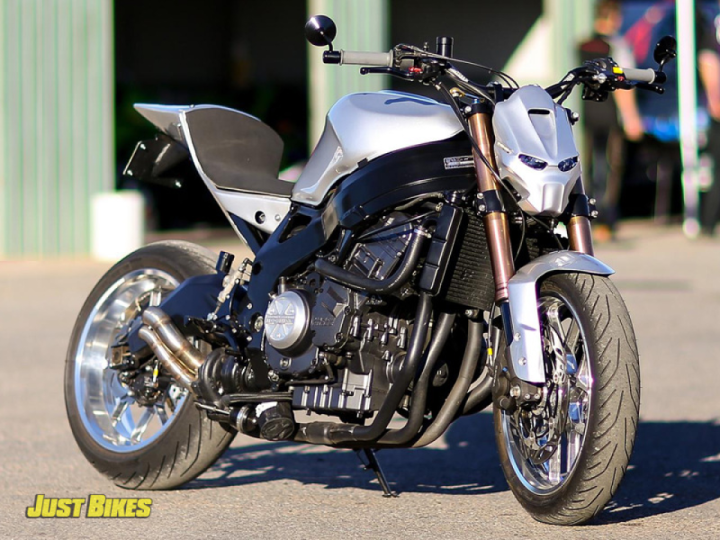 "I'm a massive tragic for '98-'99 Fireblades - I have four '98s at the moment," says Mark. "This bike was a daily I bought and rode for a while. I'm part of the Aussie Streetfighters forum (www.streetfighters.com.au) and have mates with Streetfighters.
At the start, the 'Blade was a simple build, with MX tyres, headlight and deleted fairings.
"I rode it on the April Fools ride and it was going really badly. I took it to a dyno shop and he couldn't work out what was wrong, so I got the shits with it."
It was around this time that tragedy struck, as Mark lost a good mate in a tragic crash.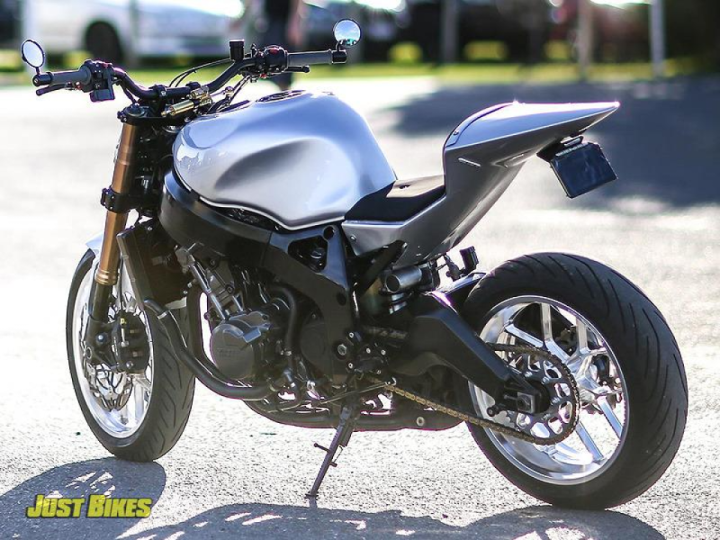 "I wanted to commemorate my mate Antoine, the Editor and owner of the French streetfighter magazine Street Monsters, who died in a racing accident. It was a massive shock when he died."
From this point on, guru streetfighter builder, Ben Shaw from Extreme Creations in Sydney, was called on to take the project to a much higher level than Mark was capable of.
"Ben is so good at what he does; I reckon he's going to be the next Roland Sands. He did most of the work on the bike while I helped, I did most of the cleaning and grunt work - all the stuff I didn't want Ben wasting his time on.
"Ben and I had the bike up on his lift and we were joking about supercharging or turbocharging it and it just went from there. I even had the turbo sitting in my shed."
Ben set about creating the billet intake plenum and top triple-clamp, intercooler, exhaust and intake piping, as well as that super-slick "Hoonda" billet clutch cover. Supremely well-finished these custom pieces have been designed to look great, but also function much better than stock now that there is 50% more power than standard coursing through the Fireblade's heavily chopped and modified fame.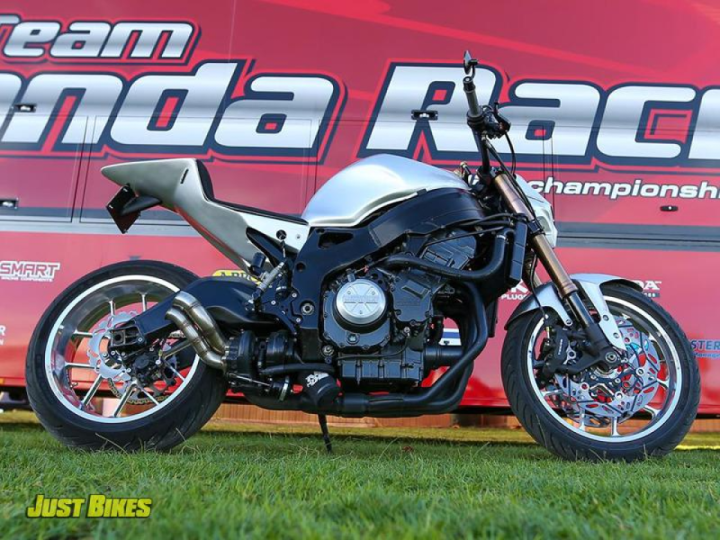 Other custom work performed on the Hoonda includes the slimline and arrowhead-like tail rear-subframe which has been modelled off a KTM RC8. The Hoonda's rear-end has also benefitted from the addition of a swingarm from an Aprilia RSV4 and custom-fitted shock from a late model Yamaha R1.
The turbo is a Garrett GT28 unit, off an S14-series Nissan Silvia, pumping 3psi (at the moment) into the 919cc in-line four-cylinder 16-valve engine via Keihin FCR 39mm flat-slide carburettors.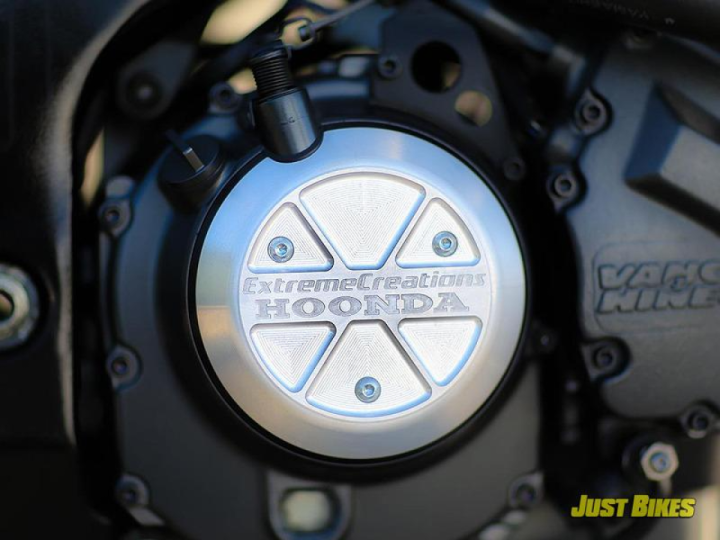 "Luckily, with the Aprilia swingarm, it gives a lot of room for the turbo to mount," says Mark. "They are the factory headers and, where they come up to the front of the swingarm, are cut with a 90-degree bend into the turbo. The turbo is then also supported at the rear using the factory exhaust supports off the frame."
You can't just whack a turbocharger onto a finely tuned sportsbike engine and expect it to hang together like it has rolled straight out of the factory. Compressing air increases its temperature, which is why it is known as "charge air", meaning timing often needs to be wound back and fuelling increased to compensate for the increase in air pressure. This means that careful management of ignition and fuelling by tuners is the only way you can safely turbocharge a stock motor.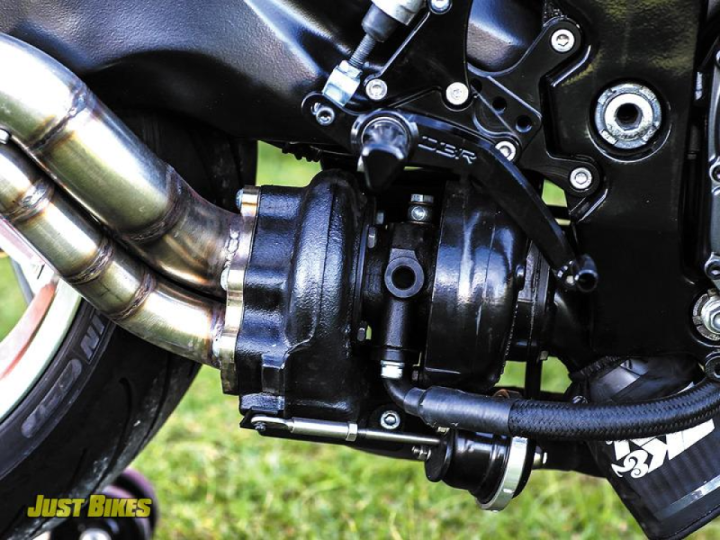 To this end, a Dynatek DYNA2000 ignition system has also been added, featuring the ability to retard ignition timing when the engine is on-boost to help avoid detonation. Also helping to stave off engine-killing pinging is the high-volume Yamaha R1 fuel pump and new low-pressure Aeromotive fuel pressure regulator.
The wastegate actuator and blow-off valve are from the well know Aussie turbocharging legends Turbosmart and help to keep boost linear and predictable. Mark hasn't had the bike dyno-tuned yet, but increasing to 7 or 10psi (up to an estimated 200 rear-wheel horsepower) is only a wastegate actuator spring away.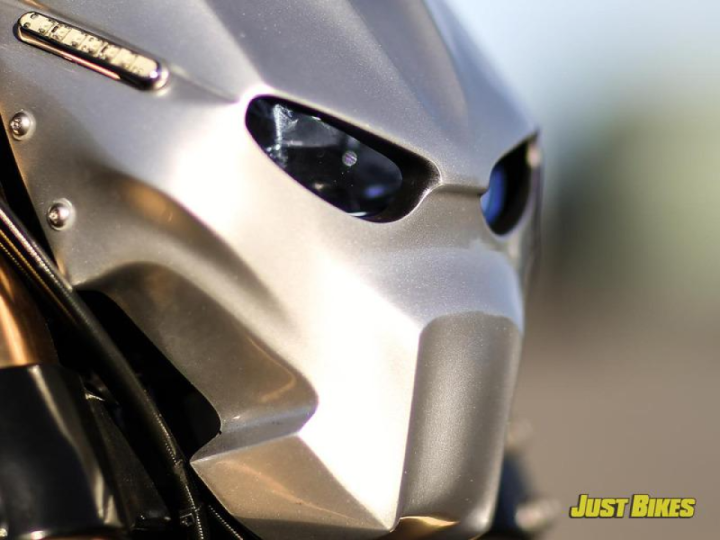 The rear-end is rounded out with DBR billet race rearsets from BC Performance and oversize CZ Works brake rotors, hiding behind those amazing lightweight forged Carozzeria V-Track wheels.
Mark monitors the Hoonda's vital signs thanks to an Acewell 5000 Series dash recessed into the heavily customised fuel tank. It sits back behind the Hyperpro steering damper and Big Mamma fatbars, while the rest of the 2008 GSXR 1000 front-end is rakish and sleek thanks to a mask-style headlight set-up sourced from Canadian company Showyo Moto, who were also friends with Antoine.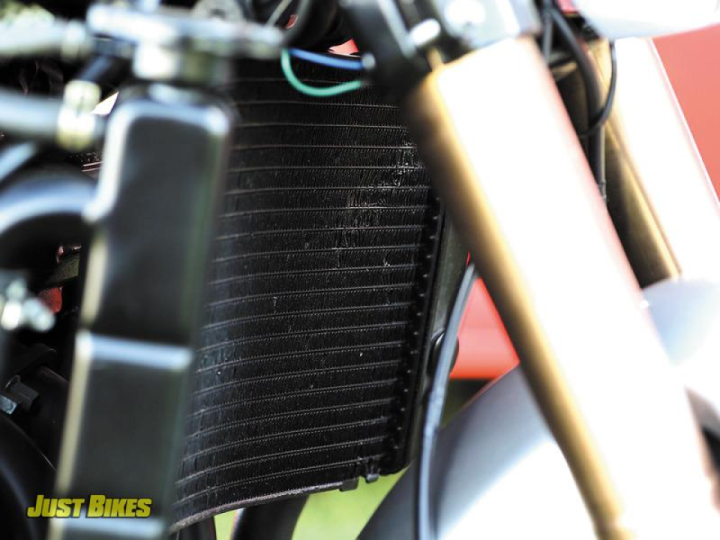 "It is very linear. Even on 3psi, it is coaxing the front wheel up in 4th gear," says Mark. "It hasn't been on a dyno yet, but hopefully it'll be going on in a couple of weeks. It should only need bigger jets to run 7psi. I can't see why it shouldn't go a low 10 or high nine… if I can keep the nose down."
Specification:
Garrett GT28 turbo
Keihin FCR 39mm flat-slide carburettors
Extreme Creations billet plenum and intercooler piping, hand-finished
Extreme Creations billet top triple clamp
Extreme Creations custom billet Hoonda clutch cover
Dynatek DYNA2000 ignition system with boost retardation
Turbosmart wastegate actuator
Turbosmart BOV
Goodridge HD clutch
DBR billet race rearsets from BC Performance
Big Mamma fatbars
Aprilia RSV4 swingarm
Late model Yamaha R1 rear shock (custom fitted)
Carrozzeria V-Track forged lightweight wheels
CZ Works large diameter brake discs
Hyperpro steering damper
(Rare) NRC Vance & Hines engine covers
Acewell 5000 Series dash
Yamaha R1 fuel pump
Aeromotive low-pressure fuel regulator
Showyo Moto 'Iron' mask headlight fairing
Custom rear subframe
Words: Frank Slacks Photos: Russell Tovey
#Honda #Custom #Moto #Bike #Motorcycle #CB #Streetfighter