Mini dirt bikes are amazingly fun but which one should you buy? We take a look at the best models on the market, which ones you should buy, and what features to look out for.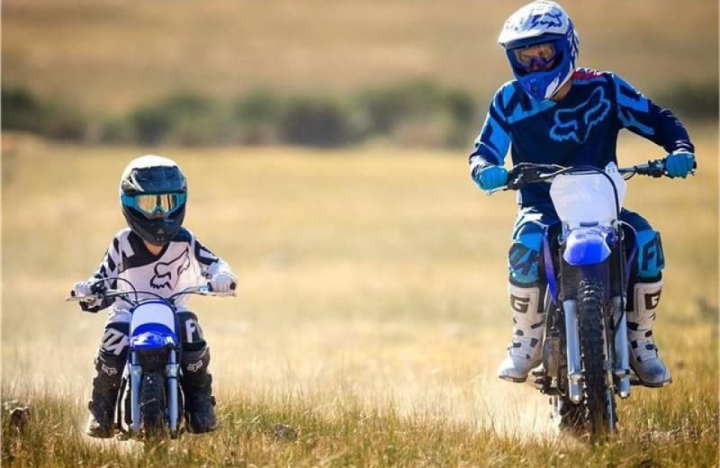 Mini dirt bikes are excellent starter bikes for young riders and adult bikers alike; they're small, low maintenance machines that are relatively easy to ride, great fun to play around on, and most importantly, they're quite easy on the wallet. Unlike many other motorcycles, these mini bikes offer a no-frills way to enter the two-wheeled scene. They're not at all road-legal, are exclusively designed for off-road use only, and offer very little in the way of rider comfort, but that doesn't mean they're not worth your time and money.
15 Excellent Mini Dirt Bikes You Can Buy!

5 From Japan
#05. Yamaha PW50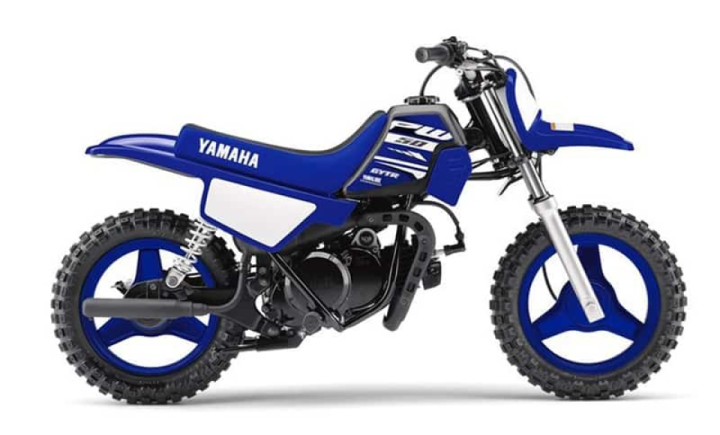 The Yamaha PW50 is one of the most recognizable mini dirt bikes ever made. It's a small little number designed specifically for getting young riders up on two wheels in a safe and fun way. Unlike a lot of small capacity machines from other Japanese manufacturers, the Yamaha PW50 is a two-stroke motorcycle, but don't worry! It doesn't require you to premix your fuel thanks to Yamaha's own oil injection system. The 49cc air-cooled 2-stroke and reed valve induction engine oils itself, so you don't have to spend time mixing fuel to the right ratio…because that gets really boring really quickly. On top of that, the Yamaha has a throttle limiter to stop your young riders getting too carried away, a fully automatic "twist and go" transmission which keeps things nice and easy, and a shaft drive. Thanks to the latter, maintenance is very simple, with no chains to oil and tension. The PW50 is a great choice for young beginners, but the automatic transmission can feel limiting to older riders or those who want to take their riding to the next level. All in all, it's an excellent package for the very attractive MSRP of $1,499.
#04. Suzuki DR-Z50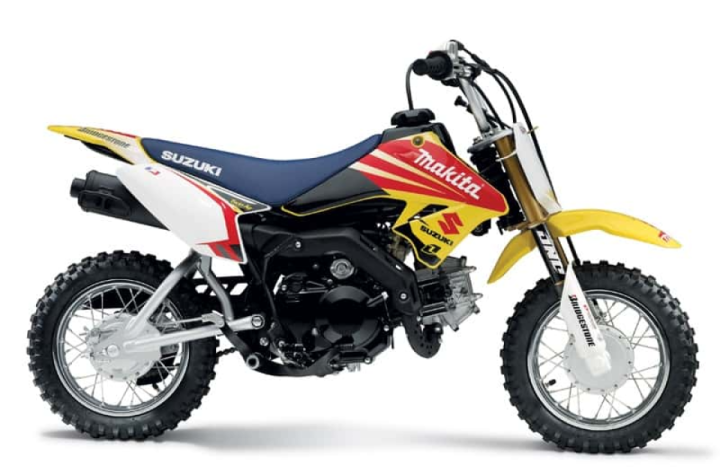 This 49cc mini dirt bike from Suzuki is one of the best out there. The DR-Z family has been a key part of Suzuki's range for a while now, but recently they decided to drop their DR-Z70 in favor of a 49cc model. While it doesn't have much to really differentiate it from the other bikes mentioned in this section, it does have something we rather like the look of: it has an electric start and& a traditional kick starter as standard. Everyone loves the convenience of an electric start button, but having the chance to use a kick start is a worthy addition, especially when batteries are flat, wires disconnect, or starter motor solenoids get stuck. Powered by a 49cc, four-stroke engine with a three-speed clutchless transmission, the DR-Z50 comes with all the safety features you'd expect from a machine in this class: an adjustable throttle limiter, a keyed ignition, strong brakes and sturdy suspension, and a nice, spill-friendly low overall weight of 119 lbs. Suzuki have also treated the DR-Z50 with an forest-friendly spark-arrestor equipped exhaust, and an EPA Emissions compliant engine, which comes with a California red sticker seal of approval. The Suzuki DR-Z50 has an MSRP of $1,749.
#03. Yamaha TT-R50E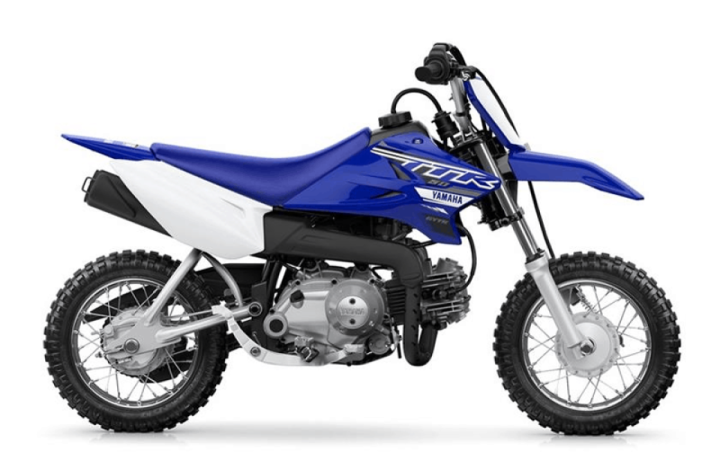 If you liked the sound of the PW50 but agree that the automatic transmission could be a negative factor or restrict your young rider from unlocking their full potential, then the Yamaha TT-R50E is the choice for you. In many ways, it's very similar to the PW50 but the differences are what make the TT-R50E a superior choice for serious riders. Unlike the PW50, the TT-R50E is powered by a 49cc air-cooled, SOHC 4-stroke engine, which offers a nice usable amount of power delivered in a smooth and controllable way. Next, the TT-R50E boasts a chain drive rather than the shaft drive found on the PW50. What's more, the TT-R50E comes with a 3 speed transmission. It doesn't require a clutch though, so riders can enjoy clutchless shifting, learning how the gears work without the hassle of pulling levers and finding biting points. This model also comes with all the Yamaha safety features that we love, such as the adjustable throttle control, a cool key ignition switch to stop unauthorized riding, and cool race-inspired stylings. Environmentalists will also be pleased to learn that this mini dirt bike has USFS-approved spark arrestor making nice and forest-friendly! Not bad for a pocket bike with an MSRP of $1,699.
#02. Honda CRF50F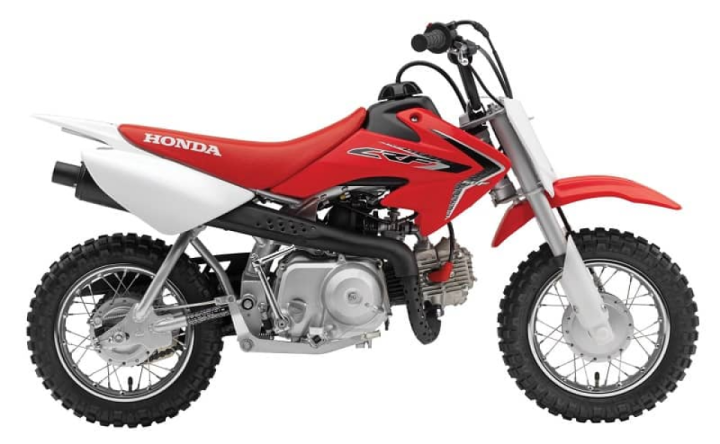 The Honda CRF50F is one of the best mini dirt bikes available. It's small, reliable, fun to ride, child friendly, parent friendly, and as low-maintenance as an internal combustion engine motorcycle can be. In short, it's a mini dirt bike, but there's much more to it than its small stature and fun 49cc air-cooled single-cylinder four-stroke engine. It comes with loads of excellent features that make it a great starter motorcycle for young riders.
Firstly, it has an adjustable throttle limiter, allowing parents to control just how much power their children can access. Next, the Honda CRF50F comes with a cool three speed gearbox with an automatic clutch, allowing young children the chance to learn how to change gear without having the distraction of a clutch. This cool feature helps kids learn about gear changing without having to take their eyes off the trail in front. This pocket bike also boasts upside down suspension at the front, a single shock at the rear, drum brakes at the front and rear, plus a keyed ignition that stops young riders from taking the Honda out for a spin when parents aren't around! The MSRP of the Honda CRF50F is a very attractive $1549.
#01. Kawasaki KX 65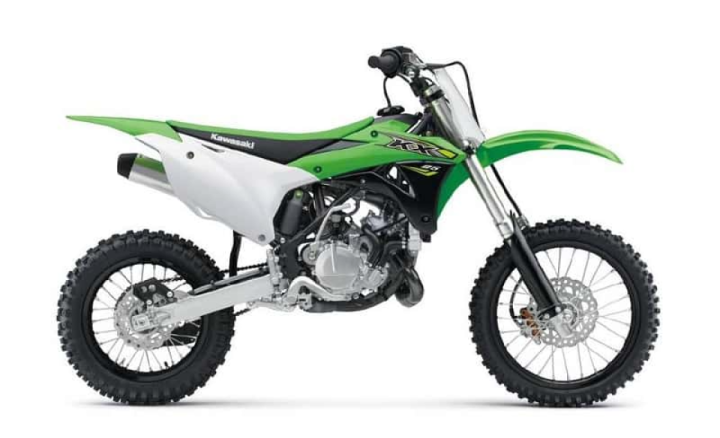 Of all the mini dirt bikes available, we rate the Kawasaki KX 65 the highest. Kawasaki has an excellent reputation for building quality dirt bikes that are capable of winning world class competitions, and the KX 65 model, though small in stature, is just as capable as the rest of the Kawasaki line up. Powered by a 64cc high-performance, liquid-cooled two stroke engine, there's more than enough power to please a wide spectrum of riders, from young beginners to seasoned hands. However, it should be noted that the KX 65 is a manual motorcycle with a six speed transmission – so gear shifting is an essential, which means it has to be ridden properly and there'll be none of that twist and go nonsense. But it's a real competition spec motorcycle, so anyone considering purchasing one will know that before they splash out on buying one. Your money also includes adjustable rebound damping on the front and rear suspension, plenty of suspension travel, disc brakes, and more than enough power to train a future champion. The Kawasaki KX 65 comes with an MSRP of $3,699, which is pricey, but worth it. Unfortunately, it only comes in Kawasaki Lime Green, which is great if you love that color…but not ideal if you prefer something a little less Kawasaki.
Bonus: KTM SX 50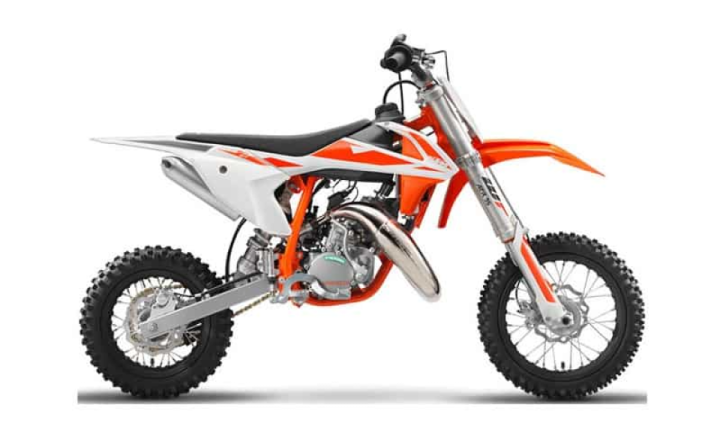 Okay, it's not Japanese, it's Austrian, but KTM is another brand that is world famous for building quality off-road motorcycles and dirt bikes in particular. Why does this model only feature as a "bonus" on this list? Well, the KTM SX 50 certainly is a mini dirt bike, and it is definitely aimed towards younger riders aged between 4 and 10 years old, but since it has an MSRP starting from $4,349, it's aimed towards younger riders who have exceptional talents. In truth, it's a competition bike, a real thoroughbred racer that only a very select few riders will really be able to make the most of. In terms of specification and technology, it is the best – but it would be a bit like your average motorcyclist owning a MotoGP bike. It's cool n'all, but your average Joe won't have a clue what to do with 99% of the bike. However, if you want to throw $4k at a small dirt bike, then the KTM is the obvious choice.
You get a kick start only 49cc single-cylinder, 2-stroke engine, with controllable power, a single speed automatic gearbox, and KTM's awesome WP Suspension. All wrapped up in a classic KTM package. Naturally, you can upgrade it with a full catalog of KTM performance parts that will turn your already race-spec machine into something quite extraordinary. All in all, it's a beast that very few young riders will know how to appreciate, so that's why it's on the list, but not quite on& the list at the same time.
5 Electric Mini Dirt Bikes
#05. Oset MX-10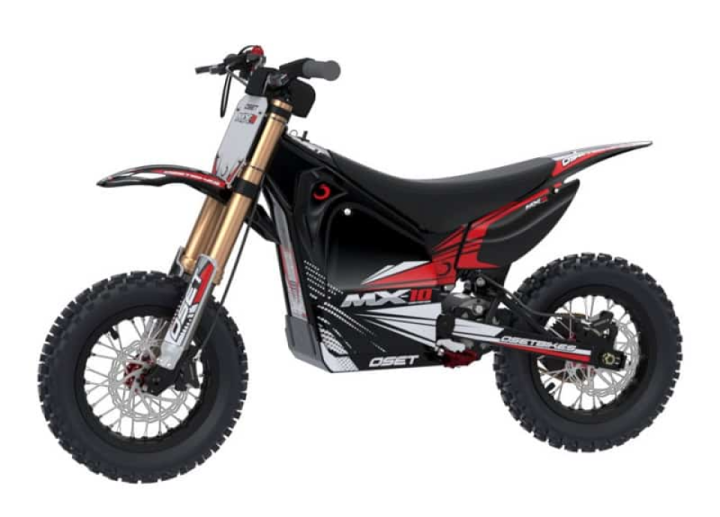 If you haven't heard of the Oset brand, they're probably the world's foremost authority on mini dirt bikes of the electric persuasion. Based out of the UK, their products are a cut above the rest, winning competitions and awards all over. The first model we'll mention is the Oset MX-10, an incredible and technologically advanced small sized dirt bike that won the 2018 MiniBike Supercross Championship in the 88cc class. Powered by an Oset motor with a 48v drive system and 20ah lithium battery, and complimented with USD suspension and hydraulic disc brakes, the MX-10 is quite the machine. Naturally, it's all-electric so there's no danger of exhaust burns and no noise to bother your neighbors with. It can be ridden by teenagers and adults weighing up to 198 lbs, but if you're looking for something smaller they do a youth version (a cool electric dirt bike for kids) which is aimed at younger talent.
Good things aren't cheap though. Well, to be honest Oset's products are cheap considering how good they are, but they are pricey when compared to other, lower spec machinery. The MX-10 retails for $3528 at the current exchange rate.
#04. Razor SX350 Dirt Rocket McGrath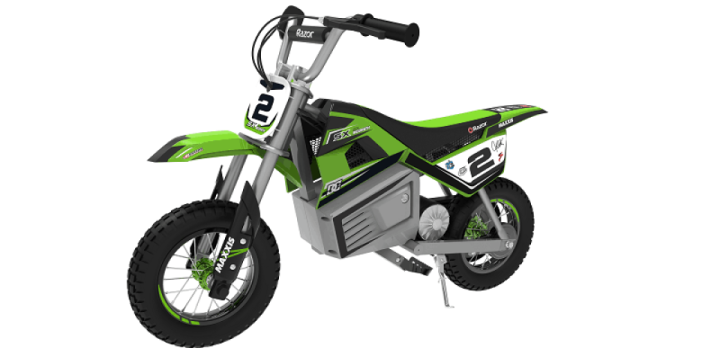 Razor has a great range of electric products aimed at kids and adults alike, with none more successful than their electric mini dirt bikes. The SX350 Dirt Rocket McGrath is one of our favorites. It says& that it's aimed towards children aged 13 and older, but realistically younger children can also have a blast on this. It doesn't have any really fearsome specs, with a top speed of 14 miles per hour pumping out of its little but high-torque motor. Still, that doesn't mean you should be complacent with kids riding it, because 14 mph can be plenty. The battery life of the SX350 is good for 30 minutes of continuous riding per charge, which is pretty good all things considered. The price is also quite an attractive prospect, with prices starting from $339.99. Can adults ride this though? The answer is yes – providing they weigh less than 150 pounds!
#03. Razor MX650 Dirt Rocket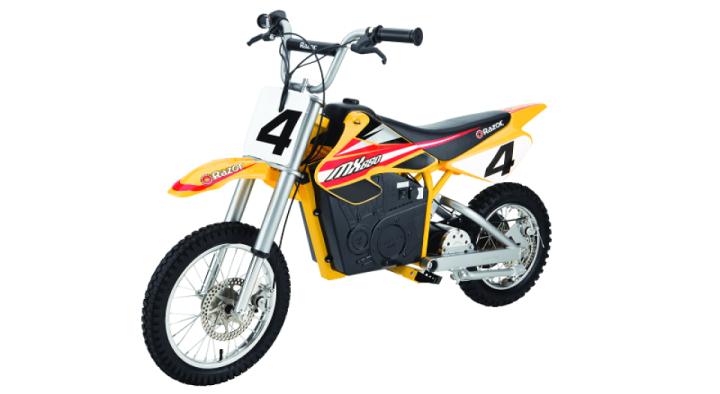 Next up, we've got another offering from Razor. This time we're talking about the Razor MX650 Dirt Rocket. The name might be similar to the one above, but this one has some increased specs and a larger price tag too! Again, Razor have covered themselves by giving this product an age rating higher than is probably necessary. While people aged 16 and up will enjoy riding this, we think younger riders can also enjoy some of the benefits of this model. With a top speed of 17 mph and a ride time of 40 minutes per charge, the MX650 is more powerful than the smaller model above, and has more dirt biking capabilities. In fact, there are plenty of reviews of older riders (some well into their 50s) having an absolute blast on one these, hitting trails, and even using one for quick runs into town. With a price tag of $729.99 it's quite the bargain for the specs you get out of it.
#02. Oset 12.5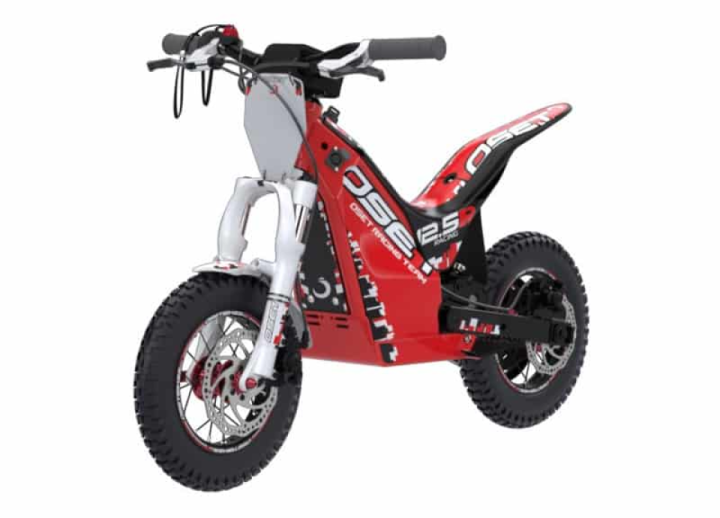 The Oset 12.5 claims to be the world's best selling electric motorcycle for children aged between 3 and 5, and for good reason: it's a high spec electric motorcycle with incredible performance but with an incredible focus on rider safety. Powered by a strong 24v 600w motor, the 12.5 is capable of turning young riders into future champions in a safe and secure manner. Equipped with a magnetic lanyard switch, adjustable throttle response and speed controls, disc brakes, and padded features, you can be sure that your little one is safe at all times. What's more, the full electric system has no exposed hot parts, so even minor burns are avoided too. No burns, no noise, no gasoline. For those who want to take their child's riding to the next level, Oset's mini dirt bikes are definitely worth considering, and worth the price tag too. The Oset 12.5 prices start from $1,147.
#01. Oset 20.0 Eco
While anything out of the Oset catalog will set you in good stead, our favorite from their line-up of electric mini dirt bikes is the 20.0 Eco. Aimed more towards 8 to 12 year olds, the Oset 20.0 Eco has actually proven itself capable of putting smiles on the faces of adult riders too. Powered by a 1200W 48V OSET neodymium magnet DC motor, the 20.0 Eco has enough power to make riding seriously interesting without it being too overwhelming for young riders. It's all wrapped up in a nice package with some nice top shelf accessories, such as alloy rims and hubs, hydraulic disc brakes, and adjustable suspension, with an overall weight of just over 90 pounds. It's expensive, but it's worth it if you have a child who likes to take their off-roading seriously. Prices for the Oset 20.0 Eco start from around $2,645 at the current exchange rate.
The Best Of The Rest
#05. SYX Moto Holeshot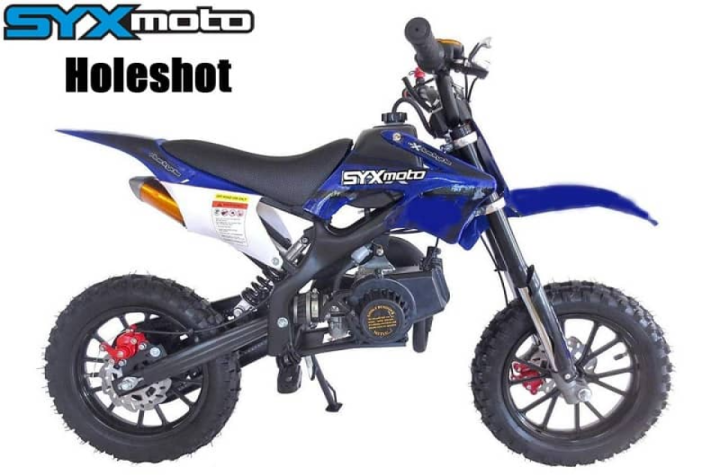 If you're on a tight budget, then you should definitely consider the SYX Holeshot. Readily available for purchasing online, this mini dirt bike is backed up by stacks of positive reviews. Powered by a small 49cc air-cooled 2-stroke engine, this pocket bike comes complete with a selectable power feature, allowing for adjustable speed limiting (from a claimed top speed of 30 mph down to a more child-friendly 15 mph). It's also fully automatic, with no clutch, making it a great started bike for beginner riders. Though it's good for kids, adults up to 6 foot tall can still get a kick out of riding the Holeshot.
The downsides include having to premix your own fuel, and the fact that you have to assemble this one yourself from the box – but it comes 85% assembled, so it's not complicated to put together. With a bit of tweaking, you can turn this cheap mini dirt bike into something quite fantastic. And for the price, it's hard to argue with the quality of this machine. Coming with an average sale price of around $279, you'll have a hard time finding a better option for the same price point. It's cheap, but not in a bad way.
#04. Coolster Kids 70cc Mini Dirt Bike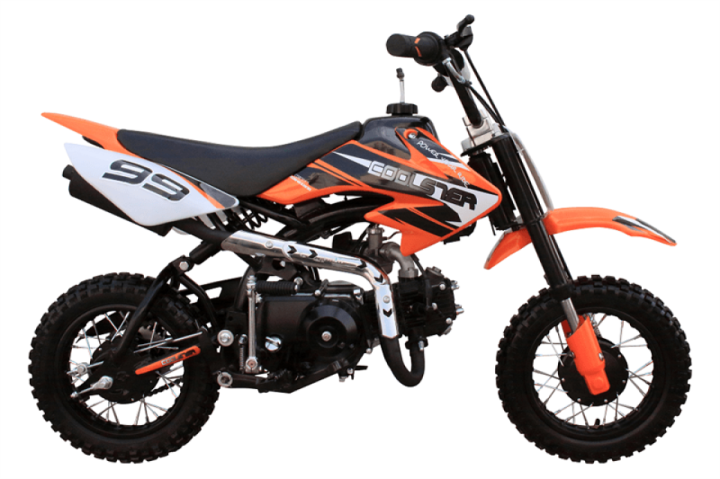 This one is a little bigger than most of the others on this list, coming powered by a 70cc single cylinder, 4-stroke, air-cooled engine. That extra displacement gives the Coolster Kids mini dirt bike a bigger power output of 5.4 horsepower, and claimed top speeds in excess of 30 miles per hour. Because of this, we think it might be better for slightly older kids rather than very young beginners. Essentially, this little pocket bike is a cheaper copy of the Honda CRF50F, but there are a fair few differences. For example, this is a kickstart only model, and it's not an automatic "twist and go" machine either. In fact, it's the gearing on this thing that is one of the only real negative points worth mentioning.
It's a four speed, but the shifting isn't in the conventional one-down, three-up pattern. Instead, it's more like a semi-automatic moped, like an old Honda Cub, with first gear being a click down, second gear another click down, third another, fourth et cetera, with changing down requiring you to click the lever up. It's not necessarily a bad thing, but it's not ideal if you're training new riders and plan to graduate them to bigger and better bikes in the near future. Still, it's a great deal for an average price of $600.
#03. X-Pro 40cc Kids Dirt Bike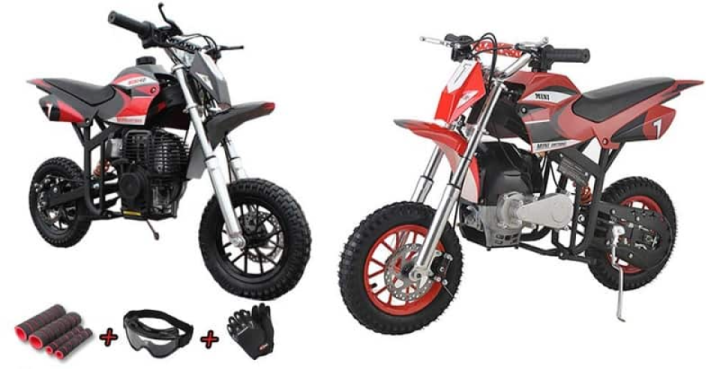 This little dirt bike is nice and cheap, without too much of a compromise on quality. It's cheap, so don't expect a competition quality motorcycle, but for the price you do get a lot of bike. Powered by a punchy little EPA approved, low noise, four-stroke engine that offers smooth and steady acceleration, and top speed of 22 miles an hour, this is a great option for young riders. It comes with a pull starter, telescopic suspension, and front and rear disc brakes too. All in all, it's a great little runner that can be enjoyed by young riders and adults alike!
It's worth noting that some assembly is required for the X-Pro 40cc, for example, the handlebar brackets, wheels, brakes, and fenders will have to be put on by hand. While that's a minor annoyance, X-Pro make up for it by throwing in a set of gloves, goggles and handgrips into the deal, which is a nice addition. For $339, it's worth taking a gamble on. It's surprisingly excellent value for money. It should also be noted that this particular model doesn't ship to California from most retailers, so keep that in mind.
#02. Nitro Motors Hobbit Sport 49cc Pocket Bike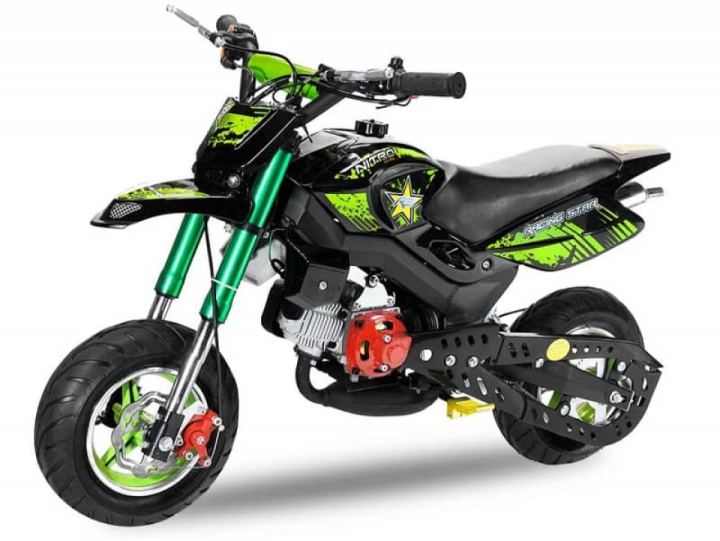 This little pocket rocket from Nitro Motors is an excellent purchase for those who want great value for money out of a mini dirt bike. It comes powered by a gutsy 49cc 2 stroke air cooled single cylinder engine that's capable of 3.5 hp, and equipped with an easy pull start, disc brakes, tough suspension, and a hassle free single-speed automatic transmission which will make riding easy for absolute beginners. All in all, the package weighs in at a light 53 lbs, which is nice and light in case of a small spill, and you can guarantee that your young rider will be protected thanks to the addition of a kill switch for emergency shutdown, and a chain guard.
There are downsides though. The Hobbit Sport only comes shod with road profile tires, which will probably be alright for the kind of off-road performance a beginner rider can be expected to achieve, but knobbly dirt bike rubbers would be a better choice. Also, it's a two-stroke that requires premixing, but that's hardly a huge complaint – especially considering the price tag of this little beauty. $315 is a very cheap price, and totally worth the gamble.
#01. KTX Radical Mini Dirt Bike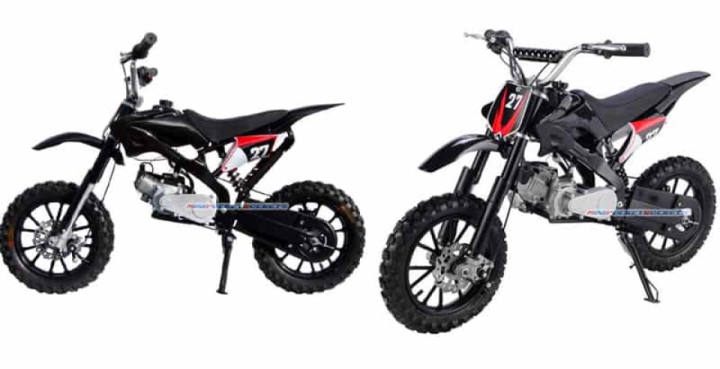 This KTX Radical dirt bike is one of the best budget mini dirt bikes on the market. It's taller than most other kids dirt bike models, offering longer suspension travel from its full suspension system and bigger rims, making it more than capable of tearing up the roughest trails. The engine is a Honda copy, and the air-cooled 4-stroke 40cc power plant is capable of producing an impressive 5.3 horsepower and a top speed of 35 mph. That power is delivered through an automatic gearbox, which basically translates as one "twist and go" controlled gear which is great for young riders and newbies to gain confidence on.
The engine also has a top speed regulator that allows watchful parents to control the power output, limiting the bike at a chosen speed between 5 mph and 35 mph, making a great choice for safety conscious parents. Fortunately, there isn't much assembly with this model, and whatever parts you need to attach simply snap on, or bolt on with ease. And since it's a 4-stroke, all you need to do is put some gas in the tank, yank on the easy pull starter, and go for a ride. This bike is suitable for riders aged as young as 4 and for adult riders too! So, in terms of value for money, you really can't go wrong – especially since the KTX Radical Mini Pocket Dirt Bike usually retails for an incredibly attractive price of around $299.