KTM's 1090 Adventure R is a platform that was derived from the brand's experience with an older sibling, the 1190 Adventure R. Sharing styling and many of the same parts, the most significant difference between the two is the 1090's comparatively stripped-down nature and off-road focus. Three model years between the first 1190 & 1090 gave KTM ample time to make improvements and necessary changes before ushering the 1190 into retirement. Gone were factory parts like the center stand, oil temperature sensor and 12-volt power outlet. Improved suspension, usable torque, and a palatable price tag arrived in their absence.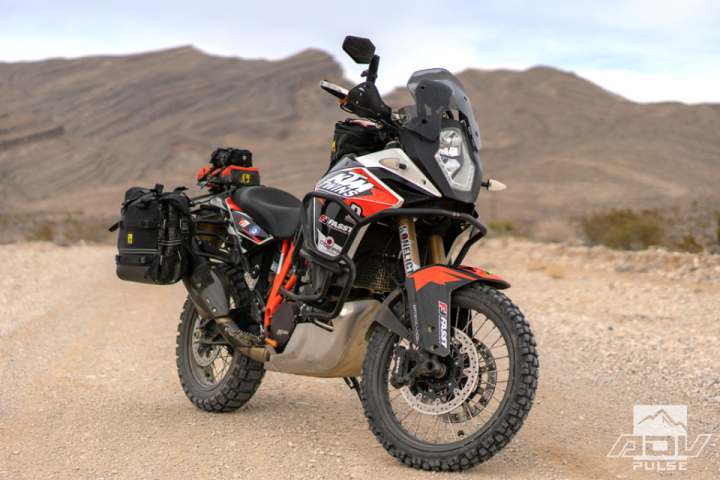 Customers asked for a more hard-nosed LC8 machine, and KTM didn't mind delivering the narrow-purposed 1090 Adventure R in part due to the addition of their 1290 street and touring models to rounding out the range. The result was something special: a little less weight, fewer frills but a lot more to offer at pavements end.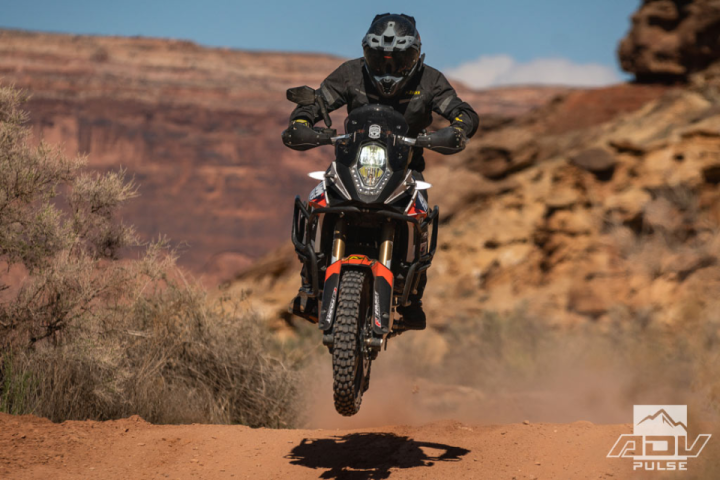 With all this in mind, the online motorcycle parts retailer – KTMTwins.com – chose the 1090 Adventure R for their latest project bike to see what more they could do to bolster its already impressive credentials. After a year and a half of upgrades, alterations, and more than 11,000 miles of hardcore testing, the "Twins 1090" was completed.
The result was an absolute mile crusher on two-track and beyond. A great long-distance adventure travel bike capable of tackling nearly any obstacle in its path. With a plush and forgiving chassis that made it easy to forget its girth, and more power and gumption than it knows what to do with.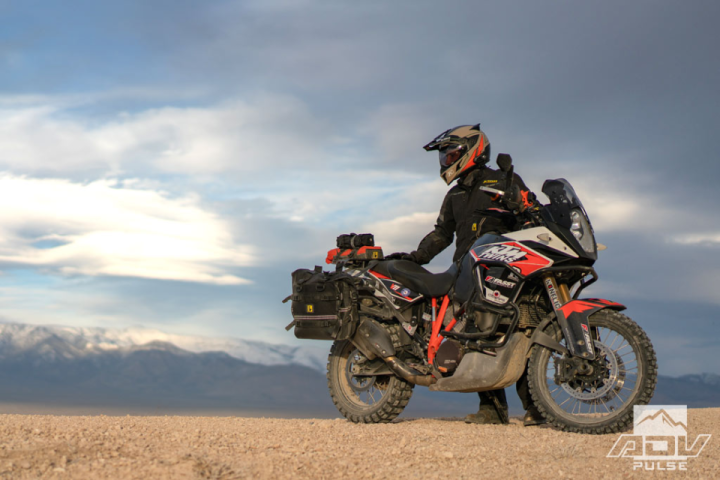 Read on to see what went into this monster 1090 Adventure build and get insights from KTM Twins on how the upgrades performed on the trail.
One of the intended purposes of this bike was to eat up backcountry miles with ease and the first step KTM Twins took to realize that vision was to improve rider comfort.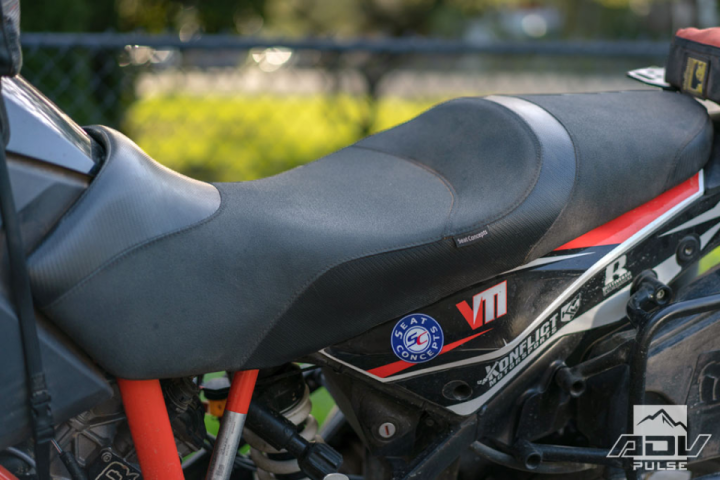 The Seat Concepts saddle is not only more comfortable than the stock offering but it also fixes the "sliding into the tank" feeling (typical on these bikes). Better foam, improved grip and a fuller seating area made this an obvious upgrade. The last thing you want is posterior pain limiting your miles, and this saddle is an effective solution to combat that.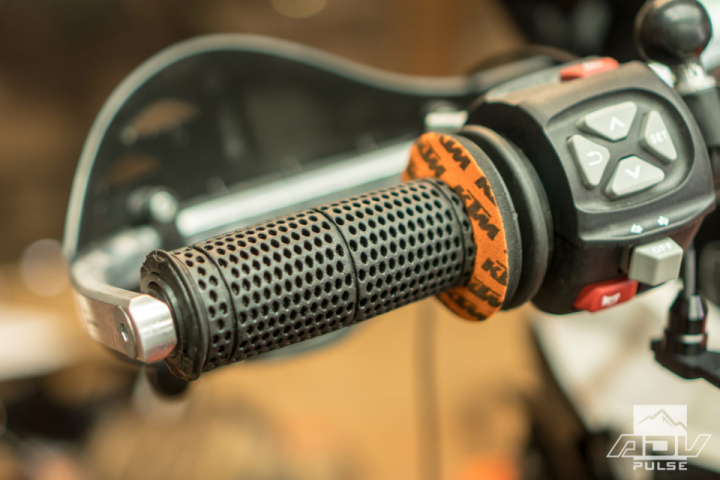 Some people might argue that heated grips don't belong on an actual off-road machine, but those people are just wrong! Kidding aside, this set of factory heated grips was chosen to make those late night/early morning endeavors that much more bearable. Multiple times during field-testing of the Twins 1090 Adventure temperatures plunged below freezing, and the ice warning flashed on the dash; On every one of those occasions, these heated grips were celebrated. The advantage of Power Parts heated grips over an aftermarket equivalent is that they can be controlled by the onboard computer. The hard plastic grip material was swapped out for a set of ProGrip Dual Sport Gel Grips resulting in just about the best combo for your mitts imaginable.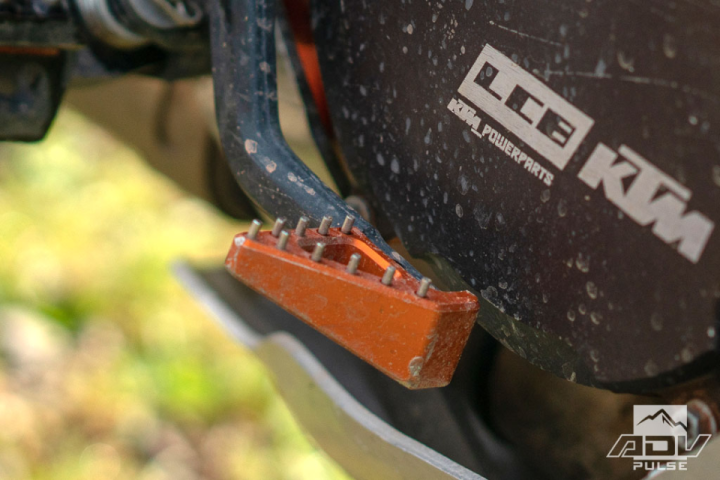 Small details can make a BIG difference, and that is certainly the case with this Vanasche brake pedal pad. It replaces the flimsy stock pad with a stylish oversized platform with robust cleats. It is much easier to find in bulky adventure boots and during testing has fared very well when the bike has gone down on that side. Did we mention it was orange?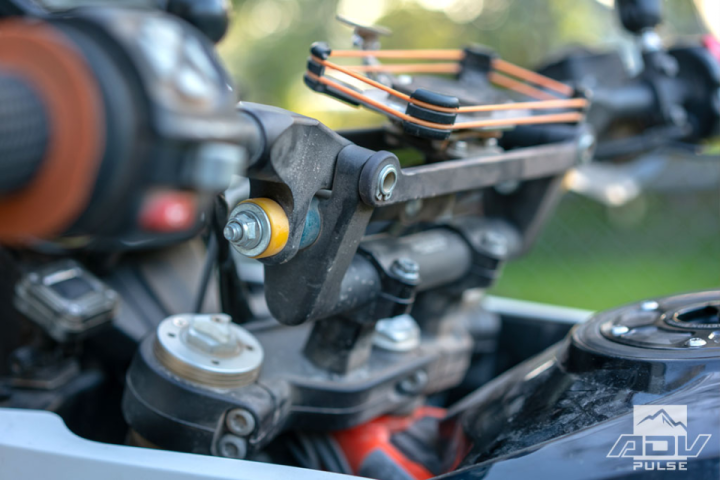 The Flexx Bar's fiber bushings & elastomers dampen vibration and absorb impacts to cut down on fatigue in the arms, hands, and shoulders. Plus they make those heavy 1090 R comedowns from a wheelie or jump feel buttery smooth. Paired with a set of FasstCo threaded vibration inserts, this setup offers a plushness boost.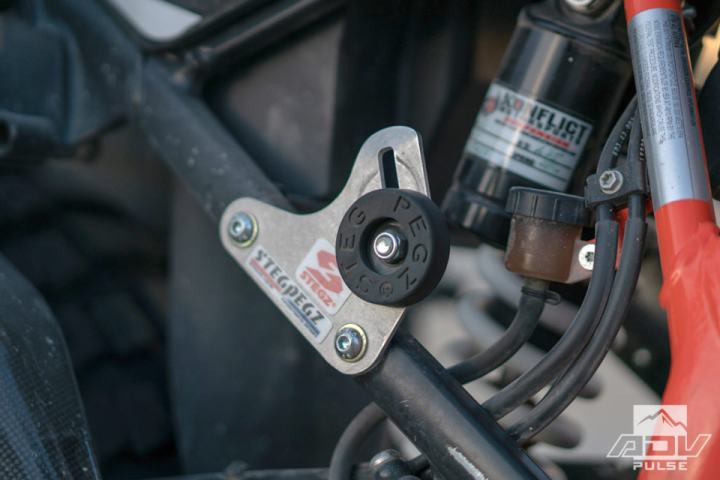 Steg Pegz are essentially rubber bump stops that mount in the same location as most pillion pegs allowing you to lean back and "lock-in" with your boots. The result is a better connection with the motorcycle and improved control. This makes going up inclines or riding through rough terrain much easier once you are at home with these strange looking rubber pucks. During testing, the amount of pressure alleviated from the arms was noticeable and they also cut down on overall rider fatigue.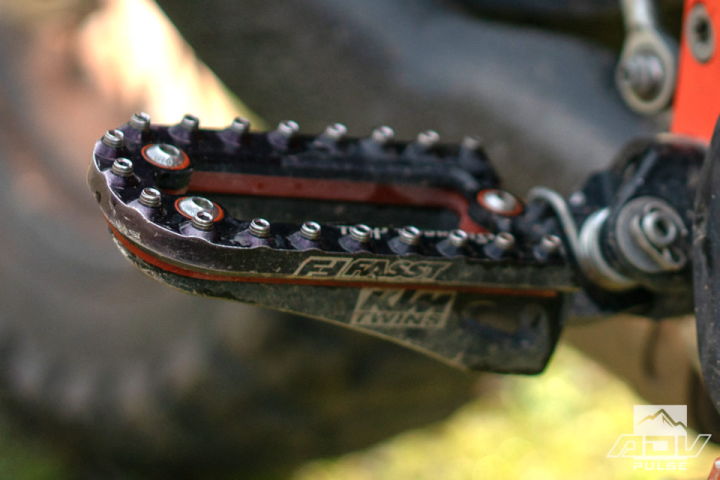 Inadequate size and subpar traction are typical of OEM footpegs which is why aftermarket pegs are always one of the first upgrades adventure riders make. Fasst Company Adventure pegs were chosen for this 1090 Adventure Build due to their improved superior traction and large platform design – claimed vibration dampening was just a bonus. They proved comfortable for standing, even for extended periods, and the excellent grip and open design made these perfect for their application.
'READY FOR ADVENTURE' UPGRADES
Unfortunately even 1090 Adventure R's aren't ready for sustained adventures directly from the showroom. Sure, they are more capable than most with essentials like lower crash bars & handguards but not for the rigors of day in and day out abuse KTM Twins had in mind. These are the upgrades intended to make this 1090 prepared for anything that backcountry travel could throw at it.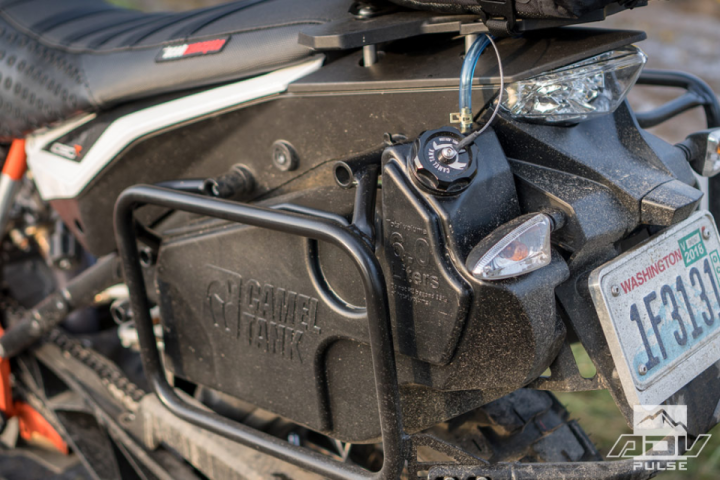 With a stock fuel capacity of 6.1 gallons, it's easy to assume that fuel range on the 1090 Adventure would be of no concern, but it can be a limiting factor. Performance modifications and spirited riding contributed to this bike regularly getting 32-35 miles per gallon during testing. Routes farther than 210 miles were questionable at best and downright sketchy in desolate areas like Death Valley. Enter Camel ADV's Camel Tank, with an additional capacity of 1.5 gallons, extending the 1090's usable range to around 250 miles. This made it possible for worry-free stretches between fueling and allowed fuel sharing with would-be stranded companions.&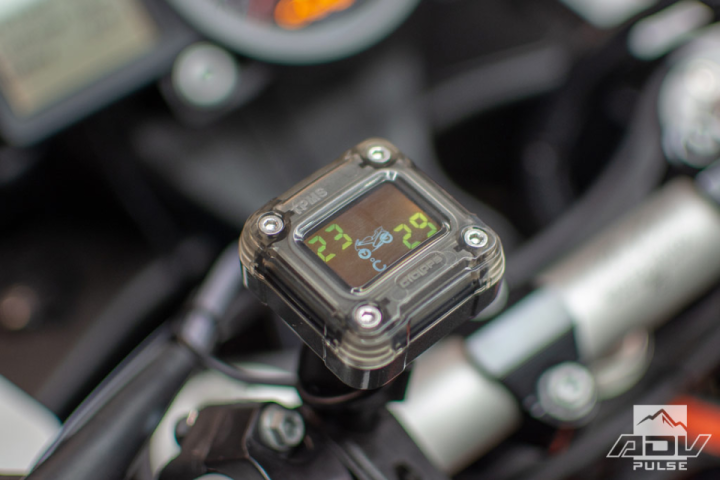 One of the features appreciated on the old 1190 Adventure R, which is missing on the 1090 Adventure R, is the TPMS (tire pressure monitor system). Cyclops Adventure Sport's simplified aftermarket TPMS is great for keeping an eye out for slow leaks and imminent failures. With the sensors themselves taking the place of stock valve caps, there were no worries when swapping tires or repairing flats. It was able to alert riders seconds before a tube failure more than once during testing.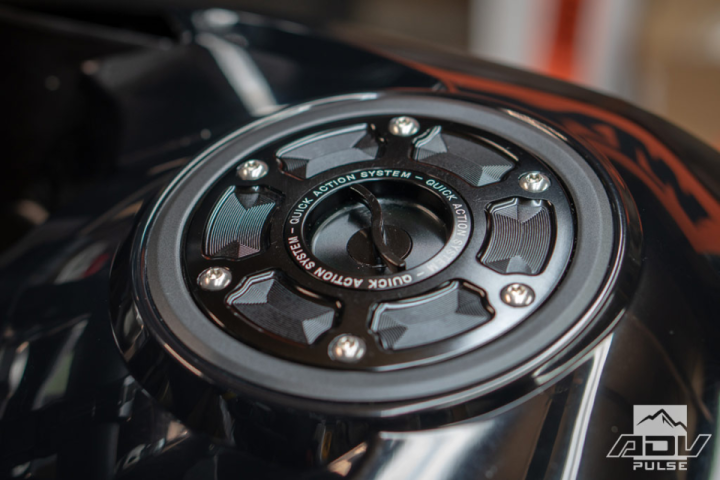 On multi-day adventures, with frequent fuellings, little nuances like removing your key from the ignition to unlock your fuel cap can lead to insanity. Pair that with the fact that said keyed fuel cap might mean the difference between donning and doffing one's gloves means it's a bigger deal than you might think. This Power Parts machine finished, the anodized aluminum 'keyless' cap looks the part and makes life that much easier.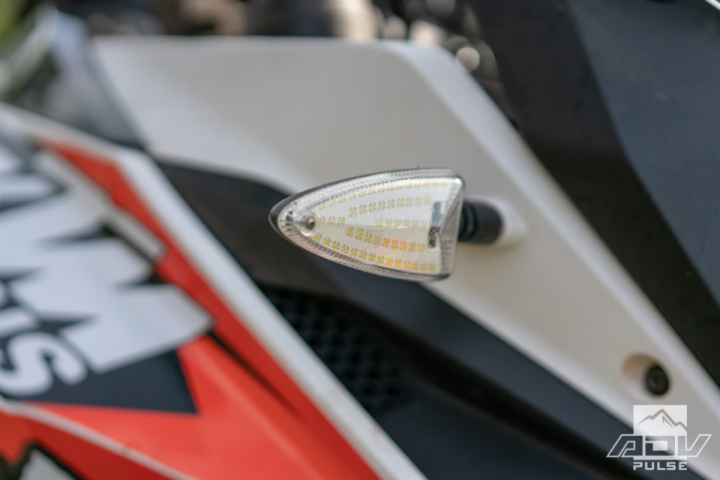 Safety is something often overlooked on a project with such a dirt-oriented scope but something worth addressing for the inevitable interim highway miles. These plug and play LED turn signal inserts from Cyclops are designed to help you see and be seen out on the road while riding through droves of distracted drivers. The front two signals become running lights when they are not actively indicating a turn while the rear set works as additional brake lights anytime you squeeze or tap the brakes. They could be one of the least sexy upgrades on this entire bike, but they get more comments and attention than any other part.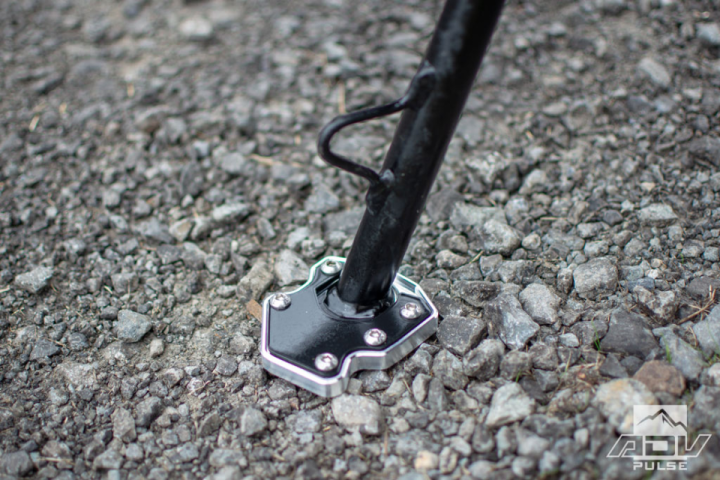 The Vanasche Motorsports side stand foot is the unglamorous often-overlooked part that shoulders the entire load every time the side stand is down. Comprised of a piece of machined billet aluminum sandwiched over the kickstand with a powder coated laser cut steel lid. It's saved the bike from an untold number of creeping, sinking tip-overs with little fan fair.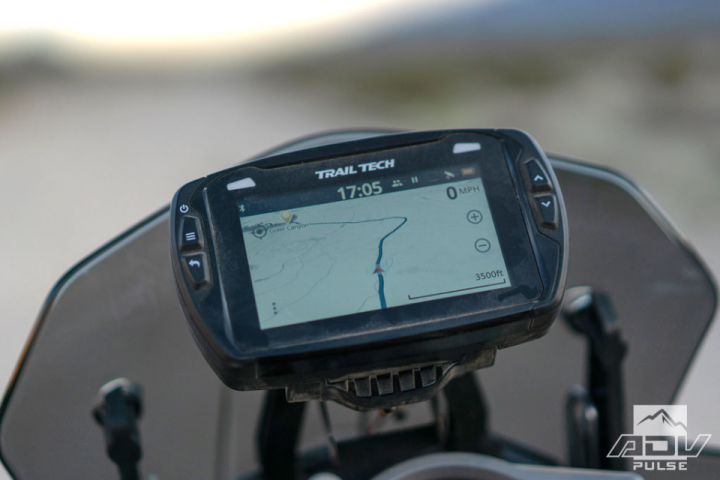 No adventure machine is complete without a reliable form of navigation, and for this build, KTM Twins turned to Trail Tech to keep their bearings. This cutting edge GPS unit has many unique features that are specific to power sports applications such as buddy tracking, emergency beacon, Bluetooth connectivity and vehicle data (voltage, temperatures, speed, etc.). The 4'' color touch screen is ready-made for adventure: waterproof, glove friendly and, glare-free. This unit has proven to be indispensable for backcountry forays paired perfectly with the Perun Moto GPS Dashboard Mount for clear visibility when sitting or standing.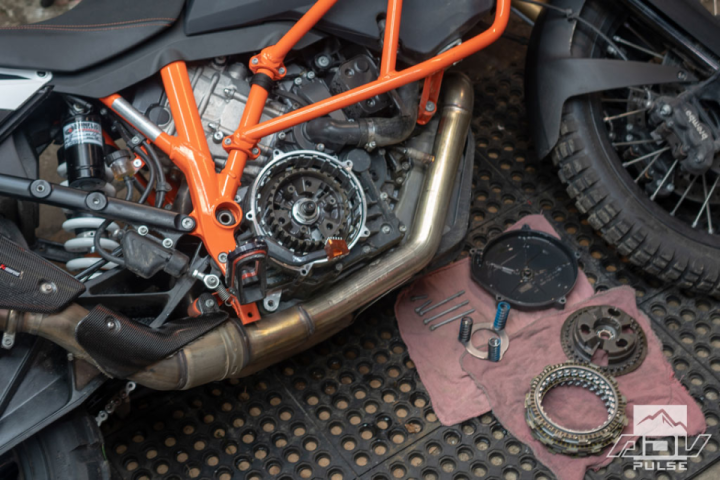 The Rekluse TorqDrive clutch is specifically designed to unlock more power without compromising reliability. With the increased power that came with the Twins 1090 performance upgrades, the Rekluse TorqDrive clutch was a logical upgrade. It retains manual engagement functionality, while adding six additional friction discs to the clutch pack over stock in the same amount of space. With its greater surface area, the TorqDrive clutch gives increased torque capacity and less slip along with improved durability & reliability, smoother shifts, and a more consistent lever feel.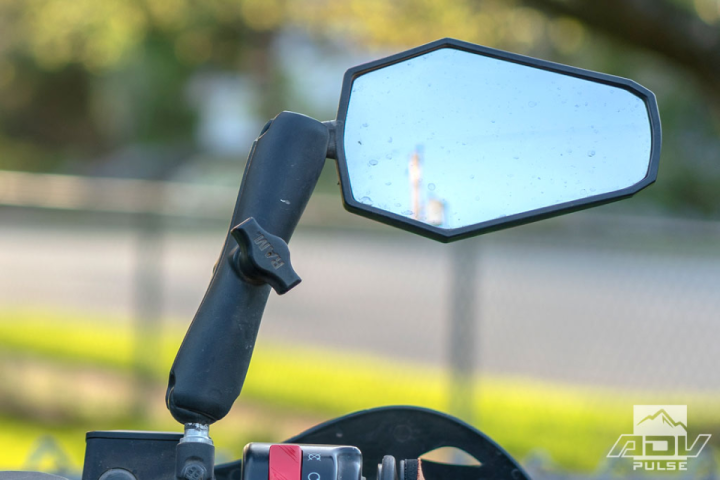 One of the first ceremonial tasks often performed when adventure riders take possession of a new dual sport is the removal of the standard issue mirrors. After all, it's better not to trust these brittle, waifs much further than the dealership parking lot. Double Take Mirrors offer one of the best options for adventure mirrors with a vast field of vision, minimal vibration and, the ability to fold down quickly when riding off-road. Secured using Ram Mount hardware, they are customizable,rugged and perfect for the hard miles ahead.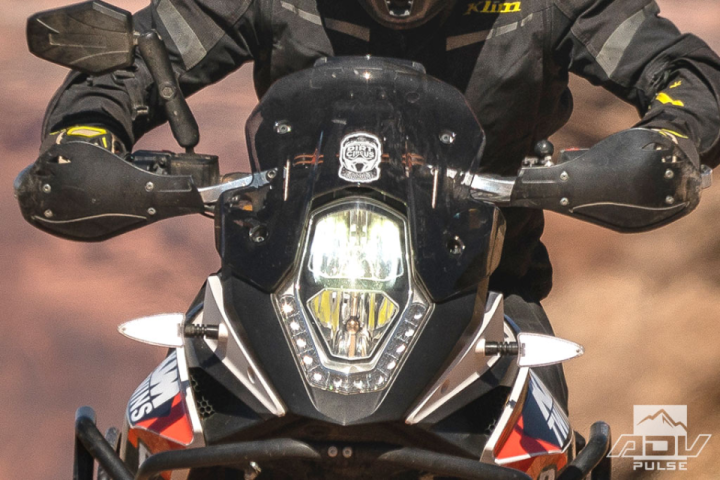 Another safety item addressed was the stock headlights. KTM Twins felt they were barely adequate on the road and hardly useful in low light situations off-road. Cyclop's plug-and-play LED replacement kit offers a tidy solution to these illumination woes replacing the stock bulbs with two 38-watt 4800-lumen bulbs capable of turning night into day. The improvement in safety cannot be understated with these lights guiding the way through blizzards, dark nights and dreary commutes. And they are bright enough to virtually eliminate the need for auxiliary lights.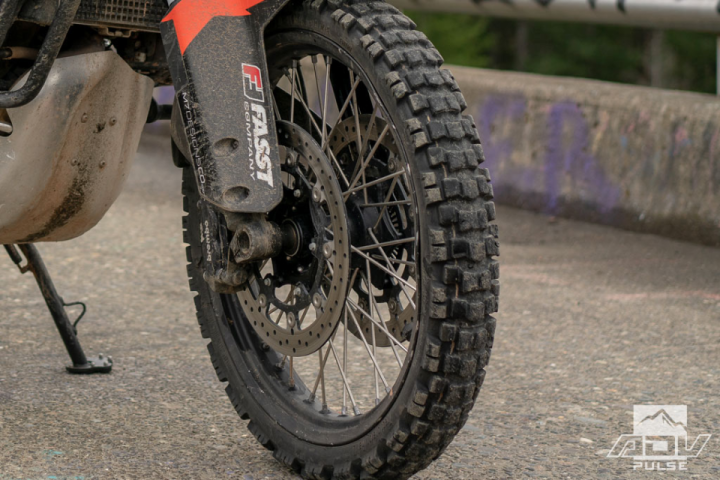 The Continental TKC-80's that accompany 1090's from the factory lacked the longevity and bite desired for this project. With their desert racing and long distance adventure pedigree, the Motoz Tractionator RallZ tires offer a more-aggressive tread pattern while also having a longer lifespan. The tires offered good traction for the rough conditions encountered during testing and impressive endurance exceeding 5,000 miles.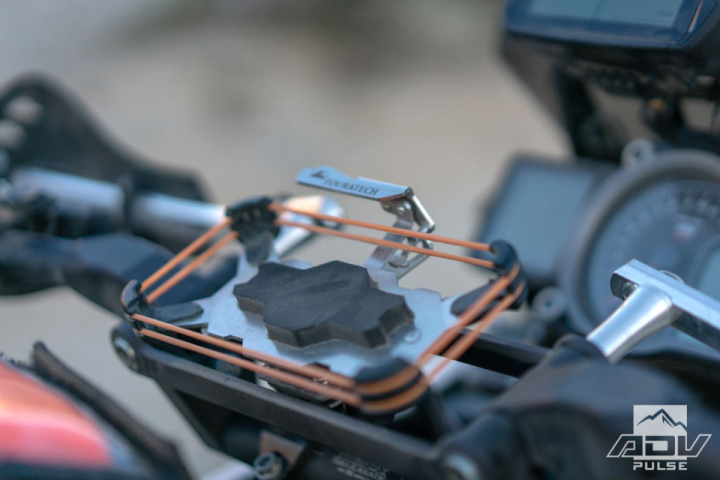 While some folks might find it redundant or unnecessary to have a cell phone mounted on the handlebars, others (including yours truly) think it's essential. Whether it's being used for supplementary navigation apps like Rever, media or turn-by-turn directions in town, it's nice to have as an option. To keep clutter down and the phone safe KTM's Power Parts ibracket was employed. Flush mounted to the handlebars using a short Ram Mount arm, this setup works well allowing the phone to rotate 90 degrees to display horizontally or vertically. The mount proved to be fully secure and perfect for this 1090 Adventure Bike Build.
PROTECTION
It makes sense to protect your investment in a motorcycle especially if you plan on taking it places or putting it in situations that the manufacturer didn't intend it for. With the Twins 1090 preservation was paramount, and vulnerabilities were addressed as quickly as possible.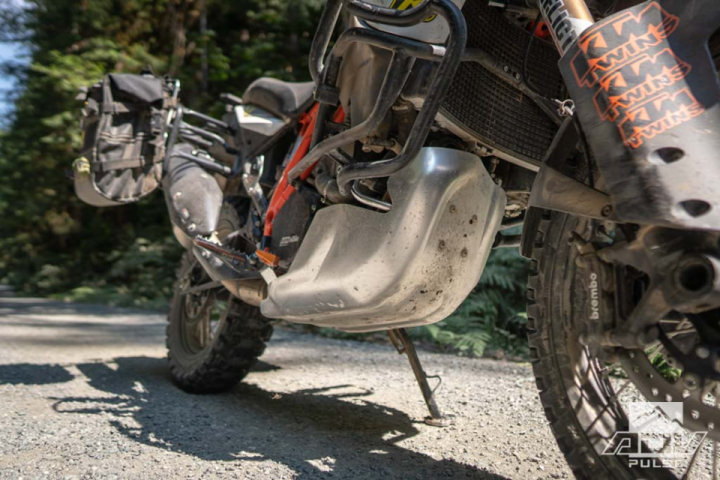 Maybe the most crucial protection piece on a KTM 1090 Adventure R is the skid plate. Touratech's RallyeForm skid plate is 4mm of cold-stamped aluminum that boasts a form-fitting exterior around the 1090's undercarriage, protecting the trellis frame, sump and low-slung exhaust. It performed admirably in its duties protecting the vulnerable underside of this beast during all of its precarious tirades and ill-advised forays into rock crawling. Check out the full review here.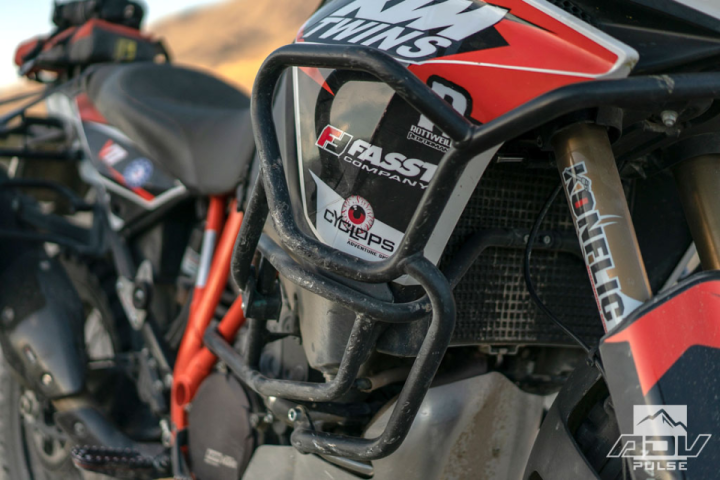 KTM was wise enough to offer sound lower crash bars as a standard feature on the 1090 but failed to acknowledge the damage that would be inflicted to anything beyond they're coverage area in the inevitable event of a spill. This level of crash protection is well suited for highly-skilled riders or ones with pockets deep enough to replace plastics every time the bike goes down. Since most riders don't fall under either of these categories, KTM Twins opted for more comprehensive armor. Keeping with the theme of prepping this bike for extreme circumstances, hardwearing Rumbux Upper crash bars were installed in conjunction with the factory bars to create something akin to a roll cage. This beefy setup not only looks the part but also has the brawn to back it up; taking the full impact of this five hundred pound dirt bike on several occasions with no issues whatsoever.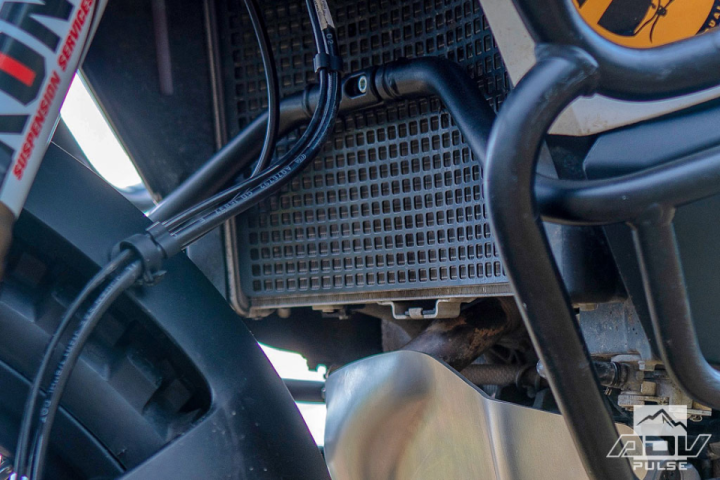 This laser cut aluminum guard replaces the plastic insert installed at the factory offering more direct airflow, rock protection, and easier cleaning. This was another subtle enhancement that should make a great difference over the lifespan of the Twins 1090. All it would take is one lucky stone or chunk of debris to end an excellent ride, and that risk was mitigated with the installation of this grille.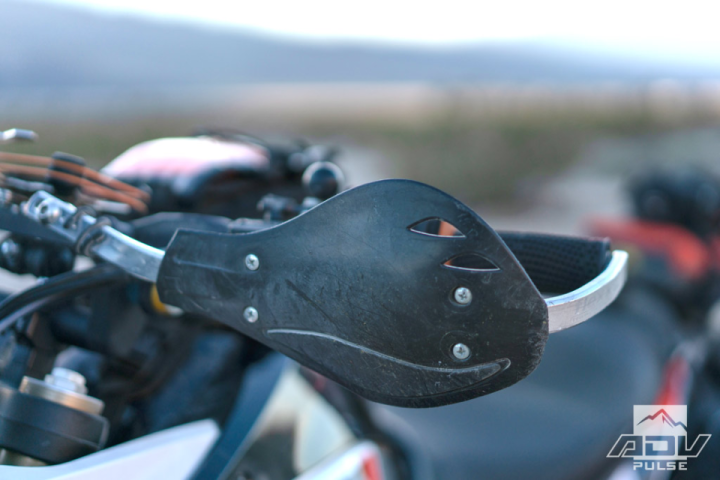 Another stock part that demonstrates how KTM might have overestimated the skill level of most of their consumers is the handguards. While these all-plastic wrap around "guards" do an excellent job of deflecting wind and can handle light falls, that is the extent of their functionality. For the preservation of both digits and levers, Fasst Company Simple Solution hand guards were added . Threaded on both ends of the aluminum backing bar with interchangeable snag free shields, they are as basic as the product title implies but have proven indestructible and seamlessly integrate with the aforementioned Flexx Bars.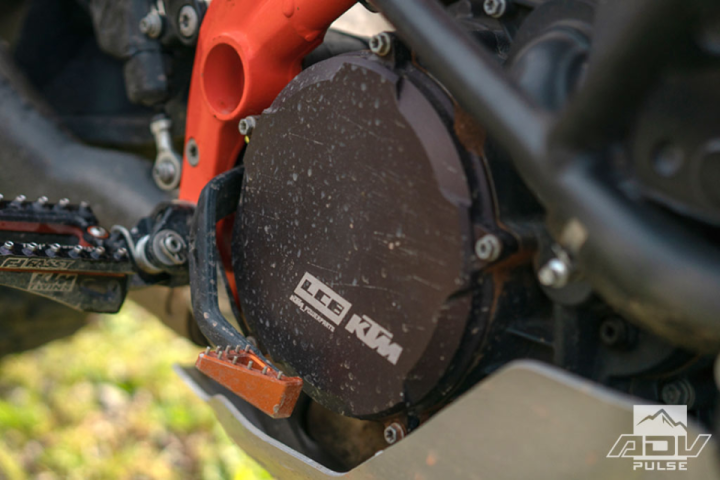 Replacing the at-risk cast aluminum clutch cover with the Power Parts billet aluminum cover served double duty as both a fashionable & functional upgrade. The billet aluminum cover is less likely to be punctured/cracked by the brake pedal or rock during a low side, and it is markedly better looking.
LUGGAGE
Whether it's an adventure to the grocery store or trek to the other side of the globe, some form of luggage is useful if not essential on all motorcycles. Since this bike was intended for long distance travel in rough conditions, special care was taken to select robust methods of transporting all the trappings of independent backcountry exploration.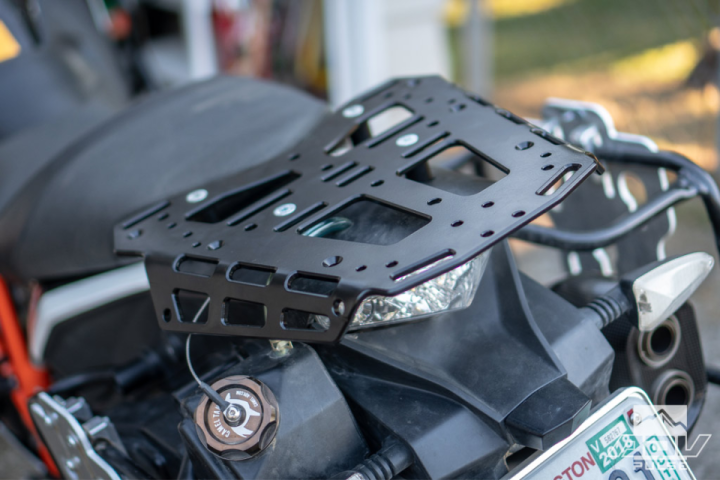 Perun Moto established itself in the ADV community by producing what is regarded as the definitive 690 Enduro R rear luggage rack. Their new offering for the 1090 did not disappoint. Milled from 6mm aluminum, it's built tough and with 26 different slots it provides a multitude of options for mounting duffle bags, rackless saddlebags or a hard top case.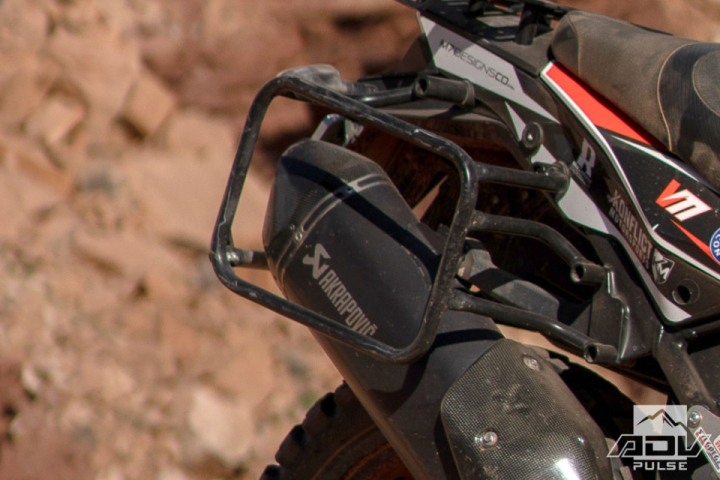 Even though hard luggage was not intended on this bike, they still wanted sturdy pannier racks to act as crash bars and to support soft bags. The Power Parts system was chosen due to their proven success on the earlier 1190's and known compatibility with Camel ADV's Camel Tank. These hardy-steel racks did a great job protecting the back half of the bike, including the precious Akrapovic silencer, and worked perfectly for securing soft panniers.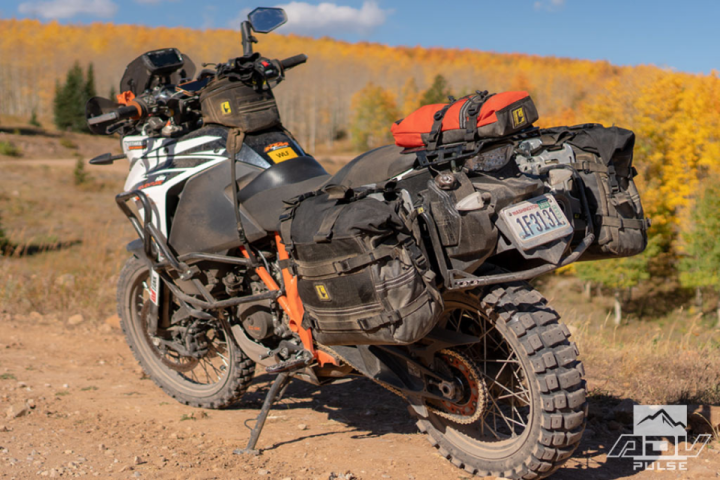 For this application, generous capacity was required for carrying a full load of camping equipment while durability, weather resistance & adaptability were also important characteristics.Wolfman's Rocky Mountain saddlebags were picked because on paper they met all of the criteria, and KMT Twins had a positive experience with an earlier version of these bags on the Ultimate KTM 690 project. The 2018 Rocky Mountains ended up exceeding expectations with their improved mounting system, useful removable waterproof liners, and heavy-duty materials. The 72 liters of capacity was ample, and they held up remarkably well for all of the hard miles they endured.&
SUSPENSION
As good as the 1090 Adventure's are in the suspension department compared to the earlier 1190 & 1290 models, there's always room for improvement, and there is yet to be a substitute for a tailored-fit setup.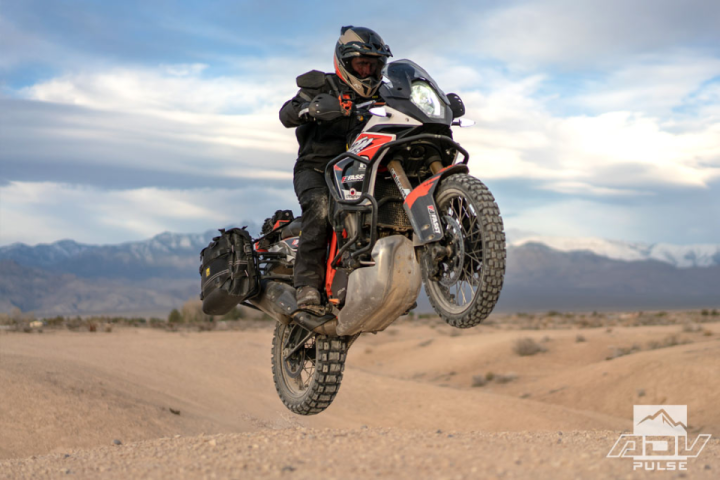 Given the extensive experience of Konflict Motorsports catering to both conventional adventure bikes and world-class rally motorcycles the 1090 was eagerly turned over for what they call their KM2 Service along with some additional custom coatings. The forks were re-valved and re-sprung for specific weight requirements. Also, the seals were replaced with heavy-duty SKF models, and Maxima high-performance fluids were utilized. To top it off the fork lowers and upper tubes were treated to DLC & Kashima coatings respectively for the ultimate in appearance and performance. Similarly, the rear shock was re-valved and tuned with premium seals and fluids. The result is something you truly have to experience to appreciate fully: plush, responsive and perfect for all the jumps, drop-offs and unexpected hits encountered.&
PERFORMANCE
KTM's are known as performance machines; they typically aren't purchased for their fuel efficiency. The goal here wasn't just to squeeze every last ounce of power out of this engine but to make that power usable. Through the following upgrades, they achieved a smoother running, more efficient 1090 with even better output.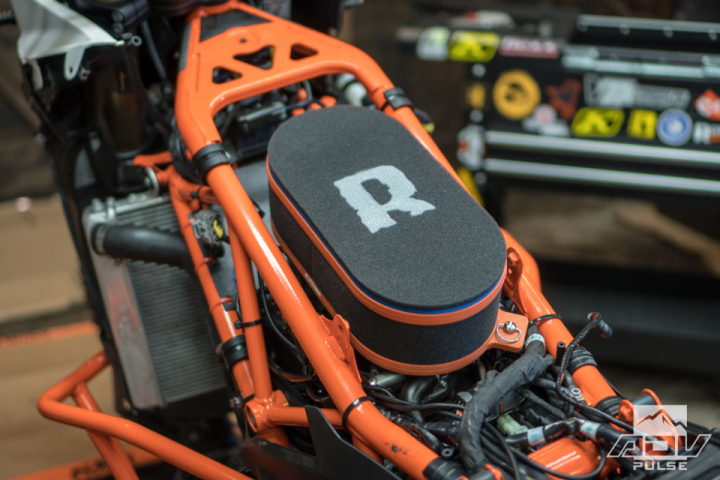 Rottweiler is known for being the top performance shop for KTMs so it is no surprise they were chosen for a power boost. Specifically, the Stage 4 Kit was added, which includes their trademark air intake (completely replacing the stock air box), fueling dongles, billet tuned velocity stacks, and a Power Commander V. This setup is much safer in dusty conditions and the power gains are truly impressive.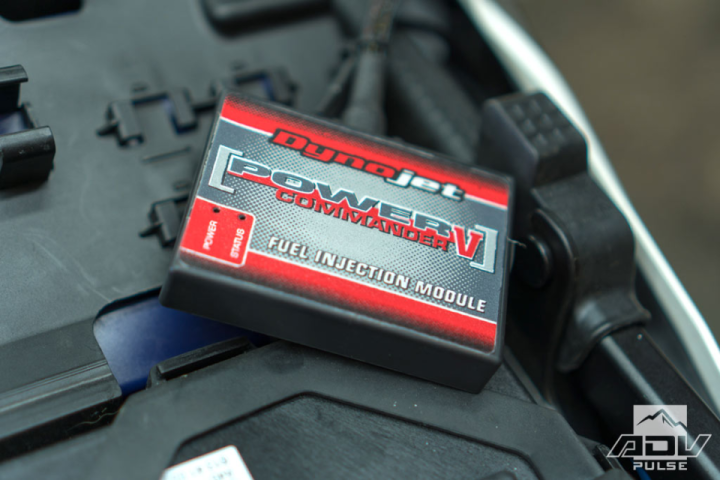 Even though a Power Commander and custom mapping are not required for the Rottweiler upgrades listed above, KTM Twins elected for both to achieve optimal performance. The Power Commander V is a programmable "piggyback ECU" that taps into your bikes ECU to change fuel/oxygen values. The experts at 2 Wheel Dynoworks created the custom map for the Power Commander after countless runs on their Dyno machine with sensors monitoring engine output.The end product was an incredibly smooth power band with improved fuel efficiency and real-world horsepower/torque gains.
If you've ever ridden a 1090/1190/1290 off-road, you know the importance of this invaluable little "dongle." To disable the ABS & traction control and switch to OFF ROAD mode on these bikes, you are required to scroll through several menu screens and jump through various hoops. If you happen to turn off your ignition, you have to start this tedious process all over again as you get roosted and left in the dust. The beauty of this dongle is the retaining of all your settings no matter how many times you cycle the ignition.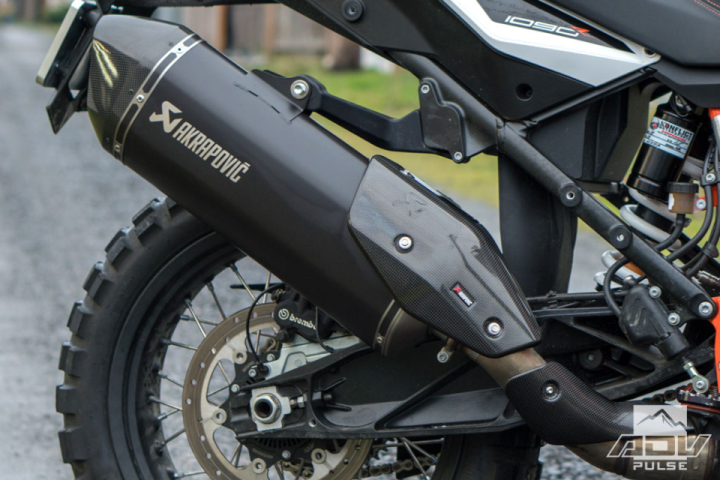 Another functional upgrade that has the added benefit of being extremely attractive! This titanium sleeved stainless core silencer shaves nearly seven pounds off the back of this bike, has longer service intervals and sounds divine. Paired with the Powerparts carbon fiber heat shields, this is a transformation for the 1090's exhaust. It has a deeper tone than the stock silencer while not being excessively loud which is ideal for for most riders (and their neighbors).
Photos by Spencer Hill, Credit:& advpulse