For many riders the look of a straight-off-the-rack KTM 790 Adventure, with its sharp lines, futuristic snout and the bright orange motif, personifies the ultimate adventure machine. But when ex-racer turned world-famous bike builder Roland Sands looks at a motorcycle like the KTM, he's probably going to see something else: A machine's alter ego. A never-seen-before bike.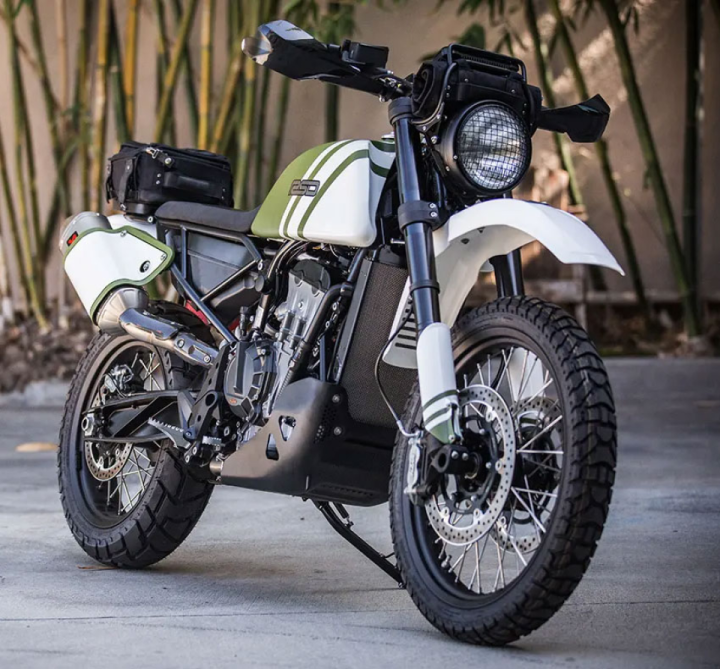 In the case of a friend's 2019 790 Adventure, what Roland and his crew at Roland Sands Designed (RSD) saw was this retro-inspired stunner. A bike that looks low-key classic from every angle — literally unrecognizable from its model of origin — yet wasn't made to part with any of the mechanicals that make it such a modern trail slayer.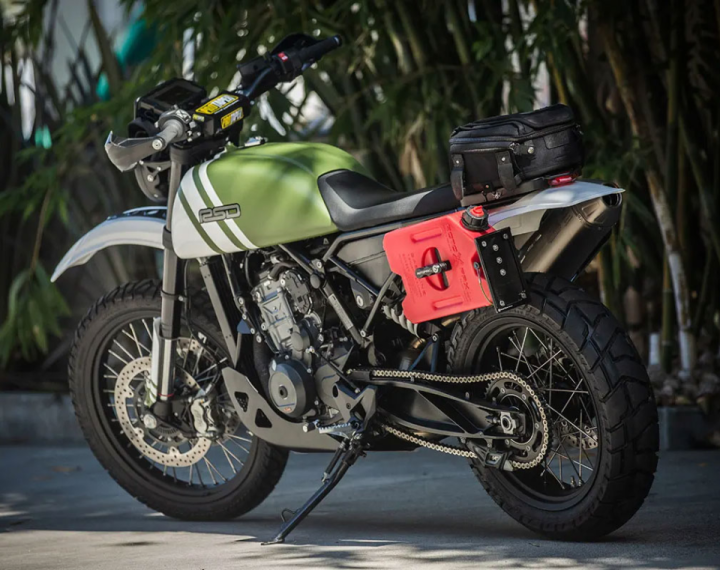 Roland explains that his friend wanted to downplay the 790's aggressive aesthetic, so in an effort to make the machine less chesty, one of the first orders of business at RSD was to rotate the KTM's sizable radiator from a horizontal to a vertical position, a move that caused the unit to all but disappear. The Adventure's stock aluminum skid pan was then modified to match the radiator's slimmer profile.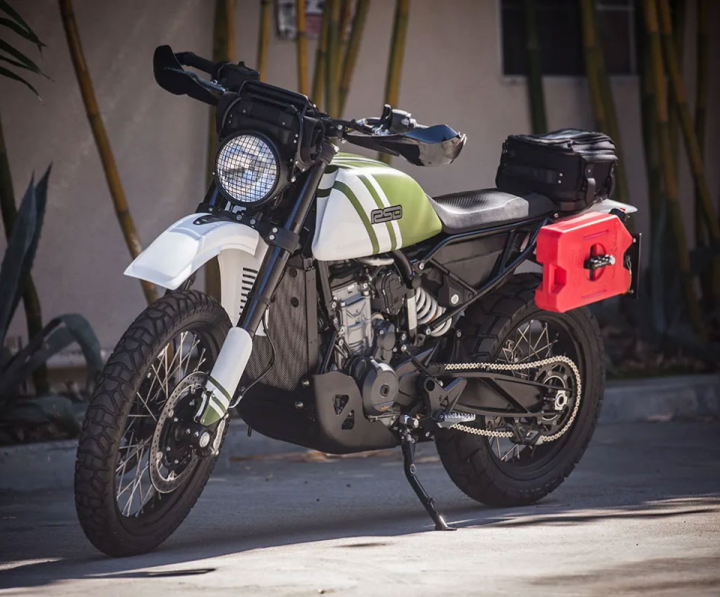 Vintage KTM fenders continue the new, slender line forward, with the front fender sporting a stylish, custom steel brace. The stock WP forks wear RSD custom, bobby socks-style steel fork guards. The 790's large, distinctive twin headlamps, windshield and cowling were all replaced by an unassuming round single lamp borrowed from a Triumph and finished with a custom steel cage.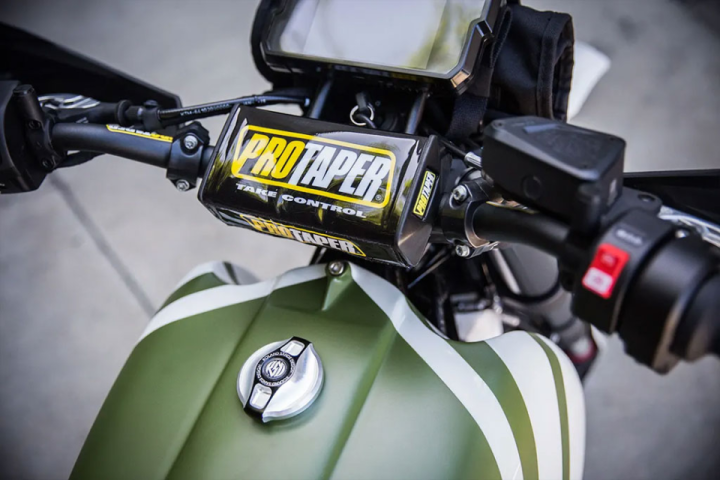 RSD did an amazing job getting the smaller headlamp to look as if it were designed to compliment the Adventure's large LED touchscreen display. A ProTaper EVO High Bend handlebar capped in modified stock hand guards finish off the cockpit view.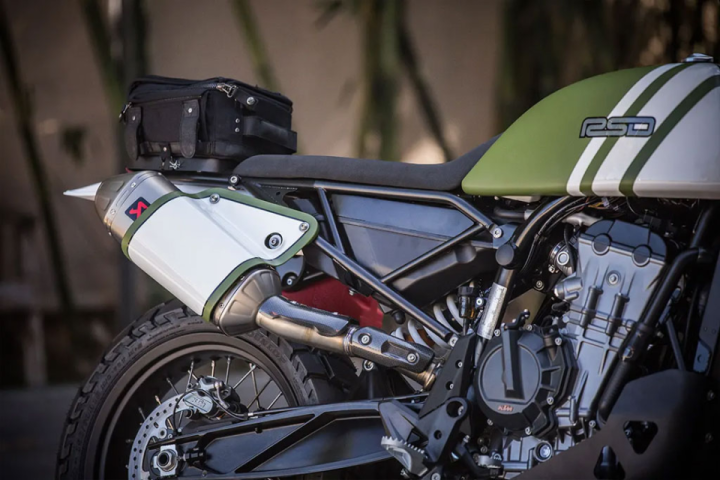 Ironically, the retro tank just happened to be hanging around the shop, a leftover from an RSD project that involved turning a Suzuki GT750 — remember the Water Buffalo? — into a stunning flat track bike for famous pro rider Travis Pastrana. But Roland says modifying the tank was "a crazy story" and became the most difficult and time-consuming part of the project. To make it work, chief fabricator Aaron Boss had to create a complex prism of plates on the bottom of the tank in order for all the plumbing and connections to mate properly.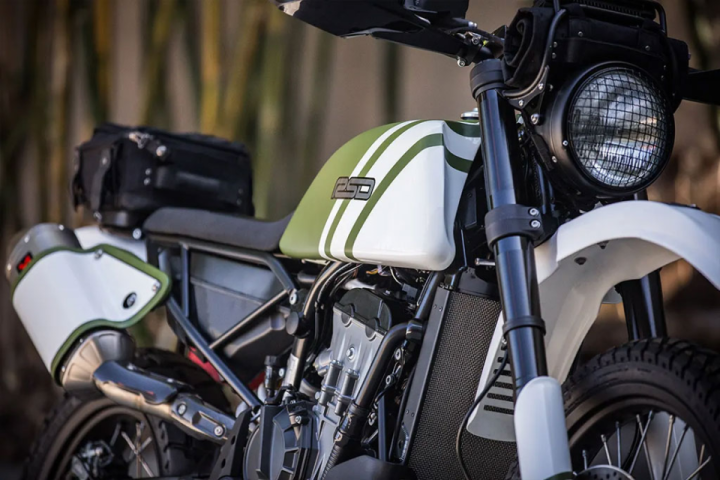 And yes, roughly about a gallon and a-half of fuel capacity was thrown out by replacing the KTM 790's signature low-slung tank, which is why there is a Rotopax one-gallon auxiliary cell affixed to the right rear subframe via a Rotopax LOX pack mount.
The improvised tank, which is perhaps the single most defining element of the bike, then inspired the black custom sub-frame, on which is mounted a Husqvarna Vitpilen seat, chosen for its long, flat minimalist vibe. Moving rearward, the thin seat then ties right into the short, low vintage KTM fender with a resulting line that is incredibly pleasing to the eye.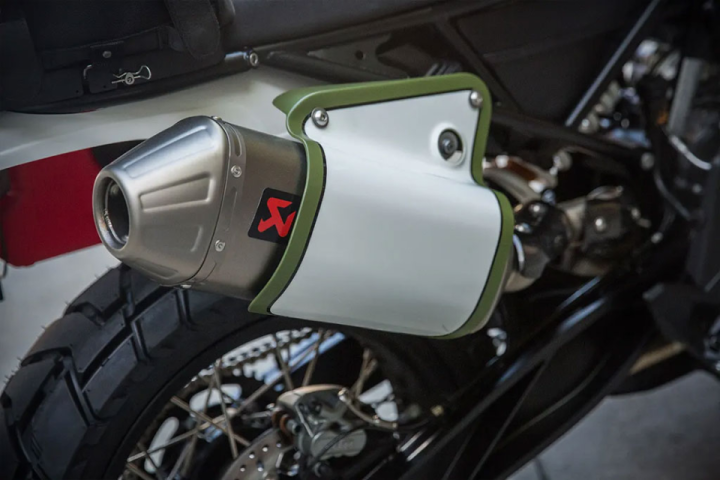 Completing the bike's lower line, a modified Akrapovič slip-on sweeps up from the header to become almost fully shrouded in a custom-painted aluminum number plate. A Burly Brand tool roll and quick-release tail pack are useful garnishes, while versatile Dunlop Trailmax Mission adventure tires sit on the stock spoked aluminum rims.
After that, basically everything mechanical was left sweet-for-the-trail stock.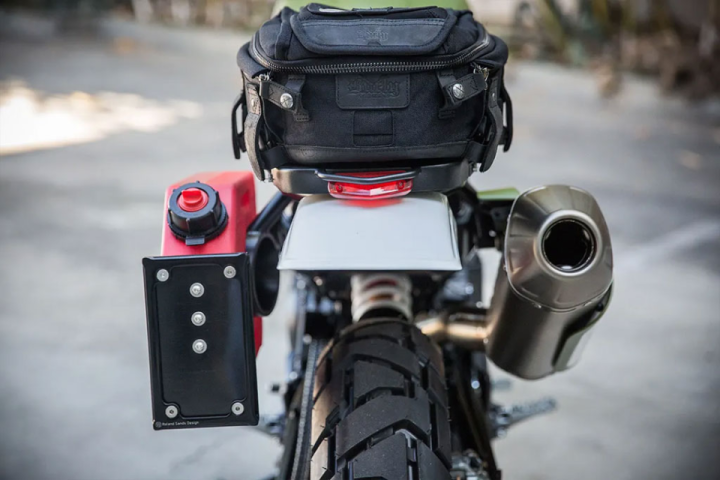 In the featured video, Roland reminds us that although RSD is most famous for cruiser, cafe racer and flat track customs, this isn't the first ADV build to roost out of his shop in Los Alamitos, California. Our favorites to date have been his Dakar GS and an Africa Twin police bike we featured a few years back.
As adventure riders, a fault we can find in RSD's custom ADV crossover is the bike's name: Urban Assault. I mean who in the world looks at that bike knowing a fully-formed KTM 790 Adventure resides within and thinks of riding anywhere near the city?
Parts List
Wheels: OEM 21" F/18" R
Tires: Dunlop Trailmax Mission Front/Rear 90/90-21 F, 130/90-18 R
Brake Rotors: OEM
Brakes: OEM
Suspension: OEM WP
Triple Clamps: OEM
Handlebars: Pro Taper EVO, CR High Bend
Handgaurds: OEM modified handgaurds
Foot Controls: OEM
Fork Guards: Custom fabricated steel
Front Fender: Vintage KTM plastic fender w/ custom fabricated steel fender brace
Headlight: Triumph headlight w/ custom fabricated grill
Tool Bag: Burly Brand Tool Roll w/ custom fabricated holder doubling as dash mount
Fuel Tank: Custom modified Suzuki GT750 fuel tank
Radiator: Modified OEM radiator mounted vertically
Skid Plate: Modified OEM skid plate
Exhaust: Modified Akrapovič slip-on
Subframe: Custom fabricated steel
Side Numberplate: Custom fabricated aluminum
Rear Fender: Vintage KTM plastic fender
Auxiliary Fuel Tank: Rotopax 1 Gallon w/ LOX pack mount, attached to subframe
Seat: Husqvarna Vitpilen seat
Tail Bag: Burly Brand Tail Bag w/ custom fabricated mount
Photos by Joe Hitzelberger, Text: advpulse