The KTM Adventure Rally Canada is running again this year, with a return to the same location as the 2022 event, in the middle of the wilderness of Quebec. This year, the rally is scheduled to run July 6-8.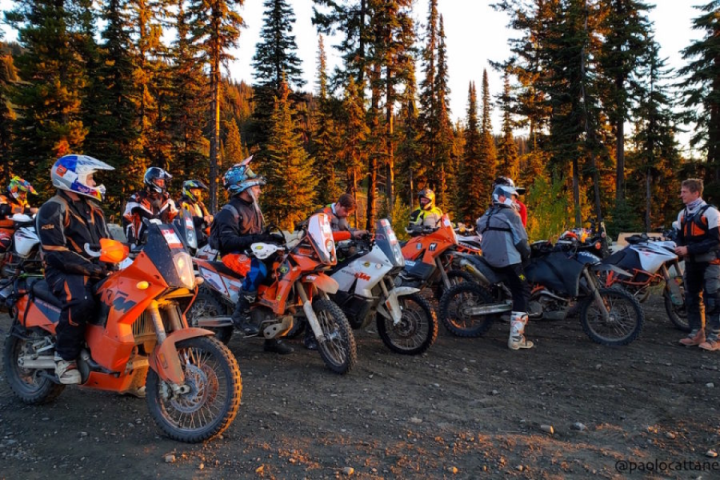 Once more, it's going to be a two-day navigation rally based out of the Auberge du Lac Taureau facilities in Saint-Michel-des-Saints, Quebec, which is less than a nine-hour ride from Manhattan, about seven hours from Boston. It's open to all makes—you can show up on your Yamaha, Kawasaki, whatever, just as long as the bike's engine is over 600 cc. KTM does mention the 390 Adventure as an exception to this rule, but it sounds as if your WR250R, DRZ00, KLX300, etc., do not fit into the rulebook.
Participants are put into teams of two four riders. If you show up without a teammate, rally staff will you assign you a riding partner or partners. This isn't a race; each team has a GPS, and their tracks are compared to the organizers' route. The team that gets closest to the officially prescribed route is the winner.
Teams are also given a SPOT device, so rally staff should be able to follow them in real time, and can respond to emergency situations.&
As with previous KTM rallies, there will be two separate routes, an R1 (which is more technical, including singletrack) and R2 (easier, including paved sections). Due to the difficulty of the R1 route, knobbies are required (KTM suggests Dunlop 908 Rally Raid, Mitas MT-09 or similar tires). If it rains, the R2 route can also be challenging, so think carefully about your choice of tires no matter which class you're challenging.
Registration takes place Thursday; Friday and Saturday are the riding days, and Sunday is departure day. KTM provides breakfast on Friday, Saturday and Sunday, as well as lunch Friday and Saturday and supper on Thursday ad Friday. On Saturday, there is an awards banquet. For more information, including fees and your room booking (extra expense), visit the rally's website here.
Credit: advrider