For years, the Kawasaki Ninja 250R — aka the EX250 — was America's best-selling sport bike, offering a 37-hp liquid-cooled parallel twin engine and 6-speed transmission cradled in a tubular diamond-design frame. Our friends at Regular Car Reviews called it the Mazda Miata of motorcycles:
"It's small and underpowered, but it handles beautifully, and if properly driven/ridden it'll keep up with just about anything else in the corners."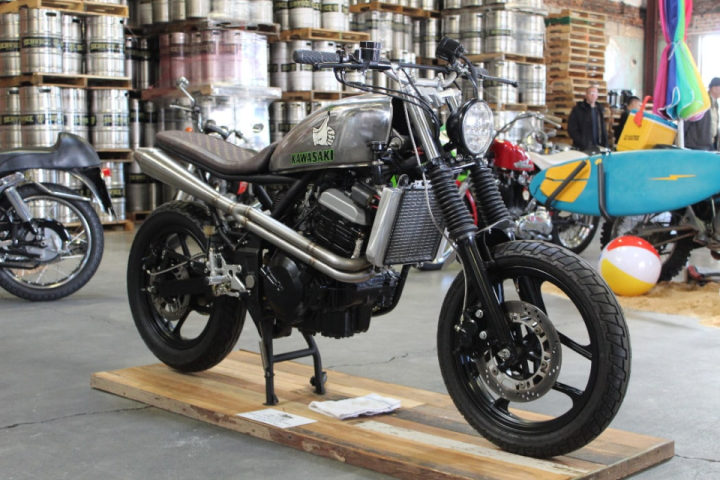 Not surprisingly, the Ninja 250 spawned multiple road racing series and remains a popular track/race bike throughout the world. But while the bike was well-loved by multiple generations of 250-class racers and street riders, it remained relatively unchanged from 1988 to 2007…and the bike's dated design and aesthetics left much to be desired.
Enter our new friend Joe Flores (@makerofthings), a builder/designer/mechanic and all-around moto-mancer who forms half of Fitz & Flores — an Atlanta-based shop producing custom bikes and waxed canvas goods and apparel. An impetus for the creation of their shop in Decatur, the bike was the first of a number of collaboration projects produced and brought to market by the two over a number of years.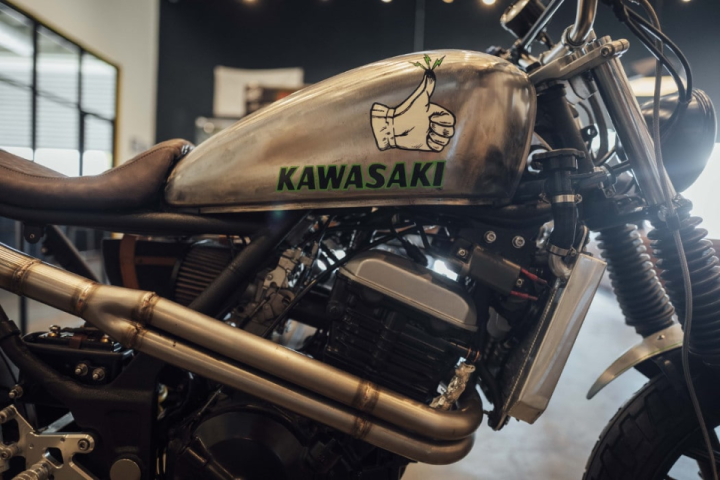 Joe, who has more than a decade and a half in the trade, finds inspiration in late 70s to 90s Japanese and Australian motorcycle culture, particularly the Mad Max genre of film, comics, and illustration. For this build, based off an '02 Ninja 250R, his vision was a machine that was more elemental and detailed, while capturing some of that prior era's aesthetic:
"This particular bike is a study in how to strip off the angular, almost sterile design of this 90s sporty bike and bring it back to a simple, detail-oriented, but not fragile aesthetic, kind of like the late 80s-90s never happened design-wise, but the engine technology kept going forward."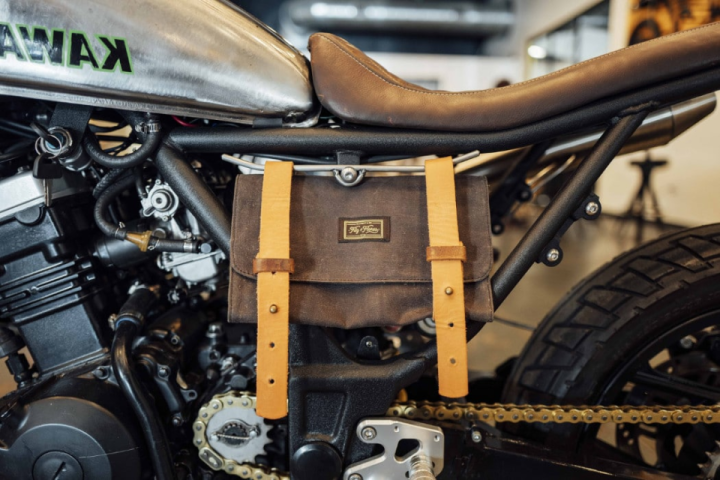 The bike has been through several iterations, surviving on the back burner until it was brought to Atlanta's community DIY motorcycle garage and cultural nexus, Brother Moto, where it was used as a teaching aid. In its current version, the bike is part of a series of bikes aptly known as the "Blackthumb Project."
We particularly love Joe's build philosophy, which relates directly to his family's "built for riding" mentality:
"The philosophy I was taught was: every bolt, every bracket. Make sure it looks like you did it on purpose. Because people who know can tell if it's an afterthought."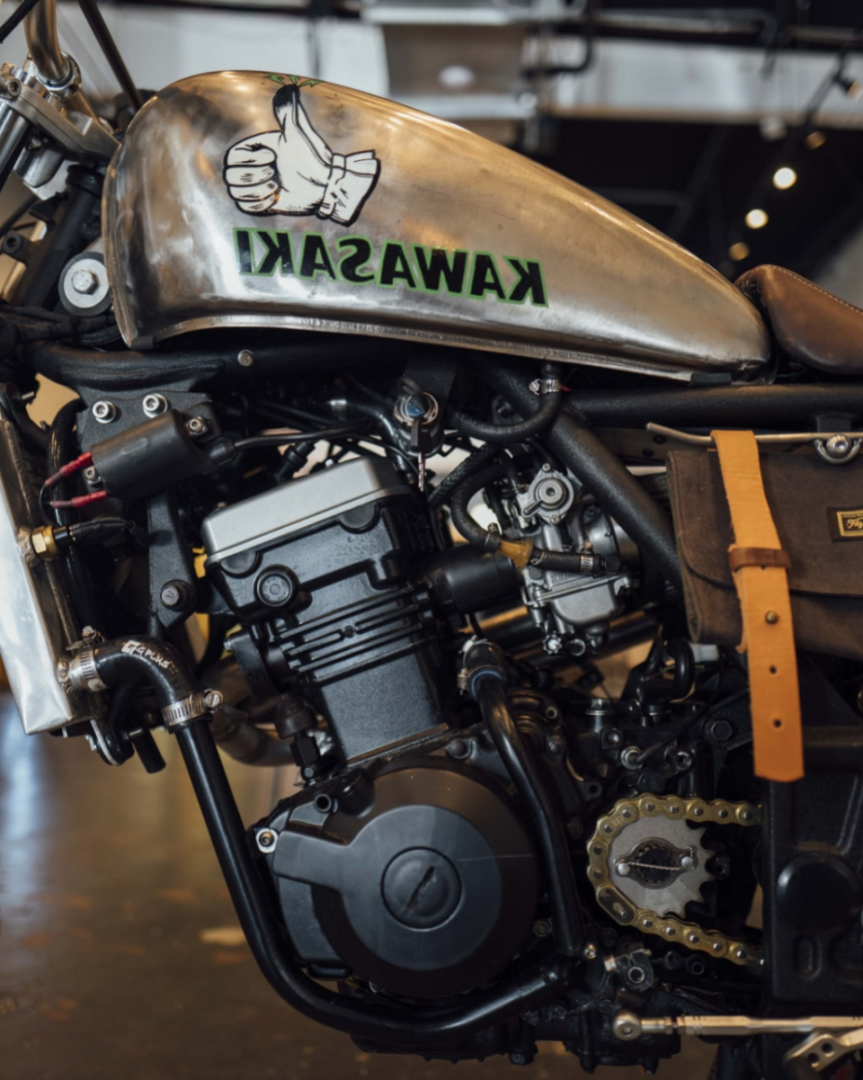 Having seen this bike in the metal at Victory Moto Show 2019, we can attest to the level of execution and attention to detail manifest in this machine — a bike that you could spend a couple hours examining with a penlight, up close and personal, finding all the little ways Joe made sure to button up the build.
We're also big fans of the collaborative nature of certain aspects of the build, where Joe enlisted the help and expertise of fellow artists and fabricators for such elements as the exhaust (Ross Gamble / @singlespeedross), the upholstery (Cheryl Lyons / @cherylyons), and the Blackthumb livery (Casey Russom / @russom_studio). Says Joe:
"I enjoy skill collabs so it's got that sentimental vibe."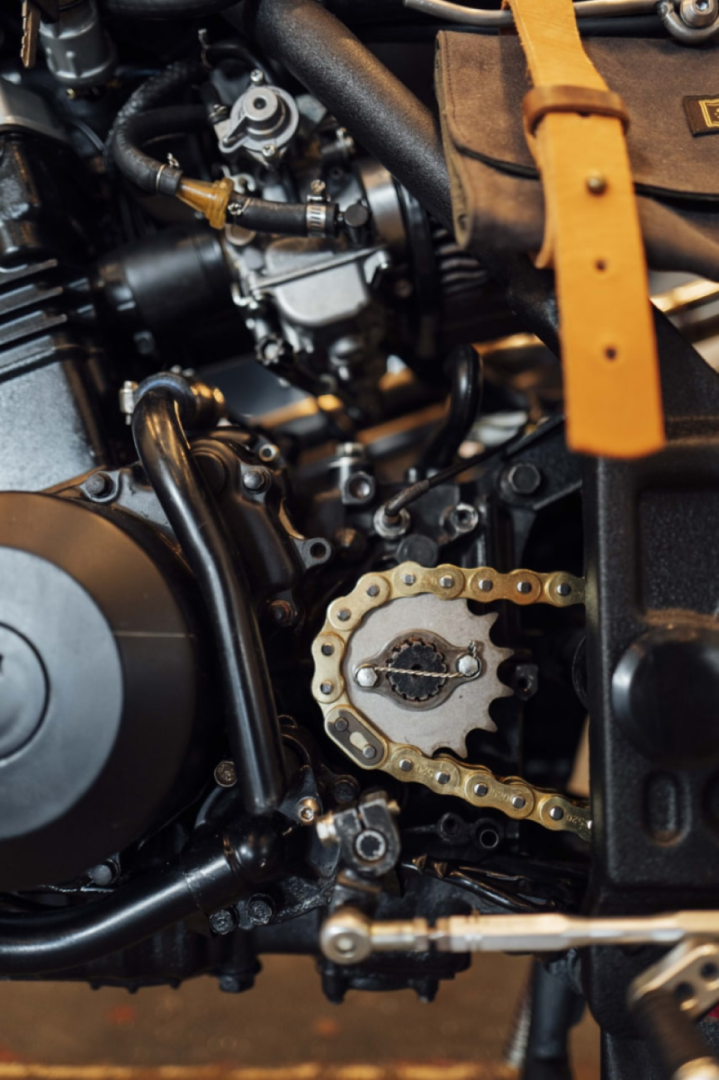 While the bike has had a few different nicknames over the years, the current incarnation is "Quarterstack," alluding to the bike's displacement relative to its liter-size Ninja brethren. All in all, this is a stoutly-built street machine that exudes a certain toughness in the metal — possibly a trait baked into the very DNA of the build:
"This bike has survived a shop, a number of crashed relationships, numerous rebuilds, so seeing that constant gives it that survivor's character I think."
Builder Interview on Bikebound