It's been a while since I read the story of the Ugly Duckling, but I'm pretty sure this conversion of an unwanted Triumph Sprint into a stunning Cafe Racer has a lot in common with it. Bad Boys Garage in Italy chose a road less travelled with their Triumph Triple Cafe Racer build and I can safely say I will never look at a Sprint the same way again.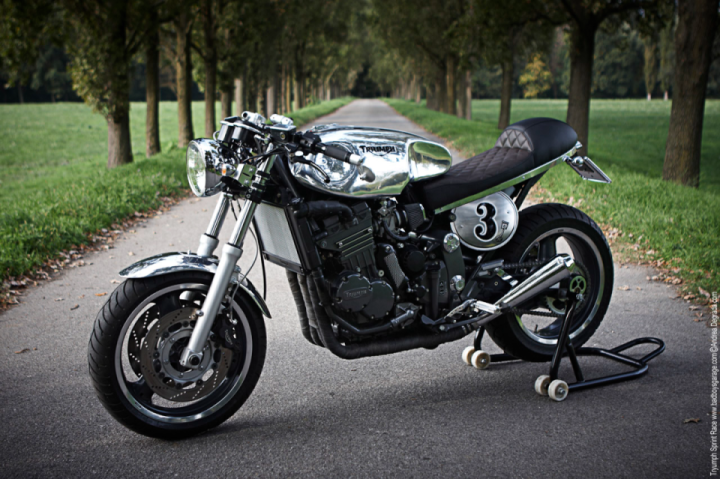 Triumph's Sprint 900 was not, and never will be a particularly good looking motorcycle. It exists in a category that has always confused me, somewhere between a cruiser and sports bike. I had always assumed they were made for older riders whose backs and wrists couldn't take the punishment of sports bike riding any more and forthat reason I've never paid them much attention. On paper though the Sprint starts to look much more appealing with it's impressive specs list.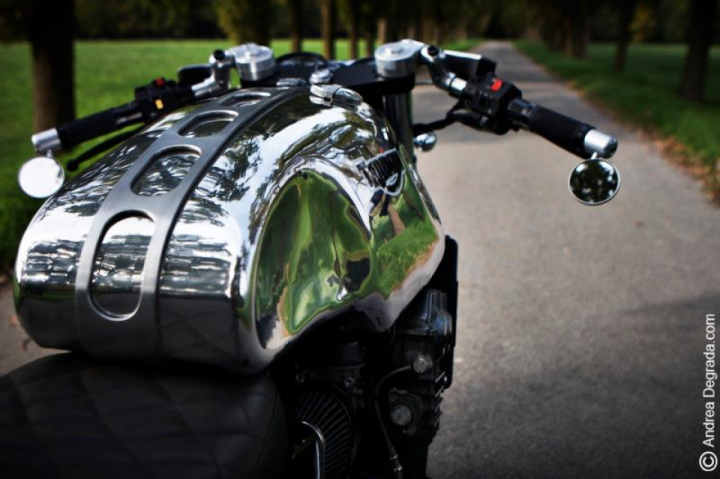 The Sprint is powered by a water cooled, 3 cylinder, 900cc (885 to be precise) engine similar to the one found in Triumph's legendary Speed Triple Streetfighter. Suspension is provided by 43mm telescopic forks up front and a fully adjustable Tri-link single shock at the rear and stopping power comes from a set of twin disks with 4 piston calipers in the front and a single disk with 2 piston caliper at the rear. & With a max power just shy of 100bhp a Sprint can cover the quarter mile in just under 11.5 seconds and will keep accelerating all the way up to 230kmh. Tipping the scales at 239kg it's no featherweight but that's nothing that couldn't be fixed with a bit of trimming.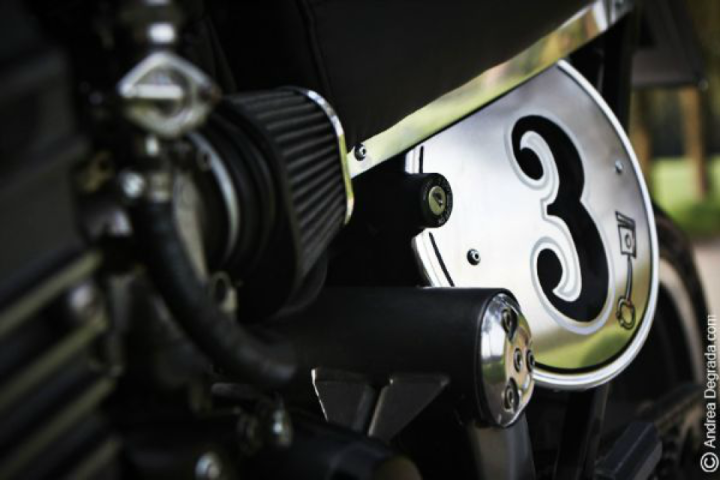 Back in '95 this Sprint was purchased new and after travelling only 6000kms it was retired to a garage where it sat collecting dust. 17 years later Bad Boys Garage got their hands on the neglected triple and spent 2 months completing its Cafe Racer conversion. After stripping away all of the bikes bulky fairings, tank, mirrors, lighting and tail end the engine received fresh fluids and a full tune to prepare it for the road again.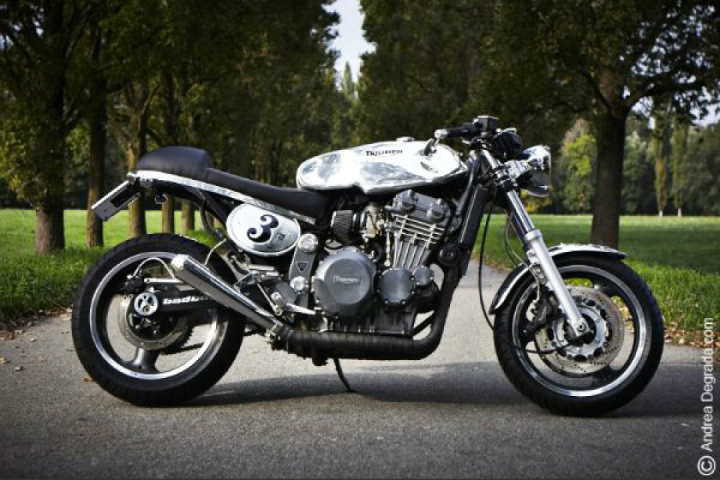 The aluminium tank was specially designed and fabricated in house by the Bad Boys team, taking design cues from classic racer lines it sits just wide enough to just cover the 3 boxy Triumph cylinders. A seat pan was also fabricated in house and a custom seat with integrated wasps tail tucks under the rear of the tank giving it a stance similar to that of a modern sportsbike. Low profile indicators and a Bates style headlight provide the lighting and bar end mirrors help to keep the front end clean. A set of vintage style race number plates conceal the bikes electrics and a pair of conical filters and reverse megaphone mufflers provide subtle performance improvements.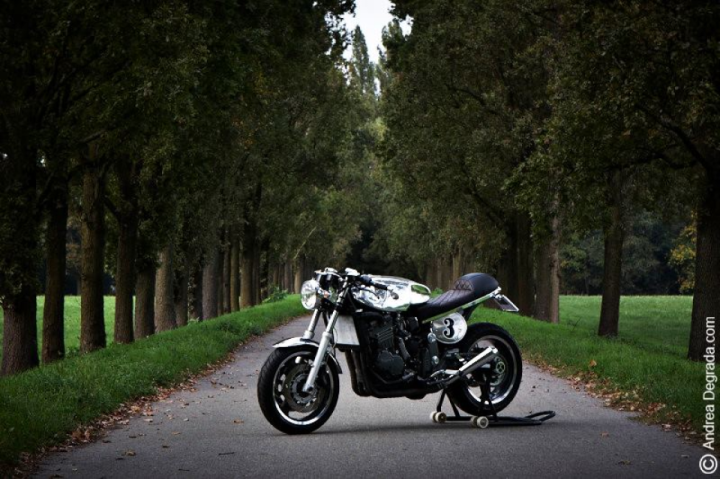 There's no shortage of Triumph twins being converted into Cafe Racers but the poor old triples never seem to get a look in. However for those prepared to select a less obvious starting point the result can be so impressive that it will spawn a slew of "inspired" builds…I'm thinking this could be one of them.
Bad Boys Garage | Photos by Andrea Degrada