Since 2012 when the company first opened the door of their garage in Lyon, France's Baak Motocyclettes has built an impressive resume of customized motorcycles. Their latest product is the 1200 Adventures, which radically changes a Triumph Scrambler to make it adventure ready. According to Baak Motocyclettes, "this bike is nowhere near the potential of the modern Adventure bikes as the core philosophy of this segment is miles away from what the Scrambler was made for.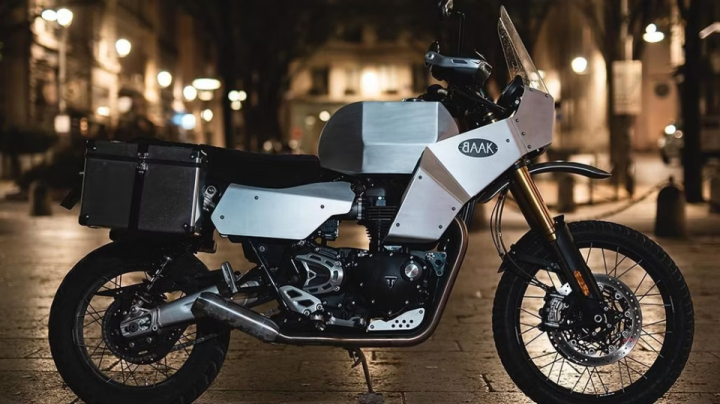 The idea here was not to make it a true Adventure bike but at least to tick some of the basic boxes that define that segment. With this in mind, the R&D team worked to solve some of the flaws of the Scrambler: lack of wind protection, average range, lack of high-end luggage". In this case the function of the motorcycle stays in the center of the design process and dictates the form, and not the other way around. And this is a custom motorcycle built to be used and not stored in a garage.
A Triumph Scrambler 1200 Transformed
The process starts with a new or used Triumph Scrambler 1200, XC or XE version. The first thing that stands out is the added polycarbonate windshield, which stands on top of custom-made aluminum fairing kit with double LED headlights and is mounted on the donor bike using existing mounting points. After that you can see the brushed aluminum fuel tank with increased capacity at 6.6 gallons.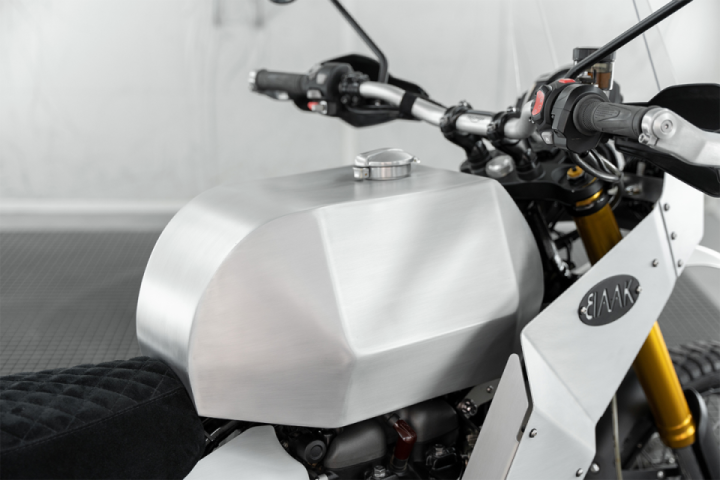 The tank was also installed on Scrambler's original mounting positions. The custom leather seat is really something, especially when compared to Scrambler's ultra-thin one. It comes with a diamond or ribbed stitching pattern in a number of different color options. To add the aluminum travel cases (4.7 gallons) the exhaust had to be lowered - since the Scrambler has it sitting pretty high - and placed on both sides of the motorcycle. Using all this aluminum definitely made the bike lighter.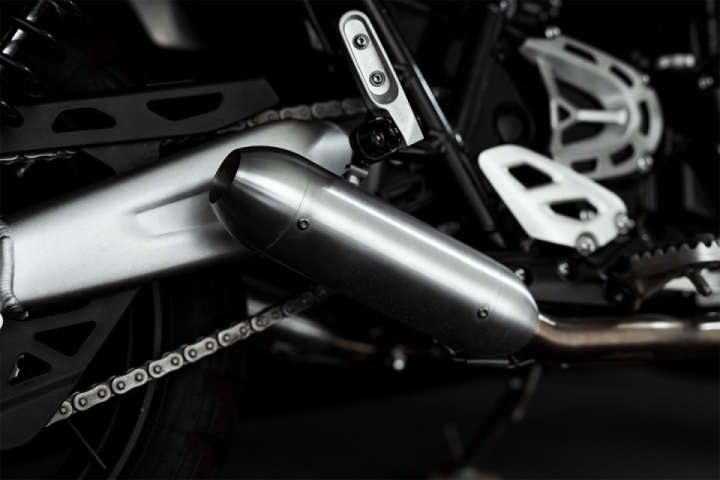 Yes, it is a weird looking bike. The Baak 1200 Aventures will definitely not be to everyone's liking, but with its design resembling Dakar Rally meets neo-futuristic sharp lines and a boxy look, it is bound to turn heads wherever you go with it.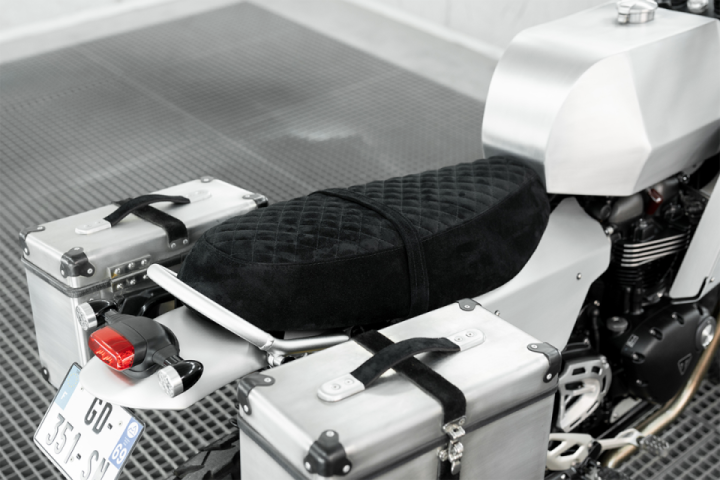 All of this is available for around $9,600, which does include the cost of the donor bike. For all this money you get the parts, labor, certificate of authenticity with its own serial number, and a personalized color scheme and finish. Or, if you like tinkering around in your workshop, all these parts can be ordered, so you can install them on the motorcycle yourself. So if you see yourself racing through the dirt on a Triumph Scrambler, check it out. They have a shop in Los Angeles as well.