One of the trademarks of Tamarit Motorcycles is that their only constant is change. With a portfolio fast approaching 100 builds they are proud to say that no two Tamarit bikes are the same, which is quite an achievement. This does, of course, introduce challenges, especially when your work is limited to one specific genre of motorcycle made by one brand. That brand is Triumph Motorcycles and the genre, their Modern Classic range.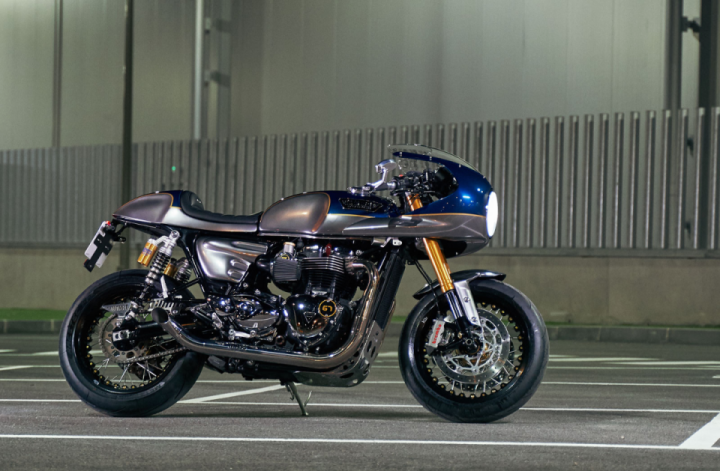 Tamarit also imposes a set of strict personal rules on all their projects. These are that no modification detracts from a bike's performance and that all work is within legal restrictions. Luckily the Tamarit team love a good challenge.
Dakota Iglesias is one of Tamarit's latest projects, but it's not the first time they've worked on this bike.
"At Tamarit we like stories of revolution and renaissance, in the most metaphorical way, and now it's Dakota's turn to be back under the spotlight as Dakota – Iglesias."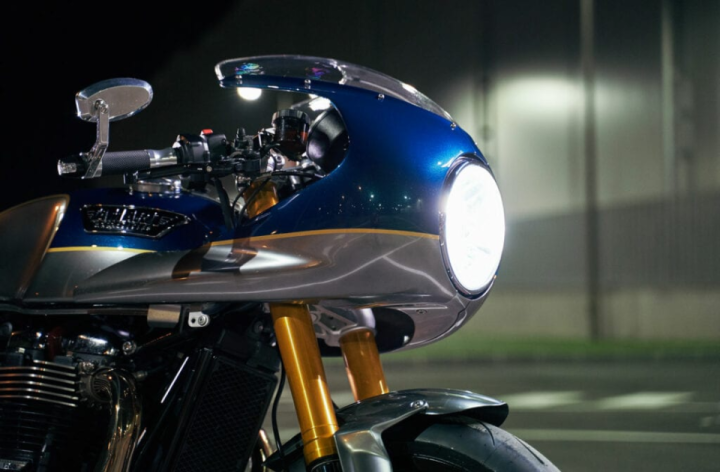 The Triumph Thruxton 1200 R, formerly know as simply Dakota, belongs to Ramiro, a Tamarit Motorcycles partner, who had his bike modified soon after purchasing it. The Thruxton 1200 R was the first to pass through the Tamarit workshop wearing the factory cafe racer cowl.
After years of turning heads on the streets of Madrid, the Thruxton 1200 R returned to Tamarit HQ. The goal was to update its look, but more importantly, improve its performance using parts developed by Tamarit since it was first completed.
"This project was really special for the whole Tamarit team; not only for working again on one of our motorcycles, but also for the fact that Dakota was made for our client, and Dakota – Iglesias has been built for one of the members of the Tamarit company in the same way, according to their taste and preference."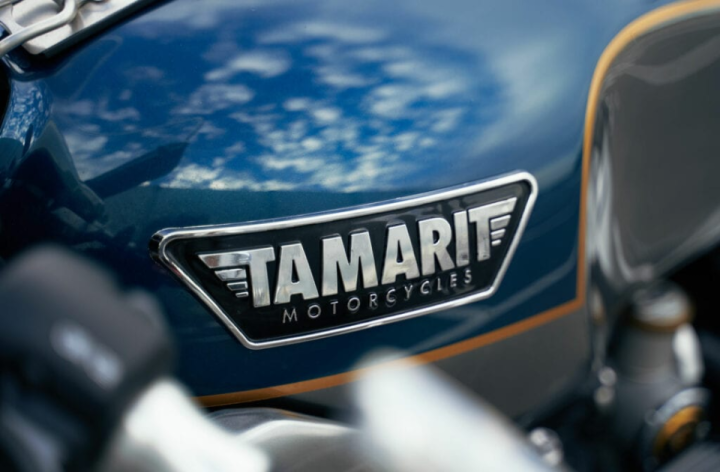 The original build saw the Thruxton 1200 R receive a comprehensive aesthetic overhaul using parts from the Tamarit catalogue. The most apparent changes came from the fitment of a Tamarit Monaco tail unit, belly pan and the Dakota side covers developed especially for this bike. Other modifications included a tail tidy and smaller fender to clean things up and a set of Tamarit's Boludos mufflers. When it came to modifying the bike a second-time, performance improvements were the primary goal.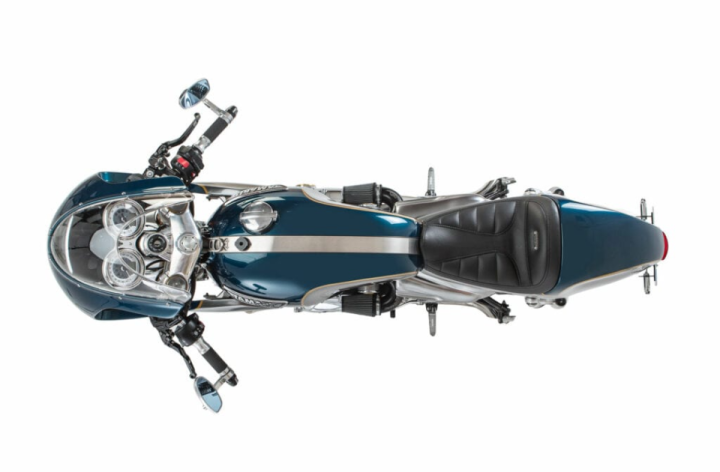 Starting with the intake, Tamarit fitted the bike with a Free Spirits Power Filter. Using a pair of 180-degree inlet tubes and free-flowing filters the setup increases performance and aides in keep operating temperatures down. To give the Thruxton R a much more significant performance boost, Tamarit teamed up with Italian exhaust manufacturer MASS. The MASS Hot Rod systems is a single-piece design that features slash cut style mufflers with integrated baffling to retain homologation. With the fitment of the new system, Tamarit also swapped out the belly pan with a svelte 'Yunque' sump guard.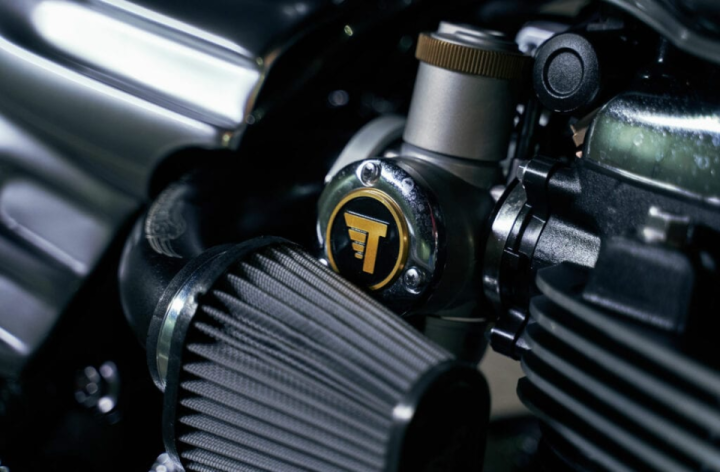 With the bikes suspension already upgraded using Ohlins components, Tamarit looked for other ways to improve its handling. Reducing unsprung weight is a sure-fire way to get big gains in both handling and performance. So the bike now wears a set of lightweight Kineo wheels with gold details to tie things together. Lastly, to complete Dakota's transition to Dakota Iglesias the Thruxton R received a fresh new look. Replacing the original crimson red is a revised turquoise scheme with gold pinstriping over the original Cromo80, silver/chrome base coat.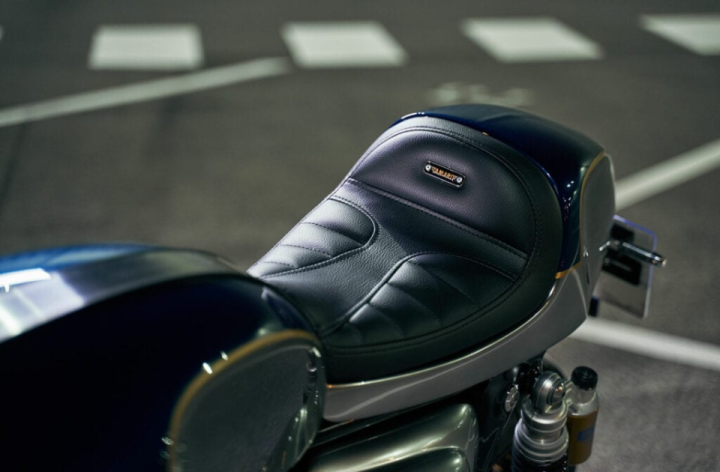 While a fancy new paint job can breathe new life into any vehicle, in this case, it's the performance improvements to the Thruxton R that really shine. Sitting at number 67 in their extensive portfolio this Thruxton R cafe racer is yet another reminder of why Tamarit Motorcycles are so good at they what do.
Sourse: Returnofthecaferacers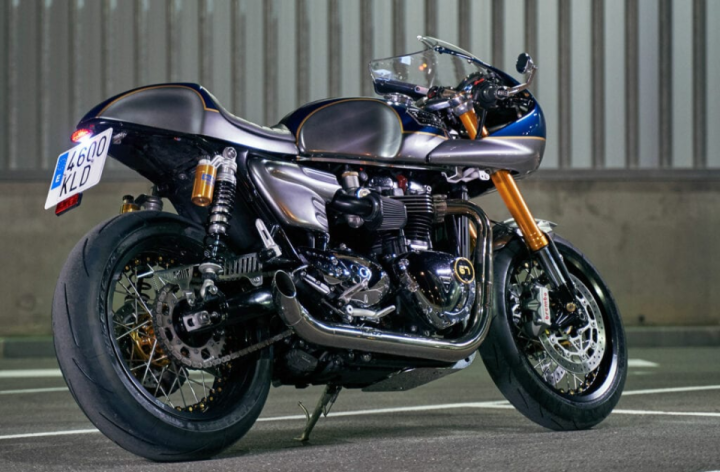 #Moto #Bike #Custom #Triumph