BMW K1200S Review and personal experience.
" If you find a well sorted one they are phenomenal bikes. The handling is supreme, you get about 150bhp at the rear wheel and it pulls hard from low revs. "
✅ Brakes, handling, power, shaft drive
❌ Power delivery, really heavy, seat
Choosing The K1200S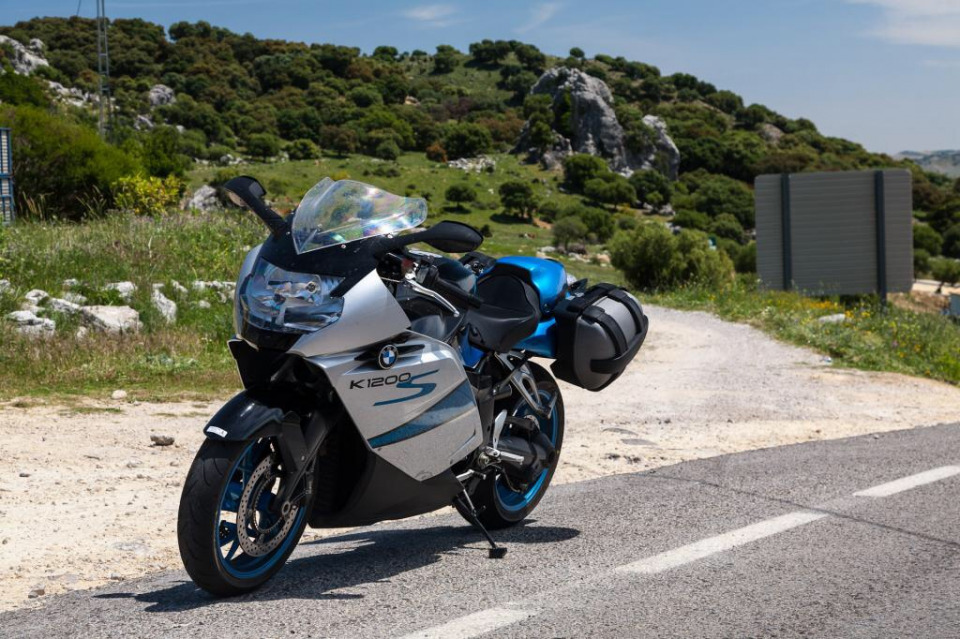 I bought my 2007 K1200S as I'd always liked the look and was curious what they'd be like to live with. So despite reading many mixed reviews about reliability and build quality I bought one.
Well the reviews are largely right but if you get a well sorted one they are phenomenal bikes. If buying one make sure all the recalls are done and the updated cam chain tensioner is fitted, also the later air box and air control valve as the early ones warped causing rough running, poor tickover and stalling. Problems with the ABS pumps can be very expensive to sort but thankfully I found one without ABS.
What's Good?
So grab yourself a good 'un and what a fabulous bike you get. It has about 150 bhp at the rear wheel and a great engine with a real raspy, sporty exhaust note. Mine has a Remus can and it pulls hard from low revs, which I do like.
The handling is supreme. I was really surprised by this but it really is very good and with the electronic suspension adjustment just press a button to alter from comfort, normal or sport and solo, with luggage or with pillion.
I've been impressed with this and the ride comfort too for quite a sporty bike. So a really lovely bike to ride, very quick and surprisingly it attracts quite a lot of attention at bike meets etc.
📌Equipment
I would prefer a digital speedo to the rather hard to read analogue one but the computer is good, giving you everything you need including ambient temperature. There is also a power socket and mine came with BMW's expandable panniers.
📌Servicing
Well, maybe not as simple as Japanese bikes of the era. Oil is dry sump so you have a separate tank making things a little more complicated.
The rear hub only has a hole at the top for filling as it was meant to be oil for life. Not the best idea.
Spark plugs, with the canted forward engine are right behind the radiator so that has to come off to change them. All well and good but the radiator refill has to be done using a vacuum pump to stop air locks in the system.
But hey, it's a BMW. Many do big miles and I'm keeping mine for now.
📌TECHNICAL SPECS:
Engine Four-stroke inline four, DOHC, 16-valve
Displacement 1157cc
Bore x Stroke 79x59mm
Carburetion fuel injection
Power 167hp
Cooling liquid
Ignition electronic
Transmission six-speed
Frame aluminum
Front Suspension double longitudinallink, 4.5in travel
Rear Suspension EVO-Paralever, 5.3in travel
Rake/Trail 29.4° / 4.4in (111.76mm)
Brakes front/rear twin four piston calipers, 320mm discs single twin piston, 265mm disc
Tires front/rear 120/70ZR x 17,190/50ZR x 17
Dry Weight 515lb (234kg)
Wheelbase 61.9in (1572mm)
Seat height 32in (813mm)
Fuel Capacity 5.0 gal (19l)
Fuel Consumption n/a
Colors granite gray metallic, indigo blue metallic, indigo blue metallic/alpine white, sun yellow/white metallic/graphite metallic
3


Follow
15K