With every bike from XTR Pepo I can start with a story about how amazing his work is, that he's a true legend and a master builder. Just like this time ;). Pepo is simply one of the best custom bike builders out there. Most of his latest builds are bikes inspired by endurance racers. He also likes Ducati's a lot. Not surprising, since Jose "Pepo" Rosell has a long history with this brand. And to be honest, I don't mind. His bikes are awesome! After a list of endurance racers, most Ducati's (and this BMW), Pepo created something different.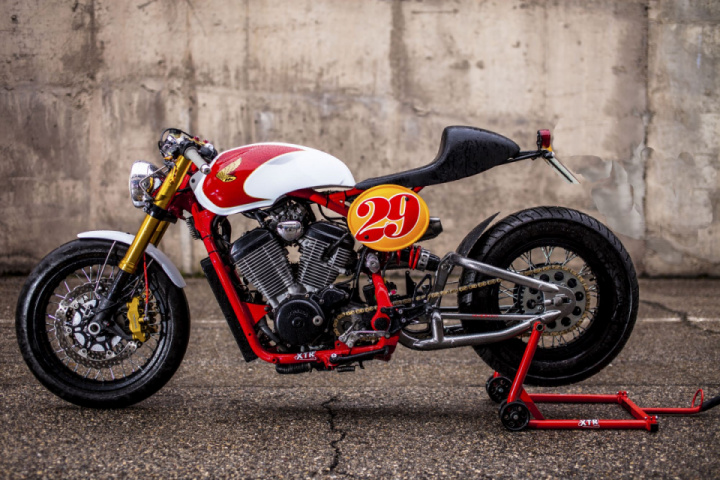 If we say cafe racer, we see a lot of the same base bikes like the Honda CB, BMW R-series, retro Triumph's and so on. The Honda Shadow is not such a "usual suspect", but that's the kind of challenge Pepo likes. It's called "Spitfire".
Pepo always puts in a lot of work, let's summarize some of the main customizations.As you can expect, a full list of mods is provided by Pepo, which you can find below the images.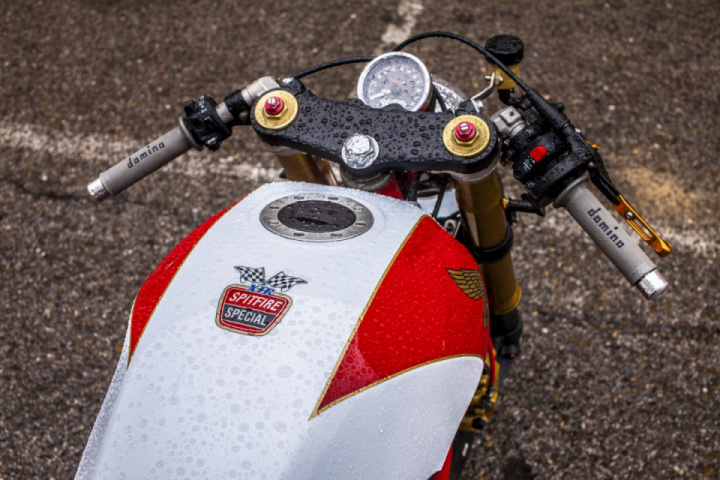 In order to change the chopper stance of the stock Shadow, the frame is heavily modified: Pepo created a new sub-frame and swing arm. Pepo also likes to shop parts from other bikes and used the complete front from a Kawasaki ZX6R with a Suzuki GSXR750 clip ons and brake pump. The clutch lever is from a GSXR600 and the headlight is from a Mash (!) 125. The gas tank comes from a Yamaha YBR125 and the gas cap also from a GSXR750. The foot pegs are from an R1. Parts fabricated by XTR are the front mud guard, the rear (carbon) mud guard, gear lever, air filters, seat and upholstery and the license plate holder.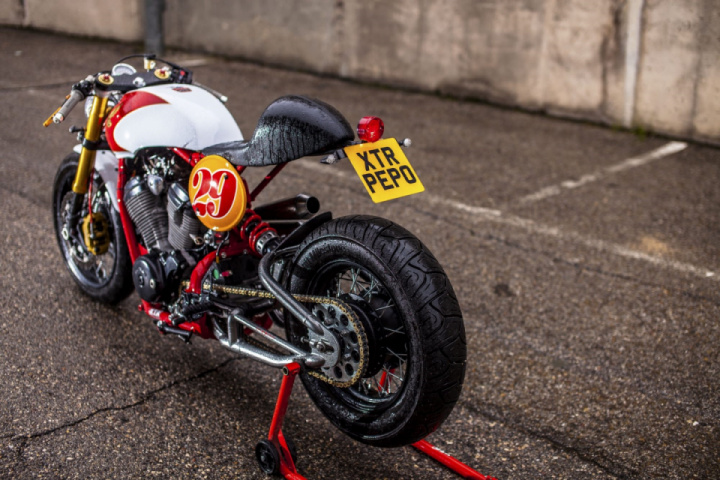 The master builder did it again: he turned a scrappy machine into gold.
Modification list:
Modified frame.
XTR new subframe.
Modified swingarm.
Kawasaki ZX6R fork.
XTR front mudguard.
XTR carbon fiber rear mudguard.
KawasakiZX6R rotors and radial calipers
Frentubo brake lines .
Suzuki GSXR 750 brake pump.
Regulables and foldablke cnc machined brake and clutch levers.
Suzuki GSXR 600 clutch lever.
Mash 125 light
Led blinkers.
Domino quick open gas throttle.
Suzuki GSXR 750 clip ons.
Yamaha R1 cnc machined ergal footrest.
XTR gear lever.
Daytona dashboard.
MOTOSTION revised and tuned engine.
XTR Racing air filters.
SuperMario exhaust system and megaphones.
Yamaha YBR 125 modified fuel tank with Suzuki GSXR 750 gas cap.
XTR solo seat.
Upholstered with handcrafted sewing.
XTR number plate.
XTR license plate.
Montesa rear light.
Painted by PINTUMOTO.