If you have seen the great Steve McQueen movie "Le Mans" of 1971, surely you know the phrase: "Racing is life … anything that happens before or after is just waiting". Hence the name of this Harley Sportster Cafe Racer customized by Lord Drake Kustoms.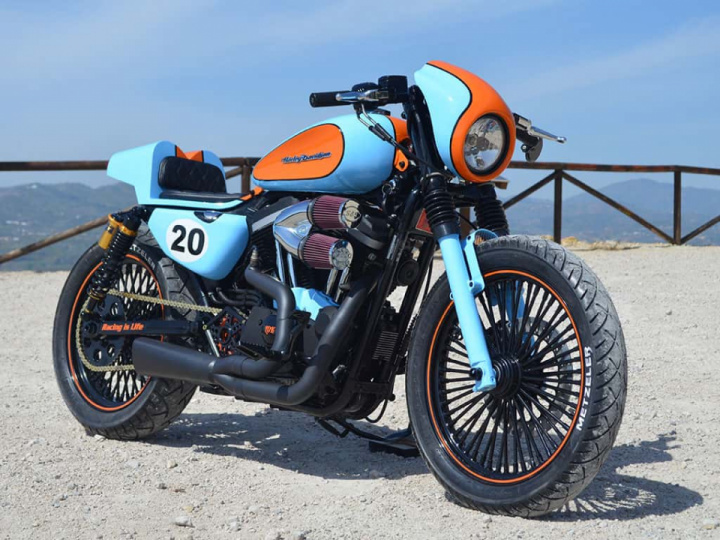 Inspired and dedicated to this movie and its protagonist, this custom motorcycle reference to one of the great cars in the history of the competition, specifically the Porsche 917 "GULF". Steve McQueen drove this car, with the number 20, in the aforementioned film "Le Mans".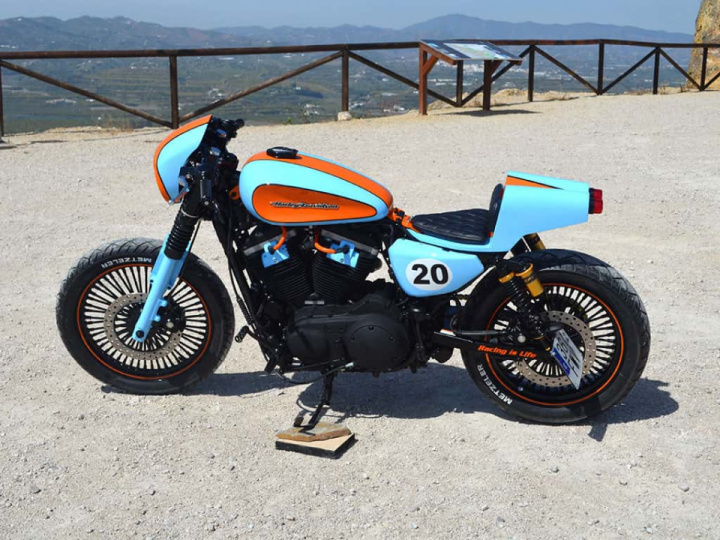 In this way Fran Manen (owner of LDK) shows us that he is passionate about Steve Mcqueen, the colors "GULF" and the mythical Porsche. So it was clear when creating what has been the first unit of a limited series of Cafe Racer inspired by cars and mythical motorcycles in the world of competition … This first motorcycle is called "Racing is Life".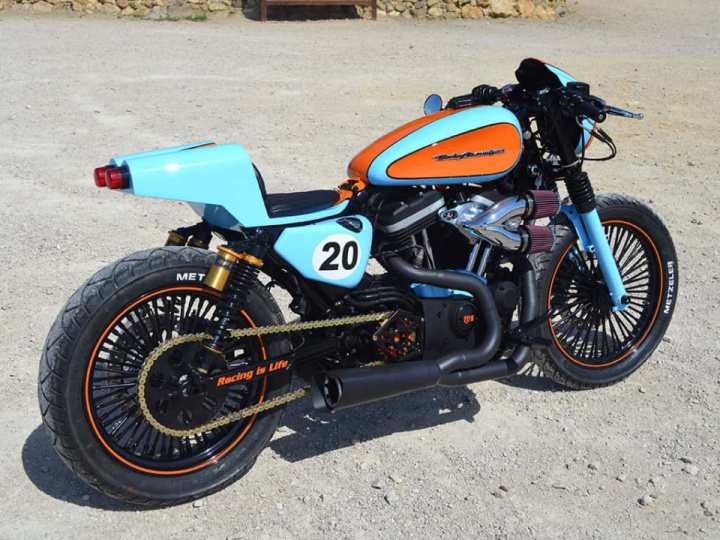 The manufacturing process of this Cafe Racer.
"It should be noted that the rear of this motorcycle is made of metal by hand from an iron plate, including the two curves of the top of the tail." As Fran Manen tells us and continues to tell us; "The original deposit of a Sportster Custom, the 4.5-gallon, has also been cut on the sides and the walls have been inverted to create the interior tears of the entire tear."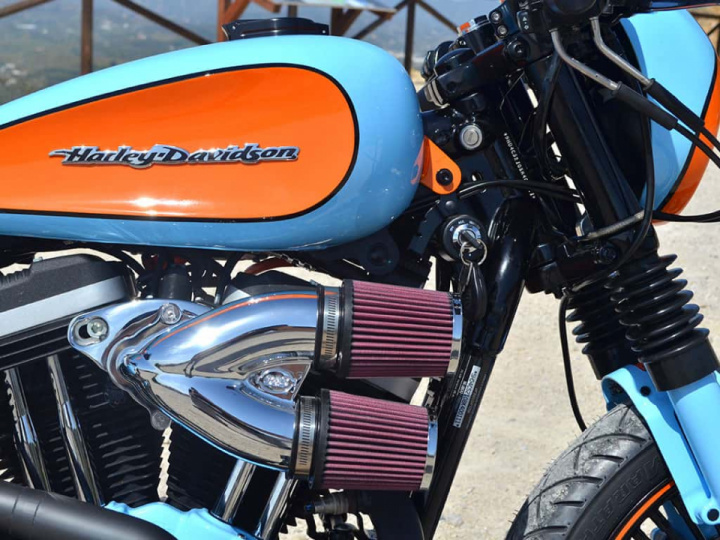 This is a very effective solution to recreate the space that, in vintage sports, was left with the intention of the pilot supporting the knees, looking for the most integrated position possible in order to improve aerodynamics.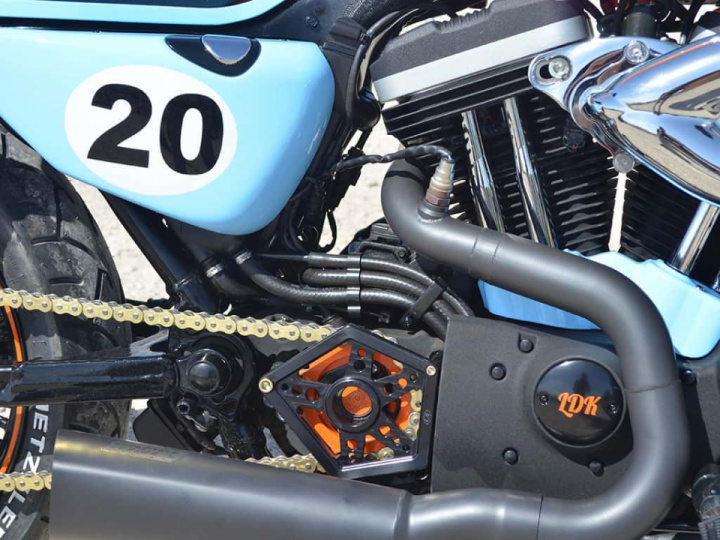 And all this has a lot to do with the inspiration that leads Fran Manen to paint it with these colors, so characteristic of the competition, but that, upon receiving demand from equal models, has decided to paint them differently, always with a common denominator, the competition.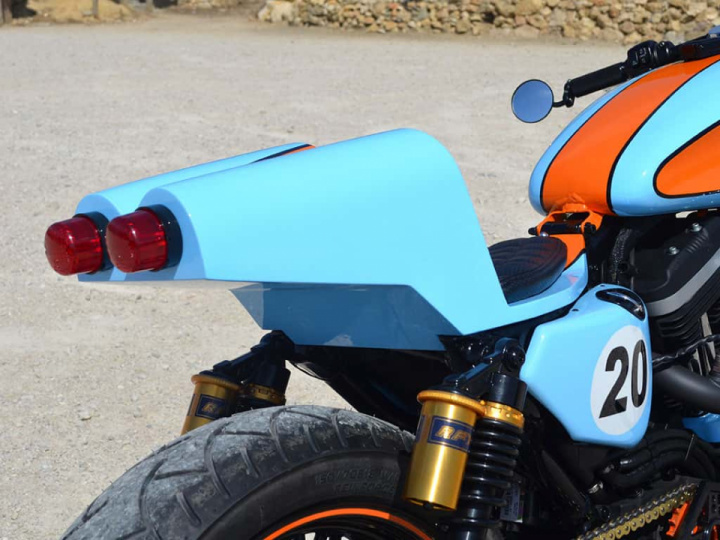 Le Mans 66
Finally, we wanted to recommend a movie currently in theaters that is also a tribute in some way to this classic Steve McQueen movie. This is "Le Mans 66", based on a true story and starring Matt Damon and Christian Bale. This time you can enjoy the races and disputes between Ford and Ferrari.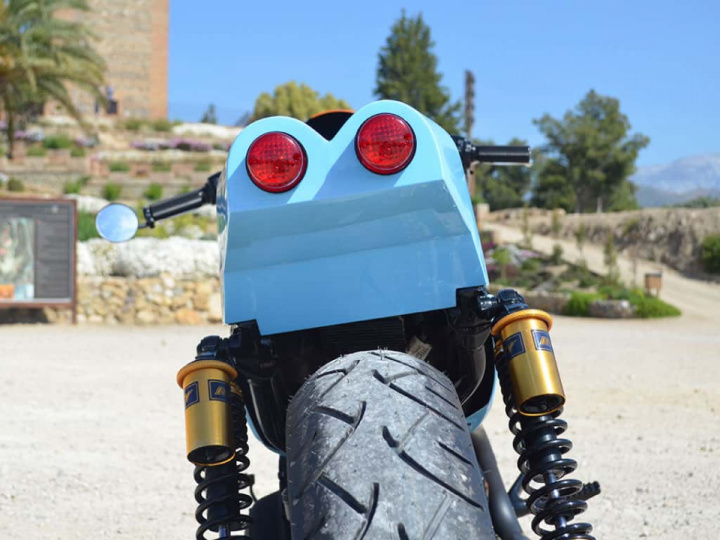 Technical data
Name: Racing is Life
Unit: 1/5 (limited edition of 5 units)
Style: Cafe Racer
Brand: Harley-Davidson
Model: Sportster 883
Engine: 883 cc
Transmission: converted to chain by LDK
Foot Controls: advanced, modified by LDK
Brakes: DNA brake discs.
Front Wheel: 19 " custom-made tires "Fat Daddy"
Rear Wheel: 18″ custom-made tires "Fat Daddy"
Fuel tank: manufactured by LDK
Front suspension: modified by LDK
Rear suspension: rise +3″ Air cushions
Front mudguard: manufactured by LDK
Colín: manufactured by LDK in metal
Seat: manufactured by LDK
Exhaust: 2: 1 Vance & Hines
Air filter: S&S
Mileage: digital with RSD supportholder
License plate: manufactured by LDK
Lighting: front light (HD dome), rear light incorporated into fenders, front and rear LED indicators on seatposts and dampers
Other modifications: semi-handlebars, cuffs, levers, gas cap, footrest, spark plug wires, spark plug covers, mirrors …
"Racing is life … anything that happens before or after is just waiting"
Steve McQueen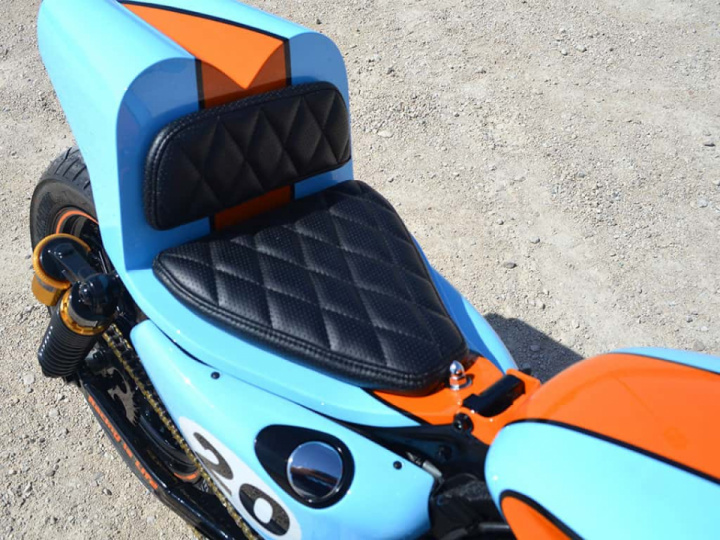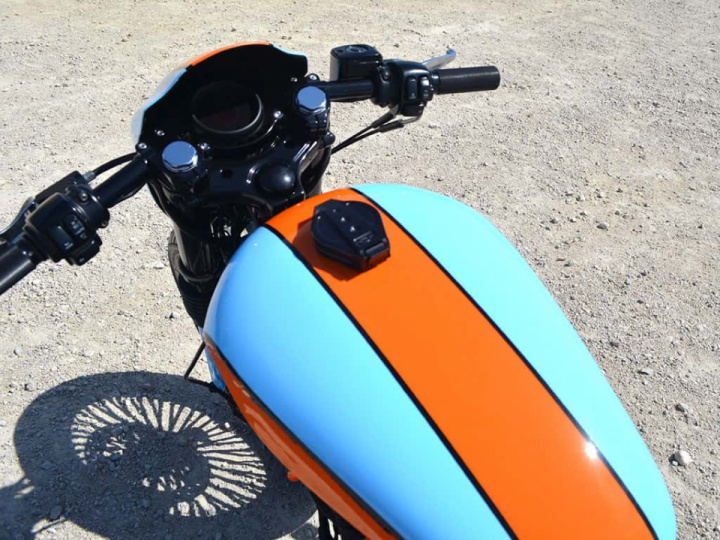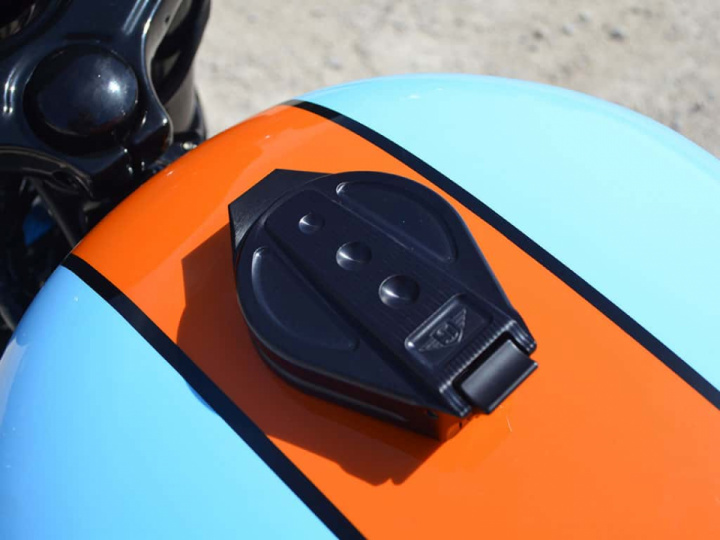 #HD #Harley #Moto #Bike #Custom #Sportster