The decision to resurrect an old bike shouldn't be taken lightly as it often comes with more headaches, time and expense than you'd ever expect. But if you bought that bike new in 1982 and had great enjoyment on it the above mentioned issues are not given a second thought, right?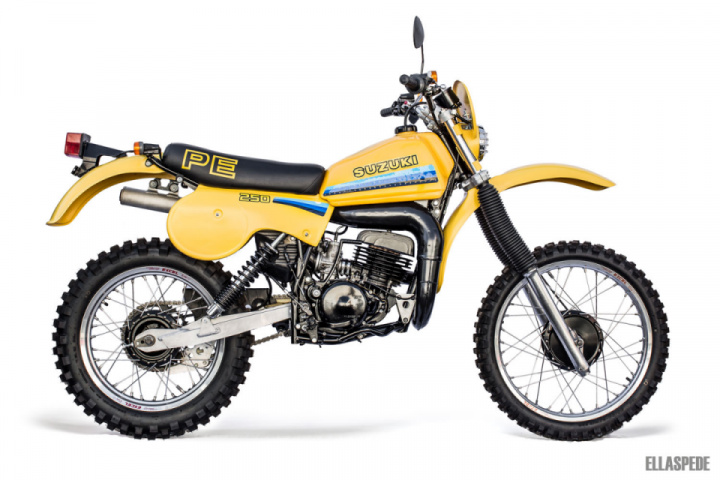 …well perhaps not if someone else is dealing with the dramas.
Ben use to love the eagerness of his Suzuki PE250 and entered a few race events with it in the 1980's. As it was mainly used as an off-road machine, lights weren't of great interest and as such removed so a tree etc didn't have to.
As the years rolled on the PE required engine refreshers but after a less-than-ideal job done somewhere the PE's mill failed. In disgust it was pushed to the back of the shed, which is where it stayed for the next 20 or so years.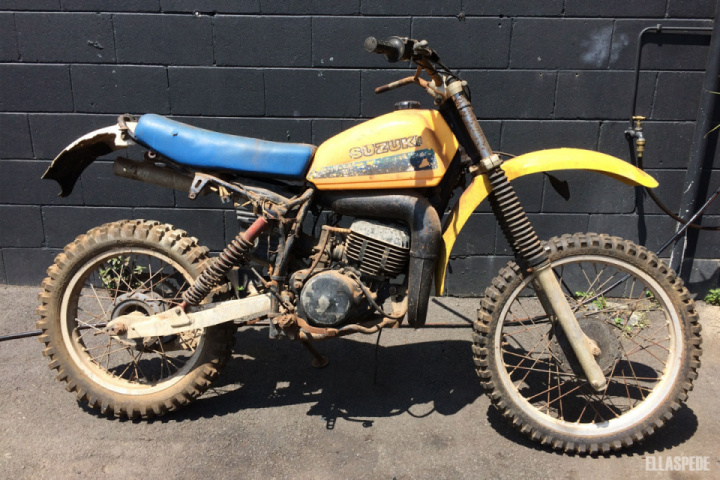 We've known Ben for a long time and over the years he's mentioned looking at the motor again to get the old thing rolling again.
With his 50th birthday a year or so away we thought it was time to stop the talking and start the walking… or as it turned out, 'searching'. Parts for these old 2 strokers are not that common, especially his being the very last of the 250's, the 'Z' model. The Z didn't exist in some countries (most finishing with the 'X'), but it did in Australia.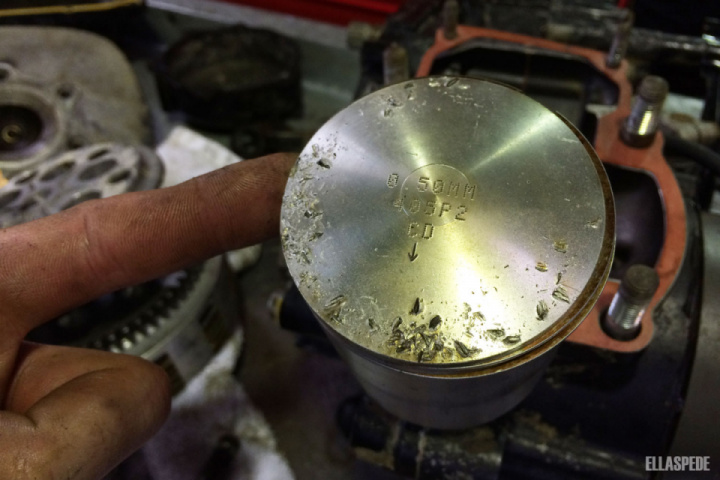 Anyway, Ben thought his old beloved was coming in to get the engine and basic requirements sorted to get it back in the dirt… but we had other ideas and a (secret) full restoration (with the blessing of other family members) was undertaken and a finish deadline set.
As you can imagine (see pics) it had all the hallmarks of an almost 40 yer-old bike that had been used in the dirt and then stored in a shed for much of that time.
The usual cleaning, straightening, polishing, painting and coating went on in bringing this old Enduro-King back to life but the real drama was in finding original or replacement parts.
Ben did have some parts in a box but several moves had seen many of the original removed items disappear.
Thankfully the plastics are still available as a kit but unlike the availability of parts for its more popular stablemate the RM250, things like the gauge, indicators, unique grill headlight cover and graphics were not.
Whilst many parts were common to the X model (1980 - 81), the graphics weren't so we used a combination of Z PE175 and custom made graphics to suit the original Z 250 livery.
A very similar looking 140 km/h DR200 speedo serves where the seemingly unobtainable original 160km/h one use to be. & An original headlight grill was found in Finland and delivered in the quickest time we've ever experienced from overseas… we had it in our hands the next day… bizarre!
A few sets of original indicators were found, the best of which were cleaned up and used.
Several original tanks were found to replace the existing one but unfortunately all plastic PE tanks suffer the same fate unless they've continuously had fuel in them and have been kept out of the sun. Even if a tank looks great but hasn't had fuel in it for a while, when you do it will split not too far into the future. UK delivered PE's had aluminium tanks but these are indeed a rare item.
Ben has an original looking tank for display purposes but uses a modern replacement when riding. If any one knows of an aluminium British one to suit a '80 - '82 PE, Oh and one of the special tools that lives on the front plate, we're all ears.
Back to the story… the bike was rewired, the carb overhauled, exhaust cleaned out, repaired and hi-temp coated, the seat was re-foamed and covered.
New rims and spokes laced to refurbished hubs with new brakes now wear Dunlop D606 rubber. New Ikon rear shocks adorn the rear whilst the front suspension was rebuilt. All consumable items were replaced and others refurbished or replaced also.
Whilst this is not a completely accurate restoration it turned out pretty damn well and when it was ridden into Ben's 50th birthday celebration it was met with surprise and much appreciation.
Photos by AJ Moller Photography
Original Source [Ellaspede]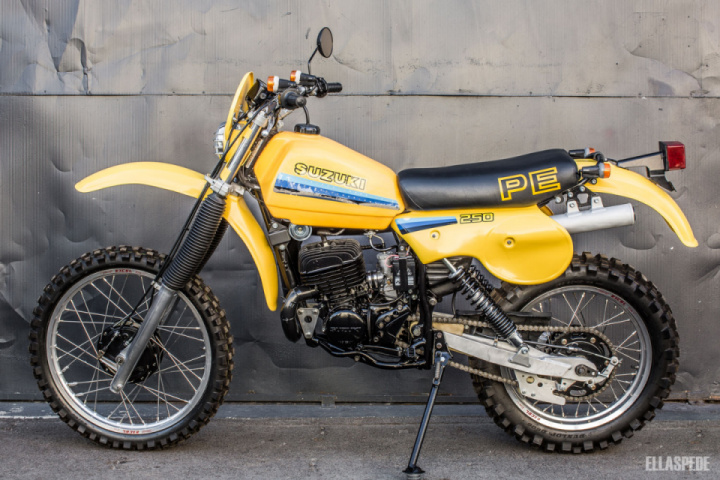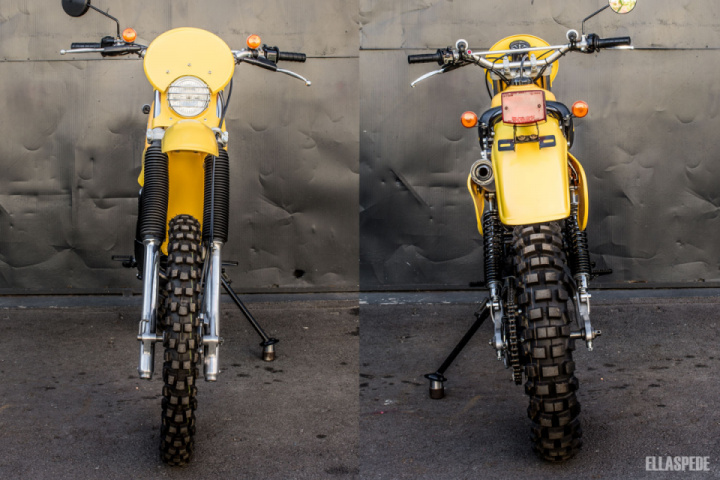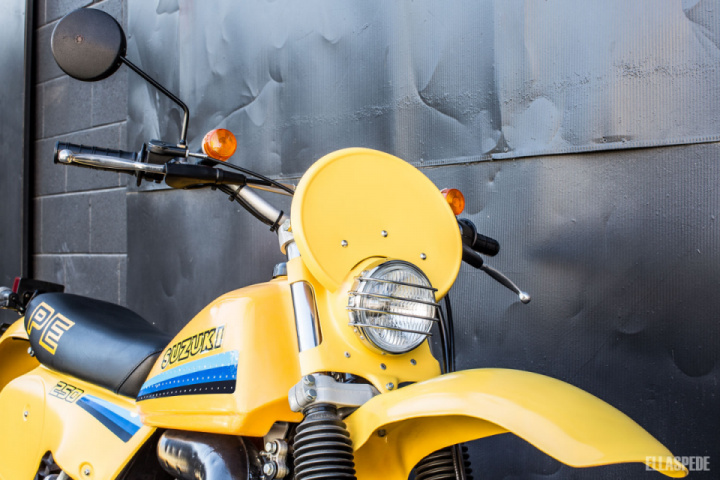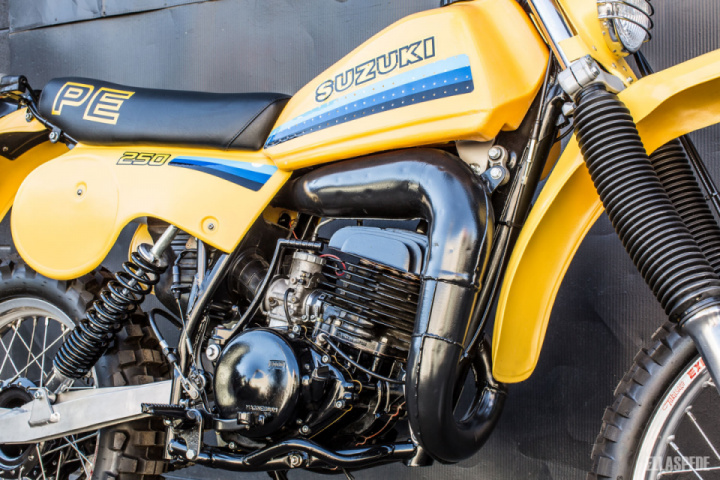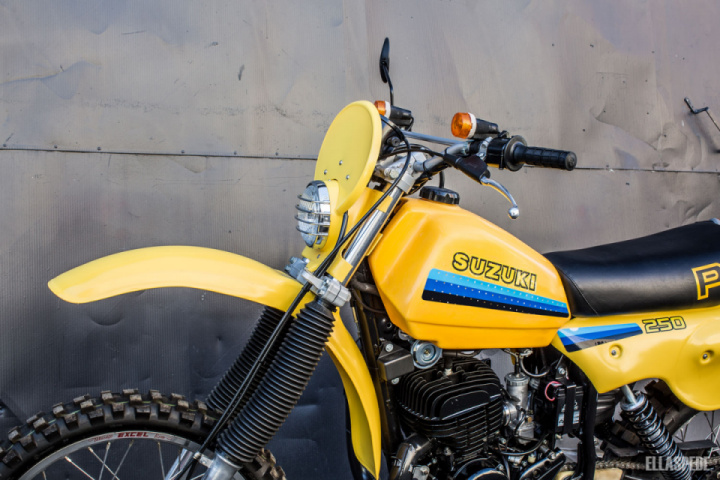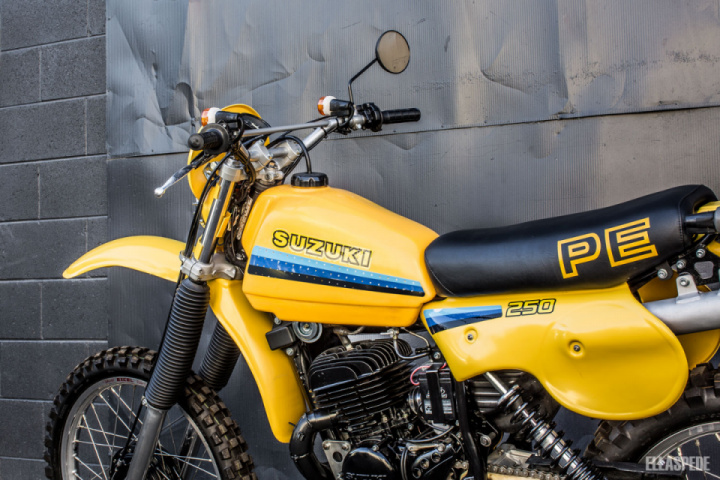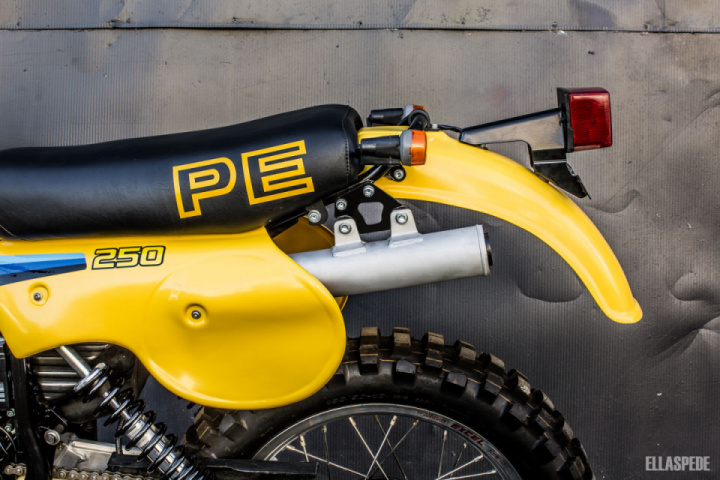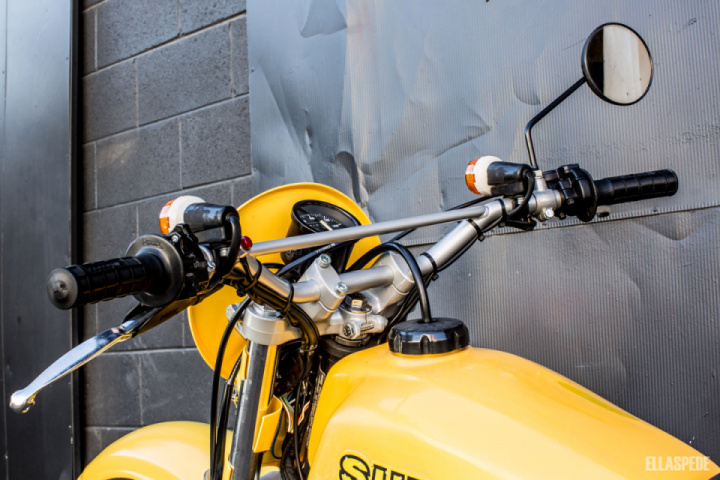 #Suzuki #Moto #Bike #PE250 #Custom