EVERY TIME MAARTEN Poodt completes another project, we feel like we're looking at some obscure, classic Yamaha that we've never heard of. Which is exactly how the Dutch custom builder likes it.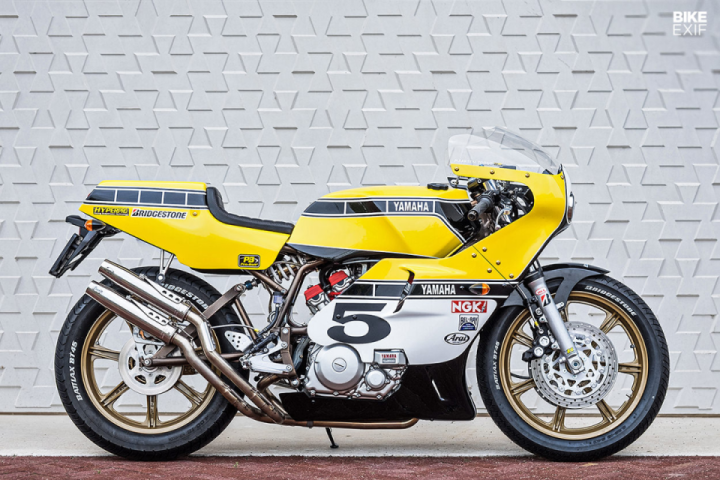 Maarten has a penchant for Yamahas, and particularly the models that are hard to come by in the Netherlands. He mostly goes for a retro sportbike look, and nails the factory feel amazingly well. By the time he's done, you're questioning your knowledge of Yamaha's back catalog.
Maarten used to build a bike a year, but got sidetracked for two years, making parts for other customizers and upholstering seats. Itching for a project of his own again, he picked up a 1983 XZ 550 and tore into it.
Also known as the Vision, the XZ 550 was only manufactured for two years. It was powered by a 552 cc, 70-degree V-twin motor, and was the first Yamaha with downdraft carbs. Unfortunately, those carbs also had an annoying off-idle stutter.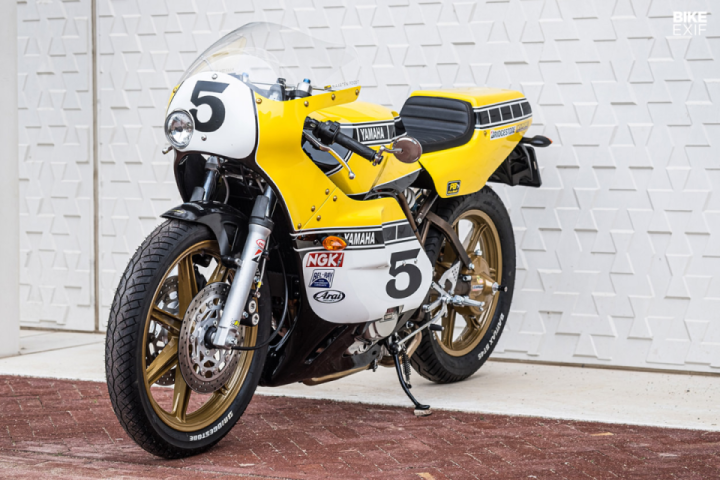 Maarten's rebuilt the XZ 550 using a remarkable number of Yamaha factory parts from a bevy of different models. And that makes this one of the slickest parts bin specials we've ever seen.
Up front are the forks, yokes and clip-ons from an R6. The wheels are off an XS850, measuring 19 inches in front, and 18 inches out back. The rear shock is from Hyperpro, and the brakes are a combination of modern MT-07 calipers and YZF600 discs.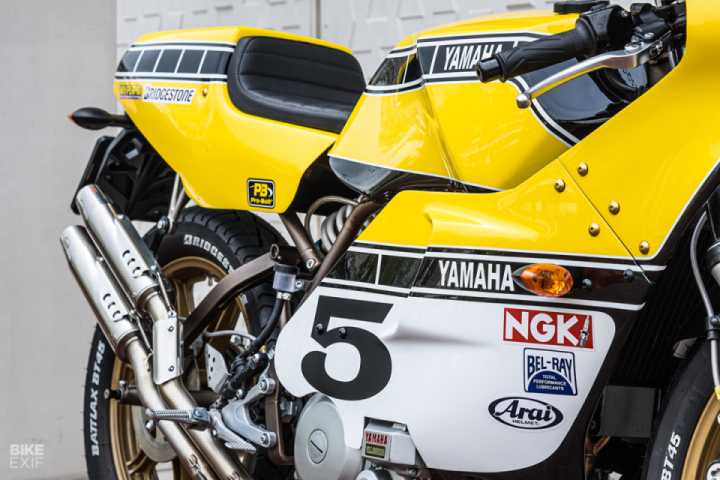 Getting all those parts to play nice wasn't easy. Maarten tells us the biggest job was manufacturing a new hub, so that he could run the XS850 rear wheel on the XZ 550's shaft drive. Modifying the head angle for sharper steering was apparently a chore too.
The front forks needed editing to accommodate the new front wheel, and brackets had to be made up for the brakes. But everything looks like it belongs, and even the front fender looks OEM.
Maarten used the same pick-n-mix approach to piece together the XZ's new bodywork, creating a silhouette that feels familiar.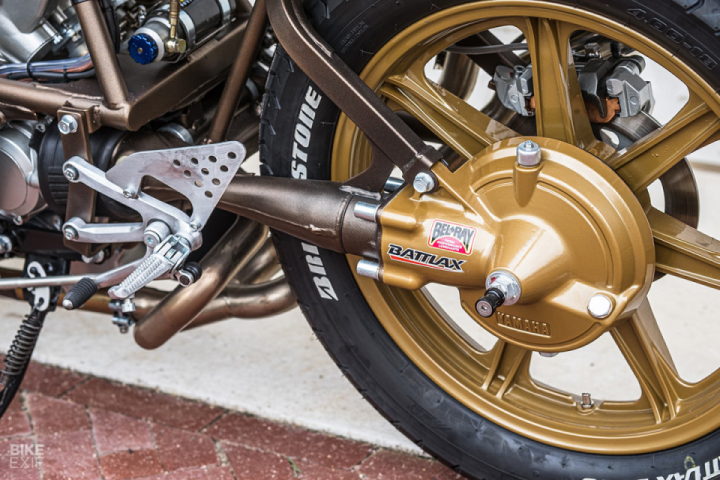 The tank is stock, but Maarten hammered in indents for the clip-ons, and then added a bulge in the belly to maintain a capacity of 17 liters.
The fiberglass fairing comes from Dutch racer Jack Middelburg, and echoes Kenny Roberts' YZR500 race bike. (Maarten got it to fit by way of custom-built aluminum framework.) Just behind it are the stock clocks, repositioned in a one-off fiberglass housing.
Recognize that chunky tail section? It's been borrowed from a Yamaha TZ, and finished off with a slim seat and a pair of embedded taillights. And if that license plate arrangement looks far too stock, that's because it is—Maarten grabbed it from an R1, complete with red reflector and turn signals (plus the foot controls).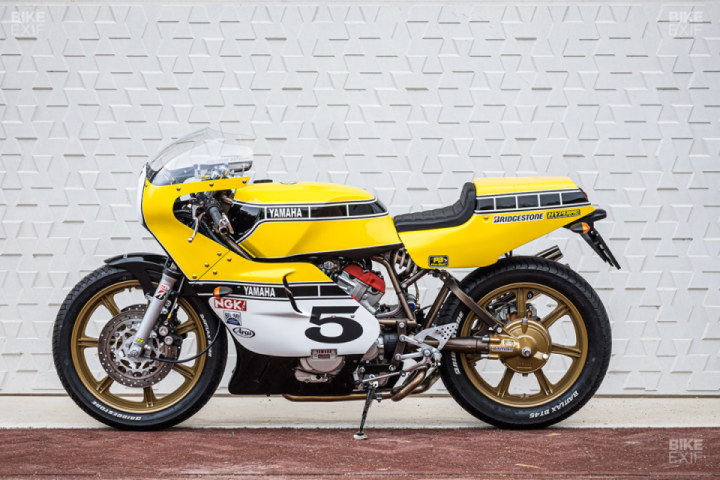 Lurking underneath the bodywork is a fully rebuilt motor, freshly tuned carbs that don't stutter, and revised wiring with a smaller battery. The exhaust system consists of a pair of tightly tucked, custom-made stainless headers, terminating in a pair of Laser mufflers.
Picking a livery for the XZ 550 was a no-brainer—it's wrapped in King Kenny's iconic yellow 'speed block' design. The wheels have even been redone in gold to match, and there are fresh finishes on everything from the frame to the engine casings.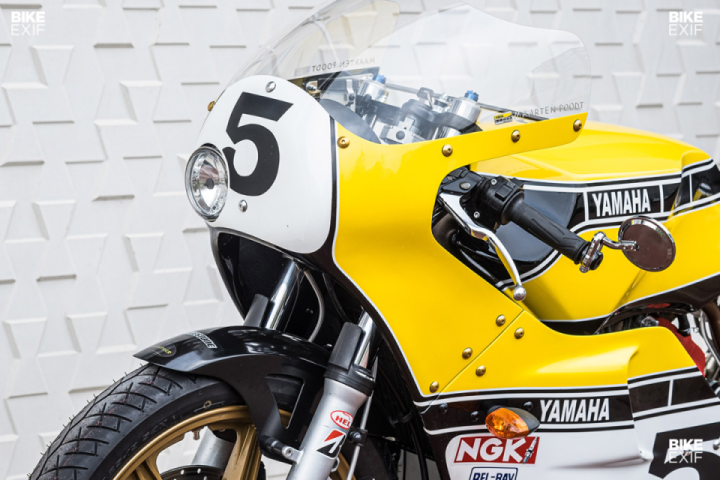 It's another flawless execution by Maarten. With any luck, he's put the parts and seats business on hold, and is already working on his next instant classic.
Maarten Poodt Instagram | Images by Mark Meisner | Credit: bikeexif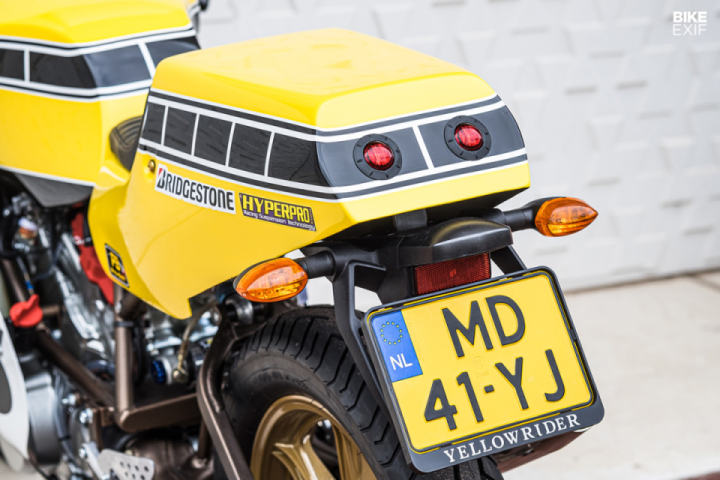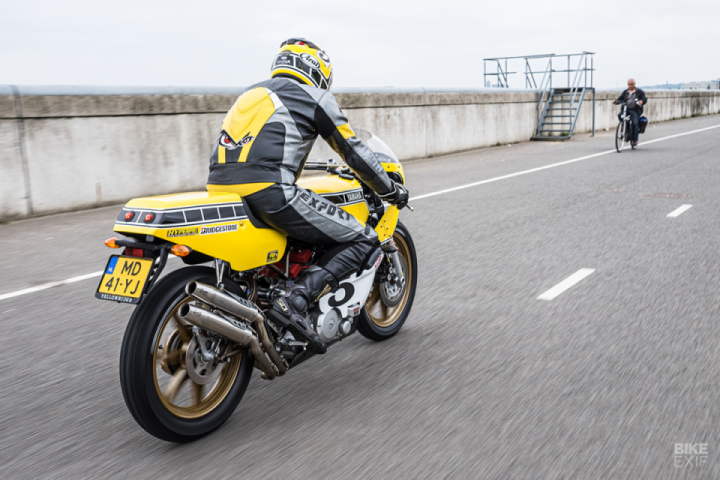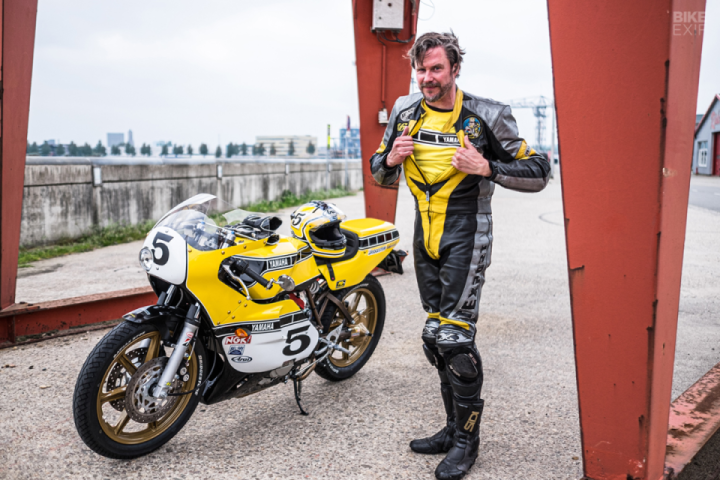 #Custom #Yamaha #Sportbike #Moto #Bike #Vision #XZ550