Like all Falcon customs, the Bullet is pieced together from a variety of old British motorcycles, most of them Triumphs, which are more plentiful than other marques and therefore not as likely to draw the ire and resistance of vintage English iron collectors and purists. As for the Bullet, the frame and engine were pulled from a 1950 Thunderbird, then modified. The frame was stretched 3 inches, and the 650-cc vertical twin motor was boosted with an aluminum barrel to add an extra 100 cc of displacement and power.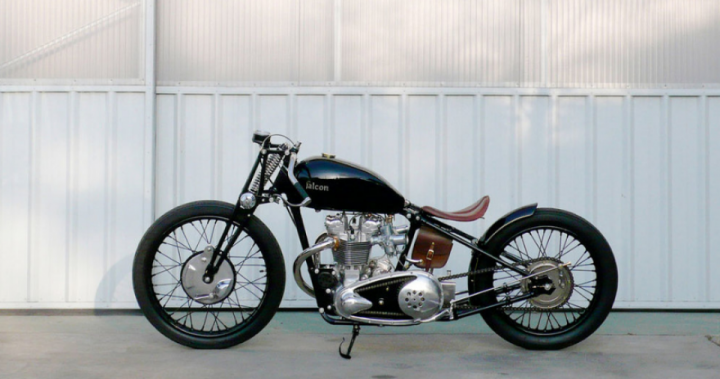 The oil tank, wheels, rear fender and girder fork were all pulled from separate bikes and given the Mary Shelley treatment. The brass tail light and über-rare Revulator tach/speedo were cyber-hunted then shipped from overseas. The footpegs and front fork tensioner were plucked from Barry's drawer of random Anglo parts and reshaped into entirely new pieces that fit the aesthetic needs of the machine. And the seat, exhaust pipes, handlebars and inverted levers, among other things, were all made from scratch.
"The idea is that you use the amazing pieces that existed back then, remake some pieces out of old pieces and add new things and modern technology only when it makes sense with the original purity of the bike"
For more info about Falcon Motorcycles check out their site.