In addition to the comfort-oriented active comfort seat, Wunderlich will be offering the Endurance Pro rider seat for the current BMW S/M 2022 RR and S 1000 R from April 1000. The accessories specialists have taken into account the particularly high requirements and needs of motorcycle racers among the S and M pilots and written them into the specifications. From this, the experienced developers and designers of the think tank have designed a racing seat that is uncompromisingly trimmed for performance and allows the driver perfect control of his RR in racing use. Irrespective of the motorsport advantages, the seat is particularly recommended from an ergonomic point of view for tall drivers. At first glance, the seat height is remarkable compared to the series. The pilot sits a full 40 mm higher on his machine. With this measure, a forward-facing, front-wheel-oriented seating position is automatically set, which leads to the desired effect of shifting the balance of the super sports car in the direction of the front wheel. The knee angle, which is significantly relaxed due to the seat height, facilitates movements in the saddle during quick changes in lean angle. The direct feedback from the chassis is optimally supported by the taut upholstery of the seat and makes it easier to parry situations at the limit with agility. All in all, the seat noticeably optimizes the dynamic handling of the RR. In addition to the immediate feedback it provides, the shape of the specific 3D contour together with the neoprene cover ensure a secure hold in every situation. The seams are tone-on-tone, the Wunderlich logo creates recognition value.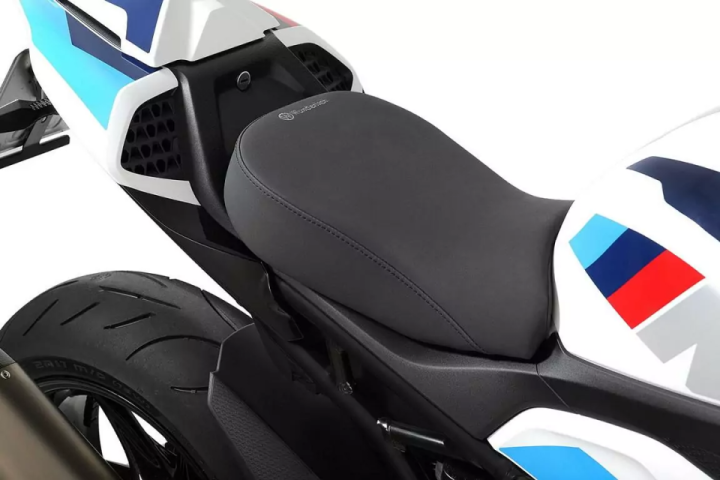 Specifications :
Racing seat trimmed for performance - which is also recommended for tall drivers from an ergonomic point of view
Seat height: Plus 40 mm compared to the standard seat height
Front-wheel-oriented seating position
Shifts the balance of the super sports car towards the front wheel
Supports dynamic handling, freedom of movement in the saddle during quick changes in lean angle
Delivers perfect feedback - for optimal, agile control at the limit
Noticeably optimized knee angle
Specific 3D contour
Secure hold in every situation thanks to the neoprene cover
Elaborately embroidered Wunderlich logo
Material:
Seat shell: Basic shell made in-house
Cover material neoprene, glued and welded seams for 100% tightness

Dimensions:
40 mm higher seating position
Wonderful advantages
Wonderful premium product. Small series. Made by hand.
Whimsical design. Integrated and functional.
60 days right of return - risk-free testing
Made in Germany
5 years warranty
Der Preis
Wunderlich offers the Endurance Pro driver's seat at a price of €339,00 incl. VAT.
#BMW #Moto #Bike