UFO Garage builds five identical motorcycles for five friends. The Six Days tributes are intended to commemorate the BMW factory machines from 1979 and are based on the R 100 RS model. With a Yamaha fork, a small tank, a new rear end and the start numbers from back then, the BMWs roll through Catalonia on a light cleat.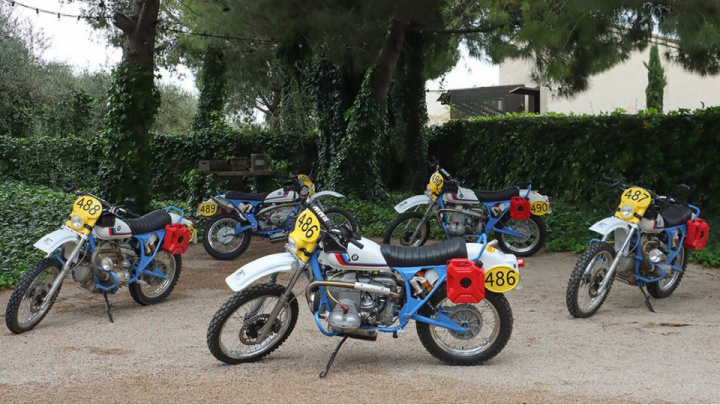 BMW Six Days Tribute
When BMW reorganized the works team in 1979 and registered the GS 80 for the International Six Days Trial and Enduro Championship, the boxers achieved almost unchallenged victories. The start numbers back then were 485, 486, 487, 488 and 489. And it is precisely these start numbers that adorn the five R 100 RS that have been converted to GS and which the UFO Garage put on the tunnel wheels of five friends. The successes of the G/S at the Dakar Rally overshadow the successes of the late 1970s in people's minds.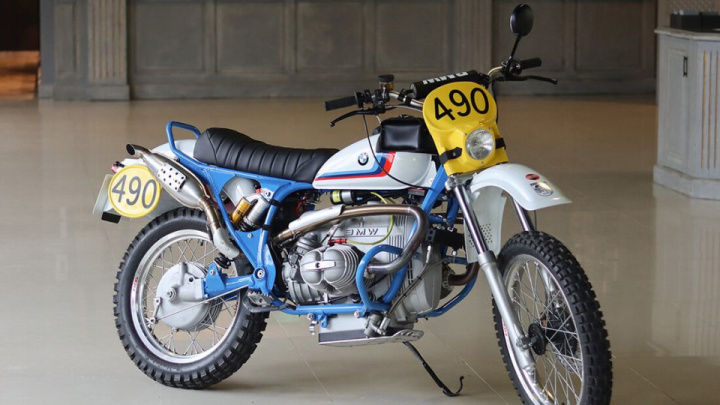 The five machines are each based on an R 100 RS, which, in addition to the large range on the Spanish used market, also offers more power than the 800 engine. Accordingly, nothing has to be turned on the 70 hp. Cleaning the engine, overhauling it, adjusting it and embellishing it with a ceramic coating are UFO's jobs on the large two-valve engine. And install a spacer ring for the oil pan from Siebenrock, which holds 1.3 liters more lubricant and coolant. The old factory boxers were equipped with a raised two-pipe exhaust system, UFO wanted to adopt this style, but decided to build a 2-in-1 system. On the other side hangs a five-liter fuel canister.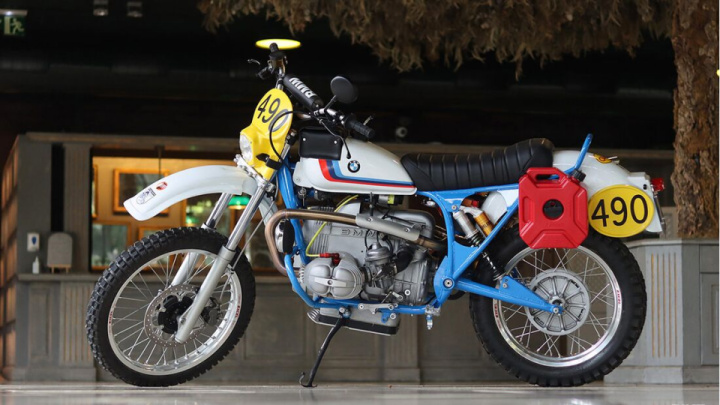 New chassis and running gear
The tank, which has a capacity of only eight liters, can thus offer a few kilometers more range. So that this happens with some degree of comfort, UFO installs a fork and disc brake from a Yamaha XT in the steering head, whose hub has been newly laced with an Excel rim. The main frame is almost standard, the Catalans re-draw the rear frame with 20 mm tubes. The entire pipe work is preserved with a sky-blue powder coating, tank and fender in a brilliant white, the headlight cover is painted bright yellow.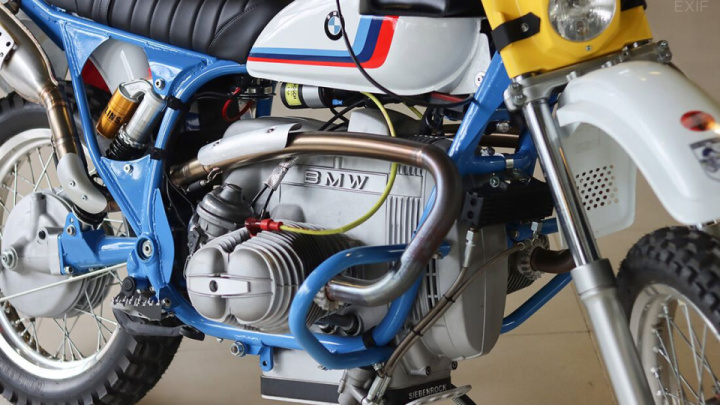 Like the old machines
In addition to the starting numbers from back then, there is a special feature of the competition machines: the bag in the tank. The new on-board electronics from Motogadget with different sockets are located in the five conversions.