Kawasaki Ninja ZX-4R 400cc Inline 4-Cylinder Expected To Launch In 2022. Well-known media outlet Young Machine has designed the latest rendering of the All New Kawasaki Ninja ZX-4R, a new full-four-cylinder 400 class fairing sports motorcycle. Come out and let us see each other. Along with the news that It will be released sometime in 2022.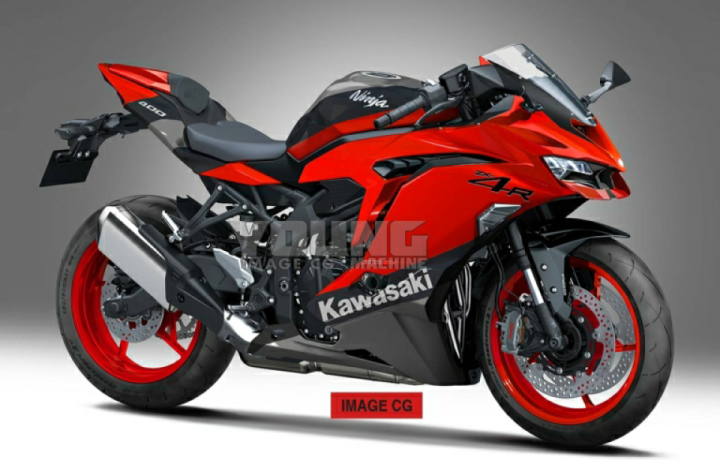 The engine of the All New Kawasaki Ninja ZX-4R is expected to come in at approximately 400cc inline four cylinder 16 valve DOHC fuel injection system. which is a structure of the engine that is similar Together with the younger generation like the kawasaki Ninja ZX-25R.
When we look at the images of the patents that have been released earlier. Will find that the design of the fairing has a built-in air duct. to bring air into the surrounding area radiator and send it directly to the engine. This is necessary for a four-cylinder engine to have a very high redline. (Compared to the ZX-25R redline up to 17,000 rpm), so this principle allows the ZX-4R cooling to be better without having to enlarge the radiator at all.
Besides that It is also possible that the features that will be installed on the All New Kawasaki Ninja ZX-4R. are likely to be picked up from the ZX-25R, such as the KTRC Kawasaki Traction Control system, anti-spin wheel protection. (Which can be adjusted to 3 levels together), front suspension upside down , 37 mm in size, while the rear is a Horizontal Backlink Suspension , working with the swing arm, the Assist and Slipper Clutch system to prevent the rear flicking while the chain. Gear, electric throttle and Power Mode that can be adjusted to 2 levels, including front and rear ABS system,
Kawasaki Quick Shifter system for changing gears without clutching both raising and lowering gears.
Of course, after the official launch Thailand, we also have a very high chance. In order to market this model as well Along with the younger generation like the kawasaki Ninja ZX-25R itself.