Yamaha's MT-10 wears quite a few hats that don't conflict with its high-performance ensemble. While the European naked-bike contingent is migrating closer to their ancestral racetrack homes—and some never strayed too far—the multifaceted 2022 Yamaha MT-10 stands firm on its promise that it can strut its stuff while commuting, touring, sport riding, and even at the occasional track day. That's all by design, as Iwata engineers set out to do more than slap handlebars on Yamaha's YZF-R1 superbike, repurposing its yowling MotoGP-inspired crossplane-crank engine and chassis for life on the streets, first and foremost.
The 2022 Yamaha MT-10 sweetens the pot with a trim new look and a few ergonomic tweaks. The upgrades go beyond skin deep thanks to a suite of IMU-supported rider aids, Euro 5 compliance, and updated suspension settings topping the list of refinements.
We packed our bags and headed off to Asheville, North Carolina, to find out what the latest Yamaha MT-10 had in store, exploring scenic routes in the majestic Blue Ridge Mountains. Now, let's get on with the Fast Facts.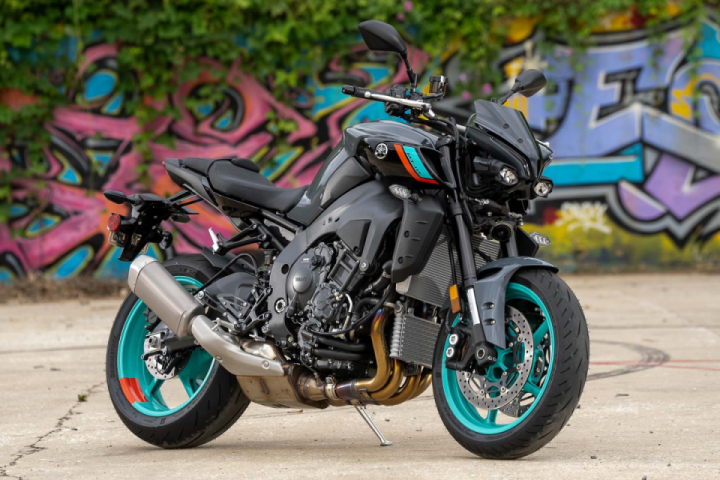 1. A burly 998cc CP4 engine satisfies once again. The 2022 Yamaha MT-10's mill succeeds in an area where so many inline-four powerplants fail—low and midrange torque. In this streetwise application, there's no need for the R1's lightweight titanium internals, which are essential in sky-high-revving superbike powerplants—those top-end benefits are lost on the road anyhow. Instead, steel connecting rods and valves save cost and add inertia, helping build that all-important oomph out the gate. A racy underpinning still thrives, immediately hitting its energetic stride and digging into slapping midrange that's always a wrist-flick away.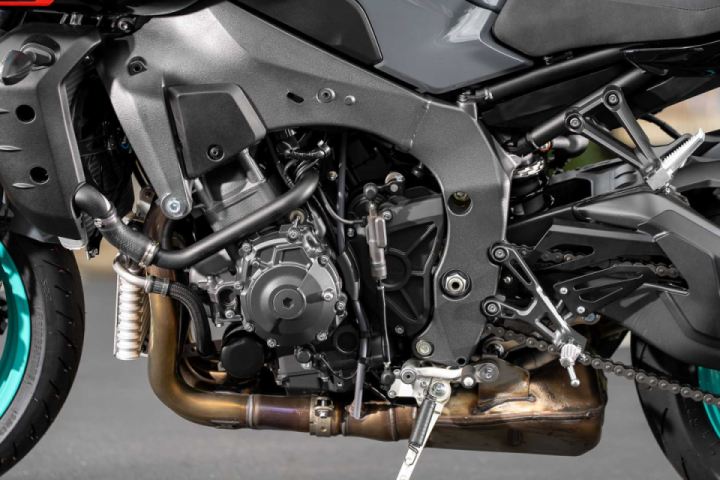 2. Yamaha knows its audience, and the Euro 5 CP4 is heard clear as a bell. The tuning-fork brand displayed its musical prowess by delivering a new air-intake system, utilizing an uneven triple-duct design for our listening pleasure. These days, the forward-facing air scoops are active and work with acoustic sound grilles atop the 4.5-gallon fuel tank, giving you a voyeuristic peek into the airbox. The harmonizing intake and exhaust note boast more soul than James Brown, despite dealing with a total of four soot-scrubbing catalyzers. Sure, it adds a few pounds to the overall weight, but it is distributed to the lowest point of the machine—worth noting, though not felt.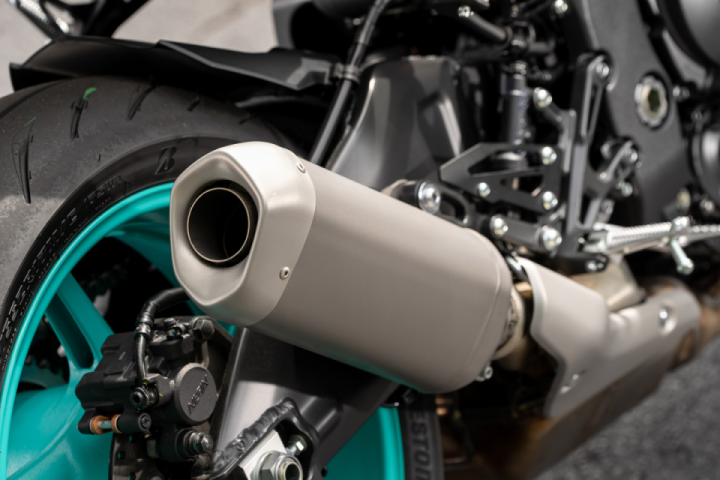 3. Shifting is as sporty as you like on the MT-10. Hand-me-downs aren't necessarily bad, especially when they're the up/down quickshifter from the R1. Flicking through the gearbox is a breeze; save for starting or stopping, the light, cable-actuated, assist-and-slipper clutch won't be touched.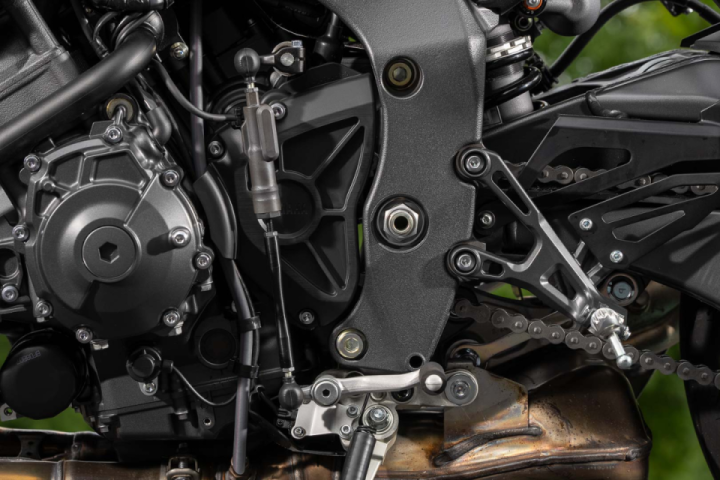 4.& Longer final-drive gearing increased fuel economy. Performance-minded naked bikes aren't the most renowned light-sippers when ridden with intent, but to help the MT-10s pitstops at the pump, a smaller 42T cog is fitted to the rear, raising claimed fuel consumption from 30 to 36 mpg. Lengthened gearing has another positive side effect—cooling the big MT's heels a smidge and making those initial throttle openings congenial.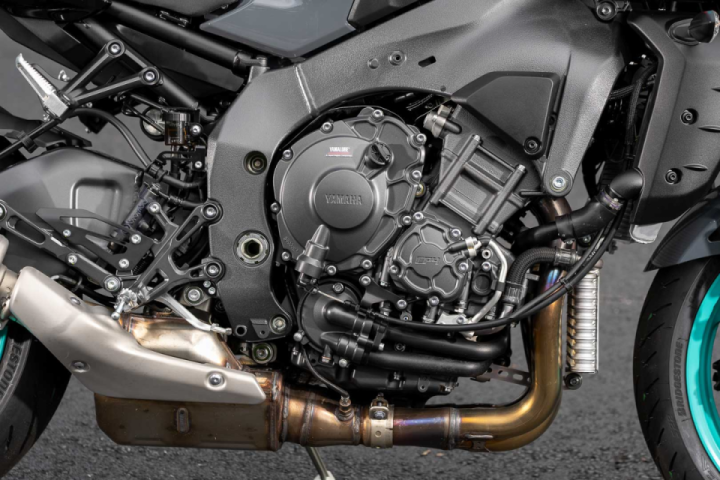 5. New IMU-supported rider aids bring additional features to the table. Four customizable riding modes (A-D) act to corral the multi-level power modes, lean-angle-detecting traction control, cornering ABS, slide control, engine braking, and wheelie control settings. Power (throttle sensitivity), TC, and SC can be adjusted on the fly. Suppose you want to disable an aid or dabble with the other settings. In that case, you must go spelunking into the comparatively small 4.3-inch TFT display's menu and apply them to a specific riding mode. That's all in the name of safety, says Yamaha, preventing someone from unintentionally disabling an aid. That same logic applies to switching between riding modes—stop, switch modes, then continue—slightly perplexing at first, but consistent, if nothing else.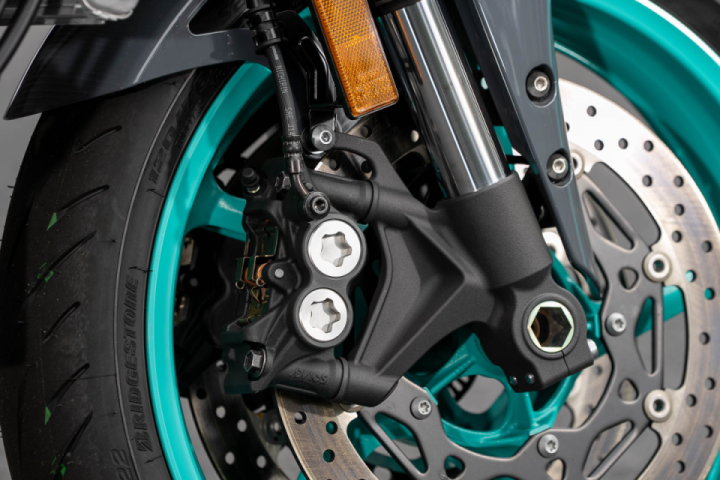 6.Fresh electronics are a huge step forward for the 2022 Yamaha MT-10. Compared to the prior generation, which used wheel-speed sensors, this updated tech is the business. ABS, TC, and SC were never bothered in the dry, and I was glad to have them when encountering damp patches. Wheelie control accommodates modest hoisting in the lowest settings, and cruise control is handy for highway slogging. The most interesting doodad is the Yamaha Variable Speed Limiter. It is, essentially, a pitlane limiter for the road—you can hold the throttle wide open without accelerating above the set limit. With the advent of speed cameras in several major markets, many consumers wanted a limiter to ensure they won't travel too fast through speed traps.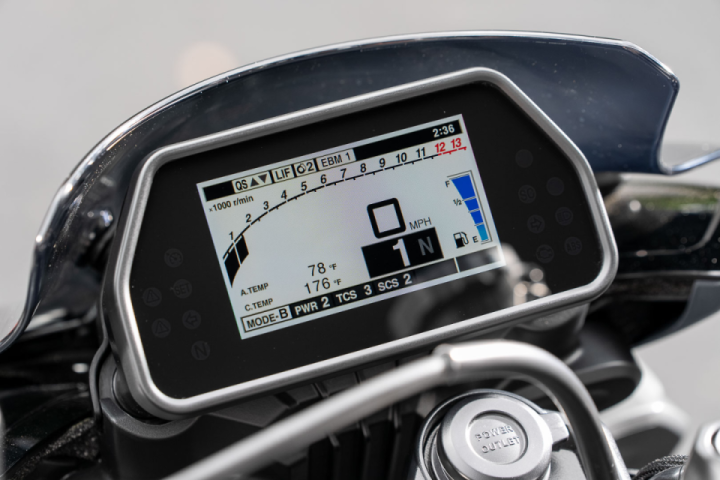 7. A genuine ride-by-wire throttle is a marked improvement. Between the revised airbox, updated exhaust, and modern throttle, twisting the MT-10's grip nets a crisp and clean reaction. Four power modes range from the knives-out, canyon-carving Level 1 throttle response, all the way to the subdued Level 4, with each step having a defined place in the hierarchy.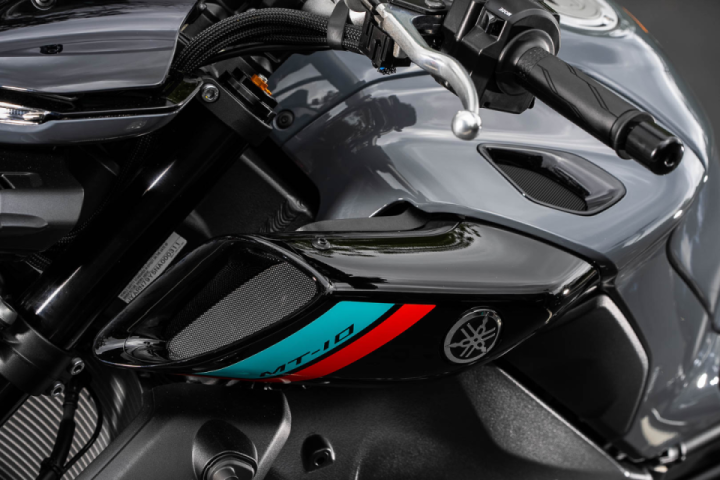 8. When it comes to the chassis, stout is the operative word. The MT-10 continues to roll on a YZF-R1-derived frame and swingarm. Its athletic superbike geometry numbers make it a willing accomplice on the winding Blue Ridge Mountain Parkway and surrounding technical roads. While the Yamaha's naked beasty might not seem quite lively as its racetrack-oriented competition, it remains steadfast when leaned over, inspiring one to hustle about with conviction.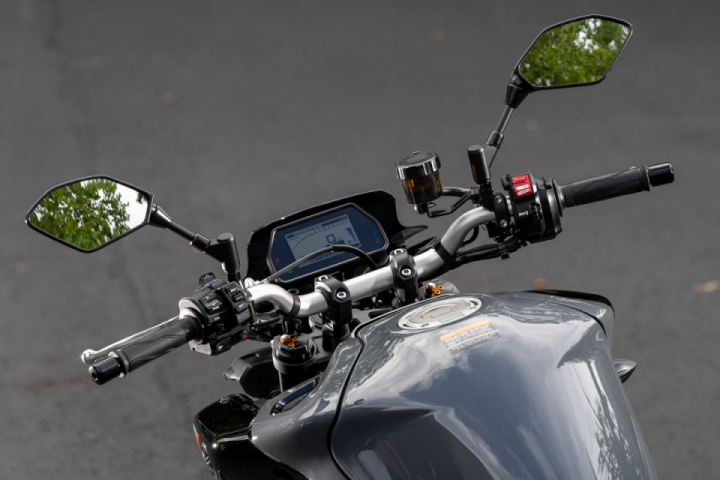 9. Fully adjustable KYB suspenders keep it all in shape. Nothing has changed on the suspension front, save for 3mm of additional shock spring preload availability. Everything stays composed when enjoying curvy sections, and the rough stuff is kept at bay. You will notice the hardest of hits, which can be chalked up as the cost of entry for living life on the sportier side. As such, the MT's setup manages to satisfy those thriving in sporting and casual circles alike.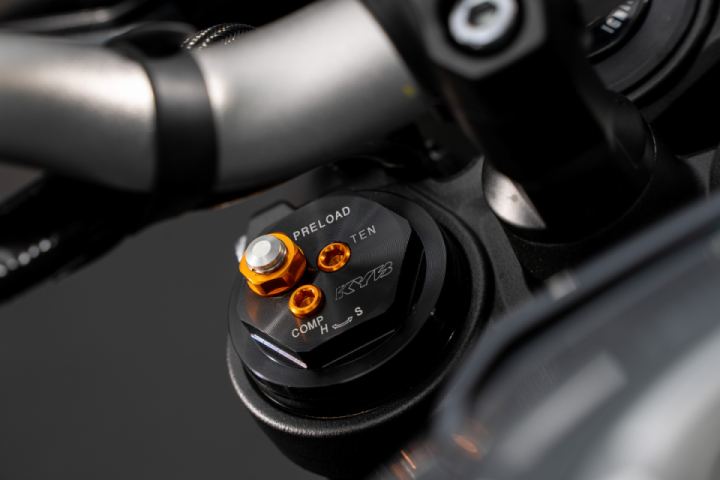 10. Brembo is part of the program. Brembo master cylinders are bolted to each end, with a flashy radial unit mated to the trusty Advics four-piston calipers and 320mm rotors. There's power aplenty, though a sporting rider might want an extra bite at the adjustable lever. Still, they'll haul it all to a stop in a hurry if you get stuck in, and a more aggressive brake-pad compound can do the trick.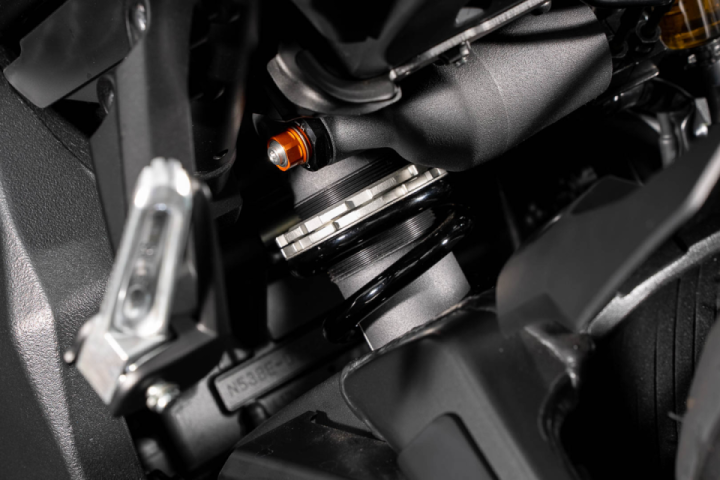 11. Bridgestone Battlax Hypersport S22 rubber passes with flying colors. The S22 has proven itself as a worthy option for street and track duty, delivering reassuring grip and feedback. The traction is impressive in damp conditions, which we dabbled with while exploring the Blue Ridge Mountains. Even better, we've got 90-degree valve stems from the factory—movin' on up!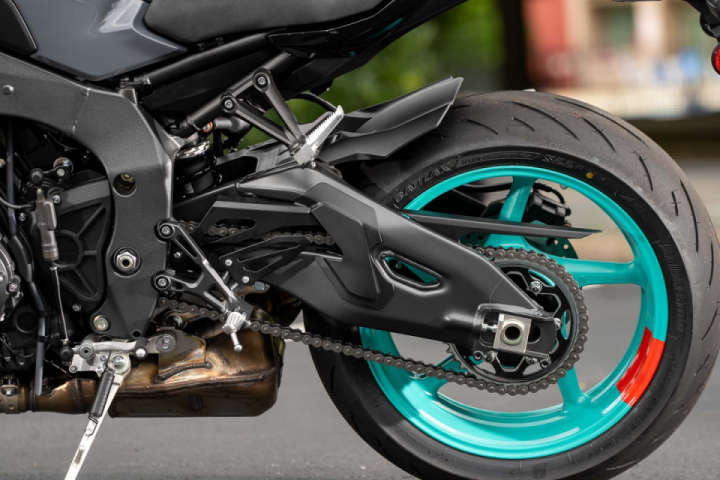 12. The 2022 Yamaha MT-10's ergonomics are designed for everyday riding. While the lovely engine does separate the Yam from the rest of the more feral naked herd, its casual riding position is what drives the point home. The upright riding position and ample legroom don't impose a harsh tax, and the reshaped saddle has firmer foam, and more of it, for additional support. The upholstery change does raise the seat height to 32.8-inches, though designers whittled the tank down between the knees, alleviating the voluptuous nature of inline-four powered bikes a touch. My 32-inch inseam never struggled to reach the deck.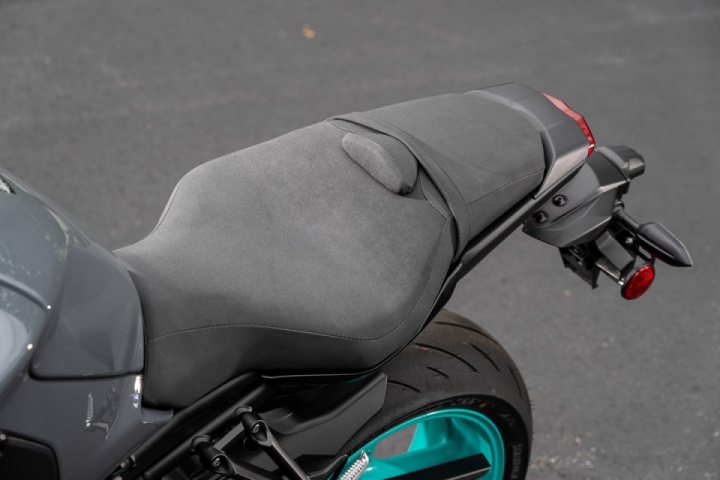 13. Designers achieved a trimmer and fitter MT-10. As we can see, styling received a once-over. After a half-dozen years without change, things started to look a bit dated. Brash design cues continue to rule the day, beginning with a newly designed LED headlight and ending with a shortened subframe to give the muscular MT a compact appearance.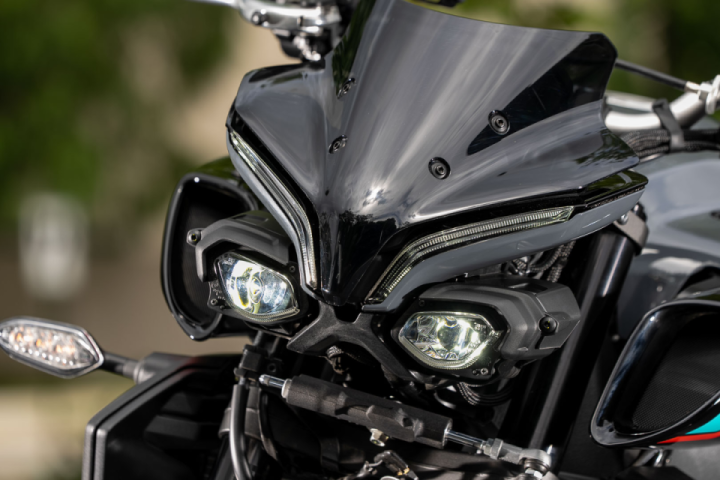 14. Knowing your strengths is essential, and the 2022 Yamaha MT-10 capitalizes on them.& Often, the call for horsepower is answered by manufacturers. Yet, Yamaha has put its finger on the motorcycling pulse and delivered a well-rounded machine that can fill quite a few road-going niches, fostering that rambunctious streak in the process. Engine performance is spot-on, and its parity with the capable chassis is sure to induce a grin. Yet, the proposition is even stronger with this year's refinements, factoring in the versatility, comfort, and modern electronics package that make the $13,999 quite alluring.
RIDING STYLE
2022 Yamaha MT-10 Specs:
ENGINE
Type: Inline-4 w/ crossplane crankshaft
Displacement: 998cc
Bore x stroke: 79.0 x 50.9mm
Compression ratio: 12.0:1
Valvetrain: DOHC, 16 valves
Transmission: 6-speed w/ quickshifter
Clutch: Wet multiplate assist-and-slipper clutch
Final drive: Chain
CHASSIS
Frame: Twin-spar aluminum
Front suspension; travel: Fully adjustable KYB 43mm inverted 43mm fork; 4.7 inches
Rear suspension: Linkage-assisted fully adjustable KYB piggyback-reservoir shock; 4.7 inches
Tires: Bridgestone Battlax Hypersport S22
Front tire: 120/70 x 17
Rear tire: 190/55 x 17
Front brake: 320mm discs w/ radially mounted Brembo 4-piston calipers and Brembo radial master cylinder
Rear brake: 220mm disc
ABS: Standard
DIMENSIONS and CAPACITIES
Wheelbase: 55.3 inches
Rake: 24.0 degrees
Trail: 4.0 inches
Seat height: 32.9 inches
Fuel capacity: 4.5 gallons
Estimated fuel consumption: 36 mpg
Curb weight: 467 pounds
Colors: Matte Raven Black; Cyan Storm
2022 Yamaha MT-10 Price