It's clear looking at his work that Rad prefers a sportier aesthetic. He applies a healthy dose of café racer methodology into his neo-retro styled machines. In 2016 he wowed the Mooneyes judges with his 'Godless' Buell XB, but in 2017 he returned to his roots and entered 2 small capacity motorcycles into the show.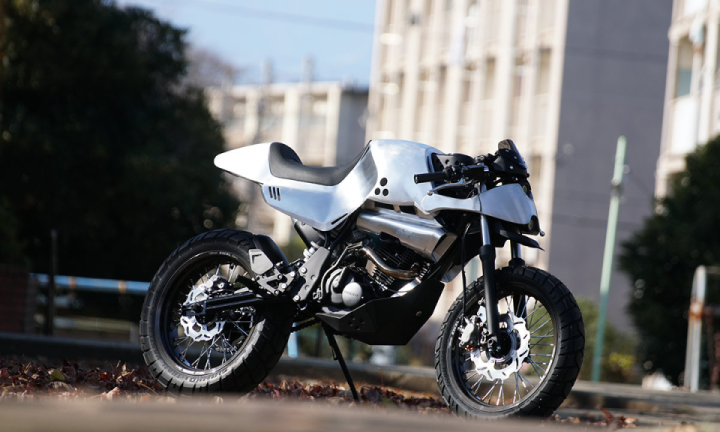 The first "Half" of the two motorcycles on display at the Ask Motorcycles stand was Rad's wild Honda TLR200 Reflex, a motorcycle he knew well from his 4 years experience as a Honda mechanic. Visually there's little left of the TLR's original trail bike styling. Rad's goal was to create a motorcycle better suited to the street both visually and functionally and it began with some serious framework. "Almost 60% of the original frame has been changed," says Rad and it's evident when the bike's monocoque bodywork is raised.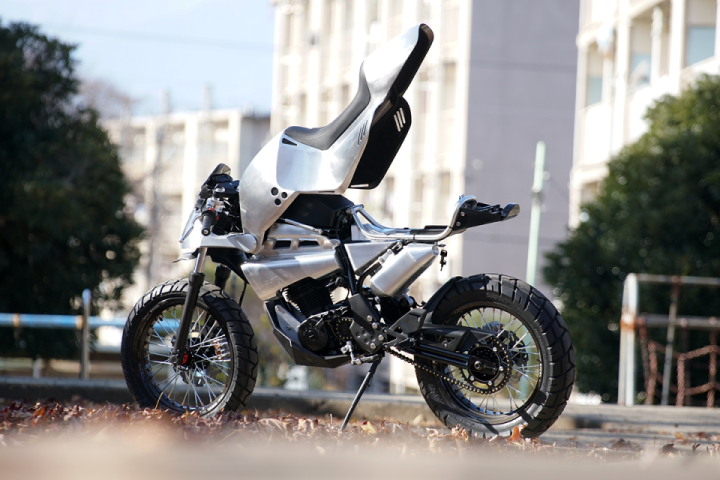 The bike's chassis utilizes a completely revised subframe. The rear end has been switched to a monoshock set up for tighter proportions and there's a tubular aluminum seat pan to support the rider's weight. & The single backbone has been replaced by a dual spine that carries a custom-made alloy fuel cell and the frames stance has been leveled out by adapting the front end from a similar capacity sports bike.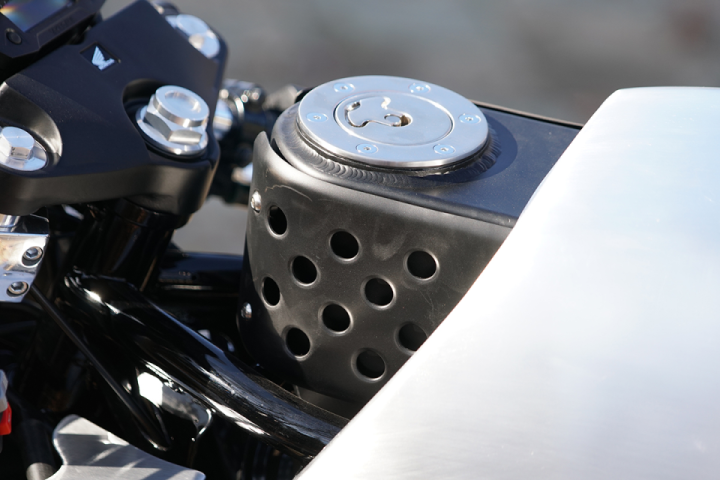 The raw alloy unibody is without a doubt one of the bikes most impressive features. Rad hand shaped 2mm aluminum sheet using the pride and joy of his workshop, an English Wheel made for him by Christian Sosa of Sosa Metalworks. Rad has hinged the body to the frame so it can be lifted to allow quick access to the battery and a small storage compartment within the tail. It's not only the monocoque that's shaped from alloy though. Everything from the front fairing to the air scoops, engine bash plate, muffler and even the chain guard have been made from scratch. A process that takes countless hours to master and a technique that has now become a trademark of Rad's work.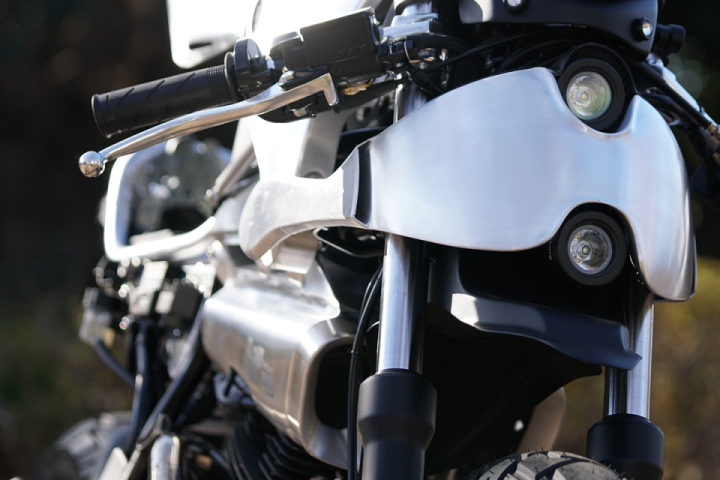 For lighting, the Honda runs a pair of vertically stacked projector lamps nestled in the front fairing and an LED unit in the tail. An aftermarket speedometer is nestled behind a small tinted windscreen and the factory handlebars replaced by more appropriately styled clip ons. To finish the build off Rad adapted a set of laced Excel rims to the TLR wearing more capable ventilated disc brakes. Finally as a nod to the TLR200's offroad roots, Rad wrapped the rims in chunky dual purpose rubber.
Credit: returnofthecaferacers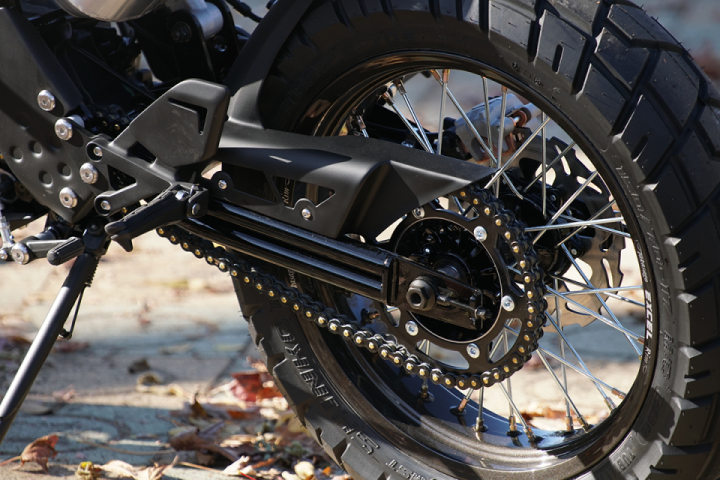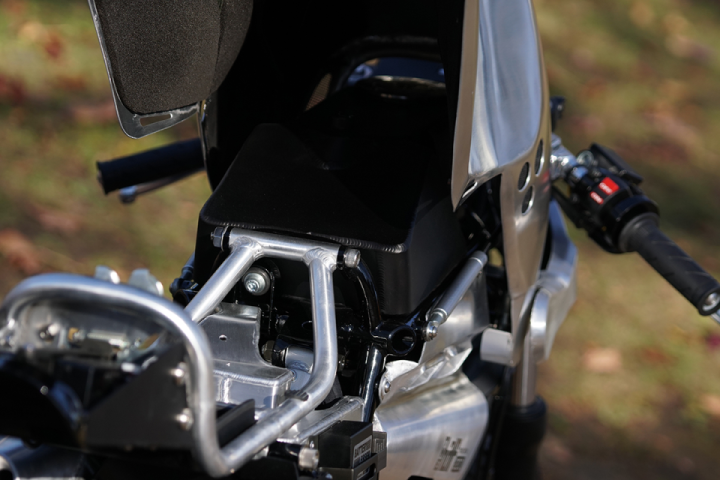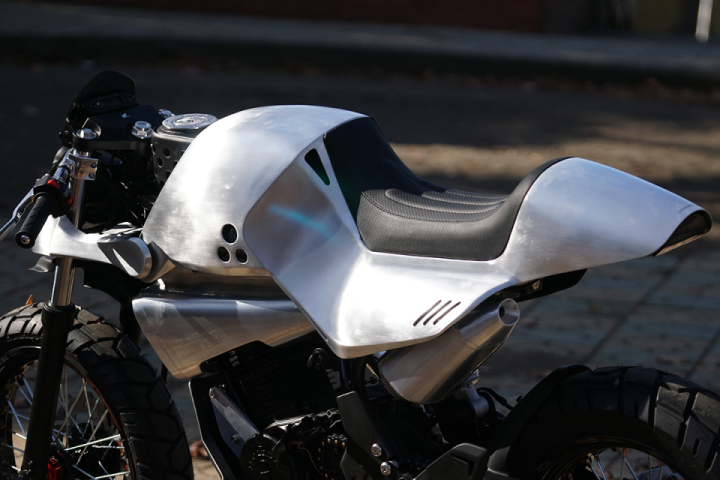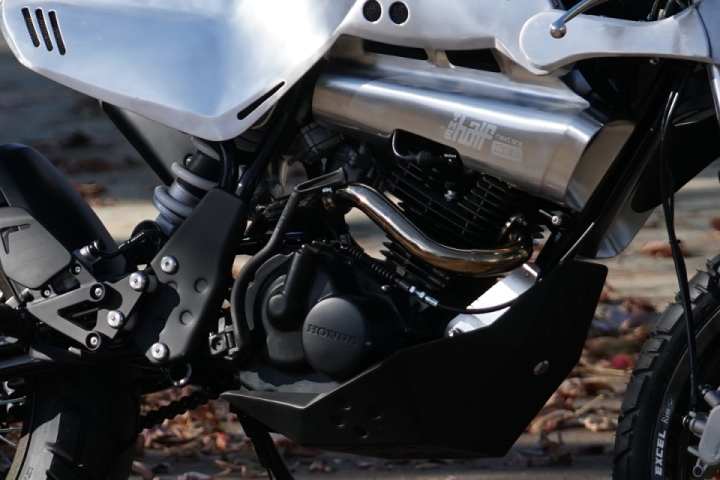 #Honda #TLR200 #Bike #Custom #Moto