THE SUZUKI RF900's styling was designed in a pitch black room by a drunken chimp conducting a series of experiments into the effects of poor quality acid. OK, maybe not, but there's a reason why you don't see many RF900s taken on as projects in PS. "Nice bike to ride but they're bloody ugly," is Editor Jim's assessment. "Fast but not the prettiest," agrees Alan. "I wasn't down with the styling and most of the colour schemes were horrendous." Only Gary 'Big G' Hurd is on hand to leap to the maligned Suzuki's appearance. "All Suzukis have their own unique style," he reasons. "Let's face it, you don't look at the mantlepiece when you're poking the fire, do you?" Nolan Freebury has heard all these opinions and more about the RF900, but this is what attracted him to it: after 15 years out of biking, he started looking for an old bike to get back into two wheels in his late 30s and liked the idea of the Suzuki's curious blend of solid engineering and a back-end only a mother could love. Promptly scouring eBay, he found a decent '96 RF900 for £950 and soon had this mechanical John Merrick back in his garage.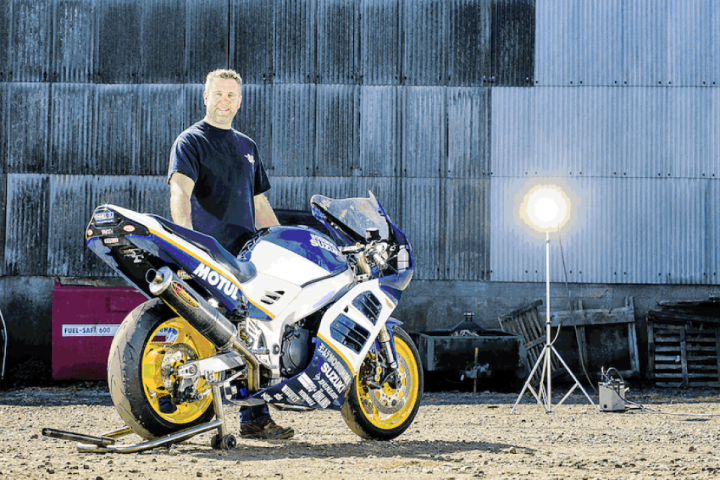 Then came the epiphany, and the moment that this Special Brew was born. "I started getting PS and read about a trackday that was coming up at Cadwell Park," he says, proving that while you might take exception to his taste in bikes, his judgement in magazines is unparalleled. "I instantly fell in love with track riding, and after the first session one of the instructors said to me, 'I can't believe you can get this bike through Hall Bends that fast.' I thought, 'I wonder how many other people think this bike shouldn't be doing that?' "That's what really interested me: taking something that shouldn't be any good on a track, making it work – and hopefully shaming a few people on newer and more expensive bikes while I was at it."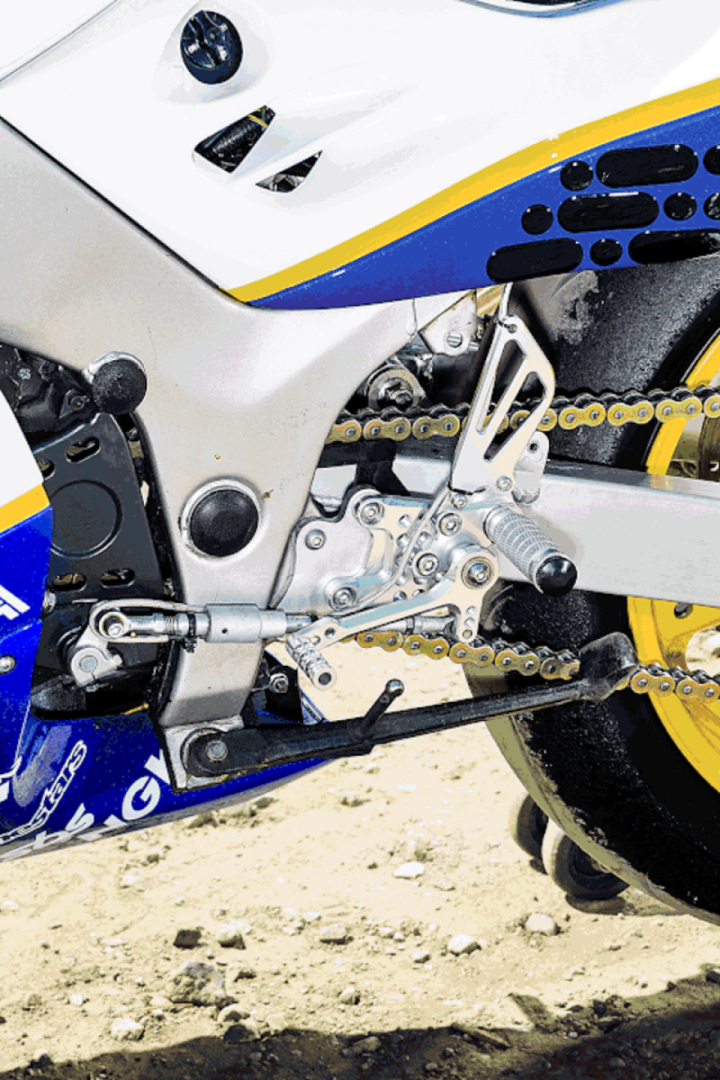 The project began with a strip-down to the engine and frame, where Nolan's suspicions were duly confirmed: underneath the dreadful purple and grey paintjob and the fake carbon and cheap sticker addiction that had preoccupied the previous owner, there was a very solid bike. "Take all the plastic off and there's not a huge amount of difference between this and a GSX-R750, or even some modern stuff in terms of the frame design," he says. "The engine is based on the old liquid-cooled GSX-R1100 block – it's the same bottom-end just with a different head – but it's the suspension and finish that let it down." With the aim of making a rather unlikely RF900 track bike, Nolan set about resolving these two issues – starting with the handling. "I had a thought that it would be quite fun to put radial front calipers on an RF," he laughs.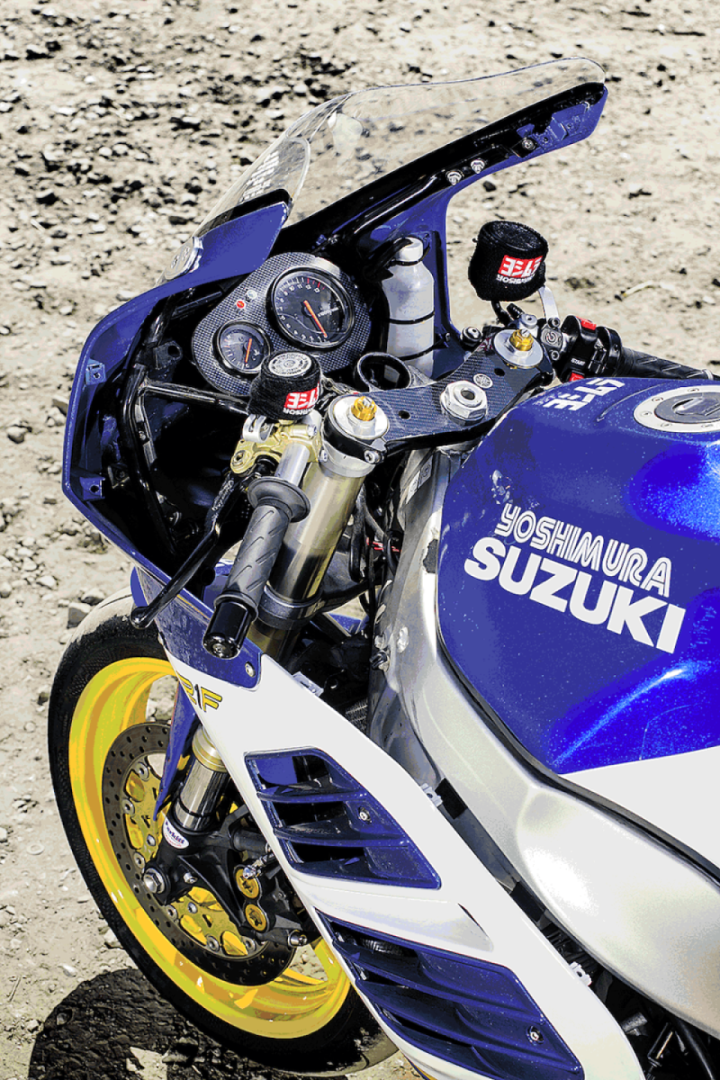 EXHAUST
"When I bought the Yoshimura headers I also got the full link pipe and end-can with it," says Nolan. "I really wanted to use the can but when I put it on it didn't look right – it was actually lower to the road than the SV650 rearsets I'd fitted, so I went for an Akrapovic can that was for a 2004 GSX-R1000 instead. It's only 97dB but when I hammer the bike it really howls."
ENGINE
Alongside the RF's 'unique' styling, the 900's engine was the reason Nolan bought the bike. "It's basically the bomb-proof engine from the GSX-R1100, which Suzuki just sleeved down," he says. "I've put 7000 hard trackday miles on it since I've had it and it's never missed a beat. I've just bought some 1993 GSX-R750 cams for £50 – they'll let the engine breathe a lot better at higher rpm and give about 8bhp extra. I don't really need them, but a bit more is always a good thing, isn't it?"
PAINTWORK
Like pretty much everything else on the bike, the paint came from eBay. "It's called Midnight Blue and it was only £35 for a litre, plus £12 for a litre of white," laughs Nolan. "It's the first time I've ever painted a bike so I'm pretty happy with it – I just gave it three coats of cellulose primer, two coats of white, two coats of blue and two coats of lacquer. It only took a week." A marked improvement on the purple and grey hideousness of the original, we're sure you'll agree.
SPEED DIALS
Using a bit of plywood covered with fake carbon, Nolan made a new clock surround for the stock RF dials. The LEDs were another bargain – 50p each from Maplin
GETTING A SHIFT ON
The rearsets are from a 2002 SV650, while the quickshifter is also handy. "It gives gearchanges of 75 milliseconds, which is very useful on trackdays," says Nolan.
LIGHT'S OUT
"I used papier mâché, like you used to do on a balloon as a kid," says Nolan. "When I took the headlight out I just filled the mould with fibreglass and sanded it."BADGE OF HONOUR
BADGE OF HONOUR
"My mates were taking the mick out of the RF and gave me this Ford Fiesta TDCi badge, so I gave it pride of place. I reckon it stands for 'Track Day Complete Idiot.'"
A LOT OF FRONT
The complete R1 front-end turned out tobe an inspired choice for a trackday bike, as Nolan explains. "The carbon-ceramic pads and SBS dual-carbon discs are unbelievable – just what you'd expect from a sportsbike that's 10 years younger. But the whole front-end is perfect: once I'd got the forks rebuilt they were great, and the R1 mudguard just slotted straight on." What about the handlebars? "They're from a 1992 GSX-R1100 – they were the first thing I bought for the bike," he laughs. "I had no idea if they'd fit or not..."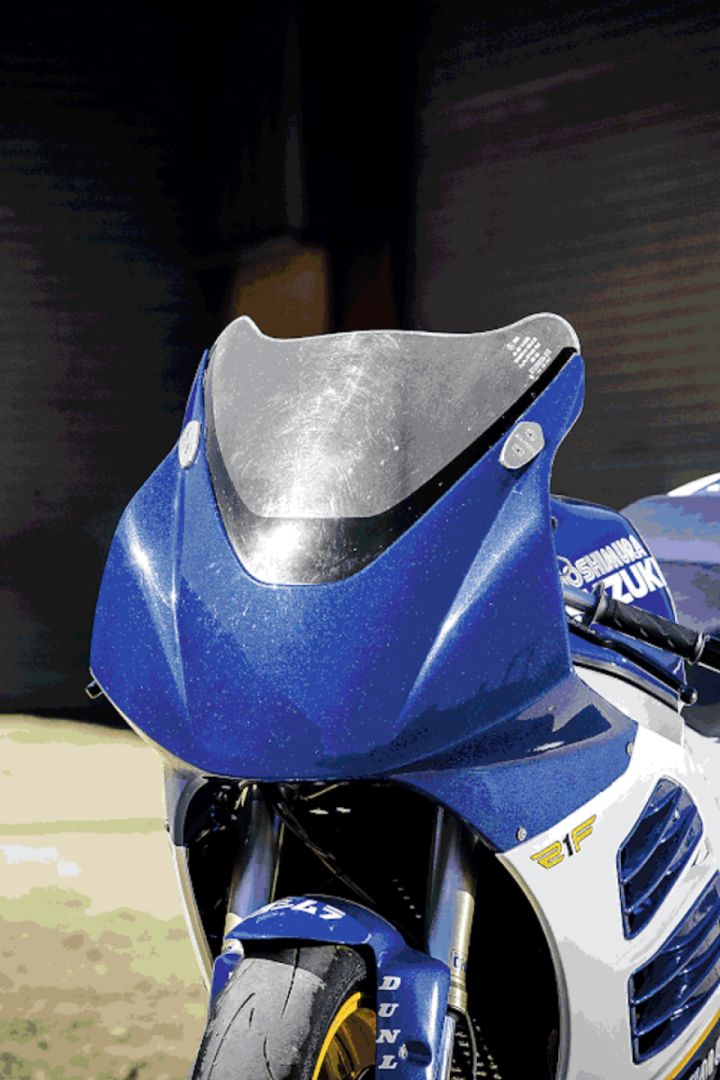 "Initially I thought I'd be looking at GSX-R1000 stuff, but the steering stems are too long. I thought about TL1000 forks as well, but they're too short – plus they're not radials. Then I had a look online and found that the 2006 YZF-R1 5VY was the perfect match – the fork length is the same as the RF900's at 730mm." Having bought some R1 forks on eBay, Nolan simply required a top bearing change for the piffling sum of £6.99 and his new forks – 10 years newer than his bike and made by a different manufacturer – slid straight in. "I've not seen it done before, and everyone is amazed how they fit," laughs Nolan. "Mind you, no one is more amazed than me." With 2006 R1 yokes, stem, wheel and brakes also purchased (individually to save cash), Nolan soon had a sorted front-end for £450. A fully-adjustable, RF-specific Öhlins rear shock from eBay quickly followed to replace the Nitron that was on it before, as well as a set of Yoshimura headers.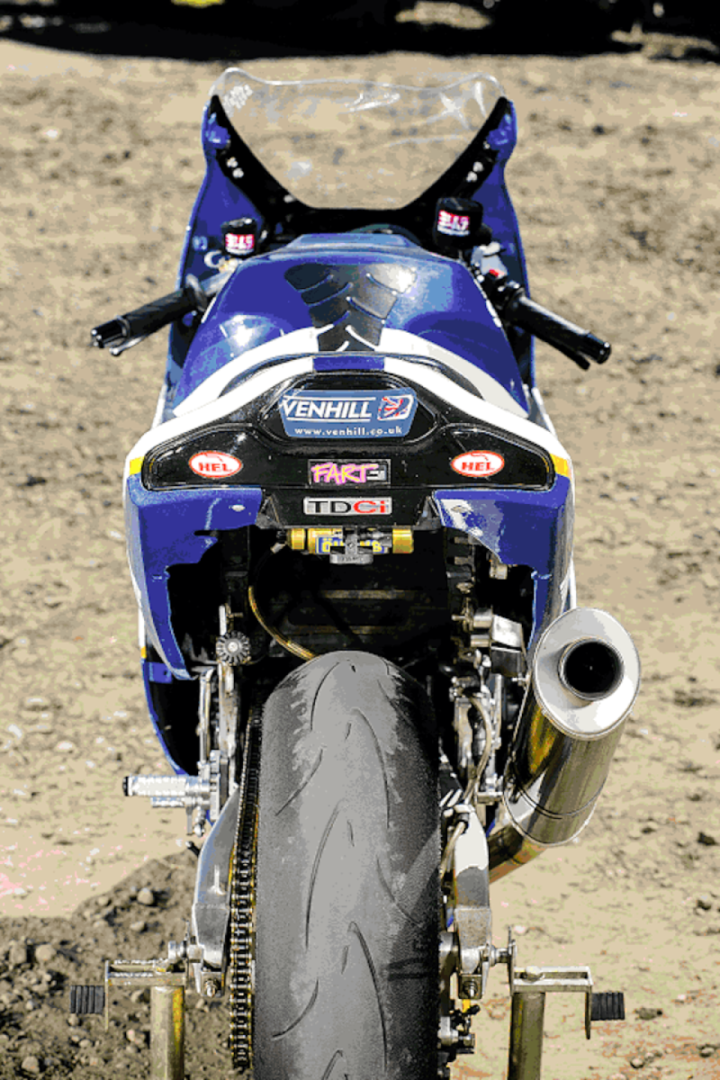 "The fact that they even made headers for an RF900 was news to me," smiles Nolan, "but I tapped in RF900 headers to eBay one day and this set popped up for £200 in London – quite a result." Despite the cheeky array of tasty items on offer this is by no means a bike that's broken the bank – Nolan reckons he's spent under two grand on top of the cost of the bike. "The SV650 rearsets were £80, the paint cost less than £50, the custom link pipe was £60, the quickshifter was £200 – even the handlebars were only £12," he says. "I saved the big purchases for the front-end and that Öhlins rear shock, which set me back £600. I didn't strictly need it, but it's the kudos, isn't it?" Given that the standard RF900 was a decent bike to ride anyway, Nolan's fulfilled his aim of making himself a very quick track bike. "The 14/49 gearing I've gone for is pretty high, but it means I can keep up with much newer machines up to a given speed on a track," says Nolan. "The bike shows 126.5bhp on the dyno, which is obviously a deficit of nearly 50bhp to something like a modern Fireblade, but the gearing helps to compensate for it."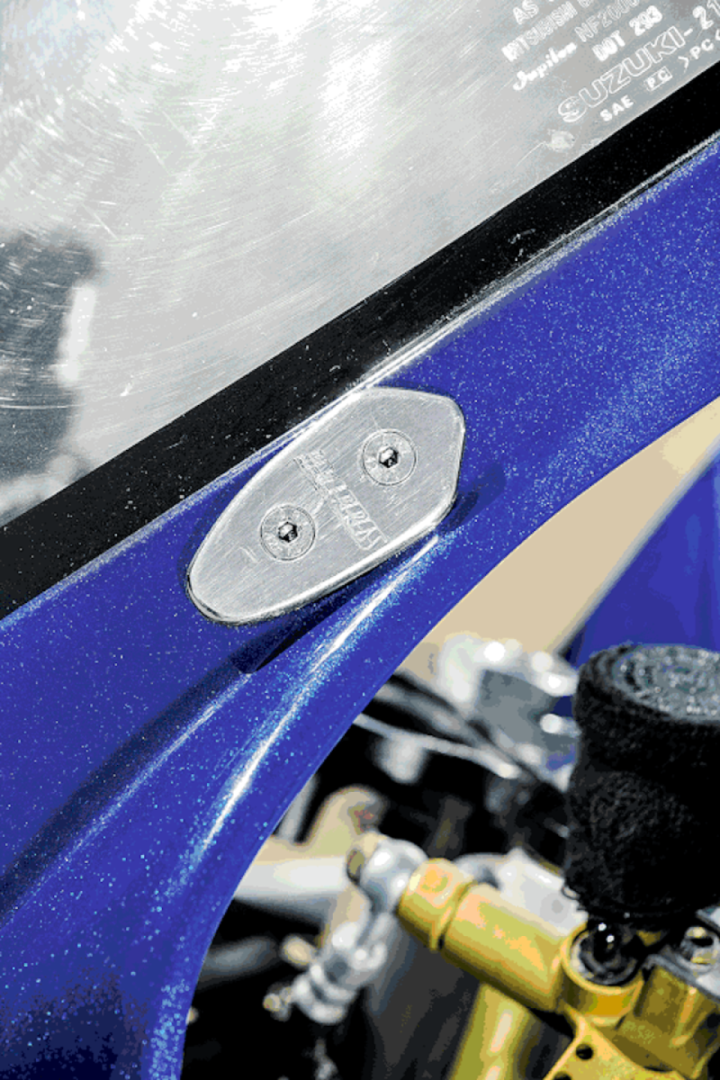 In actual fact Nolan was doing a trackday at Donington the day before we took these pictures, leaving a few all-the-gear-and-noidea owners on far newer and pricier machines slightly red-faced. "There was this guy on a shiny ZX-10R decked out in all the current livery, looking at me in the pitlane thinking he'd just cruise past," smiles Nolan. "By the time I got to Coppice he was so far behind I couldn't even see him. He didn't show his face afterwards, funnily enough. That's exactly why I built the bike." If you fancy seeing the RF in all its glory then get down to the PS trackday at Cadwell Park on 9 July – Nolan will be there on the bike's trademark wide seat, laying down some seriously impressive lap times. "People say to me, 'Why don't you put a GSX-R K4 seat on it?' It might be the width of an ironing board but I like the seat and I love the whole look of the RF900." He laughs and pats the seat unit, so big and wide it's only a pillow and duvet away from doubling up as a single bed. "Plus, I want people to feel the shame when I go around the outside of them on a sports tourer..."
SPECIFICATION
1996 SUZUKI RF900RR
ENGINE 1996 RF900, 937cc, 16v dohc
Yoshimura headers
Custom link pipe by NRP exhausts
Akrapovic end-can with custom rear hanger
K&N air filter
Dynojet stage one carb kit
Five degrees of ignition advance
EBC heavy duty clutch springs
Honda CBR1000RR quick-action throttle
126.5bhp@10,500rpm, 70.lb.ft@8500rpm
2006 Yamaha YZF-R1 forks
Front wheel and brakes
Öhlins fork springs
Brembo race front mastercylinder for front brakes
SBS racing pads
1992 GSX-R1100 handlebars
Brembo Gold Line mastercylinder for clutch
Venhill brake lines
Race Gadgets quickshifter
2002 Suzuki SV650 rearsets
Öhlins S46HR1C1S rear shock
Modified fairing
Custom-made clock surround
Words: Hans Seeberg, Photography: Jason Critchell for Practical Sportsbikes Mag