IF YOU'RE LOOKING& for a classic American tourer, a Harley Electra Glide is just the ticket. They were popular with police departments for a good reason: few machines could match their all-day riding comfort.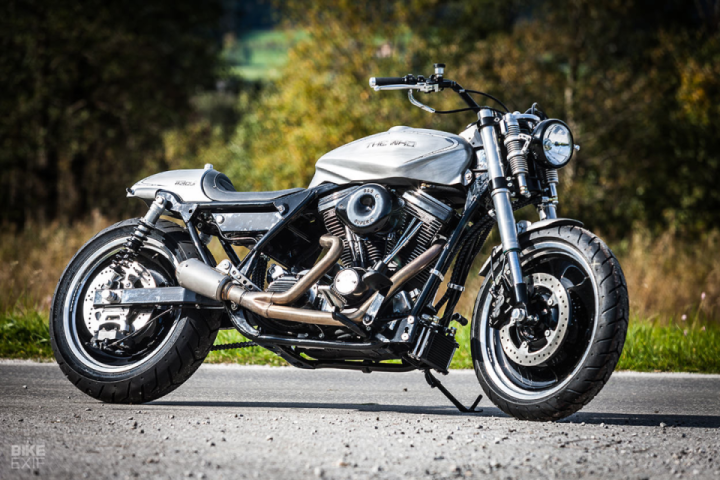 But if you like to carve the canyons of LA, or European mountain passes, the Electra Glide is likely way down on your list. Which is exactly why Wolfgang Mayerl picked one to customize.
Wolfgang's a mechanical engineer living in the tiny Austrian town of Ardning, a popular spot for hikers and mountaineers.
For the past three years he's been wrenching after-hours as Mayerl Motorcycles, but he's been into bikes as long as he can remember—and was already building mopeds at age ten.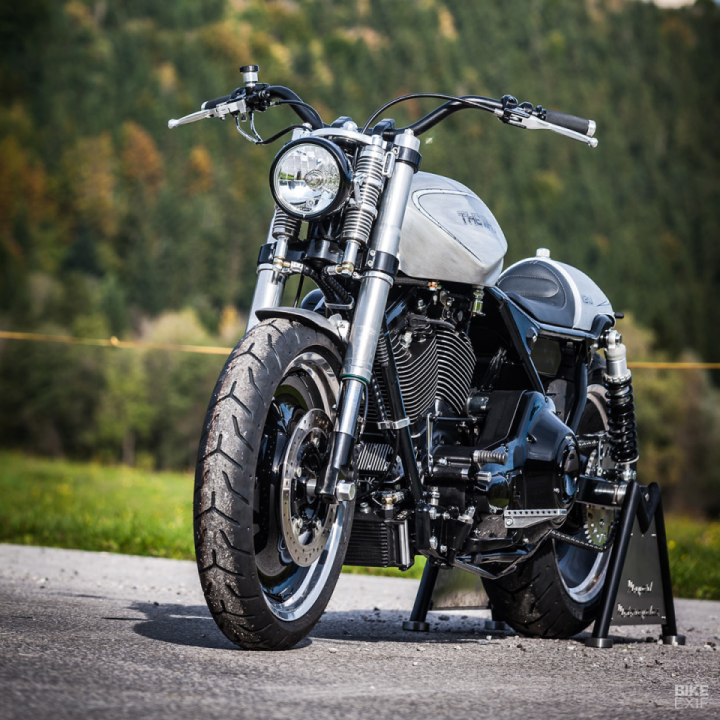 Most of the commissioned custom work he does these days is basic—so he occasionally starts a personal build, just so he can go wild on it.
For his latest passion project, he intentionally went out and bought a 1986 FLHTC 1340 Electra Glide. Why? "Because I don't know anyone else who has radically rebuilt an Electra Glide," he tells us.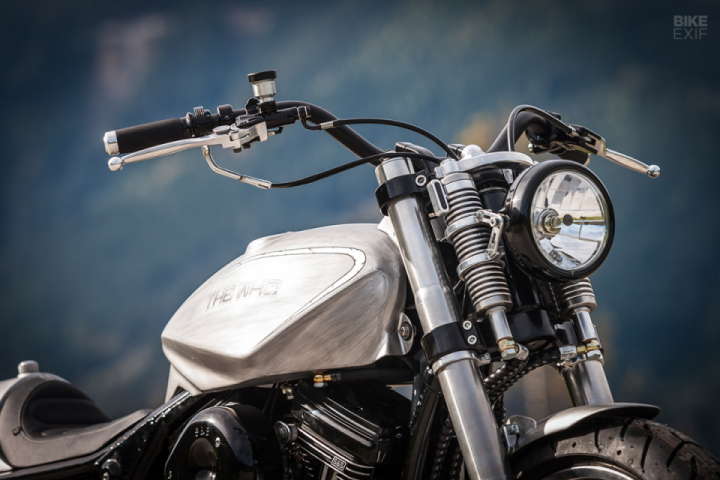 The transformation sure is radical. Wolgang's taken this Harley from laidback mile-muncher to aggressive street ripper—with wide tracker-style bars, a hint of cafe racer in the bodywork, and enough power to spin the back wheel at will.
The '1340' motor's been swapped out for a beefy 113 ci 'Super Stock' power plant from S&S Cycle, for a capacity increase of just over 500 cc. It's hooked up to a six speed box via a Barnett clutch, and runs with a programmable Dyna 2000i ignition.
Wolfgang also installed an S&S Cycle Super G carb, and matched the setup to a hand-built exhaust system.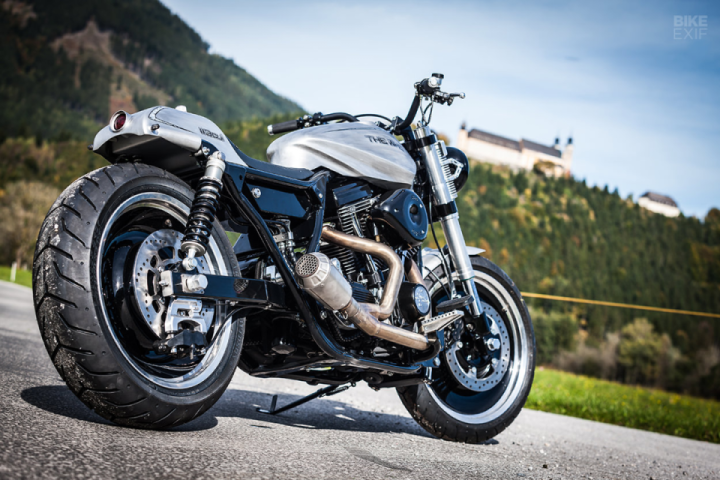 The Electra Glide frame has been modified too, and heavily reinforced in high-stress areas. It's bookended by suspension upgrades: a set of beefy upside down forks from a Suzuki GSX1300R Hayabusa up front, and a pair of Öhlins shocks in the rear.
Wolfgang built a new swing arm as well, then plugged in a set of F19/R18 solid aluminum V-Rod wheels with custom axles and nuts. He's installed new Dunlop D407 rubber, and changed the final drive to chain—with a custom sprocket and sprocket holder. The brakes are upgraded to newer, four-piston caliper items.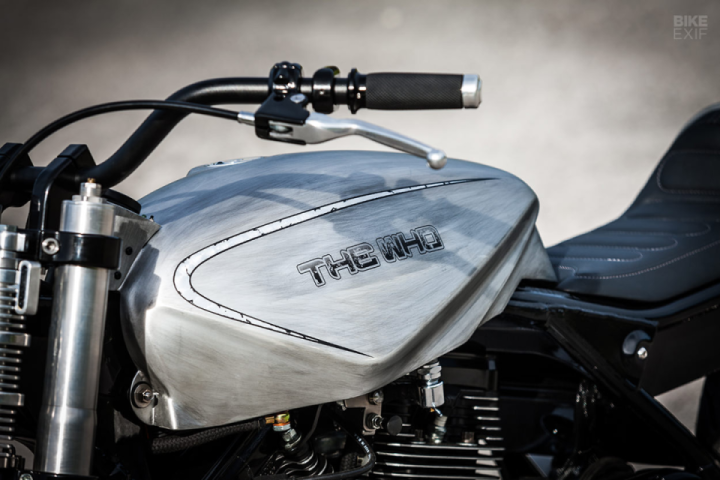 All the bodywork is hand-shaped from 1.3 mm steel sheeting. There's a sharp, angular fuel tank, and a tail hump that also acts as an oil reservoir. Lower down is a new electrics box, and there's a custom fender rounding things off at the front.
All the little bits in between were fabricated by Wolfgang too—parts like the chain guard, exhaust hanger and handlebar clamps. The bars are from LSL, the speedo is a Daytona unit, and the switches are all custom.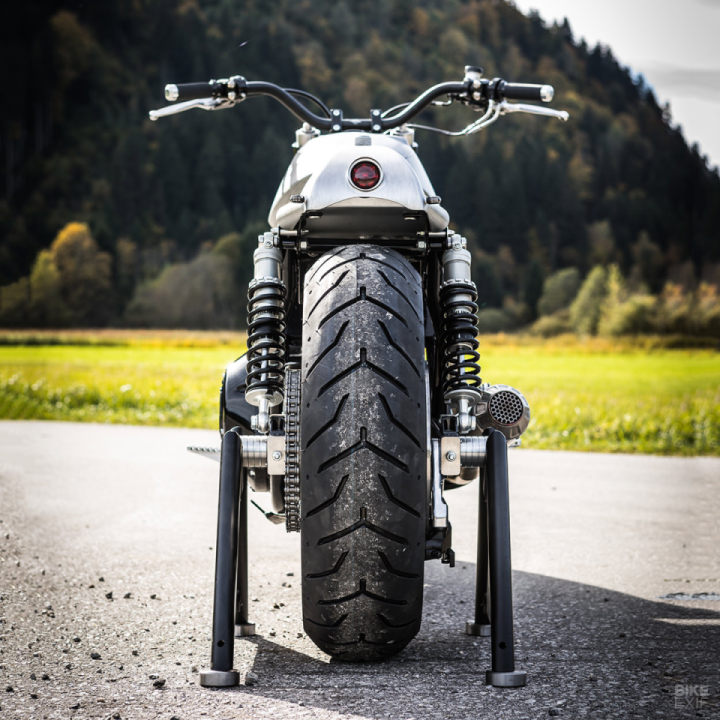 There's a little dash around the speedo too, complete with LED warning lights. The rear light's been sunk into the tail section, and the lighting's rounded out with small LED turn signals. The whole bike's been rewired too.
If, like us, you're wondering what those two cylinders up front are—they're extended oil coolers. Wolfgang built them especially for this project, and they also serve to add an interesting visual touch to the space that used to house the Electra Glide's fairing brackets.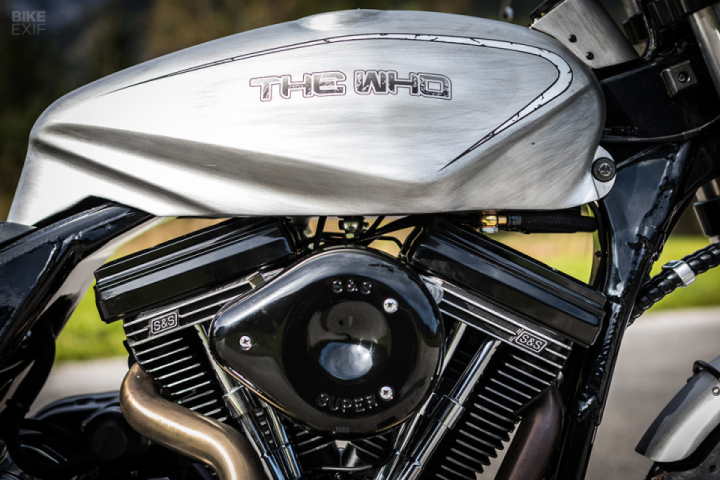 Just about everything you see here was handled by Wolfgang in his home workshop, with the exception of paint and upholstery. For those, he called in help from Airvolution Paint and 'Upholstery Ben.'
It's an impressive outcome considering the source material, and judging by the suspension and engine upgrades, should be a pretty mental ride too.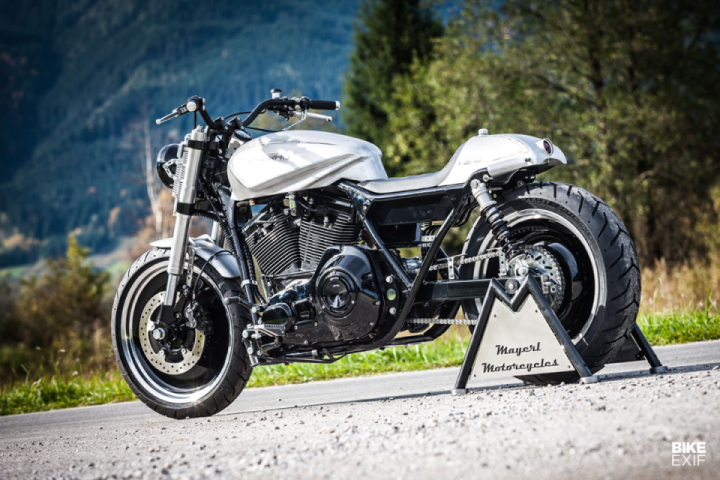 Wolfgang tells us he's working on a big KTM V-twin next… who else is excited?
Mayerl Motorcycles | Facebook | Instagram | Images by Da Guru Photography
Credit: bikeexif