Cool Kid Customs (CKC) is the brainchild of Michel Szozda, who'd been crafting incredible one-offs as a solo venture since 2014. He operates just outside the Dutch capital city of Amsterdam, with a signature style often characterized by vibrant color schemes and a healthy dose of nonconformity. Aptly nicknamed Rad Racer, Michel's latest endeavor revolves around a Suzuki GSX-R750 from 1990.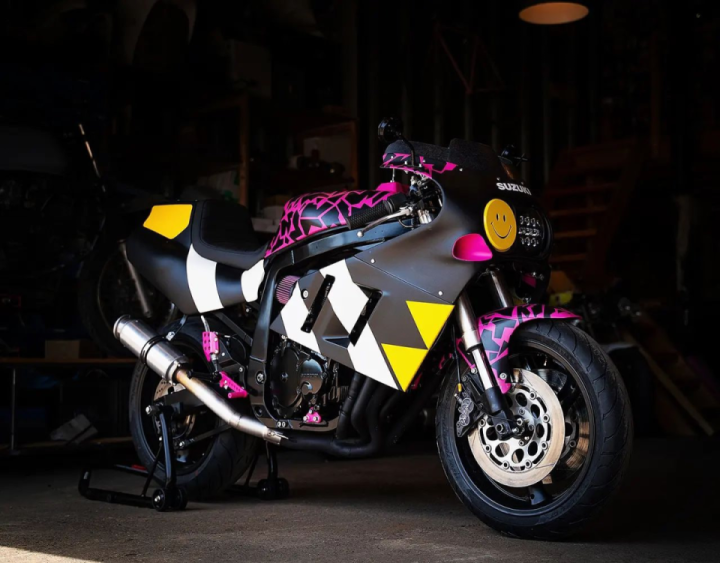 Initially, the customer was looking to provide his Yamaha Tenere as the basis for Cool Kid's project and had purchased the Gixxer as a temporary solution for his daily commute. Michel pointed out the latter would be a much more suitable donor to work with, though, so his client eventually decided to make the switch. With the GSX-R on the workbench, CKC's mastermind began by inspecting the state of its hardware.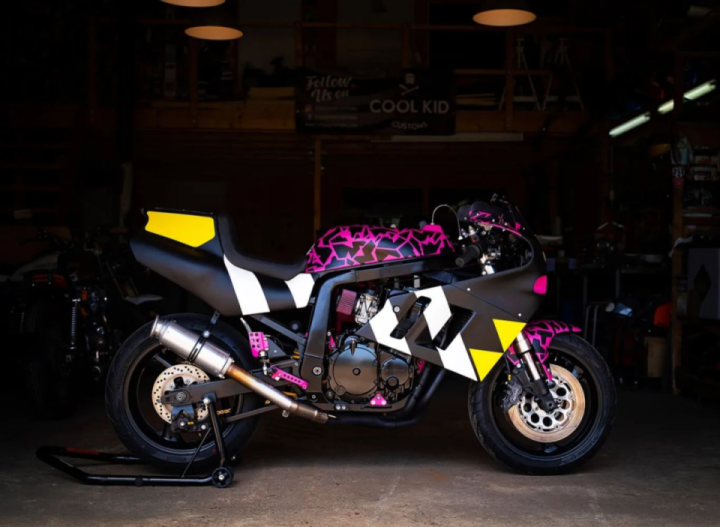 As the bodywork presented serious signs of neglect, he concluded that it would be best to have it replaced altogether. The first step was to acquire a complete race replica body kit, which would go on the bike without the lower fairings to partially expose its inline-four powerhouse. Up front, Michel got rid of the motorcycle's twin headlamps, replacing the left unit with an aftermarket LED substitute.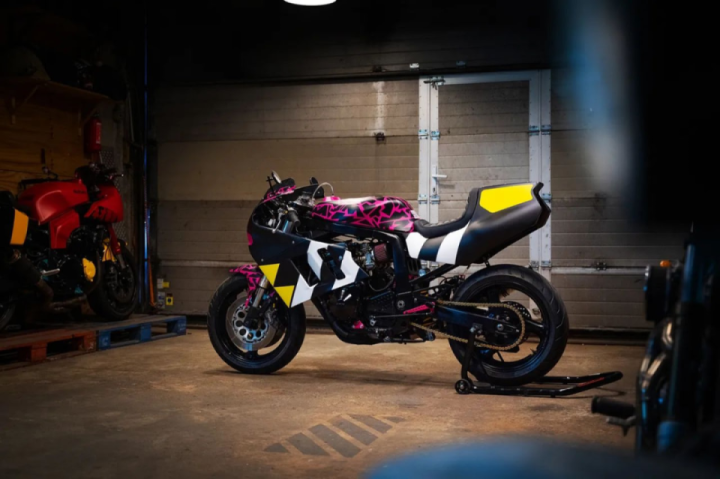 On the right-hand side, there's a yellow 3D-printed cover depicting a smiley face motif. Tight rear-end proportions were also on the menu, so the GSX-R750's new tail section got shortened and subsequently enclosed in a bespoke cover made of chopped carbon fiber. The same material was used to fabricate the vent-like part found up top, as well as the inconspicuous wind deflector sitting on the front fairing.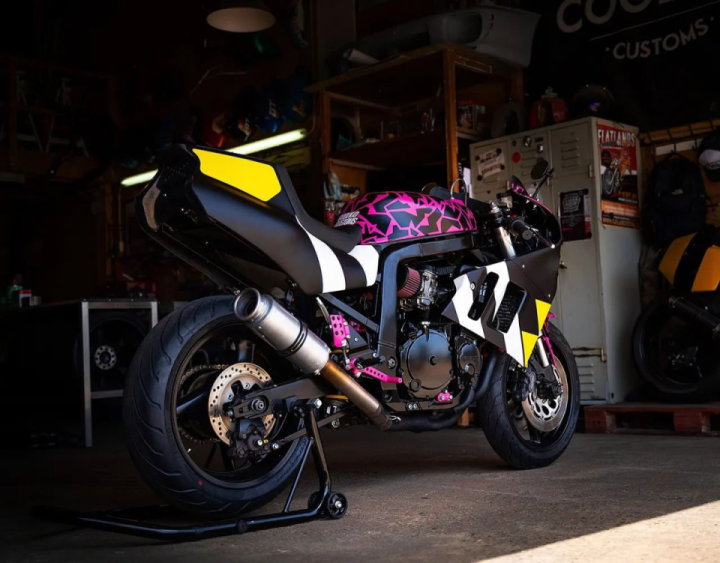 A tailor-made, X-shaped LED taillight assembly rounds things out at the back, neatly integrated into the carbon encasement. Michel was happy to retain the Gixxer's standard brakes, forks, and three-spoke wheels, but the same can't be said for its rear suspension arrangement. A replacement monoshock was taken from a later GSX-R model, while the battery – now a lithium-ion part – has been relocated to a custom box beneath the saddle.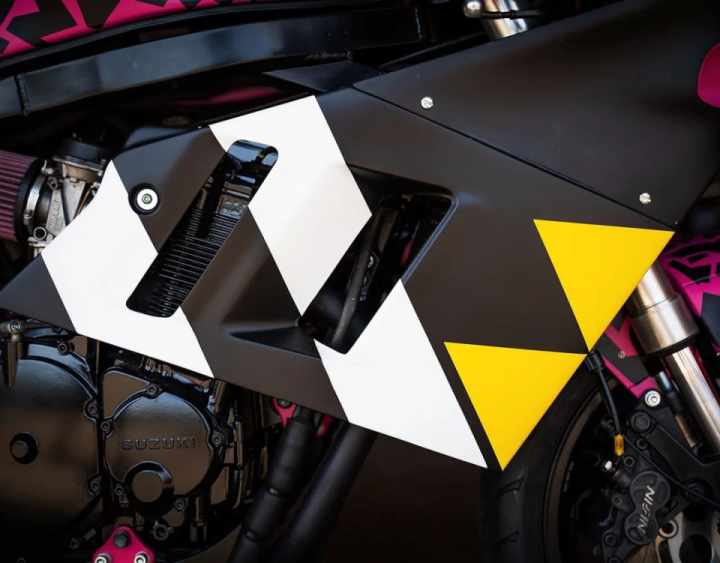 Premium stainless-steel brake hoses ensure optimal stopping power, and ample grip is achieved thanks to Pirelli Angel GT rubber. In terms of powertrain mods, the creature's slingshot Mikuni carbs were rebuilt and topped with K&N air filters. Exhaust gases flow through the original headers and into a unique stainless-steel downpipe, which is mated to an aftermarket muffler.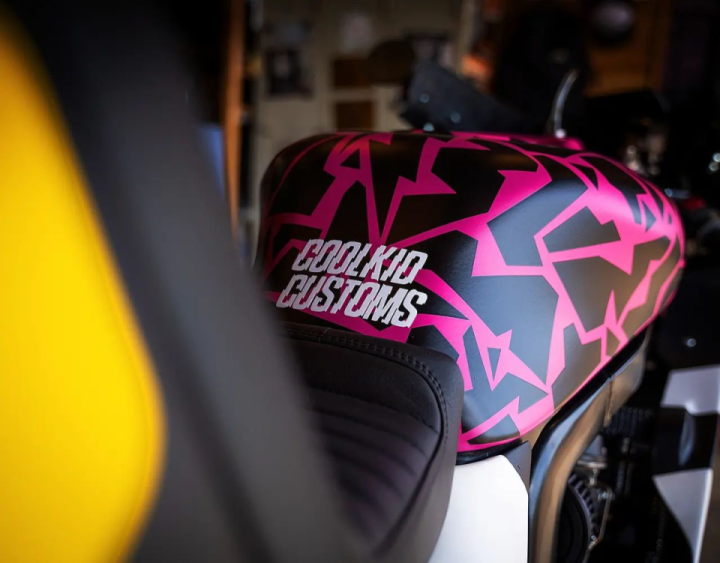 In the cockpit, the Rad Racer carries Koso instrumentation, CNC-machined mirrors, and new grips over its stock clip-ons. Finally, the paintwork is a mishmash of funky patterns laid atop a matte-black base, with white, pink, and yellow graphics providing plenty of eye-popping contrast. Cool Kid Customs' project was completed during the fall of 2022, but details regarding cost haven't been made public.