When it comes to state-of-the-art, high-performance sports bikes, the Japanese have to be recognized as the OGs of this segment. With iconic models such as the Honda CBR1000RR-R SP Fireblade, the Kawasaki Ninja ZX-10R, the legendary Yamaha R1, and the Suzuki GSX-R1000, the land of the rising sun gave the world awe-inspiring machines. So much so that it eventually brought fierce European competitors from the likes of BMW and Ducati.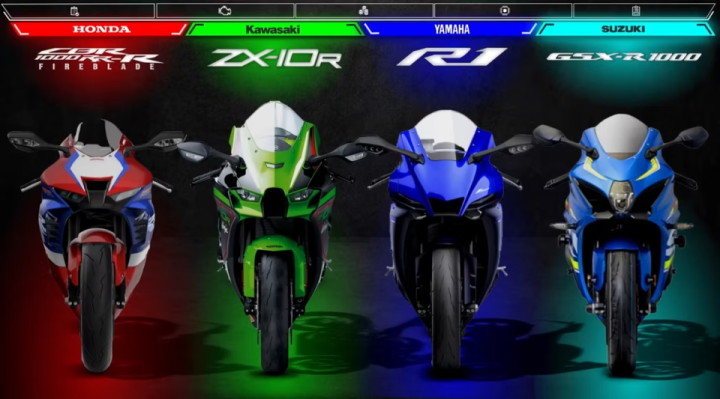 These four Japanese models, however, represent the top brass as far as super sport 1000cc Nipponic motorcycles are concerned. Let's have a look at their current iterations and see how they stack up against each other in 2023. Can we find a definitive winner?
Honda CBR1000RR-R SP Fireblade
The name alone commands respect. The Honda Fireblade was introduced more than 30 years ago, in 1992. Since then, it often set the benchmark for others to follow. The current Fireblade SP has the most horsepower of the bunch. With reshaped engine's intake ports for higher air/fuel mixture velocity, the Fireblade can reach its maximum 215 horsepower at a staggering 14,500 rpm. It's the highest-revving bike of this shootout. The engine displacement is 999 cc and the maximum torque is 83 pound-feet @ 12,500 rpm.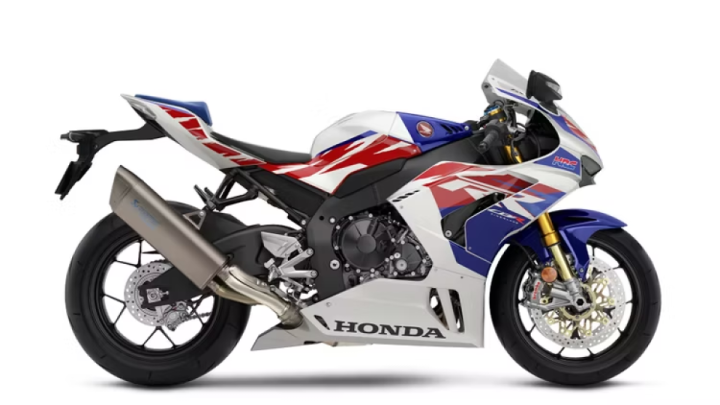 The Fireblade is also the most suitable for track days. It was tuned based on data acquired on racetracks. It even features the same bore and stroke (81mm x 48.5mm) as the Honda Moto GP Champion RC213V Racebike. It also has the best power-to-weight ratio here. But if you're a tall rider, you better get on and test drive one before committing to a purchase as it might be too cramped for you.
Its base MSRP at the time this article was written is $ 28,900. It places it as the most expensive of these bikes by far. This is sure to put off some potential buyers. It is, after all, common knowledge that you have to be a very skilled rider to take any of these liter bikes to their limits. Paying $ ten thousand more just to have a few extra ponies is bound to not appeal to everyone. Nevertheless, the Fireblade SP occupies that niche of being a track-oriented bike.
If you're a Honda fan and have decided to veer towards it, you can opt for the simpler CBR1000RR with ABS. This bike has the lowest MSRP of this comparison currently ($ 16,899). It loses out on power and torque as well, producing 189 horsepower @ 13,000 rpm, and 84 pound-feet @ 11,000 rpm. You can check the Honda CBR1000RR here. But for the sake of this comparison, we will leave it out and bring only Honda's big gun, the CBR1000RR-R SP Fireblade.
Kawasaki Ninja ZX-10R
Another name that's been accelerating our heartbeats, and inspiring our imagination for decades is the Kawasaki Ninja ZX-10R. It comes in with the most standard features. It's the only one of this comparison that has electronic cruise control, for example. And it doesn't miss out on any of the other current up-to-date techs you would expect to have on a top-of-the-line liter bike. We're talking power mode selection, quick shifter, launch control, all digital Thin-Film Transistor (TFT) liquid-crystal color instrumentation, and the works.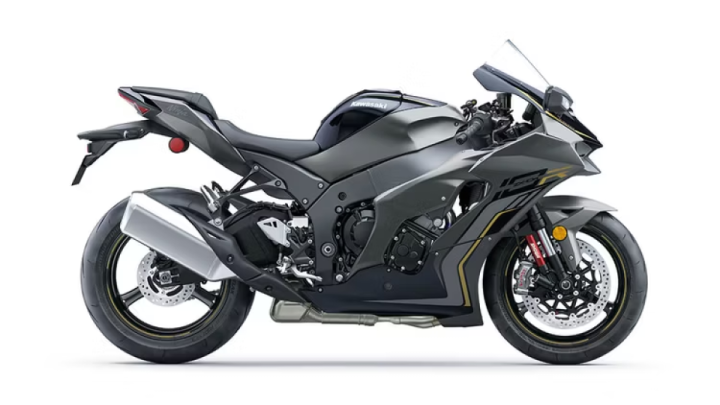 It tips the scales at 456 pounds, just 11 pounds heavier than the Suzuki and the Honda, and 13 pounds heavier than the lightest of the four, the Yamaha R1. It has a unique design and is packed full of tech and is a strong contender among liter-class bikes, whichever way you look at it. Engine displacement for the Kawasaki is 998 cc. It produces 203 horsepower @ 13,200 rpm and 82.5 pound-feet of torque @ 11,400 rpm. With an MSRP of $ 17,399 at the time this article was written, the ZX-10R positions itself as probably the best all-rounder bike of these four models.
Yamaha YZF-R1
The R1 badge carries a heritage that is respected in all cycles. When it was launched in 1998, it revolutionized the superbike world and dominated its competition. The Legendary R1 has a unique cross-plane configuration in its engine. This creates a distinguished sound and brings a different character to the engine since its cylinders have an uneven firing order. It's something for the tech geeks to discuss in meets for sure.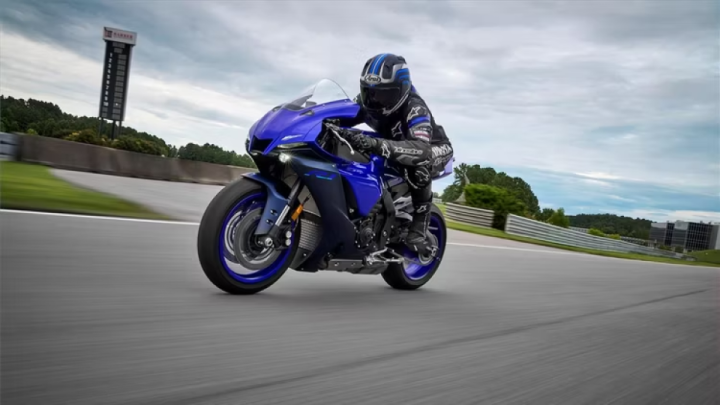 Engine displacement for the R1 is 998 cc, and it produces 198 horsepower @ 13,500 rpm and 83 pound-feet of torque @ 11,500 rpm. It had best in class power-to-weight ratio and was the fastest bike on a racetrack at the time. But overall performance is about the same, with horsepower and torque, and the RPMs in which they occur being close. Only the more track-oriented Fireblade remains a visible outlier. The R1 helped redefine the category and had all other manufacturers scrambling to keep up. Its current starting MSRP is $ 17,999.
Suzuki GSX-R 1000
The Suzuki GSX has a hardcore fan base. Some say it's the most comfortable to ride. It also has great value for the money as it is the cheaper model being compared here. However, it's missing some important features. It lacks a TFT display for example. And its design seems a bit outdated now. It is the only one that doesn't have launch control either. Engine displacement for the Suzuki is 999 cc. It produces 199 horsepower @ 13,200 rpm and 86.7 pound-feet of torque @ 10,800 rpm.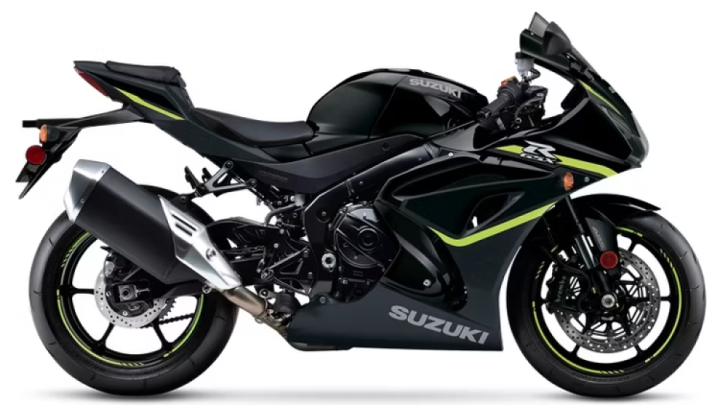 But with its raw simplicity and avid fan base, the GSX-R1000 still manages to hold up well against its competitors. And to better redeem itself, one of its unique features is a variable valve time system. This helps give it the most torque and provides a broader usable rpm range with smooth, and controllable power delivery. Its base MSRP at the time this article was written is $ 16,149.
Can We Pick A Japanese Liter-Class Bike Winner?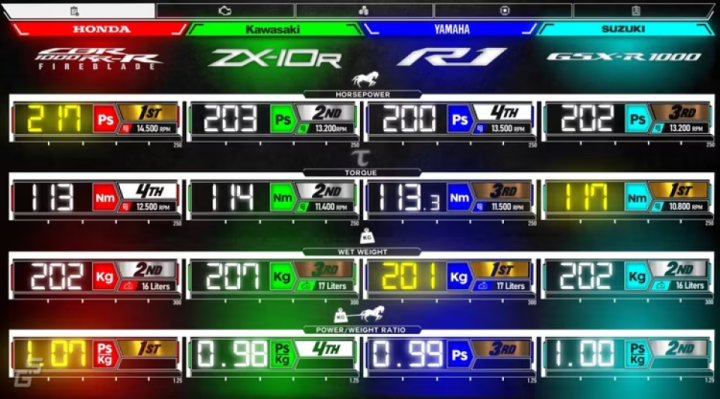 In the liter-class bike category, more often than not, the rider will reach the limit way sooner than the bike's limits. They're all blistering fast for any application. There is NO definitive winner and you have to take into account individual preferences. If we're honest, they're all very similar, and you won't be using their full potential most of the time, if ever. With that in mind, which one would you pick? If you're still in doubt, check the video below for a good side-by-side comparison.
Credit: Topspeed