Top Ten Motorcycle Tyre Safety Tips
Here are our tips to help ensure that you, and your bike, get the most from your tyres. Properly maintained tyres can make a big difference to the enjoyment of your ride, will save you money, and, most important of all, they may save your life in a pinch.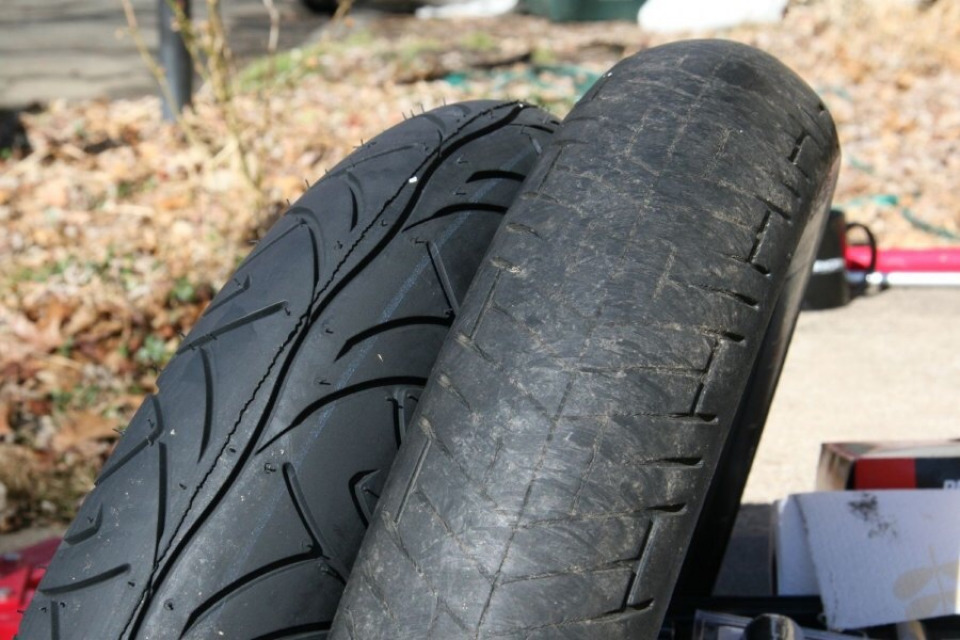 1. Pressure: Check your tyre pressures weekly using an accurate gauge – you can buy them in Halfords for pennies. Remember to do it while the tyres are cold – the pressure will increase as the tyre heats up which will give you an incorrect reading. You should maintain your tyres to the pressure recommended in your manufacturer's handbook. Your bike will perform better, and be more economical. Incorrectly pressurised tyres contribute to a surprisingly large number of accidents.
2. Integrity: Inspect your tyres for any obvious defects, including any cuts, bulges, rips or foreign objects. Check for signs of uneven wear. If you are in any doubt about the tyres integrity or safety, bin it. Your life is more important than a few quid for a new one.
3. Cap It: Always use valve caps as they will keep dirt and oil away from the valve and give you an additional seal too keep everything airtight.
4. Wheels: Check your wheel rims. If they show signs of warping, cracking or other damage, replace them – they are crucial to keeping your tyre attached to your wheel, and you don't want to find out they aren't working properly while you are on the move.
5. Tread: Check that your tread depth is well above the legal minimum of 1mm (for bikes over 50cc). In practise, 2mm gives you a better safety margin and you should start thinking about replacements when your tread gets to this level.
6. tems: The valve stem is easily damaged, because it sticks out, and can also rub or shear against the wheel rim where it pokes through the hole. Pay particular attention to this area.
7. Direction: Make sure your tyre is fitted the right way round, by checking that the directional arrow is pointing the correct way. It is surprisingly easy to get this wrong if you're not careful, and this will compromise safety, and cost you more money as your bike will be less efficient.
8. Balance: Have your wheel assembly properly balanced to ensure even wear and maximum economy. This will only cost a few quid and could save loads in fuel costs.
9. Clean: Wipe your tyres with a washing up liquid solution – this will clear away any oil and grease they've picked up from our filthy roads – just don't use the wife's favourite dishcloth…
10. Buying: Check that, where possible, both of your tyres are made by the same manufacturer with the same tread pattern and rubber. Select the correct type of tyre for your machine – often you'll have a choice of tyres to suit different conditions and different riding conditions. Your local tyre specialist should be able to help you choose something that meets your needs if you aren't sure. If you are a four seasons biker you should definitely get a set of specialist winter tyres for the winter months.
0


Follow
1.7K