A Date with the Green Goblin - 2013 Kawasaki Ninja ZX10R
The review will mainly touch upon the 'much-proven non-racetrack abilities' of the Kawasaki Ninja ZX-10R.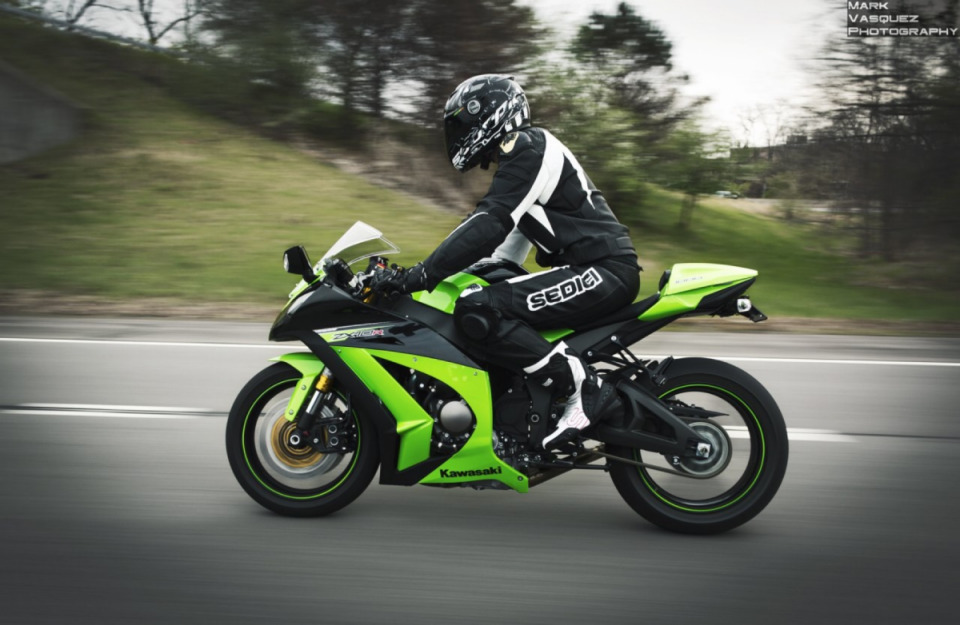 City Commute:
Despite the wheelbase and it's weight, the Ninja feels very easy to maneuver in traffic and certainly the coolest running litre-class motorcycle I have ever piloted in Indian traffic – the fact that no part of the aluminium frame is in contact with your inner thigh helps too.
An added factor being the 3 riding modes ( Full, Medium and Low) that aid easier throttle management in traffic or wet conditions.
Touring:
As long as the roads are well-paved, the ZX-10R is beautiful to pace all day at 20-25% of the rev range and the riding ergonomics makes it one of the least tiring super-sport to chug kilometers.
Options to mount luggage (Kriega US-series) or any other tail-packs – do not exist !!
Also the ZX-10R thrives on 95-octane+ fuel – which is hard to find once out of the city.
Things I love about the ZX-10R:
📌Engine: Beautifully balanced, smooth inline 4 engine tuned for optimal power for street or track riding. An additional secondary balancer shaft ensures smooth and linear power delivery across the rev range
📌LED Rev Counter on the Dash: Such a delight to see those LEDs light up as the Revs pick up and then Turing red upon reaching the redline – goosebumps!!
📌Adjustable Rear sets: The stock motorcycle comes with a 2-position adjustable rear sets which can alter the position of the rider foot pegs
📌On-the-go Mode Change: such a convenience to change either the power modes ( full medium and low) or the KTRC traction control while riding – no need to stop or adhere to procedures to toggle them
📌Suspension: For a full on sports-bike, the ZX-10R feels almost plush. Normal roads are dealt with graciously and low speed ride is sporty but excellent.
Things I didn't like:
📌Power band: As with any litre-class through-bred which is expected to perform on a race track – all the power is stacked way higher up in the rev range, curtailing the low and mid range power.
📌Hazard Indicators: No 4-way/hazard indicators
📌Mirrors and Pillion Comfort: Are a lost cause!! except the functionality of embedded turn signal into the mirror they don't serve any purpose
📌Mounting Luggage: courtesy the sharp slots on the top of the fuel tank , mounting a tank bag is not possible. Similar story about a tail bag too – no hooks to bungee or loop them around the rear seat.
The Kawasaki Ninja ZX-10R is a very well-rounded package offering a sweet spot between outright aggression for the racetrack and poise, ease to putter around in traffic and the occasional touring.
0


Follow
2.4K