Kawasaki Versys my first big cc bike.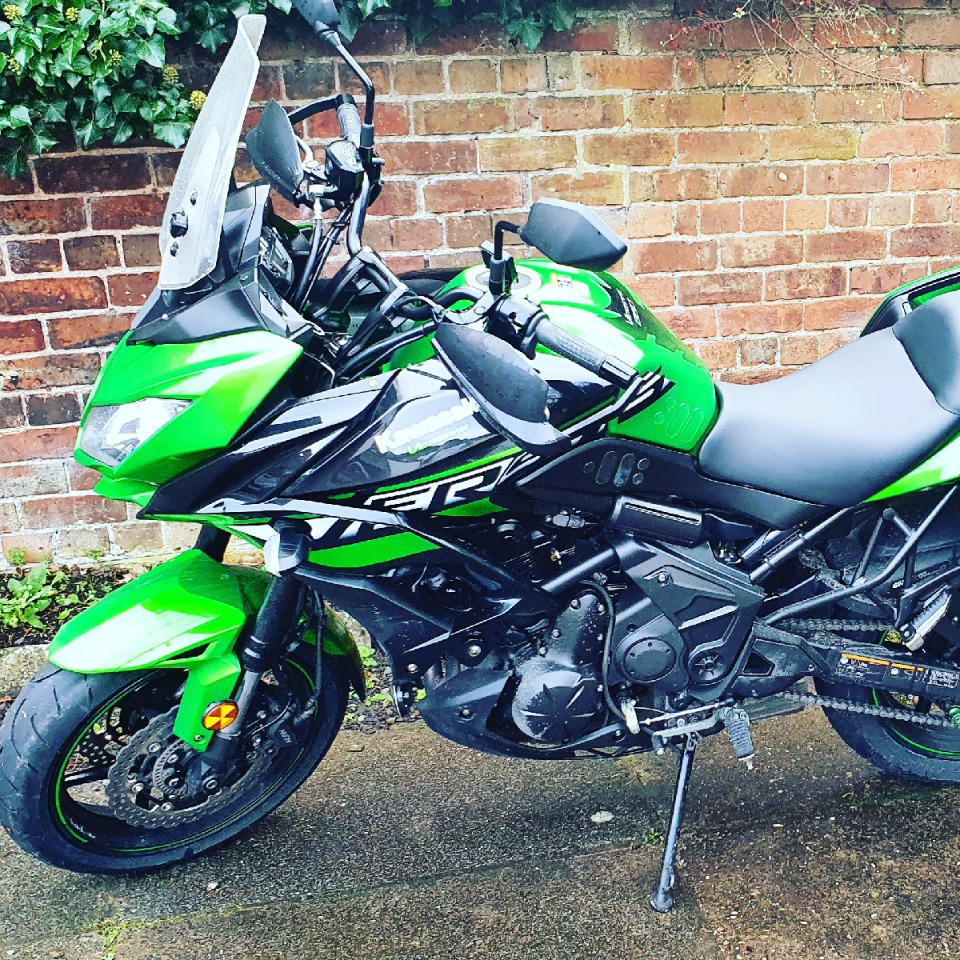 This is the 6th bike I've owned but the 5th since starting to ride daily, and what a ride. After passing my full bike licence test in October I found my self in a whole new world of bikes, I've always said I would go up to a 300cc scooter or even a 600cc but I never thought I would end up with a full motorbike but after learning on a 600cc honda I felt I had to give these bikes a try. I went to my favourite dealer A&D motorcycles and had a good chat with them and took their offer to test ride a few bike they had in stock. I sat down and made a note of all the bikes I felt I could ride daily and would enjoy owning, as you can imagine it was a big list but I got it down to 3 I was willing to give a go they were
Honda NC700 2013
Honda 800cc Crossrunner 2015 and the
Kawasaki Versys 650 2017 SE.
On the day of the test ride all the bikes looked fantastic and the Versys was the first out the door and what a smooth, comfortable ride it was. I got back and jumped on to the honda NC700 as with my test bike I instantly felt uncomfortable and my arms felt out of place but I had to take it for a run as it might have been better than expected, sadly just a few miles in I was just wanting it all to end and very quickly made the call not to go out on the other honda as the set up was very similar I also made the call to forget honda altogether. With not much else in store that I felt would work for me size wise and usage wise the guys offered me the keys to a 2014 Versys 1000cc and WOW what a bike almost an arm chair with wheels. My nerves were on edge but just a mile down the road I was super relaxed and loving every second I was on the bike, but after checking how much extra the insurance was on this I knew it was just a dream for now but the smaller 650 was still ingrained on my mind and seemed to be calling to me.
A quick phone call the next day because I just couldn't forget the ride I'd had on the 650 Versys I made the offer to take it on and after some paper work and the normal service a bike needs I got the keys and was off. so far I've clocked up just over 100 miles and a week of commuting and have had it on urban as well as A roads and the bike it perfect it's so smooth and comfortable it's in a class of bike I've never had before, thankfully it's also kind to a novice like me and has almost been teaching me how to ride better than I have done before.
This is just the start of the adventure and I honestly can't wait to clock up the miles on this bike nor can I wait for summer and a real tour of Wales on this bike which is holding it's own in this cold damp weather and of course I'll keep you updated on my progress and how well me and the bike are doing when we head out for a ride on the lead up to summer.
1


Follow
322