XJR PATTON is the personalized version of the glorious and monumental Yamaha XJR 1300. Mastermind and partly actualizer of this fascinating version of Special is the Italian CHRISTIAN BAGUTTI, supporter of the two and four wheeled vehicles as well as founder and publisher on the famed italian magazine Case Style. As he explains, the idea to undertaking this challenging transformation started from the fact that on trade there wasn't a model of motorbike that pleased him completely … "By now all brands launch very similar and standard style lines with the result of a limited personality". XJR PATTON can be considered a "back to the future" since as, still maintaining the engine and part of the original frame, aesthetics has been radically updated mixing different styles from naked to flat track, denaturalizing the original custom version all the way maintaining a smooth general guide line with a touch from another era. "Special one with a new-vintage taste" he firmly underlines!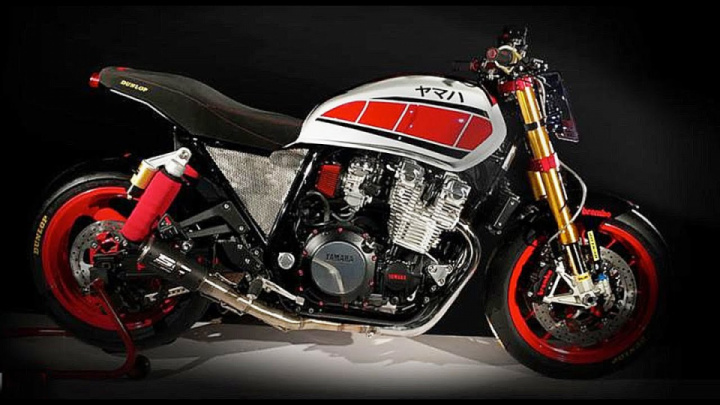 The bike has been renovated completely, starting from the front based on the Aprilia RSV4 Factory with plates of the steering in ergal 7075 derivates fully from the drawing of Bagutti and accomplished by Rosciano CNC, forks Ohlins total gold, floating rotor Brembo Racing Supersport, caliper Brembo M4 black and radial master cylinder forged by Brembo RCS. Great aesthetic impact from the transparent number holder board which has a double xenon headlight and USB connection to attach your smart phone (speedometer navigator) on two magnets fixed on the raiser.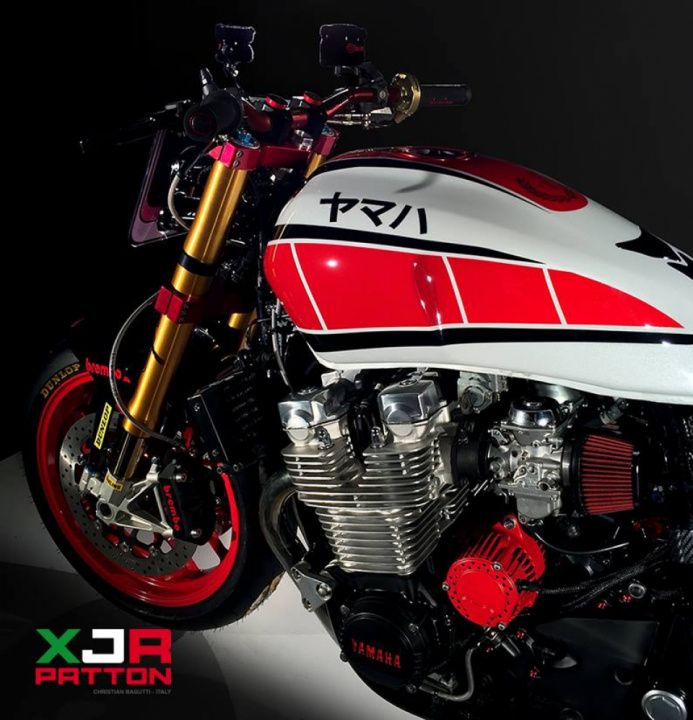 The original commands on the handlebar have been completely eliminated and substituted with small lighted buttons , meanwhile the turn-on start has been positioned underneath the petrol tank.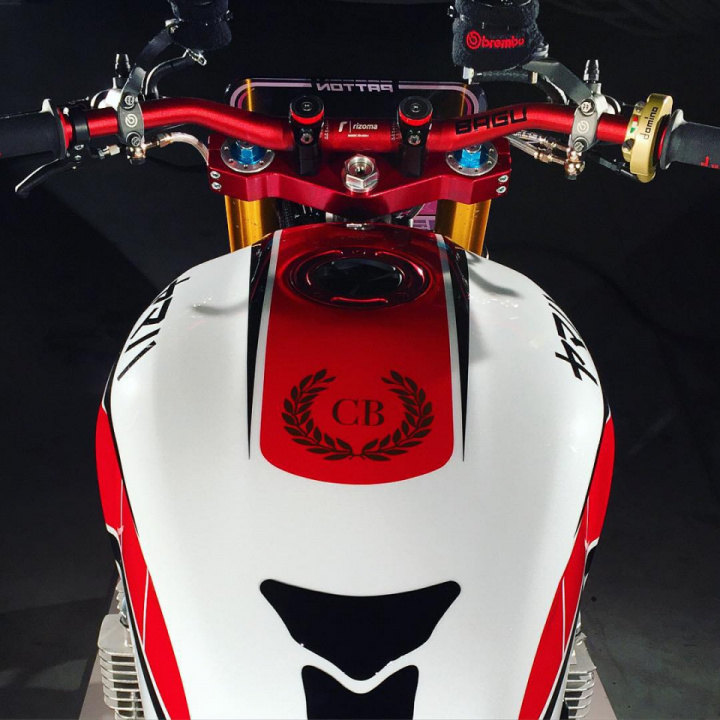 The back end is characterized by a two-seater saddle totally in chamois leather with small red stitching and logos sewed by hand, also designed by Bagutti, and fixed to an under-saddle chassis by expert artisans. Your eye will drop immediately on the rear round led back light of very small size that gives XJR PATTON a retro look of absolute racing style and personality.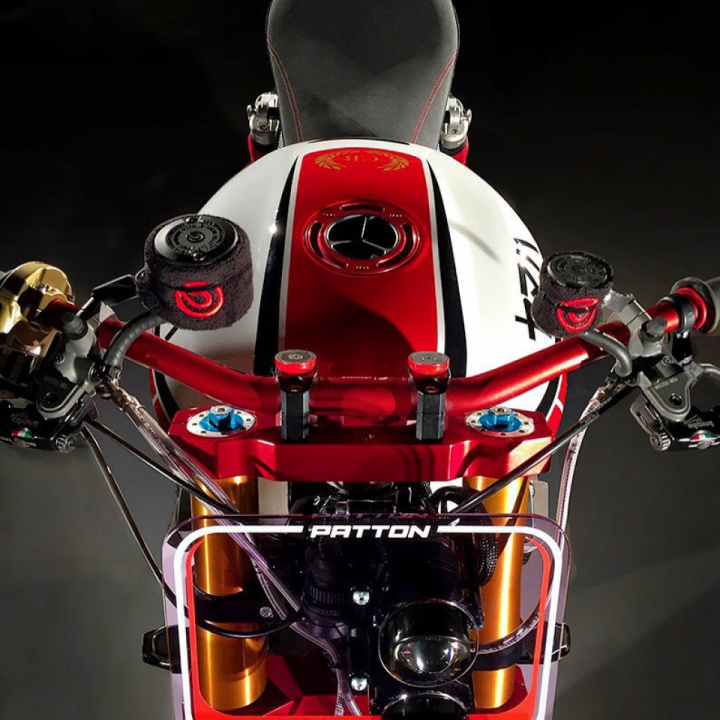 Definitely more "soft" is the big and characteristic petrol tank with its coloring inspired to the livery Yamaha GP of the 80's … to notice the detail of the lettering Yamaha in Japanese and the bay leaf crown that has inside the initials of the owner CB. Just underneath the tank you can notice straight away the 4 frame filters K&N that gift the XJR of an "angry" aspect and an interesting increase of performance compared with the big and cumbrous original filter.The exhaust system has been kept in the manifold cylinders, substituted the preswirl chamber 4-2 with a 4-2-1 artisan, whilst the tailpipe choice fell on SC Project Racing official supplier of the Moto Gp paddocks … The sound is pretty obvious and loud, and the flames are not any less!
Credit:motorcyclespecs.co.za