The deafening chorus of engines scream by. The crowd collectively gasp, as legendary Grand Prix World Champion, Barry Sheene dangerously cuts up his opponent's inside but somehow manages to slip back in, just ahead of them into the corner. Sheene cheekily flips his opponent his signature two finger "up yours!" from the hip, then roars on to take the checkered flag. Crossing the finish line, he holds up the same two fingers, this time in a victory sign – men, women and children (not to mention several supermodels) fell in love with the ballsy little "Cockney Rebel". A rebel who continues to inspire the world of motorcycling today. Petros Chatzirodelis of Jigsaw Customs in Greece is clearly one of the inspired. With the vision of creating a modern-day retro inspired tribute to the legendary rider, Petros took styling cues from Sheene's iconic 1980 "AKAI" Yamaha YZR 500 to create 'The Missing Piece' – a Yamaha XJR Heritage Racer worthy of the great man himself.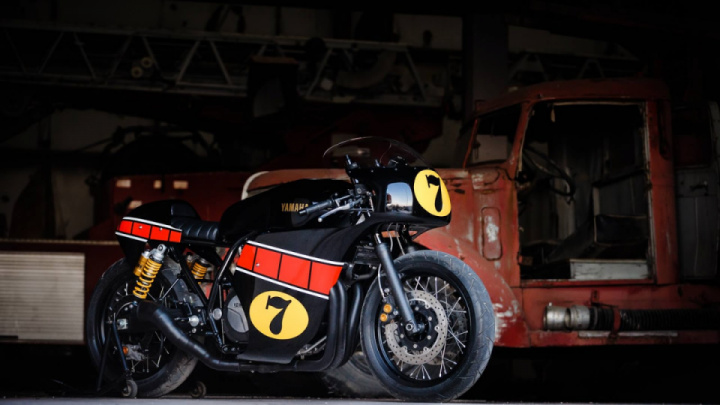 Petros explains, "The Missing Piece bridges the gap between the past and the future. Our goal from conception was to build a classic, vintage inspired bike using the Yamaha XJR platform. We chose not to go with reverse front shocks or a single swingarm and decided on 18″ custom spoked rims for an old school feel." Sheen's notorious number 7 graces both front and side fairing panels.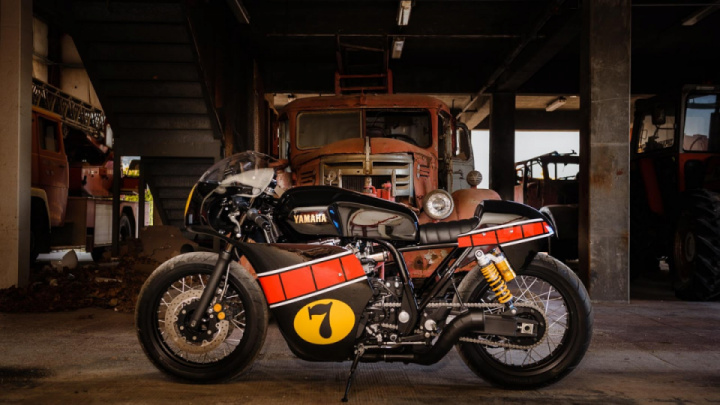 'The Missing Link' was built as a track-to-street conversion bike. The front fairing is easily removed in 3 simple steps, as is the rear cowl. And the naked 'street' version equally holds it's own as a brawny looking brat cafe – see below.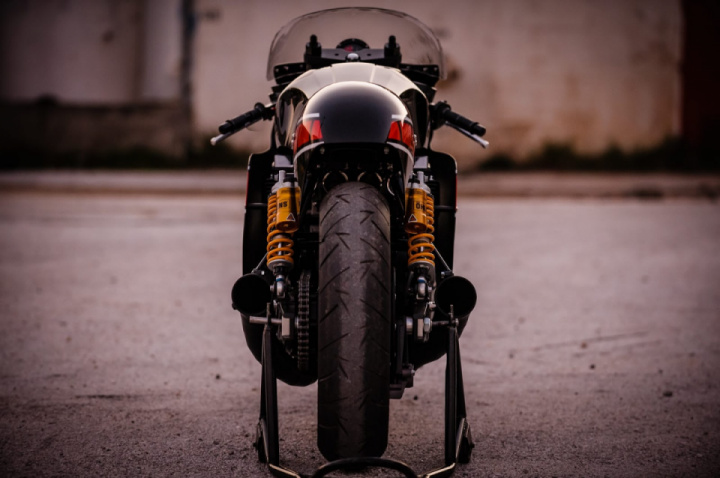 Petros describes the build process as being almost like a pilgrimage, "It took me forty days and forty nights." Not surprising when you consider he hand fabricated both the front and rear fairing in-house. The fuel tank was also extended, with longer knee inserts.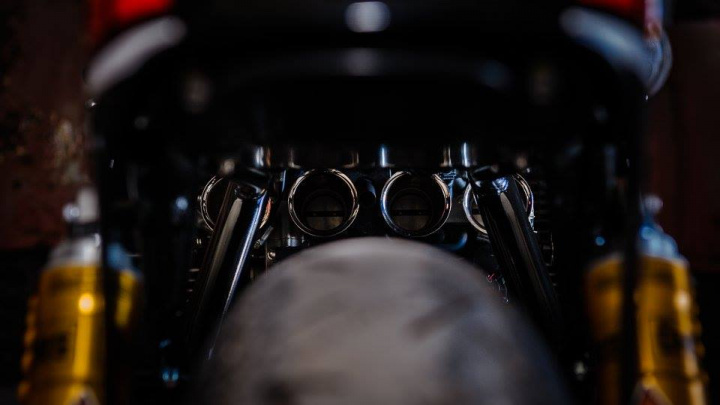 A new seat pan was fabricated to transform the undressed bike into a brat cafe. The battery was repositioned below the swing arm. A four into two exhaust system with large cones was fabricated to help bring the retro '70s Grand Prix feel to life.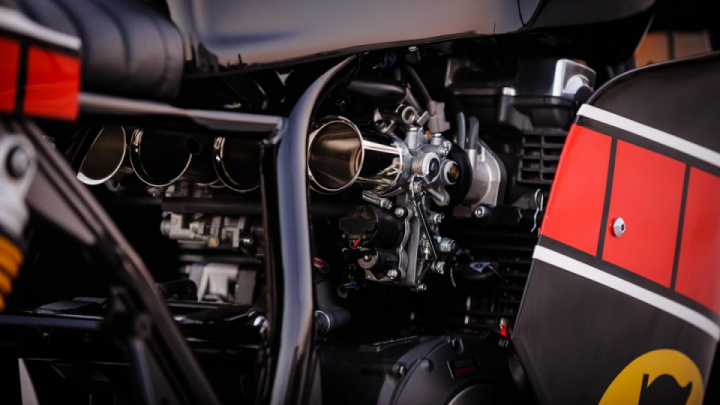 As part of the Yamaha Yard Built program, several custom bolt-on XJR factory parts were used, such as clip-ons, foot pegs and a front sprocket cover. But don't think that this saved Petros any time. "It was all I was doing or thinking about for forty days. I think my family and friends are glad to have me back," he laughs.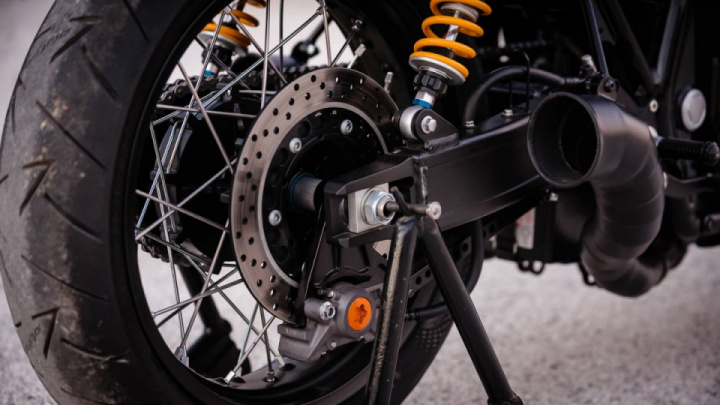 Well, all the work seems to have paid off. And how. Petros was just notified that the bike had won the Pan-European Yamaha Yard Built build off. A well deserved honor for such a well executed tribute to one of the world's most legendary motorcycle racing icons.
[Photos by Mike Lazaridis for caferacercult.gr] via PIPEBURN
Written by Nick D.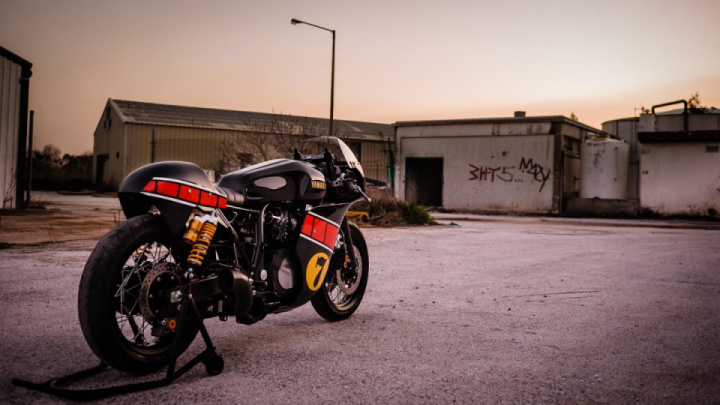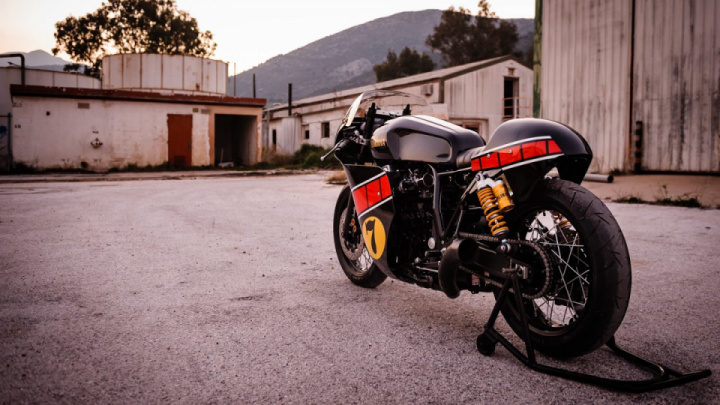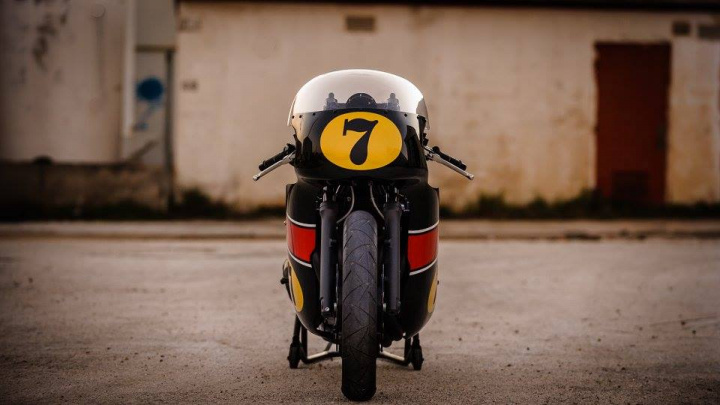 #Moto #Bike #XJR1300 #Custom #Yamaha