So, you own a Lamborghini Aventador, and that in itself is reason enough to be proud. But often times supercar owners find themselves in need of some other motorized sidekick contraption for their cars.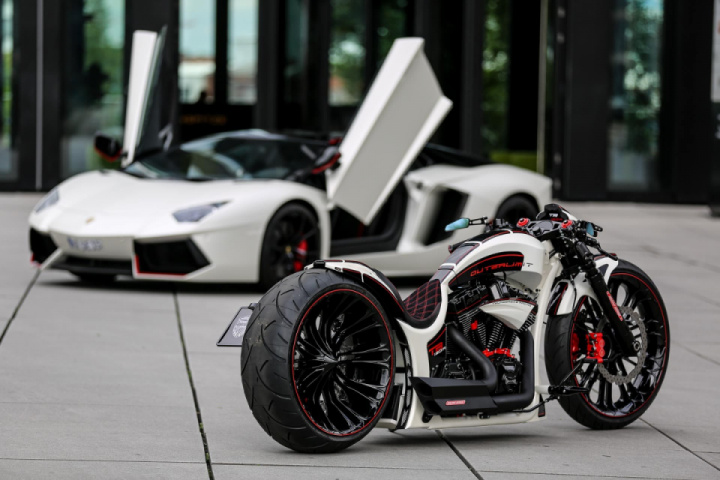 So did a German Aventador owner, who must have thought there's something missing from his garage, something that should not only keep the car company, but also match it in design. So he turned to custom German bike builder Thunderbike for help.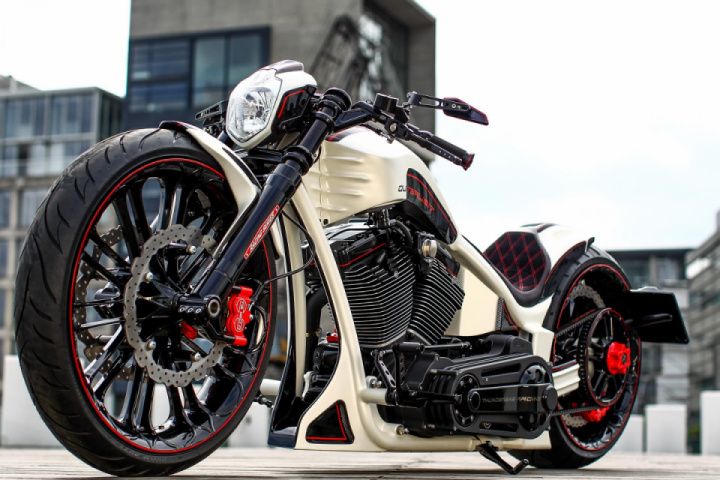 The German shop started out in the 1980s as a repair place for Japanese motorcycles, but a few decades later found themselves to be quite good at either customizing Harleys, or building their own custom frames with Harley engineering inside. The Black Star 110 and the RS Lambo are perfect examples of their prowess in both fields.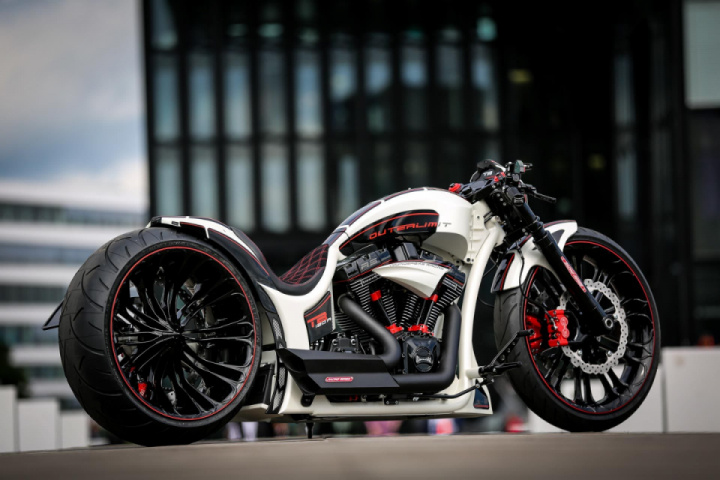 For the Aventador owner we mentioned above, they came up with a design called Outerlimit. Finished in 2016, it was specced as "super sporty appearance, neat pressure in the engine, big wheels and powerful brakes."
The custom frame of the bike was gifted with a Harley-Davidson twin cam 120R engine linked to a 6-speed manual transmission, which gives the bike a power output of 140 ps and 190 Nm of torque. Not quite Aventador levels, but for a motorcycle it's not half bad.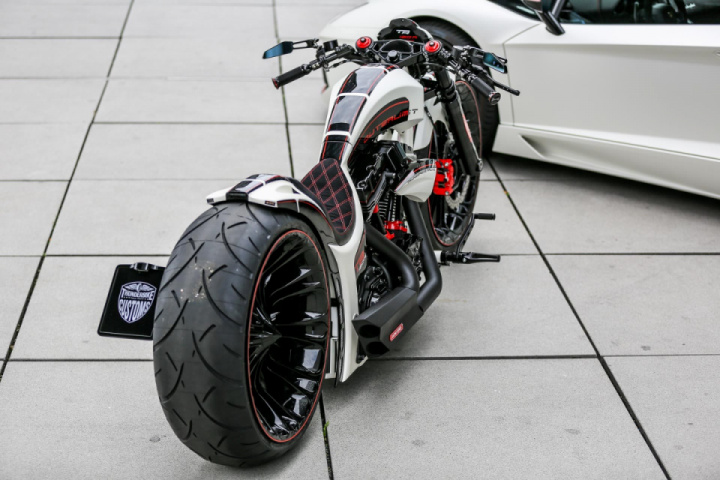 The performance of the bike was not necessarily the main goal of the build, but the appearance of it was. As per customer specification, the Outerlimit had to exactly match the colors of the supercar, and that task seems to have been met nicely: both the design and the paint job that cover the various portions of the motorcycles body replicate the black and white panels seen on the Aventador body and roof.
Specification:
Model OuterLimit
Owner Stephan
Construction Year 2016
Engine Harley-Davidson Twin Cam 120R
Transmission 6-Speed
Primary NH Power
Power 140 PS / 190 NM
Screamin' Eagle EFI
Air Cleaner Rebuffini
Ignition Harley-Davidson
Manifold / Muffler Thunderbike
Frame Thunderbike Dragster
Steering Head Tilt 36°
Swingarm Thunderbike RS Singleside
Suspension Thunderbike Air Ride
Handlebar Thunderbike
Grips Thunderbike
Clutch and Brake Master Cylinders Thunderbike
Forward Control Kit Thunderbike
Fuel Tank Thunderbike
Fenders Thunderbike
Elektric OEM Harley-Davidson
Headlamp Thunderbike
Seat Thunderbike
Front End Thunderbike 1.5° Rake
Front Rim Thunderbike Monoblock 4.0×23
Front Wheel Avon 130/60-23
Front Brake Caliper Thunderbike
Front Brake Disc Thunderbike 340mm
Rear Rim Thunderbike Monoblock 9.0×21
Rear Wheel Metzeler 260/35-21
Rear Brake Caliper Nissin Perimeter 6-Piston
Rear Brake Disc Thunderbike Perimeter 21
Credit and more photos: thunderbike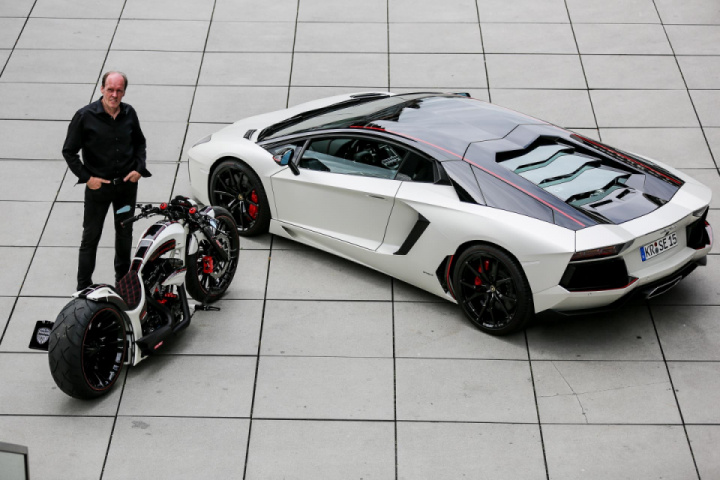 Join the community of motorcycles and people
Moto Riders Universe app is the best way to stay informed about what's going on in the moto community — whether it's finding a good news, planning a local event, or sharing safety tips. There are so many ways our moto-buddies can help you, just use this easy way to connect with them.