Ace Custom Shop of Santander, Colombia, is a small shop with a big heart. Founded in 2013 by brothers Diego and Juan Sotomonte, along with friend and mechanic Andrés Cabralas, their motto is "Everything's Possible" and their mission is clear: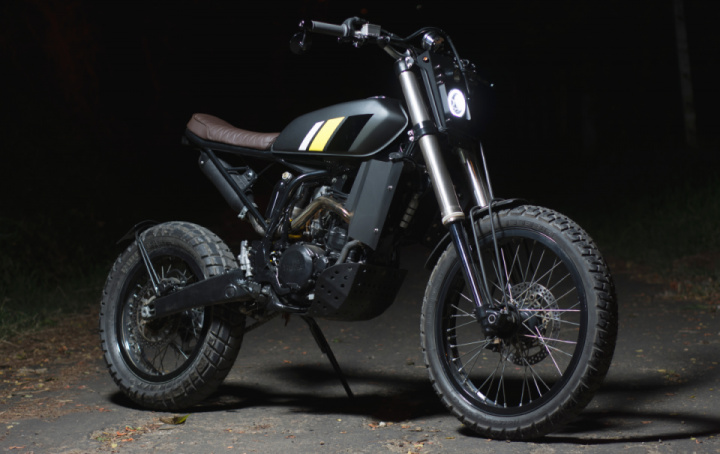 "Passion for what we do, we are builders, designers, we modify what we do not like and we love our machines."
We have seen the three-man crew build everything from salt flat racers to table lamps, but their specialty is motorcycles. Last year, our friends at Pipeburn featured their 1980 CB750 cafe racer. This Yamaha WR250 build immediately caught our eye. The liquid-cooled WR250 offers around 30 horsepower and weighs only 256 lbs wet, with a wide-ratio transmission and aluminum frame — the perfect weapon for urban traffic and tight closed course racing.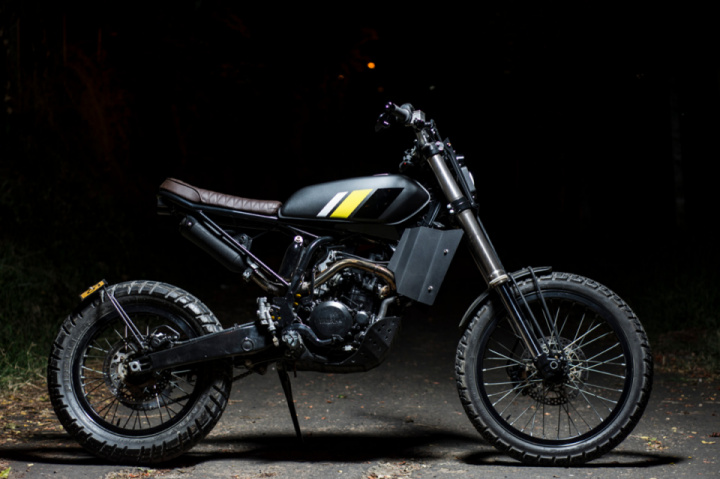 In fact, this WR250 street tracker is not just a pretty piece of design — it was prepared for the races in the Custom Built Show by the mechanics of the BMotos Colombia shop, where it won the final heat against a Harley XR1200, Triumph Thruxton, Yamaha RD400, and other high-powered bikes!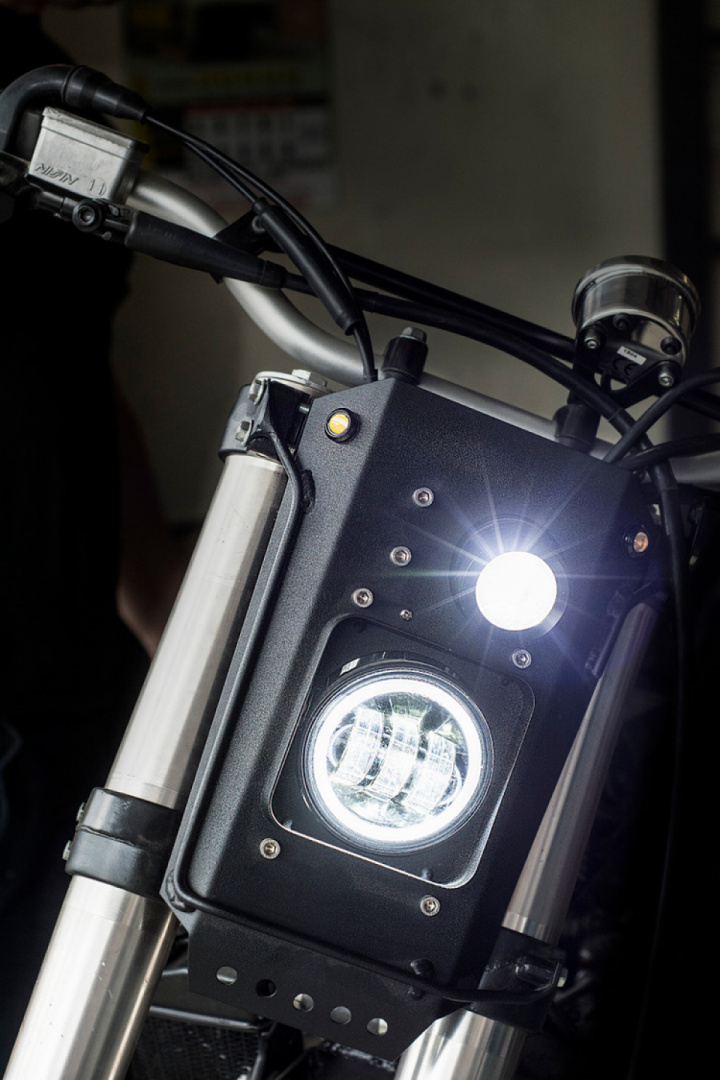 Yamaha WR250 Tracker: In the Builder's Words
I'm an Industrial Designer, I started to like motorcycles thanks to some homework I had to do in early semesters in the university, but I had always liked vehicles since I was a little boy. It just became a passion quickly — I started modifying bikes with my first one, a CG125 réplica, very popular in my country because of reliability and cheapness — that was about 8 years ago. The bike didn't last a day in it's stock way, almost with no tools and in my building's garage I started to disassemble it. I really liked cafe racers and scramblers, so that was what I did, I mixed them and a year later it had the style I wanted. In the process I learned a lot, and learned also to ride it. I had ridden bicycles before, in the street and downhill, so had the main idea. A bit later I decided to buy a bike and build everything I could, as a new challenge but always with the idea of the shop in mind. About 4 years ago I decided to stop doing other stuff and work full time in motorcycles, opened my shop and here I am. I always do the design and build part by myself, my mechanic (Andrés Cabrales) helps me with fixing engines and wiring, and my brother (Juan Sotomonte) takes the pictures of the bikes. I do not have a lot of tools, just the basic ones.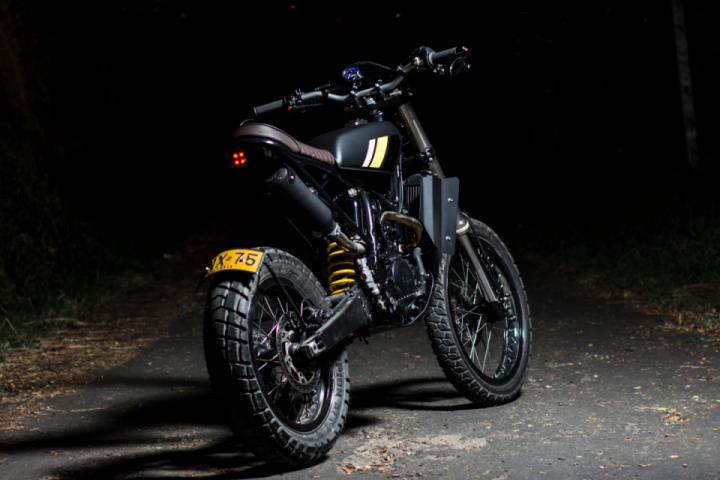 Well, I'll tell you some things about the bike. It is a 2005 WR250, completely stripped down and rebuilt. The suspensions and part of the chassis is stock — everything else is custom.
Starting with the front, the headlight has two LED foglights, made in a single sheet of steel an assymetric mount, just like the positioning of the lights, it also integrates turn signals, special brackets for a front fender were made, and a renthal low handlebar on top of that, also it has a Daytona speedometer.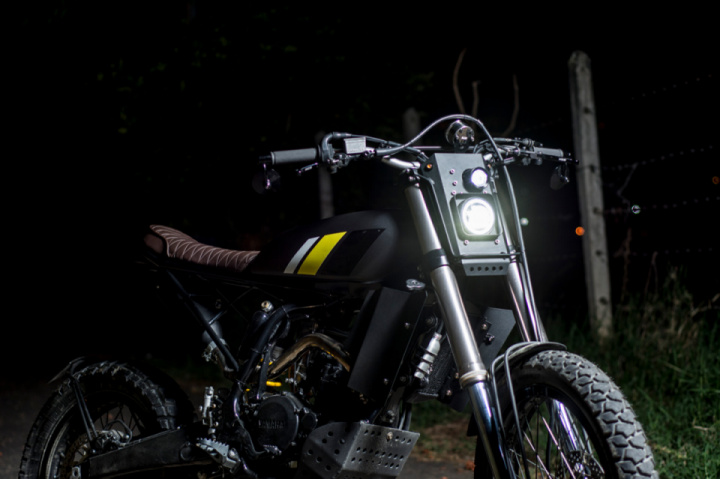 The tank is from a Yamaha RX115 two-stroke bike (really popular in this country). The sub frame was made to make the seat follow the line of the tank, the radiators had to be lowered from their original mounts so had to make new ones and also had to make covers out of an aluminium sheet to let them have the air they need and also to beef up the bike a little, a new stainless steel pipe was made, and a supertrapp exhaust was fitted. The wheels are shouldered aluminium wheels by a Colombian brand and Pirelli scorpion tires were mounted.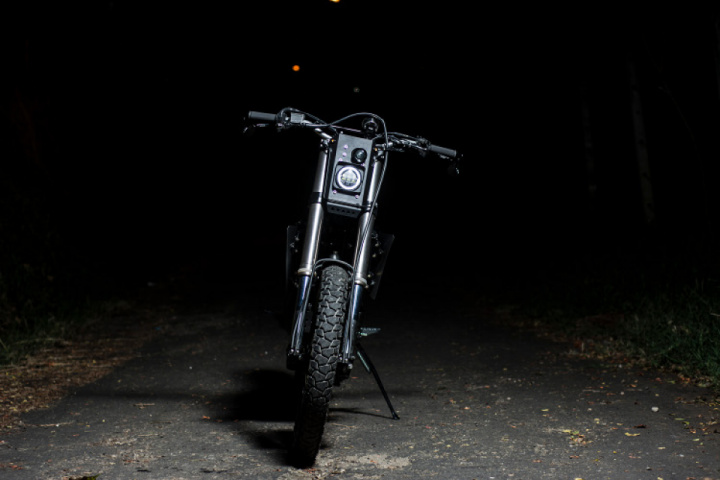 Finally, the bike was prepared for racing by @bmotoscolombia for the Custom Built Show, where it won the final race where the winners of previous races had to compete, — something really good since it was racing against a Harley XR 1200, Triumph thruxton, Yamaha RD400, and other bikes!
Original Source [bikebound]
#Moto #Yamaha #WR250 #Bike