This custom-built Shovelhead Street Tracker heavily resembles Larry Curik's first-ever Yamaha HT-1 project, which he built 50 years ago. He's taken his lifelong motorcycling prowess and put it into this latest street tracker build, and you don't want to miss the details of it!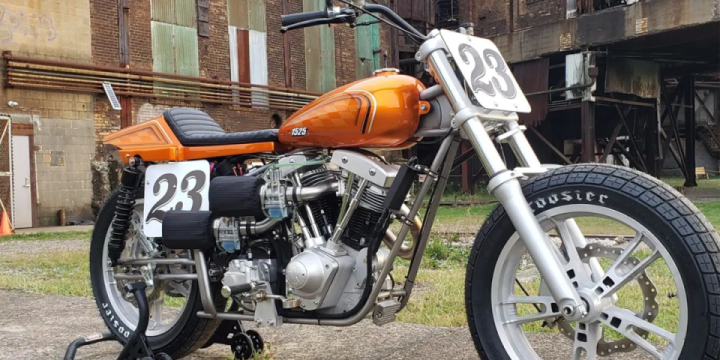 Handmade was the name of the game at Fuel Cleveland last year, as you've likely already deduced from some of our recent Ride of the Week articles. Randy Noldge's "Divorster," Jared Weems' artistically inspired Speed Twin, Christian Newman's scratch-built chopper, and Donzilla's Pie Wagon were all extremely fascinating – especially because of the time and personal crafting put into each.
Larry Curik's custom shovelhead street tracker was definitely another sight to see, and nearly everything on the bike is handmade. Curik owns Lone Star Choppers, a licensed manufacturer of one-off, award-winning custom bikes, so he's no stranger to the creative process.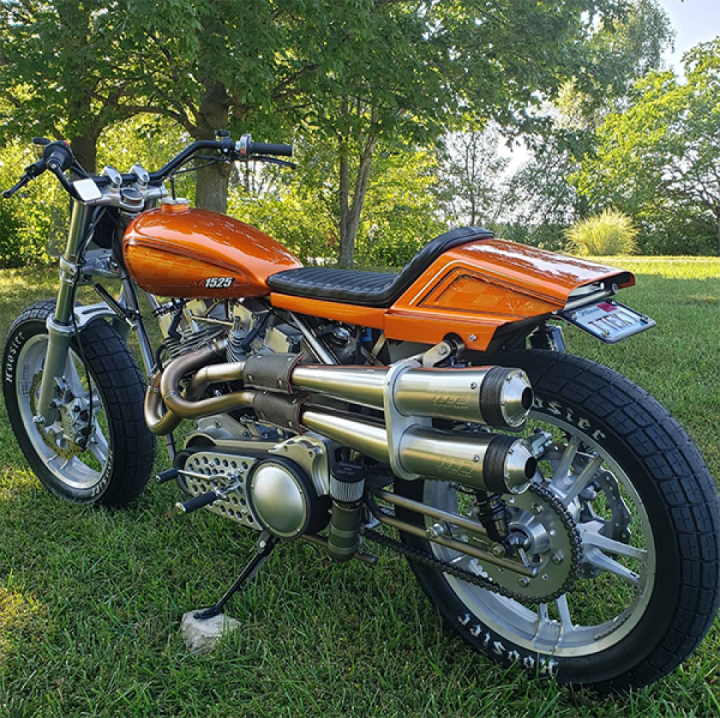 The only original piece on the motorcycle is the cradle that holds the engine; the frame started out as an Arlen Ness prototype from 30 years ago. The wildly famous motorcycle builder was known for unique body styles, in which he crafted long, stretched out frames for his luxury bikes.
"It was a four-speed swing arm frame that was real long," Curik says. "It was a luxury liner, one of the three original prototypes."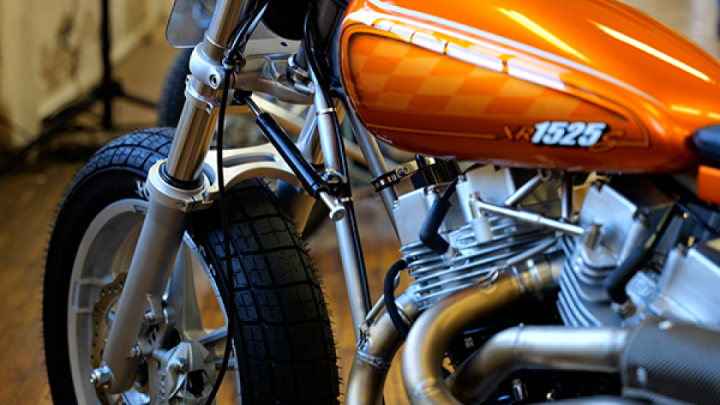 Curik preferred a more compact design though. He cut off the neck and decreased the rake and trail a bit to shorten the frame and produce more of a flat-track vibe, along with other additions that give the motorcycle much more structured handling. And speaking of handling, Curik got creative with the hand controls.
"The hand controls on Flashback feature the Magura HC1 radial master cylinders for great style, adjustable throw levers and awesome performance," he says. "The feedback is spot on and lever pull is surprisingly light, even with a heavy spring clutch. Then, there is that quarter turn throttle assembly, pulling against two carb return springs – it is smooth and fast as can be."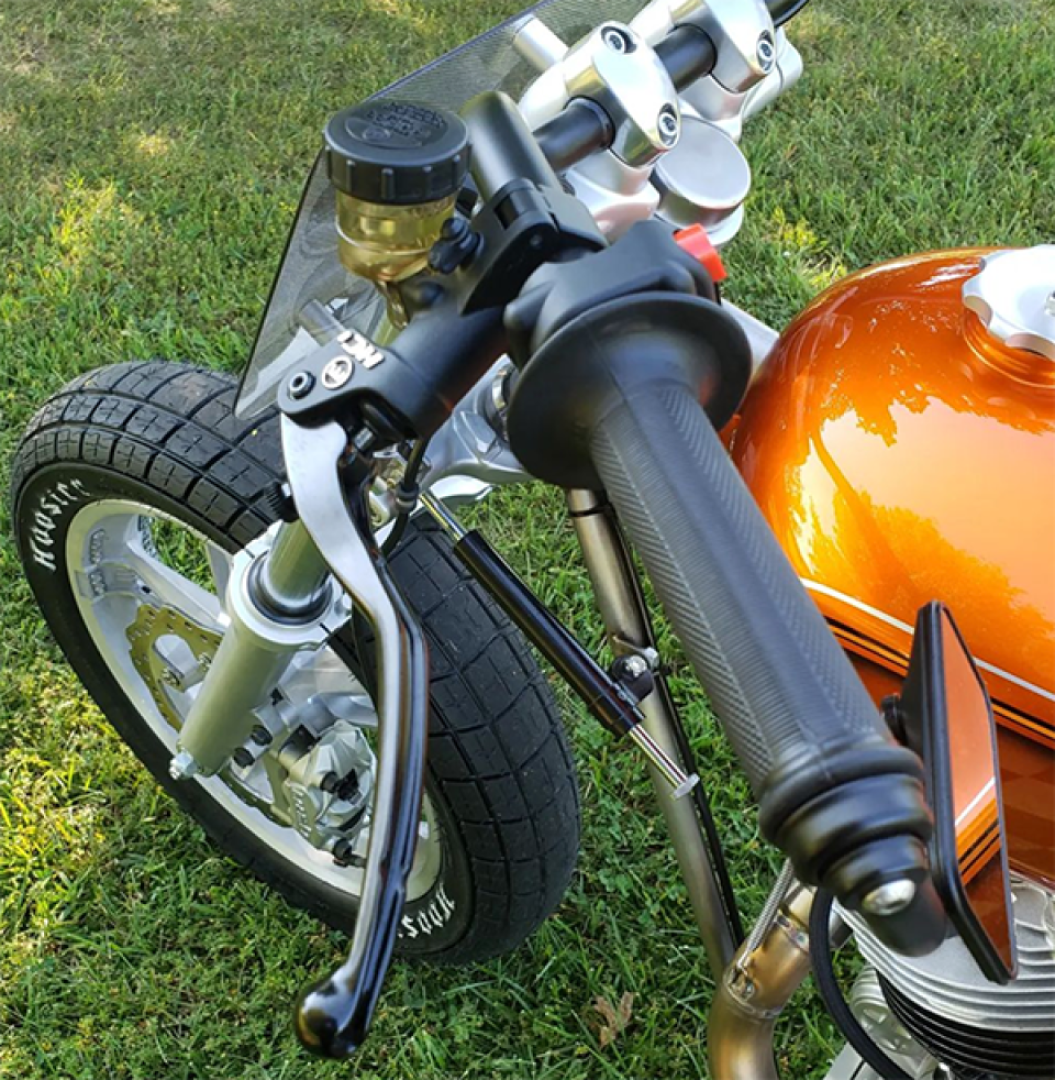 Continuing with the tracker vibe, the motorcycle features a 2-into-2 exhaust on the left-hand side. Curik built the stainless head pipes that connect to the SuperTrapp miler mufflers, and include DEI Powersports' heat shields, which are good to 1,300-degrees F.
The engine has a pair of front cylinders instead of a front and rear, allowing for all the intake on one side and the exhaust on the other, and a LecTron dual carb setup allows for perfect fuel delivery to each cylinder.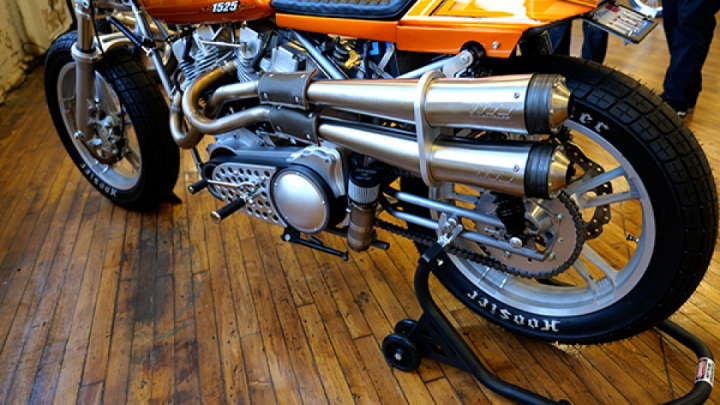 "The engine is a Shovelhead that I've taken and moved the exhaust ports so that they're left-hand exiting, emulating a Harley-Davidson XR-750," Curik says. "The engine is 1,525cc. I started with an S&S 93 cubic inch Shovelhead. To get the XR styling, I used two front heads and cylinders and a custom-ground camshaft by Leineweber. A lot of time went into moving the exhaust ports and intake flanges, but that's what it takes."
Another focal point of the bike are its rather thick wheels, which are actually Harley-Davidson Enforcers off of a new Street Glide.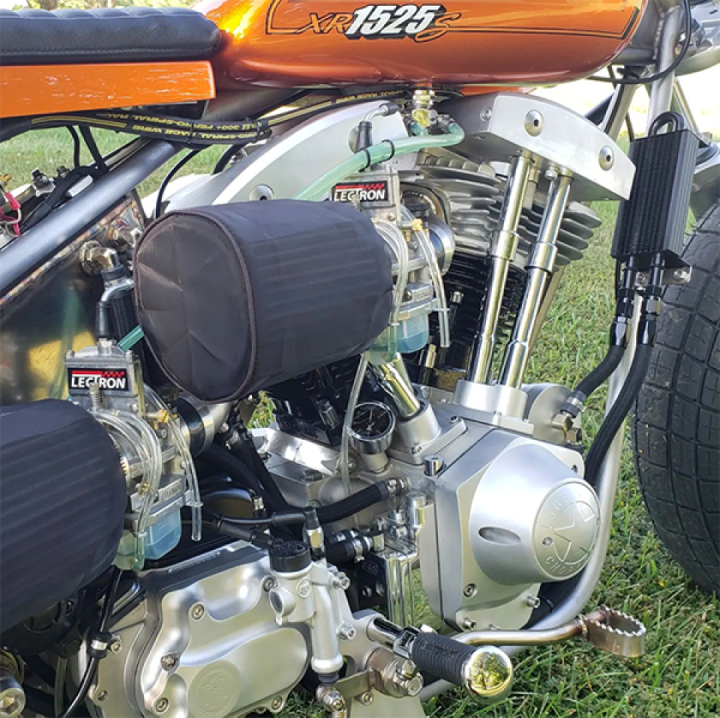 "I took off the front wheel, which is dual disc and removed the standoffs," he says. "It's now a single-disc wheel and the hub was narrowed to get it to fit in the front end. It's two front wheels – traditional 19 in. wheels that would be on a dirt tracker, and they're mated to big, fat, Hoosier tires."
The rest of the motorcycle is an aesthetic work of art. Chromoly 7/8 OD tubing lines the motorcycle's frame and a beautiful paintjob by Sprengel's Innovative Customs catches the eye. The bright orange paint job and plate number help indicate the meaning behind the street tracker's name – Flashback. The plate number itself is actually pretty trick as well!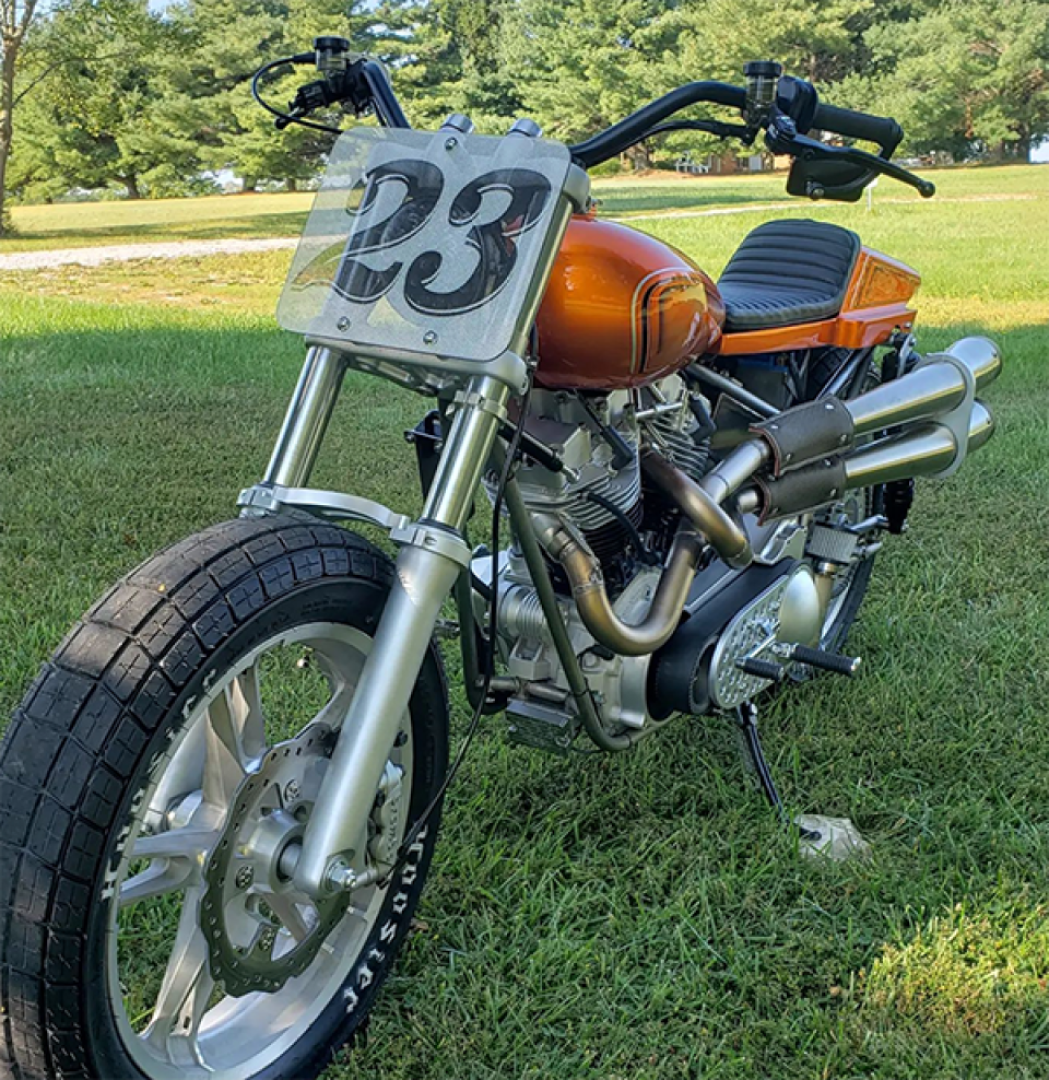 "Some have asked me about a headlight on Flashback. If you look you can see through the number plate," he says. "Over a clear plate I applied the perforated film used for window signage, like on a city bus. The light shines through it like it's not there."
The motorcycle heavily resembles Curik's first ever-project, a Yamaha HT-1 that he reassembled in its entirety 50 years ago in 1972. He learned everything from lacing wheels to building an engine on his HT-1, which kickstarted a lifetime of working in the motorcycle industry. Suffice to say, Curik's street tracker holds a wave of sentimental value, and we can't wait to see what awesome builds he comes up with next!
Sourse: motorcyclepowersportsnews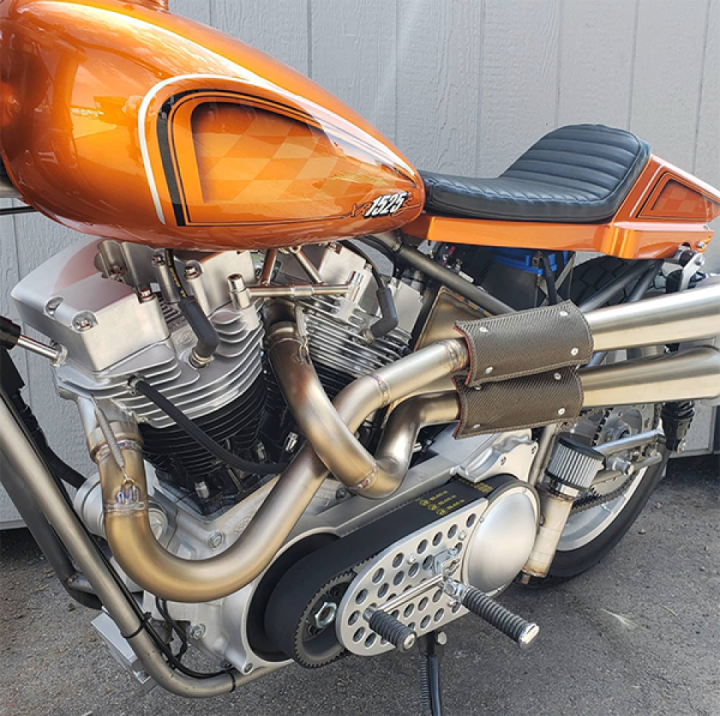 #Moto #Bike #Custom #Shovelhead #StreetTracker