Named "Threesome" due to the three cylinder configuration, this gorgeous cafe racer was built by Bexton Moto and is based on a Suzuki GT750.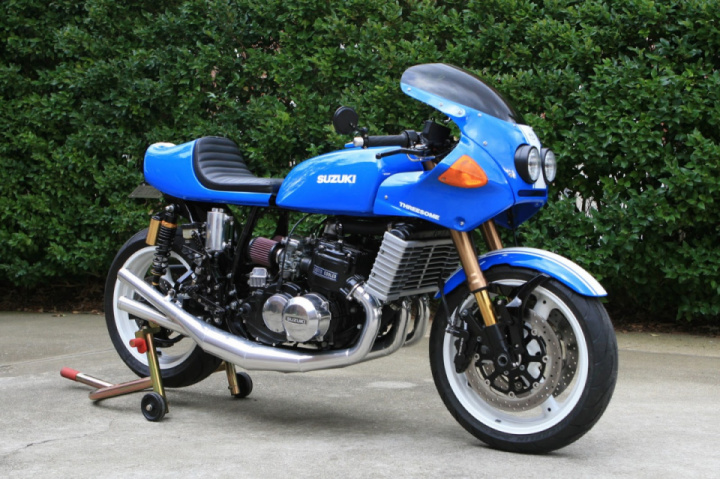 The donor bike had 16XXX miles on it and the motor ran strong without any leaks or other issues. Due to this the motor was given a fresh water pump and a fresh coat of black paint. Otherwise it was left alone. I have put another 1500 trouble free miles on it since the build was completed. It has since started to push a bit of oil out the breather when ridden too spiritedly, which indicates that the crank seals are starting to go. I installed a pipe to catch the oil and then drain it back into the engine to contain it. Performance remained unchanged due to this. However it will require a fresh set of crank seals if you plan to ride it cross country. I am pointing this out so as not to catch the new owner by surprise. But if you plan to just ride it occasionally like I do it will probably be good for years to come, just remember to change the oil regularly.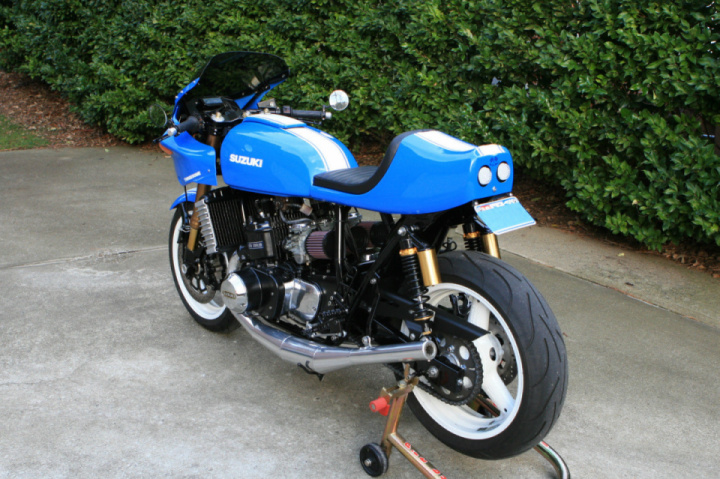 The frame was modified to suit the Rickman tail section and seat. The entire frame and every single bracket was also powder coated. Electronics and battery are now housed under the tail. It has also been equipped with updated modern electronic ignition and voltage regulator and rectifier. I added a few gussets in the center triangle to tighten up the frame a little. The front end comes from a Suzuki Hayabusa, complete with forks, wheel and 6 piston caliper brakes. The front fender is from a Ducati Monster. In the rear I built a custom swingarm, using the swingarm and brake from a modern Suzuki 750 Katana as a donor. The Katana swingarm was shortened to retain the original wheelbase and some shock mounts welded on to retain the stock twin shock setup. It now runs on needle bearings instead of the original plastic bushings. I used a Suzuki SV650 rear wheel and also SV650 race rear sets. The fairing is from a Ducati SuperSport. The motor was adorned with a Jethot coated set of Jemco chambers and the carburetors cleaned and re-jetted to suit the chambers and K&N tube filters.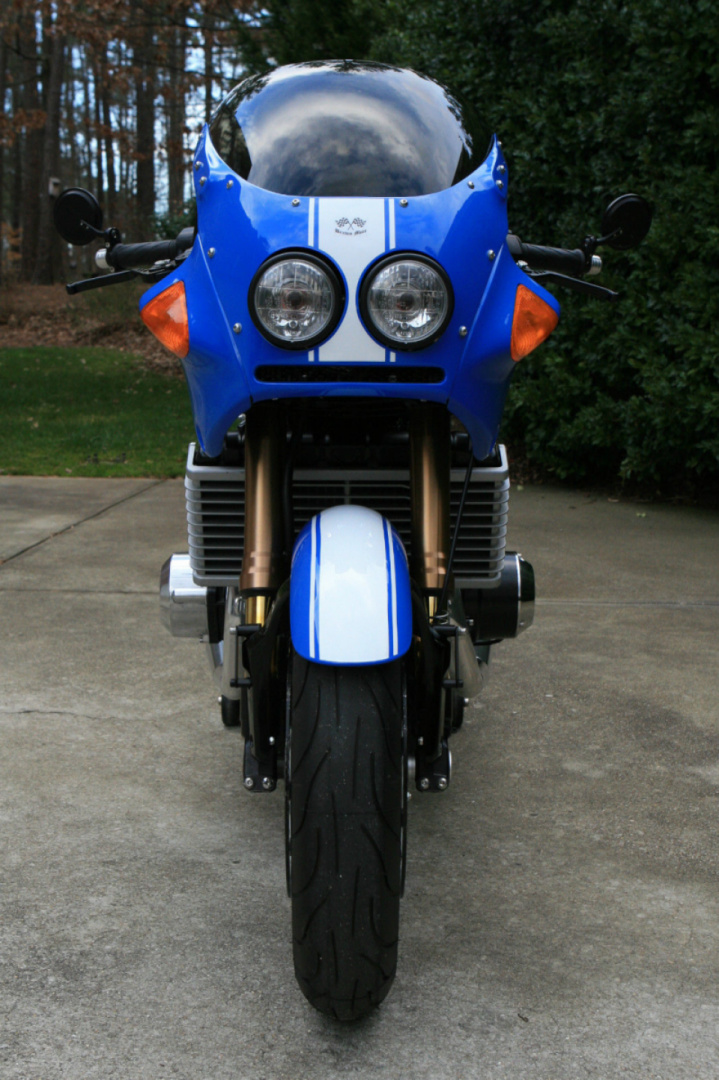 The bike is very well sorted and easy to ride, but also a wolf in sheeps clothing, when you hit 5000 rpm you better hang on when that 2 stroke power band kicks in. The rear shock are Chinese knockoffs imitating a famous brand, so do not mistake them for being the real deal. They work as well as their origin suggests under normal riding conditions. This is an old bike design and the kickstand sits under the left chamber not leaving much room before things start touching down so you cannot expect to ride this bike at Grand Prix speeds anyway. The Hayabusa forks work extremely well and so do the brakes.