Husband/wife Max and Erica of Droog Moto quickly made fame with their custom motorcycles. They've opened up their shop last year and delivered a handful of machines with post-apocalyptic looks which are best to be labeled as scramblers. It all started with this Honda CM400. But they don't focus on one specific brand or type. They've put their signature on a wide variety of models: a Honda XR500, Yamaha FZ09, KTM 690 Duke (2x), Kawasaki KX750, Kawasaki KLR650, Honda CX500 and their latest one is this Suzuki LS650 Scrambler.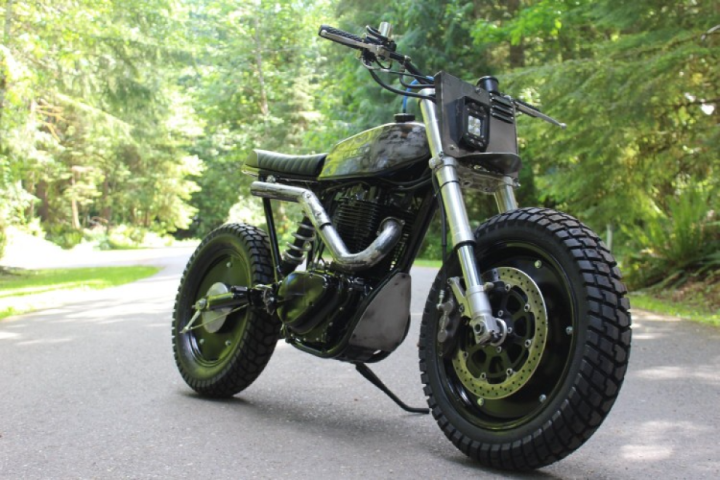 Despite the fact that the LS650 Savage is a pretty cool base bike for customization, we don't see them too often. A big fat 652cc air-cooled single cylinder which puts out around 31hp and a massive 50Nm of torque to move a pretty slim 160kg in a stock trim. True, it's a pure cruiser with typical lines that makes it hard to imagine that this could be a cool cafe racer or even a scrambler. But that's just what Max and Erica like: go the other way around. That beefy engine was the main reason for choosing the LS650 as a base for this project. That massive single simply delivers one main ingredient: FUN! It's more than capable for some serious off-road fun as well as using it for everyday commuting.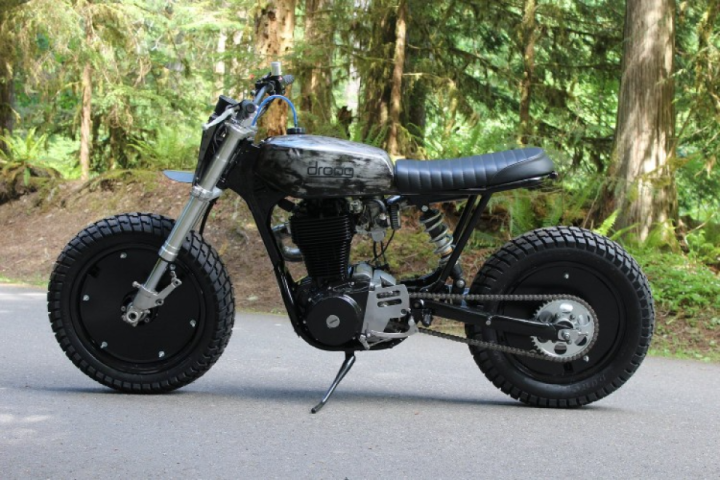 The donor was a 2000& LS650 and the biggest challenge was to handle with the controls. Turning a low-rider into a tall upright bike required them to remake all the controls. The front fork was taken from a GSX-R 750 to improve the handling and braking of this machine.& To keep the rear in track of the front, they've converted the dual shock setup to a mono shock setup. The rear wheel comes from an old Suzuki GS550. Both front and rear wheel got some hand-made aluminum inserts to give it that typical post-apocalyptic look. On the front, they've mounted a cool hand-made tracker plate with an integrated LED headlight and tiny mudguard. A wide 1 1/8″ LSL handlebar was mounted and the gas tank got the rough metal look (the Droog Moto signature) just like their other builds. Of course, the subframe and seat with integrated LED tail light are also hand-made by themselves. To magnify the capabilities of the bike, it got a custom, straight exhaust pipe. Brutal! They've simply nailed it!
Follow Droog Moto: