Motorcycles are more than just moving pieces of metal or basic transportation, for those of us who truly love the two-wheeled world, each bike becomes a chapter in our life's tale. For every thrilling moment shared, taking that perfect line through your favourite bend there can be moments of chaos and pain; high siding at any speed feels like getting beaten up on what was meant to be fun-filled Friday night! And so it goes that from the land of the long white cloud one man experienced the best and worst of life as he built his dream machine. The result is this low and lean beast that started life as a 1997 CB1300 X4 JDM only model and will one day retire to the lounge room of Mike Andrews, on New Zealand's north island.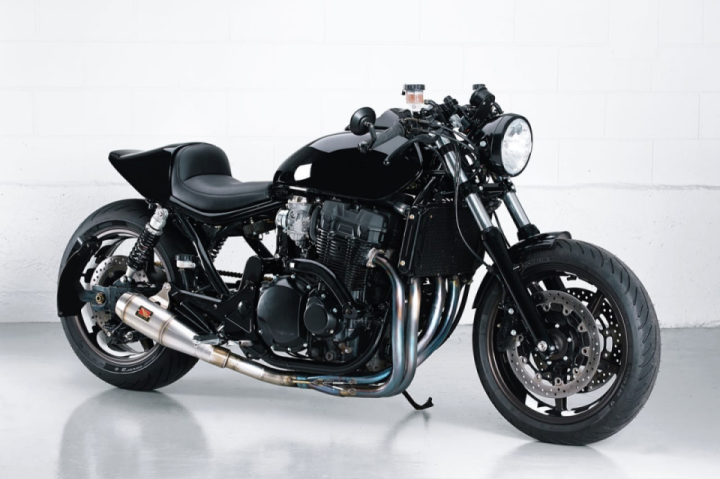 The CB1300 X4 was Honda's response to the street beast VMX from Yamaha, but Honda never got it right as the X4 was always that one step behind. Despite being a JDM bike, examples made their way around the world, Germany has a cult following, and this one made its way south to NZ. When Mike found this CB in 2015 it had clearly seen better days, in fact a good friend rang the night before begging him not to buy it, "it's ugly, he said, someone had painted it with vinyl spray at some stage, someone else had tried to clean that off. It had been resprayed a flat red with a cut paw on the tank."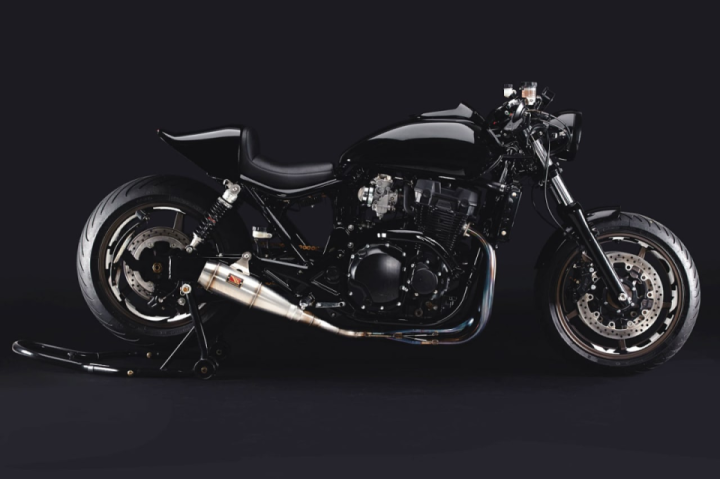 It got worse, the engine cases were totally oxidised, and the carbs had collected more dust than a desert storm. But Mike wanted it, his loving wife Jen had promised he could build a keeper during their wedding vows if he just agreed to wear sunscreen. He said I do, both to Jen and the skin protection, and the X4 would join them until death do they part. The first step was to strip the bike down and use his talents in retail design to gain a picture in his mind of just how she should look. One thing was for sure, the Honda had to go on a diet with the stock bike weighing an insane 270kg. Gutting the clutter from under the seat and the tail was the major surgery with more weight saving done a few grams at a time.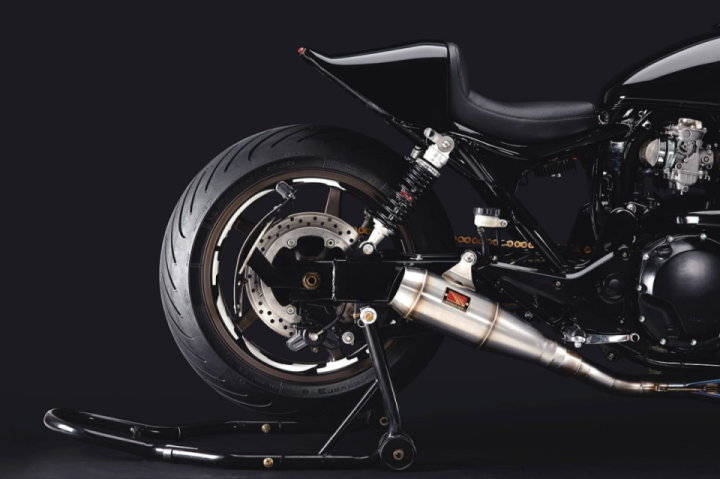 "The seat cowl was by far the most complicated part of the build, I had to teach myself how to sculpt and fibreglass the single piece tail section (seat pan is separate) that can lock into place and also be easily removed to access batteries, fuses etc – which are mounted on another custom glass piece that follows the contour and profile of the seat," recalls Mike who built the Honda in a small shed in the bush west of Auckland. All the extra effort that took months to complete was worth it, with the fat bottom girl now sporting a slimmer waist with a racey rear line. With a custom front guard for the JDM model impossible to find he decided to make that too.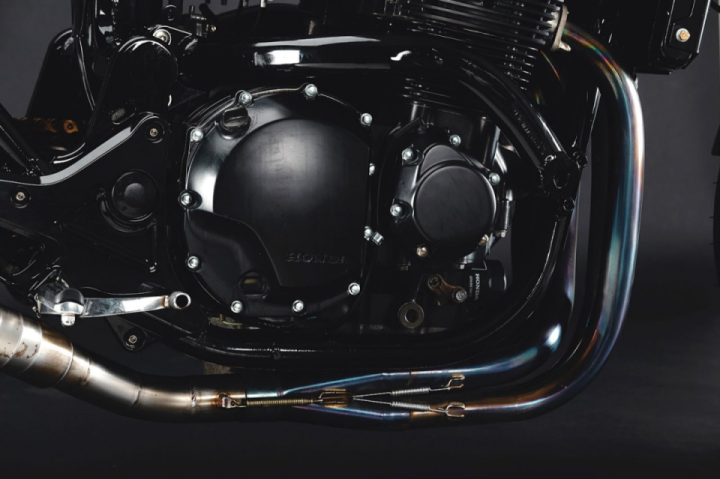 Using half an old tyre and MDF board gave him the shape from which he could make a timber buck and once again his new-found fibre glassing skills have paid off a treat. To remove further weight, this time of the visual kind Mike knew the direction he had to follow "I wanted to paint the Honda black, it's a slimming colour, so a lot of time was spent fairing the seat, so it could be painted along with the frame, forks, swingarm, triple trees and headlight… all painted 100% gloss in 2 pack." Just as things were going smoothly life took a cruel turn and then a moment of joy, as the project took on even greater significance.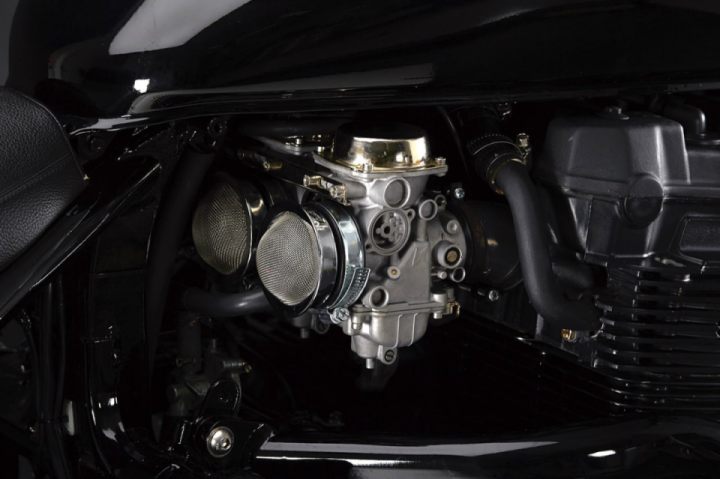 "I wanted to have something that meant more than just metal, it's taken two years to build, we lost my mum to cancer, we had our first son – this bike represents the most challenging years of my life." So ever more determined Mike pressed on, with the X4 perfect for long therapeutic rides the seat design is stitched in black leather retaining the sporty feel while giving plenty of comfort. The seats shape exposes the beautiful drop section in the frame and a total rewire of the bike, including cutting down the harness allows the negative space below to flourish in plain sight. A light weight battery and relocation of the radiator overflow give the big CB the neat lines it had been denied from the factory.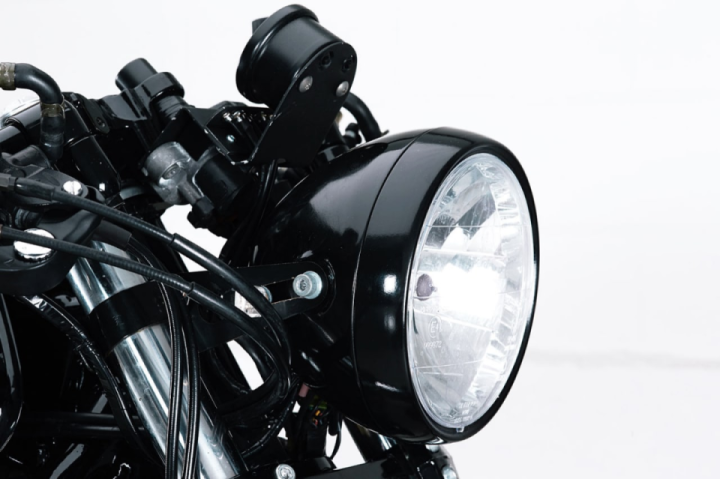 "It's taken two years to build, we lost my mum to cancer, we had our first son – this bike represents the most challenging years of my life".
But in front of that care free space sits a lump that commands respect and the first thing to do with the engine was clean it up and give it a lick of Harley Davidson black paint. The big four cylinder is a tad shy of 80ci and with a massive 121nm of torque it'll shred tyres in any gear. With 70k on the clock, Mike made the wise decision to pull the bank of carbs and totally rebuild the 36mm units. Knowing what he had in store for the exhaust he re-jetted them to suit and fitted up a set of filtered bell mouthed velocity stacks. That exhaust is a stunning, lightweight titanium system that runs from the four header pipes back before finishing out in a barking mad Werkes USA muffler.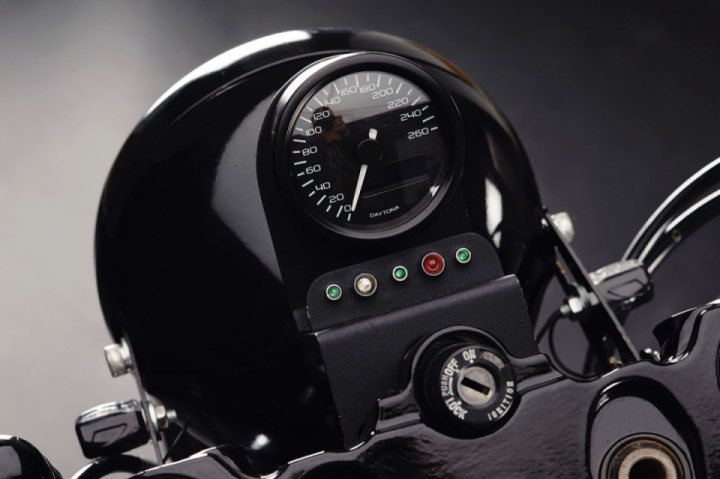 Steering the black beauty is something Honda made a breeze with the use of beefy 43mm telescopic forks that are well dampened from the factory. But at the rear the stock shocks are always playing catch up, so Mike pulled them out and replaced them with a perfectly matched set of adjustable YSS items. Even with the considerable weight savings that have been achieved braking is not something to be left to chance and upgraded Nissin hardware takes care of business. Up on the bars a new master cylinder provides the pressure while all new grips, switch gear and a Daytona speedo give the perfect minimalist look.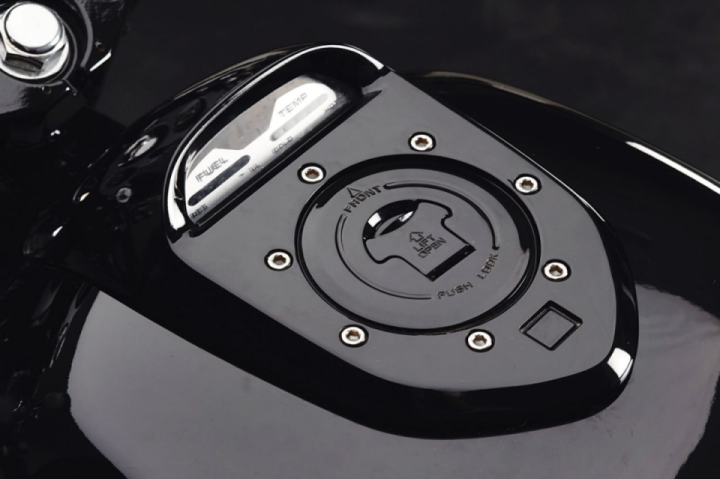 The Honda had arrived with later model gold wheels, but Mike had an idea to give them a totally unique appearance. "I painted them in a custom bronze, then had a sign writing friend cut Honda logos for me – I laid the logos inside the wheels and then clear coated over them, finally I had them wrapped in Michelin Pilot 3s." With that this magnificent muscle machine was finished and Mike has its future well mapped out, "I'm going to ride it, develop the engine and as long as there is still salt, head back to Bonneville with Jen and our two boys, celebrate my 50th year and create some memories with my boys – then retire it to the lounge."
[ Mike Andrews – Instagram | Photos by Danilo Santana ]
Written by Martin Hodgson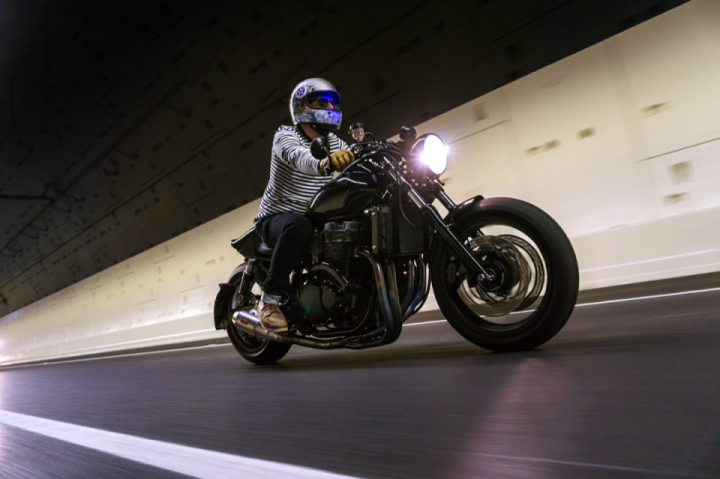 #Honda #Custom #Bike #Moto #CB1300 #CB