Addmotor's latest EB 2.0 electric bikes and electric trikes are equipped with the world's first 48V*20Ah UL-recognized battery pack, ensuring a safer ride.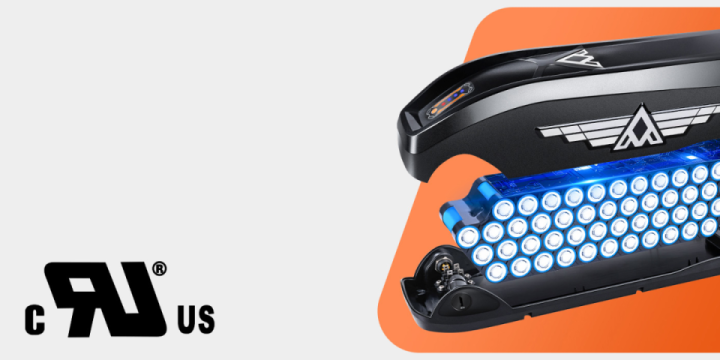 Examining whether or not a battery is UL-recognized is one of the ways you can ensure that the battery satisfies the e-bike's criteria for its safety and quality of performance. It is essential to be aware that not all lithium-ion batteries are built with the same components.
To make a battery that is not only strong and long-lasting but also, and this is highly crucial and safe requires several different considerations. To determine which types of batteries are the best, Underwriters Laboratories (UL) conducts tests and analyses on a variety of criteria, including the composition of the battery, the fabrication method, and the methods for testing.
To provide you with a deeper comprehension of the significance of UL Listing, the following reasons will be discussed:
Reasons why it's essential to use high-quality lithium-ion battery packs
The role of UL Listing in increasing battery sector safety norms
A Definition of "UL Listed."
Important labels to check for when selecting a lithium-ion battery to supply energy for your electric bike.
What Is Meant by UL:
Underwriters Laboratories is the abbreviation for this institution. "Underwriters Laboratories is a worldwide safety certification company that creates safety regulations and evaluates items and components to assure conformity with those requirements." Substances, components, electrical wiring, structural stability, and performance are all tested and evaluated in the lab to provide an overall evaluation of the item.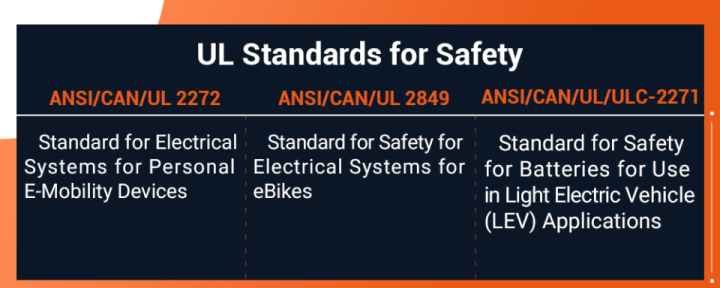 UL leads the way in establishing mandatory guidelines for the security of electrical goods. The unique UL mark on labels and packaging indicates the company's approval. To ensure the security of e-bikes and electrically powered-assisted cycles, the Consumer Product Safety Commission (CPSC) has identified UL as the anticipated electric system safety rule as of February 2018.
(EPACs) This certification guarantees electrical and burns safety by testing the electric drive, lithium-ion battery, and charger system. Among the many things that UL approval extends to are:
Electric bikes, including those the rider sits on to operate and pedal.
Concerns about combustion in general and the possibility of electric shock when charging.
UL's Contribution to Electric Bike Regulatory Standards:
The organization known as Underwriters Laboratories has been around for almost a century. Various sectors and product categories consider it the gold standard for ensuring quality control via testing and certification. This is what the organization does:
Detailed processes are used to ensure safety during testing.
Certifies only if its requirements are satisfied.
At least four times a year, a UL field consultant is deployed to a company's location to check that their goods are manufactured to UL standards.
The Importance of Having a UL Listing In Electric Bikes:
Products awarded a UL Listing (UL-recognized battery) have been evaluated and found to comply with predetermined levels of risk as established by the relevant authorities. They have been assessed as finished items as a whole, and it has been determined that there is no danger of burning, electric shock, or any other kind that may be reasonably anticipated from using them.
For a lithium-ion battery manufacturer to get UL Certification, they must comply with a predetermined set of requirements and then be subject to ongoing testing. For a UL representative to verify that a firm is continuing to meet the organization's safety standards requirements, the company in question needs to agree to submit to stringent inspections and routine site visits.
Recently, electric bicycles have gained tremendous popularity in the United States. Nevertheless, as is the case with every emerging kind of technology, there are concerns over its level of safety. Having a reputable independent third-party agency such as UL is valuable and beneficial to undertake comprehensive product testing and certification. End users gain the peace of mind that comes with knowing the producers of their items have the security and the safety of their operations as a top priority when the manufacturers have their products listed by UL.
Wrapping It Up:
Because of the extra expense involved for manufacturers and buyers, UL certification has not generally been accepted by the electric bike market. E-bike manufacturers, in my opinion, will rapidly adopt the UL standard (and fires will decrease). For what reason are we so cheerful? The electric bike market is oversaturated with competitors. Because of the industry's skill in keeping e-bike fires under the radar, some businesses may worry that investing in fire prevention may damage their bottom line.
Nonetheless, manufacturers who view UL certification in electric bikes as an opportunity rather than an expense will stand out to consumers who want peace of mind that their e-bikes will not cause their homes to become hot and uncomfortable.&
Addmotor has always taken the safety of e-bikes seriously. To avoid problems such as battery fires and overheating, Addmotor's latest EB 2.0 bikes and electric trikes are both equipped with 48V*20Ah & lithium-ion batteries that are UL-ANSI/CAN/UL/ULC-2271 certified, for battery safety in light electric vehicle (LEV) applications.
Addmotor electric trikes with UL-certified battery pack (960Wh), best for long-range riding & your family's safety!