These days, there seems to be a wealth of high-dollar scrambler builds, few of which would survive more than the most well-graded gravel road, and even fewer of which would be anywhere near affordable for the motorcycling Everyman.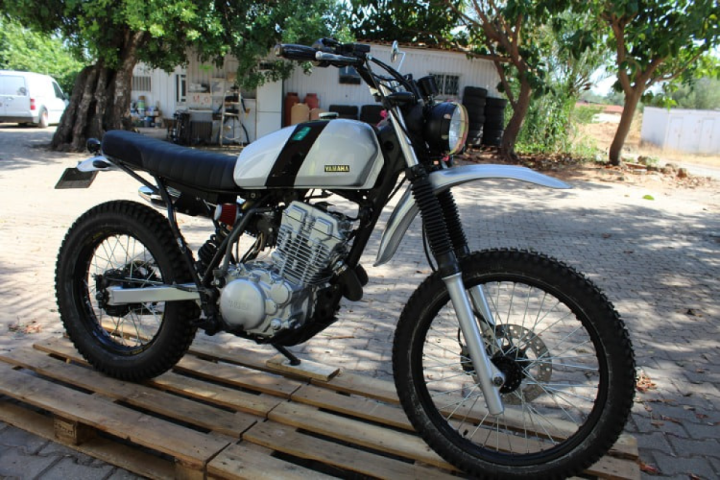 Enter this lovely Yamaha XT350, owned by Ivo Bastos (@scrambler_project) and built by Chris' Garage — both of Algarve, Portugal. Portugal has quickly become a hotbed of custom motorcycle culture, and if the Portuguese customs we've featured are any indication, the country's builders have a fondness for dual sport-based trackers and scramblers that are both affordable and capable of real off-road excursion.
Starting with a solid platform helps, of course. The Yamaha XT350 was born out of one of the original Japanese big thumpers, the XT500. Introduced in 1985, this 346cc dual-sport offered 30 horsepower, 22 lb-feet of torque, a 90 mph top speed, and weighed just 265 lb. & The motor was largely bulletproof, and the bike would run well past 45,000 miles if well-maintained.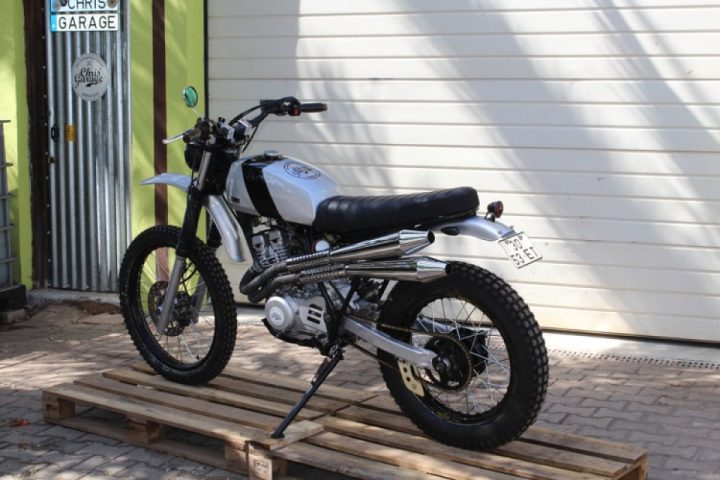 When owner Ivo Bastos discovered that a custom builder lived in his same town, Cristiano Oliveira of Chris' Garage, he hired the man to execute his vision. Below, he gives us the full story on this build.
Yamaha XT350 Scrambler: & In the Builder's Words
So, having something unique and totally my style was really something I was looking forward too. When I found & the Portuguese blog Cafe Racer 351, there was a garage near where I lived (Algarve, Portugal), I immediately made contact. So this garage is owned by Cristiano Oliveira and the garage is named Chris' Garage.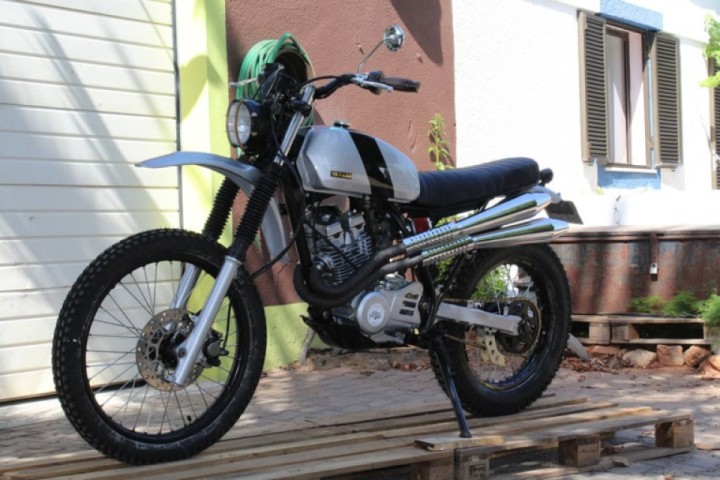 I made a sketch, and with the motorcycle already acquired and Cristiano's expertise, the result is what we can see today. He totally made it to my liking, always with the concern of respecting the Portuguese laws, turn lights, wheel size regulations, etc. I couldn't be more happy and will be posting my rides and the bike takes me.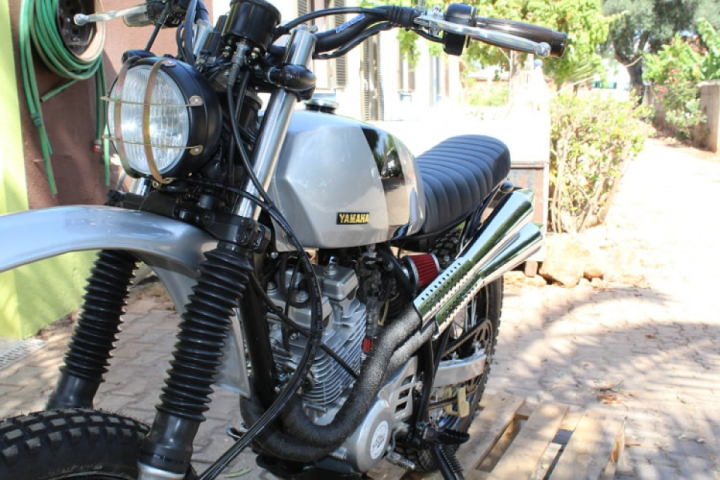 So what was changed in the bike was practically everything. Here goes some examples:
Rear rim: & Excel Takasago 2,15 x 18
Front rim D.D.D 21 stock painted black
New spokes and hub painted
Front tyre Mitas e05 3×21
Rear tyre Pirelli Mt43 4×18
Tank was from SACHS lotus, very common 50cc motorcycle in Portugal, custom painted and fitted to frame
Seat also custom made with support for lithium battery that replaced old one for more minimalist look. The fabric itself is leather in front with subtle suede in the back
Renthal fatbar handlebar
Biltwell grips
Rear mudguard custom
Front mudguard from 50cc confersil cross
Frame was let free from previous supports and subtly shortened.
New conic air filters
Suspension, frame, engine painted.
Bullet style Turn lights and custom supports
New control switch and speedometer
New headlight scrambler style and backlight
The exhaust was changed to left side and parallel pipes were made for more retro style and for fitment of the outrageous exhausts. That might feel abusive but just make every head turn?
Suspension and engine maintenance