The Yamaha FZ16 — known as the "Byson" in Indonesia — is a 150cc naked bike that has become popular in Colombia, Argentina, and the Philippines. While the single-cylinder FZ16 has proved itself a stalwart commuter, the factory "Megatron" aesthetics leave much to be desired…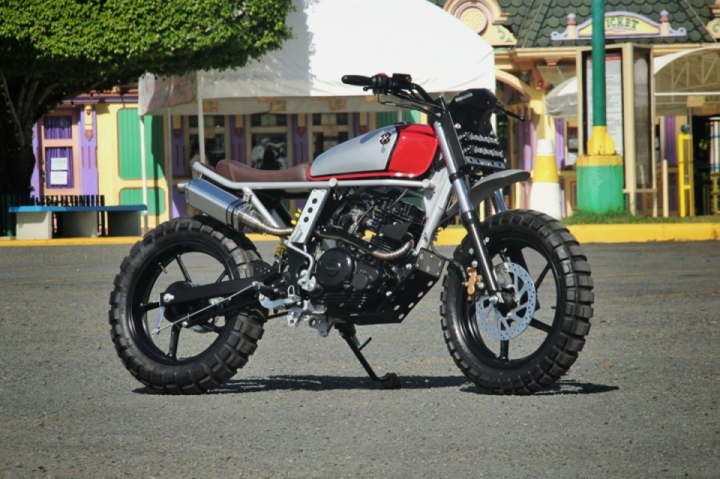 Enter the team at Iron Macchina Customs of the Philippines, who have built over thirty custom bikes since opening their doors in 2016. Recently, we featured their incredible Rusi Mojo Cafe Racer. Now they are back with this Yamaha FZ16 scrambler, "Sendero Maestro" (Trail Master). This donor was its owner's first motorcycle, who wanted to keep the bike in the family for his son to use.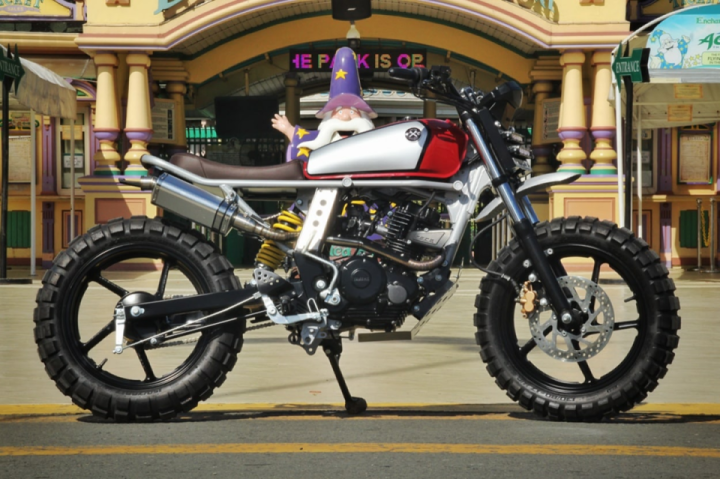 With limited resources in the Philippines, the crew at Iron Macchina Customs are forced to fabricate nearly everything from scratch. In this case, they completely redesigned the very frame of the bike, as well as a broad array of panels, skid plates, fenders, handelbars, and more. Practically every last part of this machine has been replaced or re-fabricated.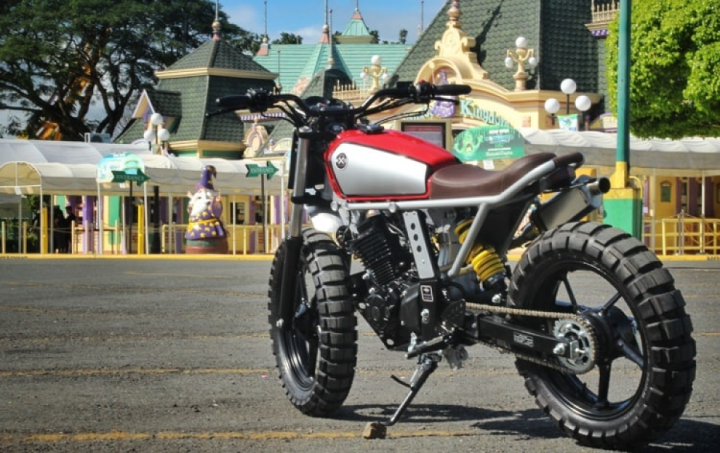 Below, we get the full story on this stunning little scrambler.
"Sendero Maestro" Yamaha Byson Scrambler: Builder Interview
I'm Paul Anthony Symon Cantos of Iron Macchina Customs Philippines. And we've been doing custom motorcycles for over a year now. Creating new concepts and wide variety of motorcycle designs.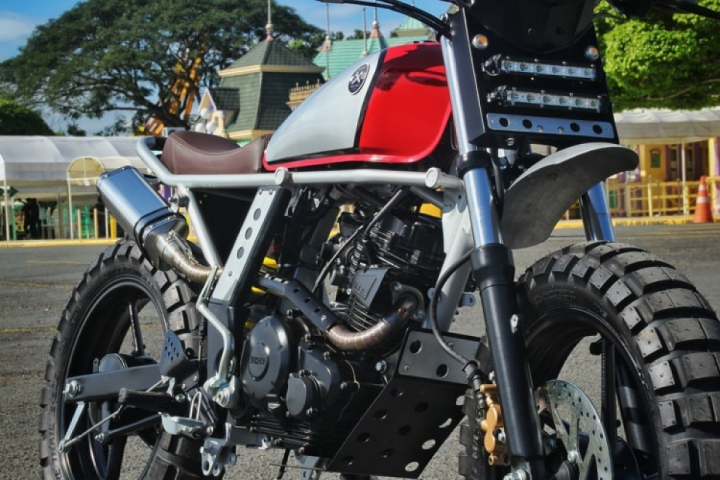 What's the make, model, and year of the bike?
2010 YAMAHA FZ-16 naked (150cc)
Why was this bike built?
Bike was built for a client. This bike was his first bike and fruit of his labor being an overseas worker. So he didn't want to dispose it and keep it for his son to use instead. He wants the concept to be an all-around bike like a scrambler. So I conceptualized a mean-looking machine, functional, and easy to use.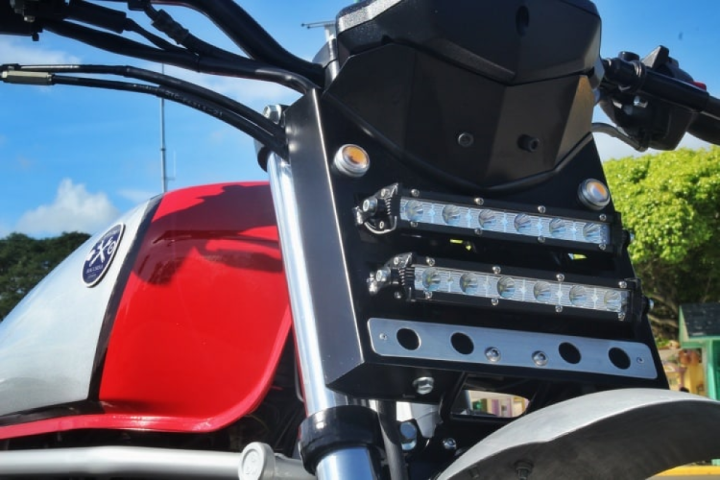 What was the design concept and what influenced the build?
Normally when I do my designs, I sit in front my computer and do the rendering. But for this bike, I just sat and look at the frame and did some conceptualizing by putting random parts onto it, giving thoughts and detail piece by piece until it ended up perfectly.
What custom work was done to the bike?
Almost everything was replaced and refabricated with this bike. A newly redesigned chassis giving it a wider look, better reinforcement, and cleaner lines. Dual liner LED light bar, fabricated headlight panel and aluminum garnish for accent.
Customized skid plate, side cover panels, Iron Macchina Tracker handlebar, aluminum front fender with custom bracket, fabricated battery box, powder coated chassis (hyper silver), custom paint, and aftermarket tank.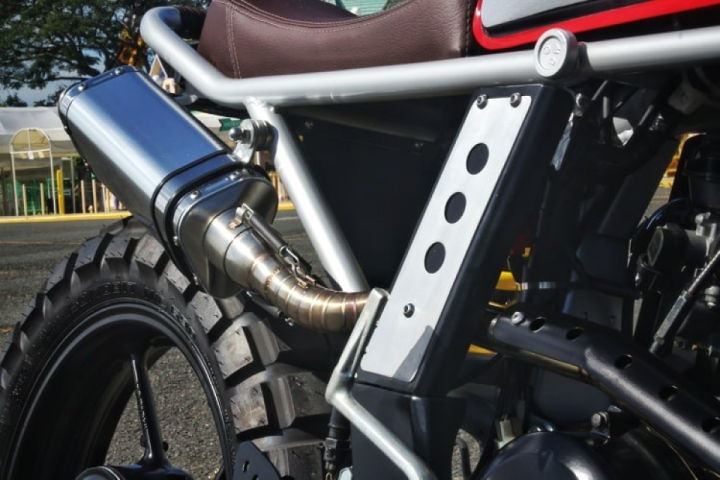 How would you classify this bike?
This bike is a modern scrambler.
Was there anything done during this build that you are particularly proud of?
For me, doing the concept for the chassis. And how it worked pretty well with the over all look of the bike. Sometimes you just have to imagine and execute. The challenge is to think of something that has never been done. Execute and take risk. See what's going to happen in the end. Either you end up messing things up or get good results. Bottom line, just do it! There's always a cutting disc.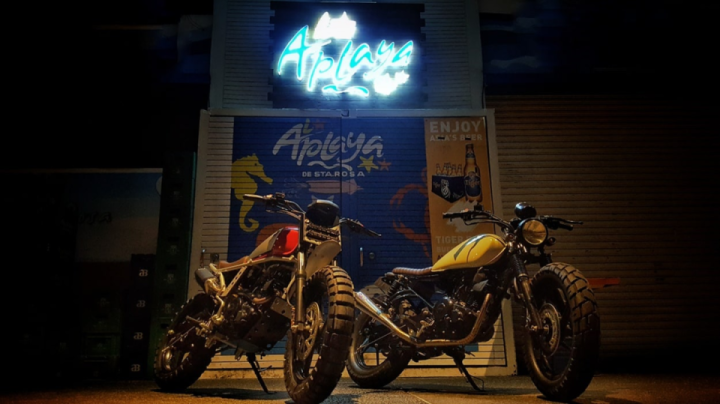 #Yamaha #Custom #Moto #Bike #Scrambler