A new Vehicle Identification Number decoder released by the U.S. National Highway Traffic Safety Administration confirms that Kawasaki will be introducing a 399cc Inline-Four Ninja ZX-4R model for 2023. While the VIN decoder does not provide any clue to what the ZX-4R will look like, we expect it will be styled similar to the 249cc Ninja ZX-25R (pictured above) currently offered in Japan and other Asian markets.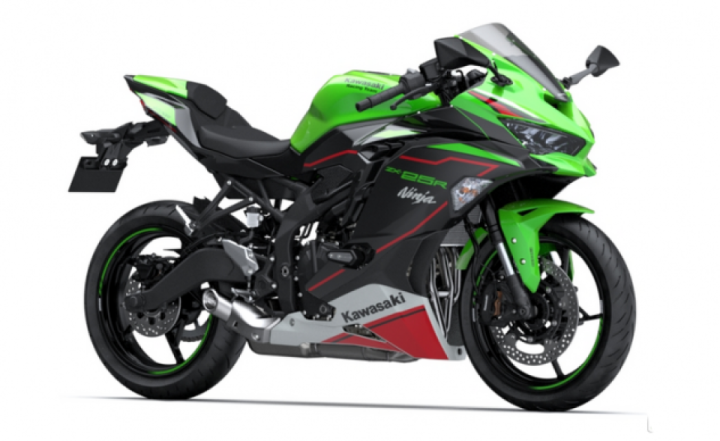 We previously wrote about the existence of a ZX-4R a year ago, when we uncovered a Kawasaki patent for the fairing design that was adopted for the ZX-25R. The patent described how intakes built into the fairing would divert air towards the engine for additional cooling. While the design was used on the ZX-25R, the patent describes the invention as being "more preferably applied to a vehicle having four-cylinder 400 cc engine."
Thanks to the VIN decoder, we now know the ZX-4R not only exists, but that it will be offered in the U.S. for 2023. The 2023 Kawasaki VIN decoder was dated March 22 and was an update on a previous version published last December. The changes include the listings below for two models with the codes ZX400PP and a ZX400SP. Per Kawasaki's model code structure, the ZX codes designate its high-performance sportbike models like the ZX-10R, ZX-6R, and Ninja H2. The 400 indicates an approximate engine displacement, with the letter following indicating a specific model variant. The "P" at the end, as per industry standard, represents the 2023 model year. The name "Ninja ZX-4R" doesn't actually appear in the VIN decoder, but the engine code leaves little doubt to its commercial name.
The ZX400 is not to be confused with the Ninja 400, which is also included on the VIN decoder under its model codes EX400GP for the ABS version, and EX400HP for non-ABS. The full VIN decoder provides more specific details.
It confirms the ZX400 models are powered by a four-stroke 399cc Inline-Four. The engine output remains "to be determined", but we expect it will be a significant increase over the Ninja 400's 36 kW (48 hp), which is just slightly more powerful than the ZX-25R which claims a peak output of 44 hp at 15,500 rpm.
We expect the ZX-4R will be offered with or without ABS. Beyond that, we expect a chassis similar to the ZX-25R, with a trellis frame and inverted fork. The ZX-25R makes use of just a single front disc brake, but it remains to be seen if the more powerful ZX-4R requires a second rotor.
Kawasaki announced a number of returning 2023 models today, but of its supersport models, only the ZX-6R has been confirmed thus far. We suspect the ZX-25R will be announced along with the Ninja ZX-10R.
Sourse: motorcycle.com