The Evolution-powered Harley-Davidson Sportster is one of the most customized motorcycles on the planet, courtesy of its simple construction. Though the MoCo pulled its plug last year, you can still find plenty of engrossing customs based on it, one of which is available on Iconic Motorbike Auctions. It's loaded to the teeth with trick components and promises to be a sure-shot dirt-shredder rather than its usual highway cruiser self.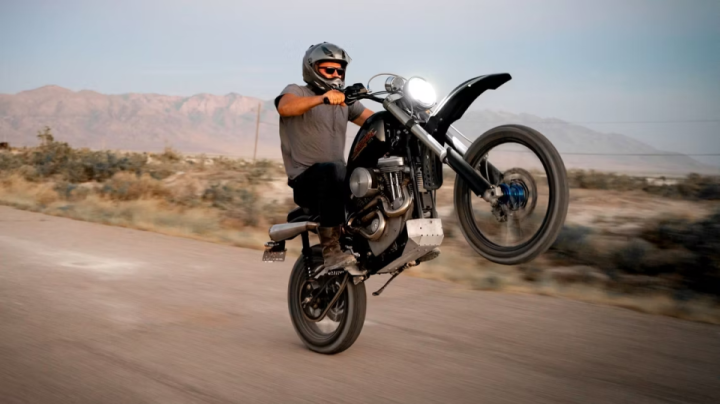 The custom motorcycle is based on a 2002 Harley-Davidson XL883, but there's barely anything to give it away. Most of the credit goes to the overhauled underpinnings that shout dirt riding. The rear half of the XL883, in particular, is quite different, as it flaunts a custom subframe with an MX-inspired fender. Topping it off are YSS 490 springs which take the seat height to a sky-high 36 inches.
Impressed? Then, you'll dig the front end even more. That's because the simple telescopic forks have made way for beefy 48 mm KYB forks, sourced from a Yamaha YZ250. The off-road suspension pairs up with off-road-spec spoked wheels too, so no obstacle presses pause on the fun.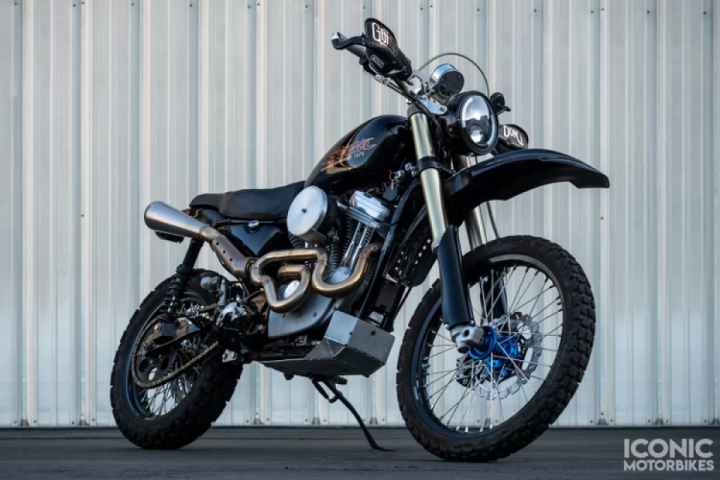 In its stock avatar, the XL883 has an 883cc, V-twin with a measly 50-odd horsepower. But the example you see here is powered by a 1,275cc, V-twin (thanks to a Hammer Performance Big Bore kit) which is good enough for 83 horsepower (dyno-tested). Couple the revamped mill with the custom air filter and free-flow exhaust, and the output should be close to 90 HP. There's also a petal rotor and upgraded caliper up front to counter the added thump–something you'll surely appreciate since there are no electronics here.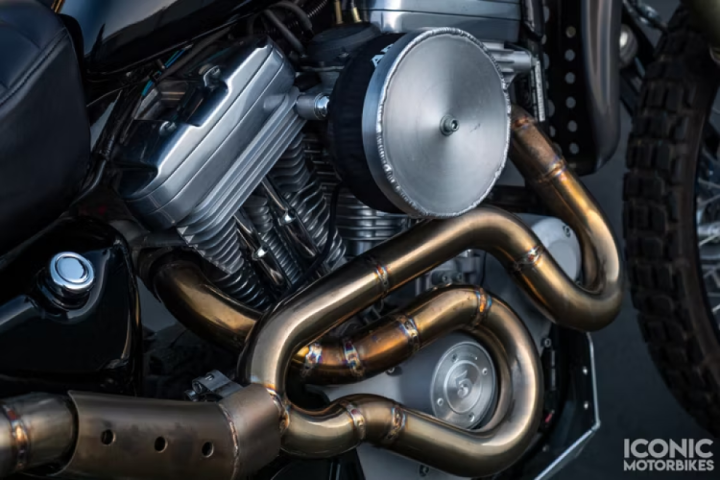 Finally, the motorcycle's ergonomics comprise a ribbed seat, paired with a Protaper handlebar and mid-set toothed footrests. Once aboard, you'll also appreciate the extra LCD which tells you the RPM, unlike the 883's basic digi-analog instrument cluster. Another notable touch is the LED headlight that doubles up as the turn indicator.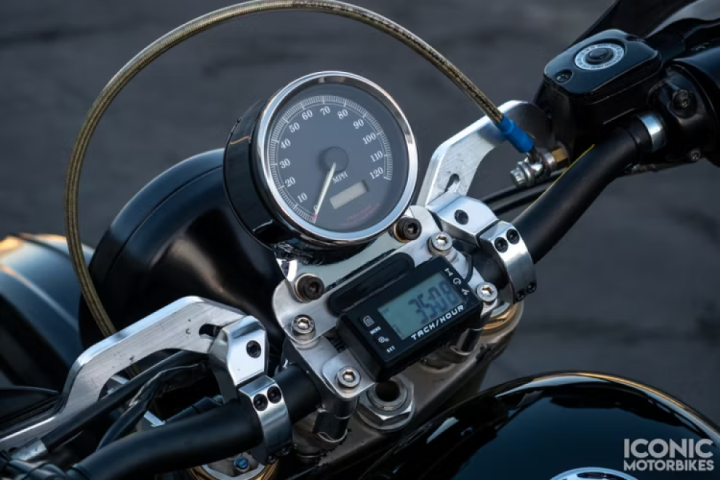 As mentioned earlier, the custom Harley-Davidson XL883 is for sale at Iconic Motorbike Auctions. There's no fixed price, but the reserve price has not been met yet, so you still have a solid chance of taking this home. A similar custom Sportster recently sold for around $10,000, and we expect this one to go for around $8,000 (considering its age). If that's doable (it's a good deal, in our opinion), we suggest you put in a bid ASAP because the timer ticks to zero in just a couple of days time.
#Harley #Custom #XL883 #Bike #Moto