Honda Chaly Challenge Part 2 - History Lesson
In the early 1970's not only had music lost its way…Dana with 'All kinds of everything' and Clive Dunn's offering Grandad (you had to have been there) are just examples. Motorcycling too was on a downward spiral, especially for the Japanese home market. Biking had earnt a reputation for 'the rebel' and whilst the UK mods and rockers were still enjoying fisticuffs by the seaside Stateside gangs had progressed to weapons with drug dealing, all of which reflected on the motorbike. Small cars were cheap and becoming ever more desirable and so Honda's two wheeled management realised something had to change. A step-through version of the DAX, for the mini skirted younger lady who wanted to maintain some dignity boarding her machine, was conceived in 1969 and introduced to our roads by 1973. The CF70K2 Chaly arrived in 1978 and this little beauty was one of the last sold as Honda evidently de-listed the UK model in 1980; although, the majority of examples displayed on line seem to be from this era. So, the bike that began life as a city shopper for girls, complete with basket, has become a must for the average testosterone filled male in parts of Asia; oh and two old idiots in Sussex.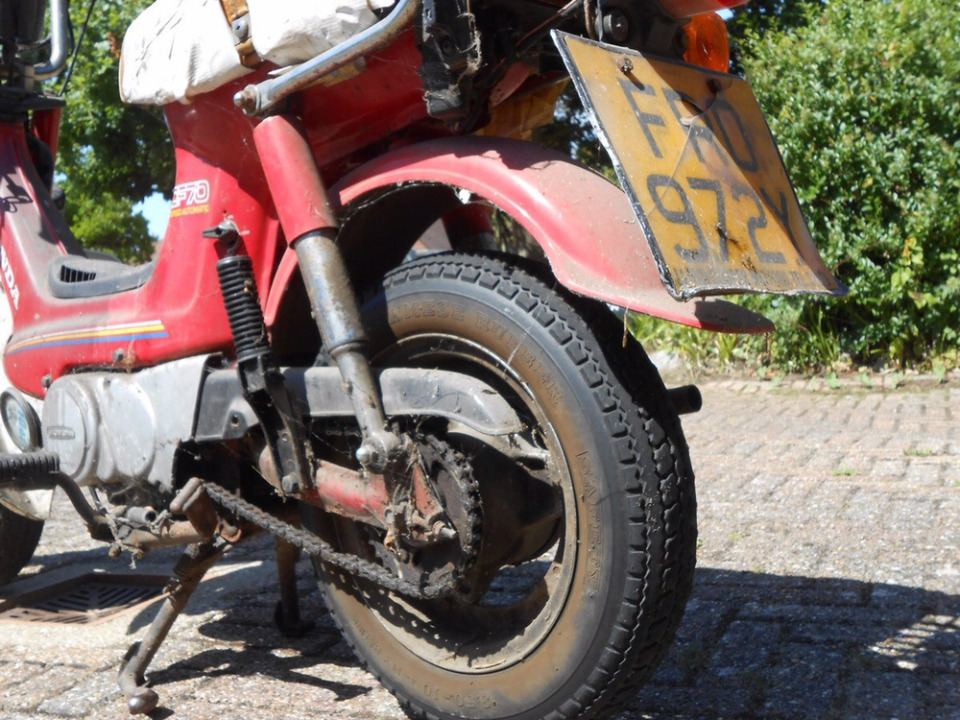 The market for modified mopeds is enjoying a prosperous period at the moment, some of the designs created around quite ordinary machines such as the NSU Quickly and C90 Cub's are most impressive. We were looking in that direction until a friend reminded me of the Chaly rusting away in his lockup. There is history with this actual machine, it was our paddock bike when we raced saloon cars around the UK in the 90s. It never failed to start, was ridden without consideration and never ever checked for oil or in fact enjoy any maintenance at all, beyond air and fuel. Thrown into the corner of the garage or the back of a van it offered the team nothing but total reliability whilst we rarely offered it a passing glance. 'Do you fancy having a go at that old Chaly?' I was asked 'it hasn't the basket attached, lost that years ago' as if that would raise the price. The answer came without any thought installed at all 'sure'. The old Honda arrived courtesy of Motorbike-Breakers.com delivery within Ian Owen's trusty Transit. Our new project was registered in 1982 with two previous owners in the book and it looks like a bike last road ridden around 20 years ago, (the final time it enjoyed a tax disc) certainly much rougher than I remember. Saying that she's complete and the 72cc piston moves up and down inside the barrel and its automatic, a three speed (CF70C model) and unlike most Chaly's the wiring enjoys 12 volts. The oil in the motor is darker than deep space and the fuel tank contains a liquid with a pungent odour I can't really describe; anyway its off. It fairs little better with the seat, paint and chrome whilst the instrument panel has lost a fight with a breeze block, the exhaust is in two parts, the front section end remains alone, stuck in the head.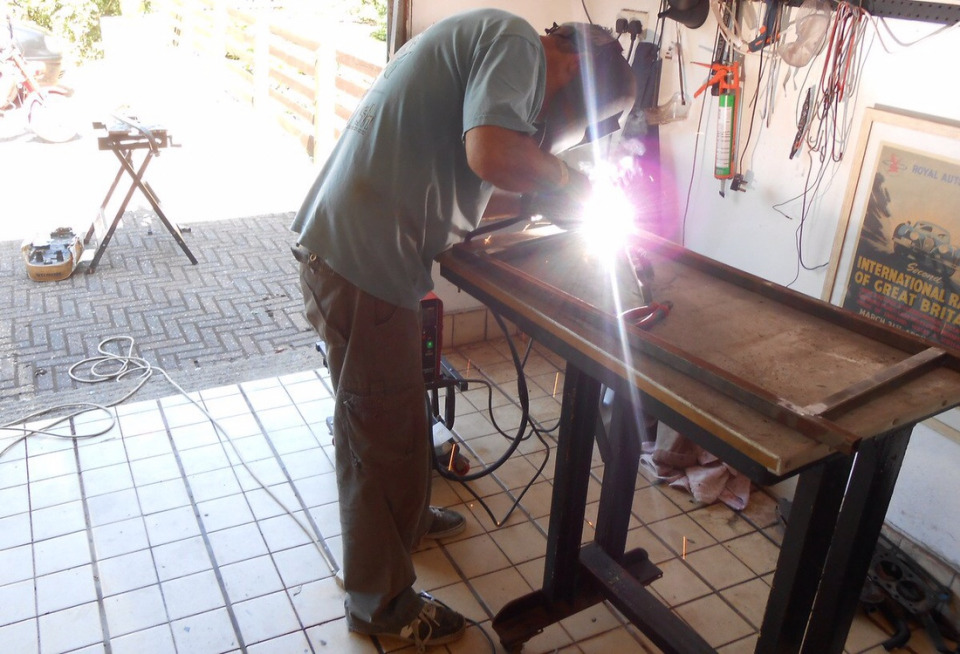 One thing we are desperate to avoid this resto is working through the cold months on a tiled floor surrounded by bits of broken Honda, I therefore had a cunning plan. Take one old work bench on wheels and using my newly acquired Sealey Mig-Mate non-gas welder (very good machine) construct a frame to attach the monkey for that near perfect working height. We are both getting on a bit, if Alan was a dog he'd be 420 (honest) but he is still first to the table for a fry up. Age doesn't slow his mastery of the Mig-mate and with the able assistance of the wife our Chaly was lifted into place and secured; he then installed the parts washer in the perfect place right under the bike. Now we plan to work outside on the pleasant autumn days and stay snug over the worst of the winter….as you get older these things become important. You know it's going to be a long job when removing the old exhaust and centre stand requires an angle grinder but the biggest dilemma remains, what style or look are we trying to achieve? We have just assumed that because the Chaly is Honda built it will work, 'probably just needs a carb clean' I tell myself with confidence. One thing is certain, we will not be letting the chaps of the Far East down with a 'back to original' rebuild, no this time we are looking to the dark side and the art of modification; we want to show them young guns a thing or two. So, now I have opened my mouth and promptly shot myself in the foot, we discuss the options as the old CF70 slowly comes apart. Fighting every nut and bolt with or without lashings of WD40 becomes boring after a while so I sneak of and delve into some of those famous Thai websites! You know the sort…certificate 18 with loads of bling for the Monkey Bike pervert.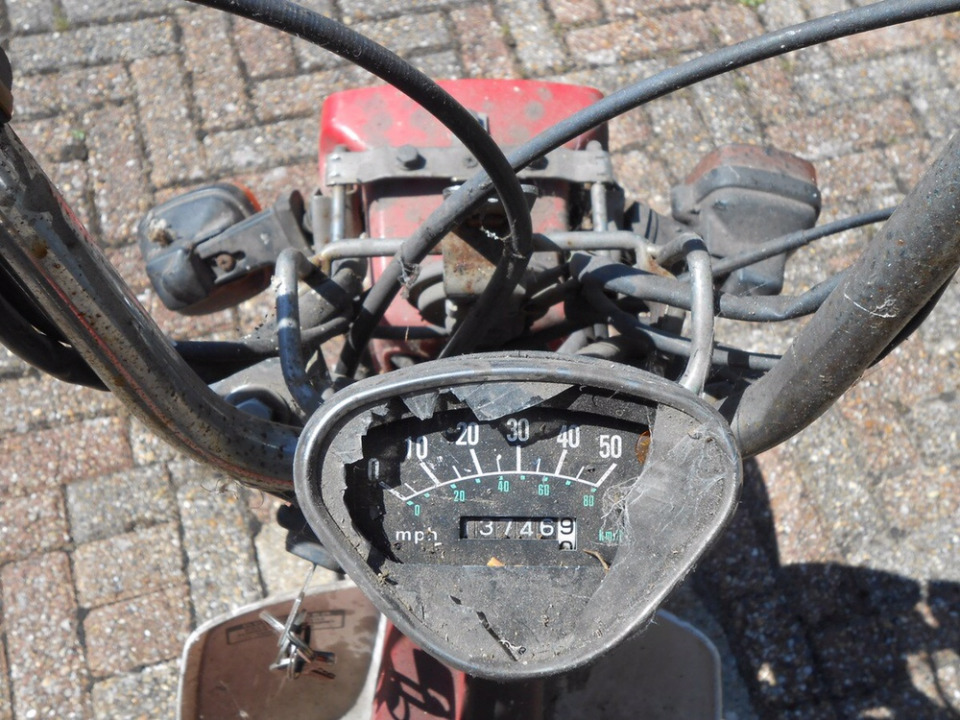 These articles were written on the site "classic-motorbikes.net" I decided to share them here, and I hope that someone will find them useful and get new experience in restoration